Minimalist house design and minimalist style of life have become more prevalent in the past few years. The goal of a minimalist house interior is to make the design process easier by leaving out parts that aren't necessary. The purpose of minimalist architecture and interior design is to make things clear by using as little space as possible and editing it to show restraint and an eye for detail. At HomeChromosome, we love the modern and minimalist style more than anything. Who doesn't like walking into a clean, well-ventilated space that shows off the room's design and furniture? We enjoy creating minimalist environments because they are peaceful, comfortable, and beautiful. This is because minimalist design emphasizes simple, honest details and simple materials.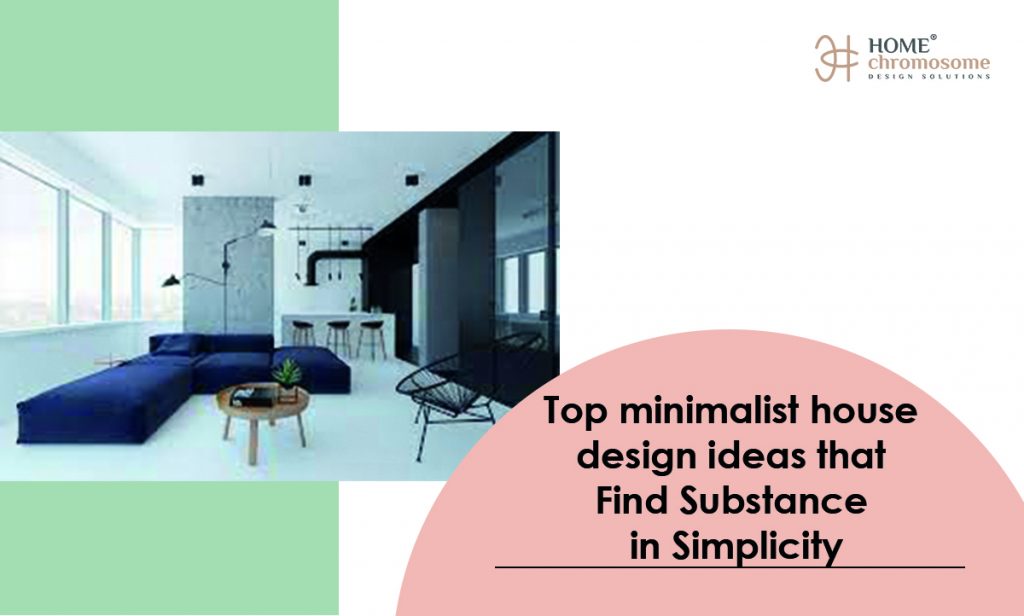 What is minimalist house design?
Designs that follow the rules of minimalism are easy to recognize and describe. Minimalist design is characterized by symmetry, functionality, cleanliness, and using only one color. In minimalist homes, natural light is emphasized, and there are few decorations and small pieces of furniture. In minimalist home decor, the negative space is brought out by placing furniture and arranging lines and shapes in a way that draws the eye down. This shows how big the floor and ceiling are. This is done by carefully putting furniture in place. Because of this, the area will look much more extensive, cleaner, and more open than it did before.
Minimalism started as a reaction against the excesses of materialism, which led to more clutter in homes worldwide. So, to be actual examples of minimalist house design, they must be stripped down to the bare minimum needed to make a home enjoyable. The design of this space doesn't include too much art, color, or little things that aren't necessary. The goal of minimalist design is to create a sense of calm by getting rid of furniture and other things that aren't needed.
Minimalist house design ideas
"Less is More" in minimalist house design
Even though minimalism and usefulness are not the same, the two ideas often go together. Last but not least, it's easy to put looks over function, which makes it hard to keep a house clean and free of clutter.
The bench in the living room is both a place to sit and a way to decorate the space. Many people want to make the most of the space in their living rooms, so many benches have storage built into the floor or wall underneath them. On the other hand, this doesn't mean we have to ignore design issues completely. On the other hand, a minimalist house design calls for choosing pieces of furniture that go well together to create a calm and pleasant atmosphere.
Black-and-white artwork in minimalist house design
When decorating a minimalist home, making bold design choices is essential, so the room doesn't look like a medical room. For example, putting black-and-white art in the living room could make a big difference. It's essential to keep the room's design simple to stay manageable and easy to move around. Please choose one or two pieces of art that stand out to you and use them to decorate your home.
Even straight lines in minimalist house design
When doing minimalist style interior design, it's important to use straight lines that don't break up in any way. Minimalist house designs with clean lines are functional and don't have a lot of extra stuff. They like smooth surfaces, unpatterned furniture, few decorations, and other similar things. The off-white color and smooth, even surfaces of this kitchen make it a very relaxing place. This kitchen looks sleek and modern because the cabinets don't have handles, and the floor is light.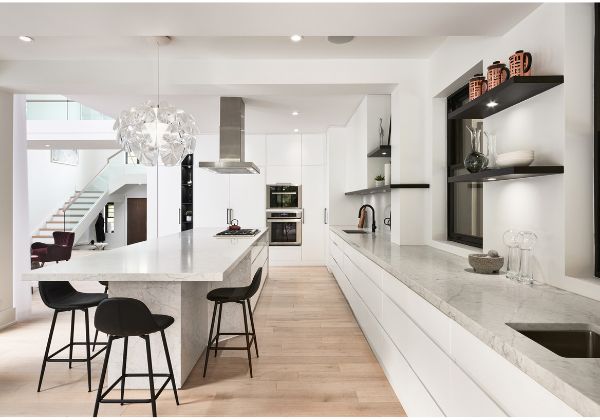 Neutral Colors in minimalist house design
A minimalist home's color scheme should be one color, neutral, and not too loud. It will be easier on the eyes this way. The simple color palette was made to eliminate some of the visual clutter. Most minimalist house designs call for a color scheme primarily white, beige, and similar colors. But the dynamic quality can be kept with the help of accent pieces placed in the right places. A monochromatic color scheme should be the base of the minimalist house design. This will give the impression of openness, brightness, and elegance. Also, the design's use of aqua nude tones gives it a feeling of understated richness.
Many Parts and Textures on the Surface in minimalist house design
When we say that you should use a variety of textures and materials, we mean that you should do so to make your area look better. For example, you can use brickwork or sand plastering to give walls a natural, rough look. Instead, you can make minimalist and master bedroom interiors with canvas, cloth, wood, and ceramics.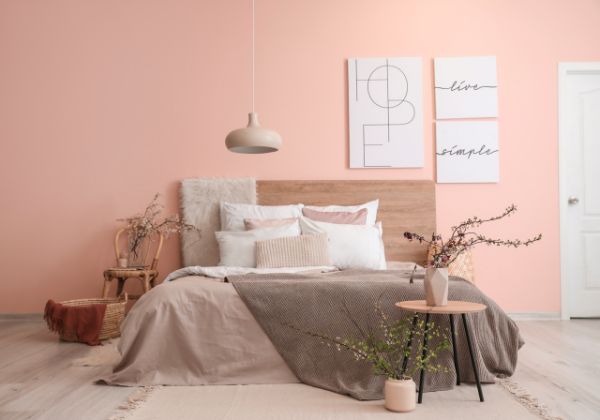 Subtle Dramatic in minimalist house design
The minimalist style of the room is taken to a whole new level by adding brown sofas, a solid-color carpet, a dramatic vase, and a magnificent chandelier. This shows that minimalist house design doesn't have to be boring. The method of the living room is a part of the modern interior design movement. It gives a feeling of coziness without using any big pieces of art. If you want your room to look simple, an exciting accent table is a cherry on top. You can see how the white cushion covers, railings, and flower vases contrast strongly. It draws people's attention to the brown couches and carpet in the room.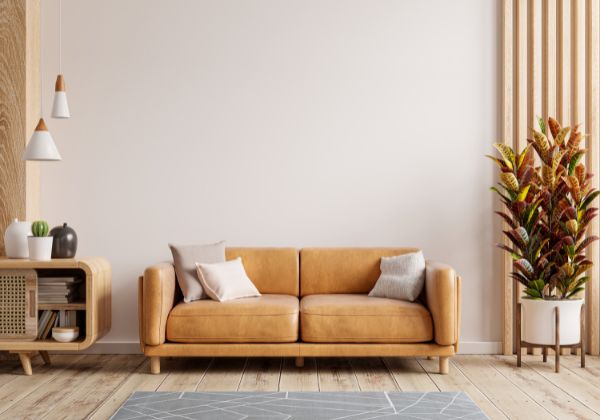 Remove the clutter from the bathroom in a minimalist house design
The walls of the bathroom can be made of both tile and brick, and the rest of the room is painted white. The beautiful patchwork tile floor in the bathroom is the only bold part of the room's design. It's a nice contrast to the subtle beauty of the rest of the room. The bathroom also has a modular cabinet unit for the vanity with no handles. This helps keep the bathroom's overall minimalist house design. This minimalist approach to interior design can be used in bathrooms of any size.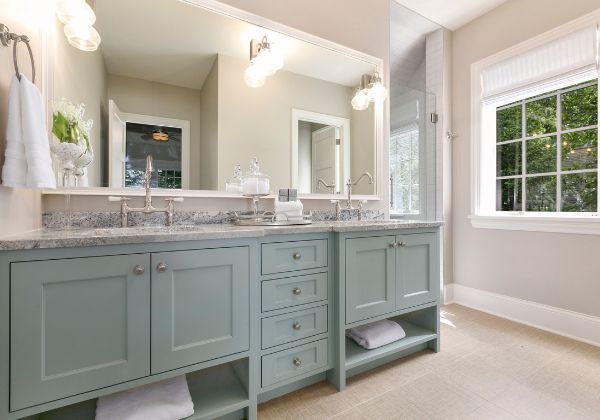 Green Plants in minimalist house design
Adding some green plants to your modern, minimalist home will make it feel more alive. The best thing to do is find a happy medium and choose accent pieces that are good for the environment while keeping in mind the size and shape of your space. Even if you only have a small amount of space, you can still make a big impression by placing a few well-chosen small pots in the right places.
Add Warmth to minimalist house design
The inside of a minimalist house design has clean, simple lines and only the needed things. Even though the minimalist approach is liked most of the time, there are times when it can feel lifeless and lacking in character. Adding colorful and cozy accessories to your minimalist house designs lets you make a warm and welcoming space for your guests. Try using a variety of colors and textures in creating your area to make it feel warm and inviting. This can be done by adding a warm tone to your room's otherwise black-and-white and minimalist color scheme.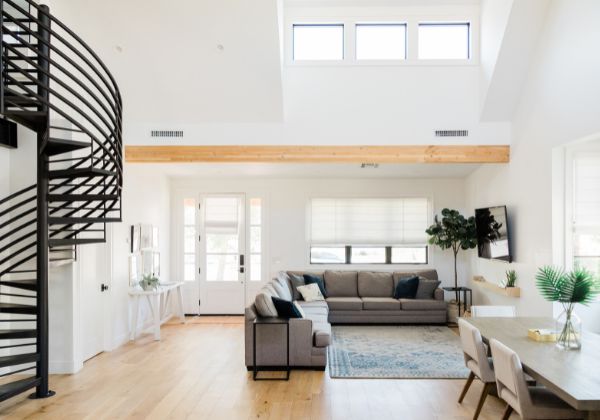 Rustic in minimalist house design
This beautiful rustic-meets-minimalist design motif is an excellent choice for people who want to try out different ways to do minimalist style interior design that aren't the norm. The wall made of exposed brick is a nice contrast to the room's otherwise simple style. The room has only the most essential things to be set up. The room's walls are made of natural bamboo, which gives the space an air of simple elegance.
minimalist house design by HomeChromosome
Minimalist design is based on the idea that the simplest things can be helpful. The philosophy behind the minimalist movement is summed up in the saying, "less is more." It focuses on a style of design that encourages less clutter and user-friendly rooms by making them clean, natural, and raw. In the past few years, this design style has become more popular. You can make your own minimalist home or work with the skillful architects and designers at Homechromosome to make your ideas come to life. Start planning right away for the simple home of your dreams. Let our skilled professionals assist you! You can view our portfolio here and follow us on Instagram here. Email us at info@homechromosome.com for a quick response.