European style interior design is a mix of traditional and modern styles that come from many different countries and areas on the continent. This style of design focuses on using natural materials, earthy colors, and different designs and textures. In addition, classic elements, like elegant moldings and old furniture, are often used in the design. Using a mix of old and new design elements, the goal is to create a warm and cozy space. In this blog, we will be talking about European style home interior design and its characteristics.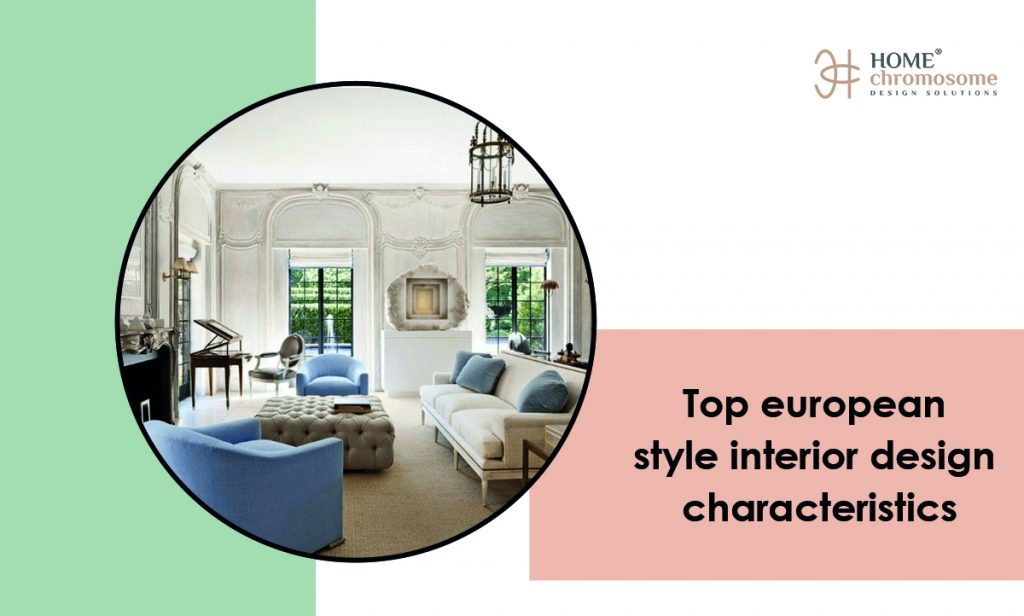 What is European style interior design?
No matter what other styles are in the house, adding some European style interior features can make it look better. In any European house, the walls are textured, archways are inside, and the ceilings are high. European interior design is often associated with high-end features like an oversized foyer with sweeping staircases, beautiful formal rooms like libraries, and other similar spaces. 
The arched doorways and huge windows give the inside of the house a more open feel. The high ceiling in this style makes the living room look even more prominent. European style house interiors are usually more significant and have more rooms, which makes them a better choice for families with kids. The kids have plenty of room to store their things, and they don't have to sleep in the same room. Fireplaces and interior courtyards add to the feeling of luxury that this style of building is known for.
European style interior design is usually influenced by a wide range of design techniques and ideas from all over the continent of Europe and the areas around the Mediterranean Sea. This is primarily because of the old world charm and character, but it also has modern comforts and conveniences.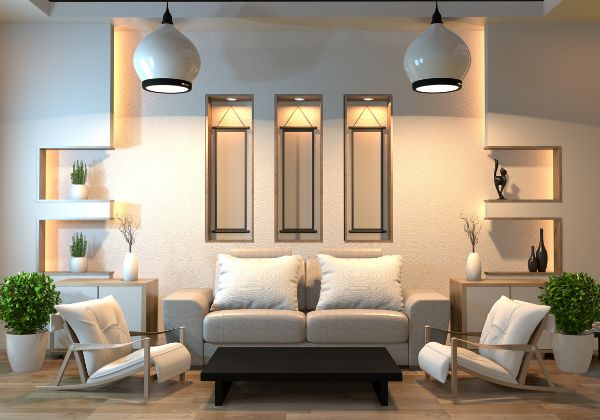 European style interior design characteristics
The European interior design has elements of both old and new design, as well as cozy accessories and comfy furniture. Adopting a European style interior design approach is the key to using color, texture, and shape from different design styles in your own home so that they all come together to make a look that is both unique and consistent. Here are some of the European style interior design characteristics – 
European style interior design characteristic #1 – Furniture
People know that European style interiors are like big, comfy furniture. When you hear this word, think of Chesterfields with buttons, wide sectionals, and oversized chairs. Most of the time, the fabrics used to cover these pieces are soft and breathable, and the designs can be anything from bright colors to beautiful, detailed flower patterns.
European style interior design characteristic #2 – Colors
The European style interior design is known for its use of soft, bland colors. In honor of the rural areas you can find all over Europe, the color scheme has muted greens, warm yellows, watery blues, and playful pinks and grays.
European style interior design characteristic #3 – Accessories
When accessories are added to the usually muted color choices used in European style interior design, they make the space feel more fun. The style is brought together by things like flowery drawings, linens with straight lines, potted plants, and shelves with books that have been bound in an artful way.
European style interior design characteristic #4 – Elegance
The European style interior design is characterized by the elegance that has stood the test of time. The necessary furniture should be made of high-quality materials and have a design that will last for a long time. The European style interior design has stood the test of time because it uses high-end materials and has clean lines in the furniture and other decors. Its classic look and feel make it seem timeless, and its portability can be used in any setting. The European style home interior design will never become old-fashioned.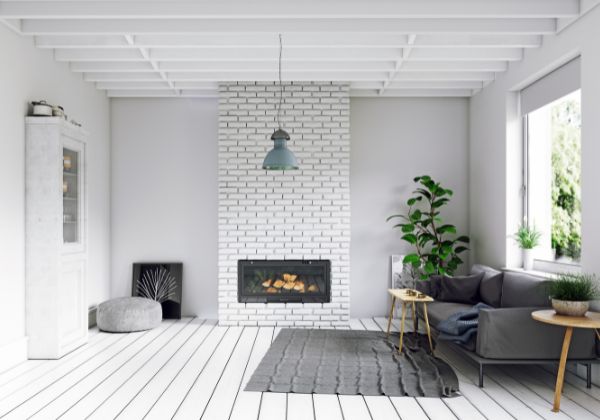 European style interior design ideas
European style interior design idea #1 – High-quality Fabrics
When choosing fabrics, you should choose high-quality ones like silk and Egyptian cotton. You can hang thin curtains to give the room a touch of softness, and accent pillows in bright colors or prints can make the room look more attractive. The European style interior design is known for creating a warm and cozy atmosphere, and flowery upholstered beds are an essential part of creating this atmosphere. Floral upholstered headboards are softer and cozier than most wooden headboards, and the bright colors and designs are a great way to make a room more unique and stylish. Most headboards are made of wood, which gives them a more official look.
European style interior design idea #2 – Embrace Traditional Elements
By adding classic elements like elegant molding, antique furniture, and classic chandeliers to your space, you can fully accept the European style. The place will feel rich and welcoming when these things are there. Traditional elements like doorway molding and checkered entryway floors give this style its polished look. These details are a nod to the past, especially the old world, where they were a standard part of the building in the past.
European style interior design idea #3 – Foyers
In European interior design, doorway molding goes back to the Baroque and Rococo periods, while checkerboard entrance floors have been used since the Renaissance. Both of these architectural features were used to make places look better. Using these classic pieces helps to create a sense of the past and gives the places they are in a lasting look. The feeling of grace and refinement comes from the fact that some modern touches have been added to these classic features.
European style interior design idea #4 – Chandeliers and Millwork
Chandeliers can give a room its personality and style. Choose a unique-looking focal point, then fill the rest of the room with furniture that doesn't compete with the focal point. With their beautiful details and stylish shine, chandeliers are a classic choice for homes with a European style. They can make a massive difference in the mood of a room in an instant. Millwork is a type of woodworking used to make building elements like crown molding and wainscoting, as well as decorative touches like shelves and cabinets. This kind of work is both simple and exciting. Millwork can also give a room a sense of balance and symmetry by drawing attention to certain spots and adding texture. You can do this by combining the woodwork with other design elements.
European style interior design idea #5 – Use things that have a texture
Textures are a must-have when it comes to decorating a home in the European way. Add different textures to the room by hanging velvet throws over the furniture seats, putting woven rugs on the floor, and decorating the walls with patterned pillows and wallpaper.
European style interior design idea #6 – Hang vintage paintings
Show off old sculptures and drawings passed down from generation to generation on the wall. Accent pieces like sculptures, mirrors, and clocks should have features that are fancy and beautiful. The window treatments in a bedroom should be airy, light in color, usually white or neutral, and made of sheer materials to add a touch of romance.
European style interior design idea HomeChromosome
Even though many European style homes are pretty big, even small ones can have many of the same great design features as the bigger ones. No matter how big or small, each one gives homeowners the cozy beauty and sophistication they want. HomeChromosome can help you achieve the European style interior design for your home while keeping in mind aesthetics and functionality. You can view our portfolio here and follow us on Instagram here. Email us at info@homechromosome.com for a quick response.