Foyer designs for Indian flats have been gaining popularity for some time now. Use some of these modern foyer design ideas to make the most of the entrance to your home. The foyer or entryway to a house can set the mood for the whole place. This passageway is a great place to show off your console table, a fancy mirror, one of your most treasured paintings, or another delicate piece of decor that means a lot to you. A cozy and inviting foyer can make a great first impression, leaving your guests speechless and in awe of your business. It is also a great place to store your shoes and other accessories to keep the rest of your home clean and clear of clutter. With a modern foyer design, making an excellent first impression is making the most of this small but noticeable entry space.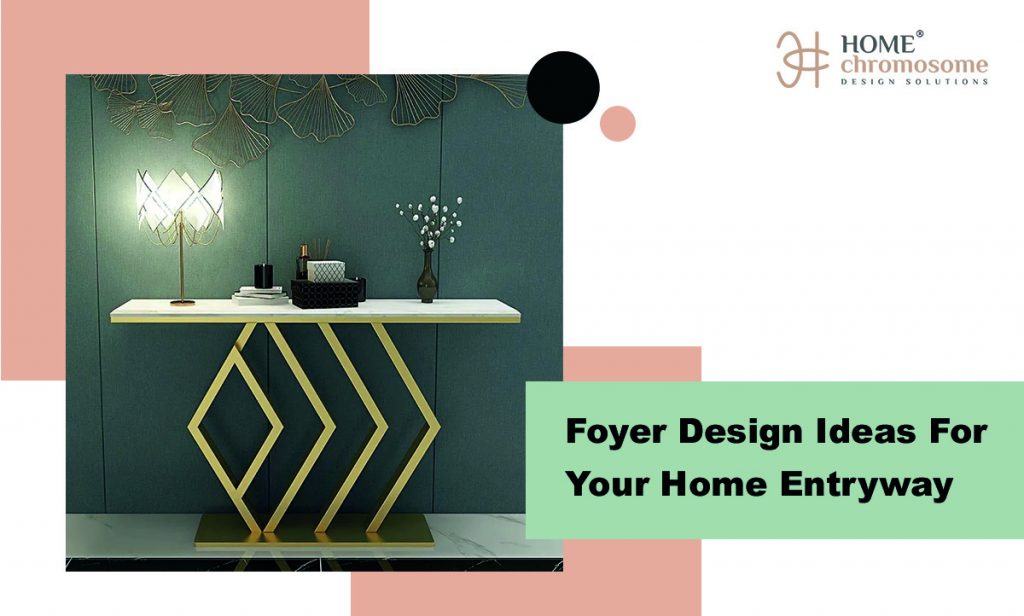 Importance of foyer designs for Indian flats
When people come to a house, the foyer is like a place to meet them. It's the first thing people who come to your home will see before going into the central part. When someone from the outside looks at your foyer, they can get a sense of who you are or what you're like. Your goal should be to make a good impression here. Start by making sure it is always clean and in order.
Being clean, the entryway or foyer of a home should look nice and be well-organized. Most people keep things like a shoe rack, key holder, coat or umbrella stand, table and chairs or chairs, indoor plant, etc., in the area that serves as the entrance.
Make sure everything has a place by putting it all together carefully since this is the entrance to the living room, but only a few pieces of furniture here need to fit. Either it will get in the way or draw the attention of someone who shouldn't be there.
Take some time to think about how much space you have at the front of your house. Please find out how to use it in the most effective and valuable ways. Use closed cabinets to hide things like shoes, polish, brushes, etc., from view.
You should try to get a cabinet that goes across the room. You can store things like umbrellas, ponchos, old newspapers, magazines, and so on that you don't use very often.
Add some of your personal touches to the foyer of your home to make it more upbeat, creative, and hopeful. A simple clock or wall hanging will go a long way toward making the desired effect.
You could decorate the area by the front door with several small paintings hung on the wall in a certain way. There are a lot of things that can be used to make the foyer more interesting.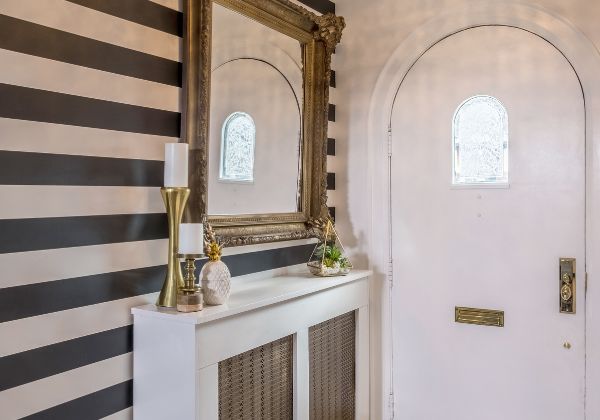 Wall Foyer designs for Indian flats
This entryway layout is perfect if you want to look put-together and casual simultaneously. It is a beneficial alternative because it has open shelves for shoes, pegs in convenient places, and a stand for raincoats. The textured wallpaper and the lights on the furniture can shine in different directions.
Putting wallpaper on the walls is one of the most used and popular ways to decorate the walls. The floor should be clean and open, so the clock and vase in the entryway can be considerable. Using a simple table with two drawers makes this possible.
A comfortable chair or bench that makes you want to hang out at the entrance longer than you need to. A nice console with legs and drawers can store your things. It also can come with a pillow to sit on and relax, beautiful pictures to look at, and books to read.
Using wall-mounted furniture like floating shelves is a great way to save space in a narrow or short doorway or at a small apartment or flat entrance. The house's foyer can be decorated with different plants—a wall-mounted storage unit with some doors and drawers to keep things in order.
Mirrors are not only used to decorate walls but also have gilded frames. They are also built into the storage cabinet or shoe cabinet panels, and you can find them under the wallpaper on the wall. Put some decorative items in a pleasing way to make it look better.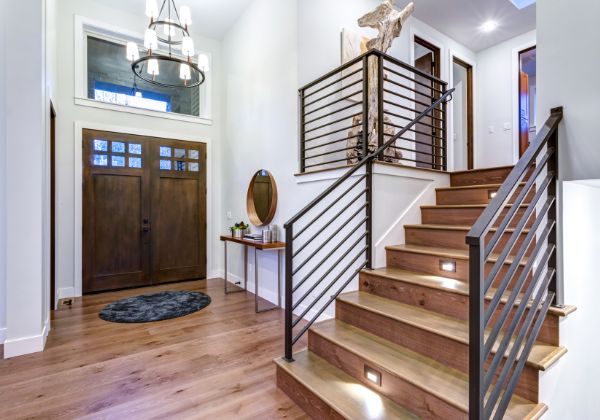 Foyer designs for Indian flats ideas
Foyer designs for Indian flats idea #1 – Keep that space open when you plan your foyer.
Keep the space behind your front door; if it has any, go to use it. Instead, you could have a solution made just for you, like what was done with the entrance to this house. The clever storage solution finishes with delicate latticework, which keeps the furniture from looking too big. The chest of drawers has a cushioned seat that can be used to sit down while putting on or taking off shoes. It has been ensured that nothing will get in the way of the natural light coming in through the window.
Foyer designs for Indian flats idea #2 – Get rid of the mess in the foyer by putting a table there.
We are amazed that this entrance foyer's boxy storage and seating options have been replaced with a beautiful foyer table. An oversized, old-fashioned timepiece is on the white console table behind the front door. On the right wall, there are many pieces of art in frames. When the floor is kept clear and uncluttered, it makes it possible for the clock and other decorations in the foyer to be significant.
Foyer designs for Indian flats idea #3 – Try to climb as high as you can.
You will love this design for the entryway area, which gives you a lot of storage space. The cabinets go almost to the ceiling and are set up so that the main door is right in front. The foyer feels fresh and stylish by using muted colors and a few open bookcases. The beautiful chandelier and mirrors in the foyer add sleek metallic tones that go with the rest of the modern style. This design saves a lot of space on the floor and works well as a flat entrance design.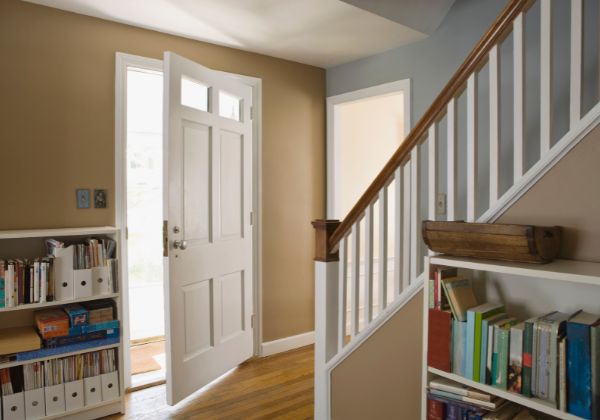 Foyer designs for Indian flats idea #4 – Make your guests feel at home by having comfortable seating in the foyer.
You can add seating to your foyer by putting in a bench, bringing in a chair, or even bringing in stools or ottomans. This can be done in a lot of different ways. You know that the people who own this place put a lot of value on the seats in the foyer. You are tempted to stay a little longer at the front door by a seat with lots of cushions and comfortable upholstery. A stylish console table with cabriole legs gives you a flat place to put your keys and spare change.
Foyer designs for Indian flats idea #5 – When Used at Entrances With Steps
Some homes have small foyers that lead to more significant public areas on the first floor. Most of the time, stairs that lead to higher levels are on both sides of them. Due to the entrance size, there is only a tiny amount of space to explore. But if you think outside the box, you can use the limitations of the area to your advantage. An old cabinet and chair from the past are on the wall of the stairs in this entryway. Decorations stand out on the wall on the other side.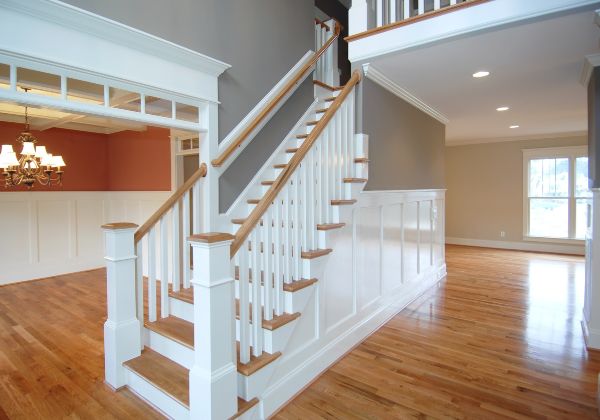 Foyer designs for Indian flats idea #6 – Make a spectacular design for the front of your house.
People who want to make a big, bold impression on their guests should think about how their home's entrance looks. When people come to this property, they will see beautiful white columns against the Prussian blue walls. The large entrance is reflected in the beautiful pedestal table in the middle of the room. The table is a lovely centerpiece and makes the room proud. Adding to the look of grandeur is a carpet with intricate patterns that goes on top of hardwood floors.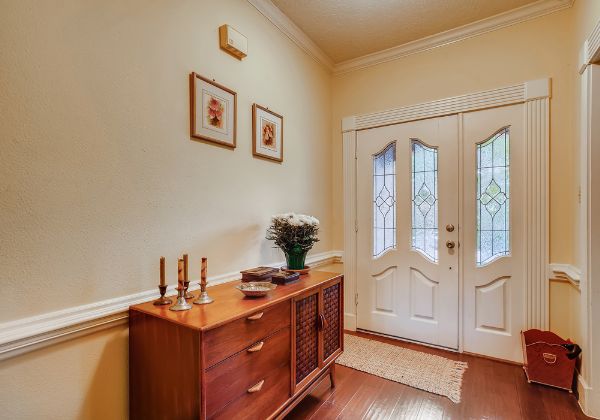 foyer designs for indian flats by Homechromosome
Homechromosome is the best interior designer company in Bangalore that understands how your house looks plays an essential role in your life. The foyer makes your home more welcoming and keeps the entrance cozy. Visit the Homechromosome website and take the first step into transforming your home. Homechromosome are the best apartment interior designers in Bangalore who can help you make your house a home. You can view our portfolio here and follow us on Instagram here. Email us at info@homechromosome.com for a quick response.
In conclusion, foyer designs for Indian flats should focus on creating a welcoming and functional space that reflects the personality and style of the homeowners. Incorporating elements of Indian culture and tradition can add a unique touch to the design. Key considerations when designing foyer designs for Indian flats include lighting, storage, seating, and decor. It is important to make sure that the design complements the overall style and layout of the apartment, and that it is practical for daily use. Ultimately, a foyer designs for Indian flats can enhance the overall look and feel of the home and leave a lasting impression on guests.