Buying a new house is a dream for many. Once you settle in, it is one of the best feelings in the world, but that feeling is temporary as you are faced with designing your apartment interior design. Most families have 1 BHK apartments, and even redesigning your 1BHK apartment interior can become arduous when you have so many ideas and infinite possibilities. How do you implement your ideas for your 1BHK apartment interior designs? The answer is clever and functional.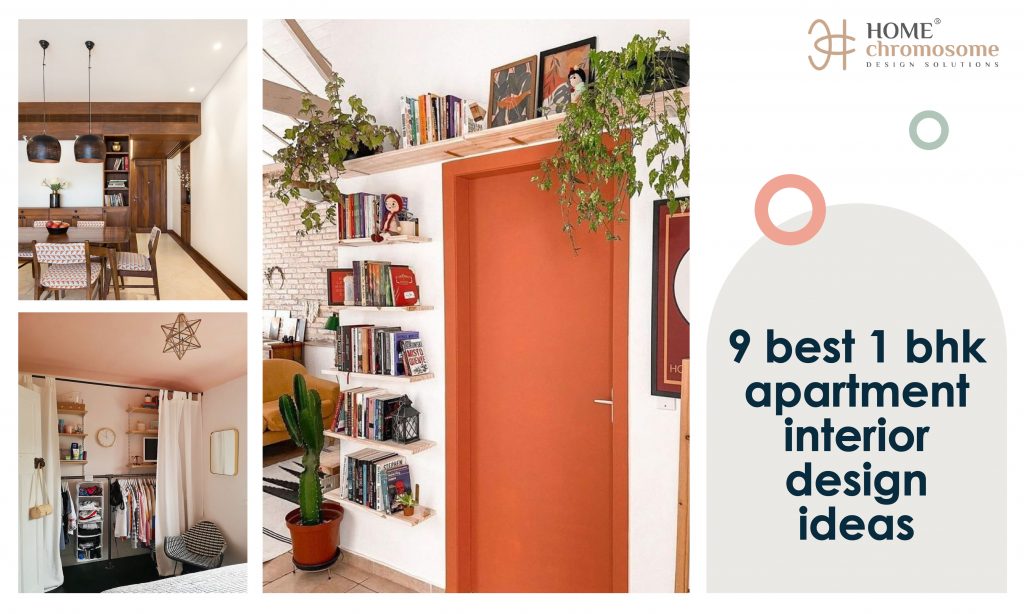 Your 1BHK apartment interior design should be spacious and should have multipurpose elements. If you keep these simple things in mind while designing your 1 BHK apartment interior, even you could have your bright 1 BHK apartment interior design.
The home chromosome is here for your guidance if you are confused with all the ideas and options. The 9 best 1BHK apartment interior design ideas are wholly curated by our team of the best experts for you.
Home chromosome Is Bangalore's leading interior designing brand that makes your dreams come true in reality and help you build the home of your dreams.
With these 9 best ideas, you can learn how to design your 1BHK apartment.
1. Choose the right sofa for your living room.
When you have a 1 BHK apartment, your living room will be one of the main attractions of your home as you will spend most of your time in that room. Choosing the right sofa for your living room is essential as sofas take up a lot of space in the room. You must ensure that your couch seating is comfortable and leaves room for other furniture. If you have an empty corner with a window, you can go for an L-shaped sofa set or a corner sofa. This will leave maximum room space for other elements you wish to design in your living room. You can also go for a Sofa cum bed if you have a big family or guests coming in; this 2-in-1 sofa looks comfortable and trendy at the same time without taking up much space for your apartment interior design.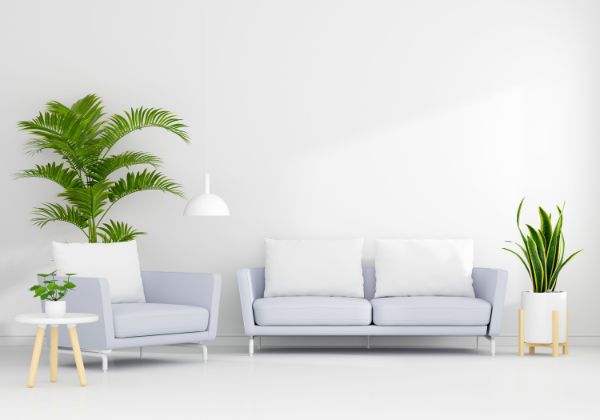 2. Neutral colors
Your walls are what reflect the atmosphere of your house. Your 1BHK apartment interior dsign should be calm and peaceful, and the right way to do it is by having neutral colors for your walls. Paints make a lot of impact and transformation for your rooms. The type of color you are going to choose is going to decide the vibe of your apartment. You can start with subtle shades of white, gray tones, pink, and blues. You can go with bolder paints for your ceilings. This combination of lighter shades for your walls and darker and assertive shades for your ceiling makes your apartment interior design look clean and spacious.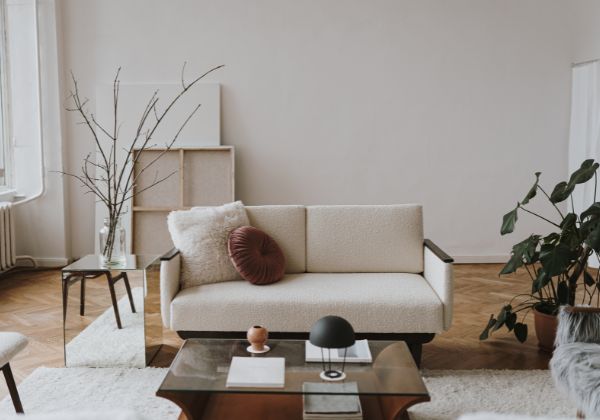 3. Open kitchen
The open kitchen concept is a widespread trend in homes today. It is one of the best ways to utilize space and increase bonds and entertainment among families. The open kitchen has built-in appliances and a dining area if you wish to add it. But most importantly open kitchen blends in easily with the rest of the rooms. If you want your 1BHK apartment interior design to look stylish and modern, you can have an open kitchen concept in your apartment. Combining your living room and kitchen can be a good idea to increase bond and functionality. There are many ideas and options available for this concept, you can even customize your own open kitchen, and your interior designer will help you make it.
4. Storage optimization
Having a 1BHK means ending up with limited space and endless possibilities. Try to have elements and furniture to maximize storage and avoid clutter in your house. Install a T.V. unit that will offer you multiple storage options for your Home theater or maybe DVD and C.D.s; also, if you have catchy antiques, you can incorporate them in the most clever ways. Try to have beds with built-in drawers if you don't want to have oversized closets in your bedroom. This will make your apartment's interior design look clutter free and spacious.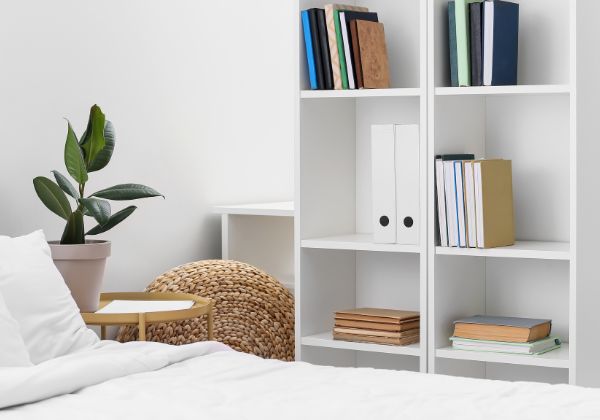 5. Convertible Furniture apartment interior designs
We all love watching videos on Instagram and Youtube that shows people using convertible furniture that saves a lot of space in the room. Even you can do that; you can go for the folding dining table, Murphy beds, or even sofa cum beds. This furniture will save space and make your 1BHK apartment interior design look uncluttered and clean. Several elegant and classy options are available for the convertible furniture that you can check out.
6. Use of Natural Light
Most of the 1BHK apartments don't have natural lights. Natural lights make your apartment's interior design look more peaceful and attractive. Try to make less use of commercial lights as much as you can. One of the best ways is to install ceiling lights in your POPS by your interior designer. But if you want to make your home look spacious and calm, you should ensure that every corner of your room is being blessed by natural light.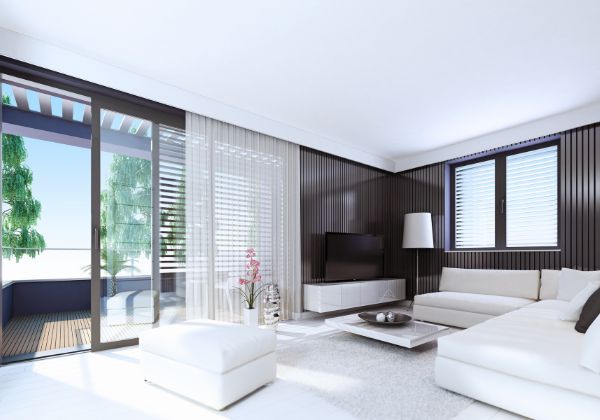 7. Minimalistic décor in the apartment interior design
If you are someone who goes by the principle "the less is better," then you would love some minimalistic décor for your 1BHK. Minimalistic décor makes your room look clean, spacious, and uncluttered. By incorporating less but trendy and modern furniture, you are making your apartment look dull but fresh and lively. You can even go for Scandinavian style for your apartment's interior design.
8. Mirrors
Adding mirrors imparts a sense of space to your apartment's interior design. Mirrors distribute space and light in a way that contributes to depth and brings energy to your home.
Mirrors make your room look larger and more spacious than they actually are. A large mirror with an extensive frame can offer drama and playfulness to the room. A modern and more distinct look can be achieved with a round mirror. You can also experiment with the mirrors' different sizes, shapes, and colors.
Mirrors that are hung opposite the window, especially those with pretty views, help bounce the light from outside and brighten up the entire room. The bigger the window, the brighter your space will seem.
You can also use mirrors in your bathroom. Large end-to-end mirrors in your small bathroom can make it look more appealing and significant. It creates the illusion of depth and space, immediately doubling up the size of your bathroom.
Mirrors can also be used as art. Framed mirrors can be used as a piece of art against your walls. This is one of the creative ways to use mirrors in your apartment's interior design.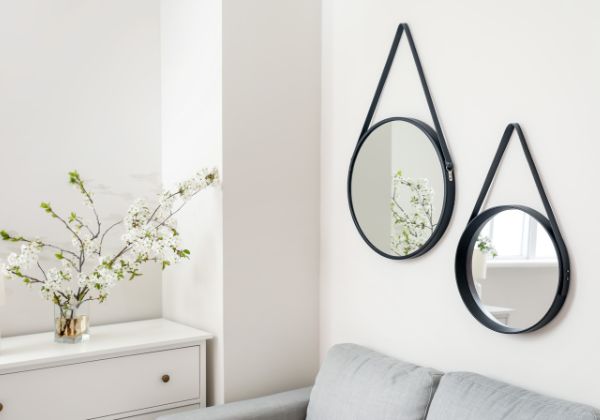 9. The right 1 BHK apartment interior design style
No matter the size of your home, choosing a style that complements your lifestyle, personality, and preferences is imperative. Choose whatever kind you like; so many options are available. You can choose anything among minimalistic, contemporary, modern, maximalist, eclectic, art deco, etc., whatever style you choose; every interior design has its unique characteristics and flavors. With the broad spectrum of design styles available, you should find the one that resonates with your style and, most important, that it makes your home feel like a home. If you don't want to go with a particular design style, you can also combine two different types of apartment interior design styles and make your 1BHK a perfect home.
Why choose HomeChromosome for apartment interior design?
Home chromosome listens and understands what their client wants and ensures they get the house of their dreams. The home chromosome has a team of experts who work hard and are dedicated to executing their client's visions into reality. If you are confused with the many options and interior design styles available in the market, You can contact Home chromosome, and they will help you choose the correct interior for your 1BHK. For more information about their work, visit Home chromosome at www.homechromosome.com. You can also book your consultation through the website.
Your home is your sanctuary where you relax and unwind after dealing with the outside world for the entire day. Your home needs to feel like heaven; your chosen design should calm your soul and soothe your eyes. No matter how big or small your house is, you will love your home and have a perfect spot. The right interior design style makes your house more beautiful and lively. While selecting a design, don't rush; take your time, and think about how a particular style or color will look in your room. Once you have decided what you want or are still confused, you can always hire a personal interior designer who will help design your house and transform it into a fantastic work of art. We hope we have tried our best to help you with these ideas for your 1BHK apartment interior design.
You can view our portfolio here and follow us on Instagram here. Email us at info@homechromosome.com for a quick response.
In conclusion, 1BHK apartment interior design requires a thoughtful approach to maximize the available space while creating a comfortable and functional living environment. When designing a 1BHK apartment, it is important to prioritize functionality and efficient use of space, while still incorporating the homeowner's personal style and preferences. Incorporating smart storage solutions such as built-in shelves, under-bed storage, and multi-functional furniture can provide ample storage space while keeping the design flexible and adaptable. Utilizing a neutral color palette and simple, clean lines can create a visually appealing and timeless 1BHK apartment interior design. Additionally, incorporating smart appliances and accessories, such as compact appliances and integrated lighting, can enhance the functionality of the space. By maximizing the use of natural light and incorporating mirrors, homeowners can create the illusion of a larger space. Ultimately, a well-designed 1BHK apartment interior design can provide a comfortable and functional living space while meeting the unique needs and preferences of the homeowner.