The living room now serves as a link between the adjacent rooms, hallways, and the exterior, thanks to the popularity of open-plan living room layout ideas. If you have the opportunity to work on a layout plan, keep in mind there is enough room to walk freely between the various rooms and position furniture in the living area to create zones. While those substantial bifold doors are lovely throughout the day, you would not want to have someone completely open them at night. A good living room layout idea considers airflow. Is there enough space to add a window, or would that present security or pest issues? As an exterior door, your living space should have strong flooring that can endure the high dirt, which is an important feature. Let's learn more about the initial phase of modern small living room ideas.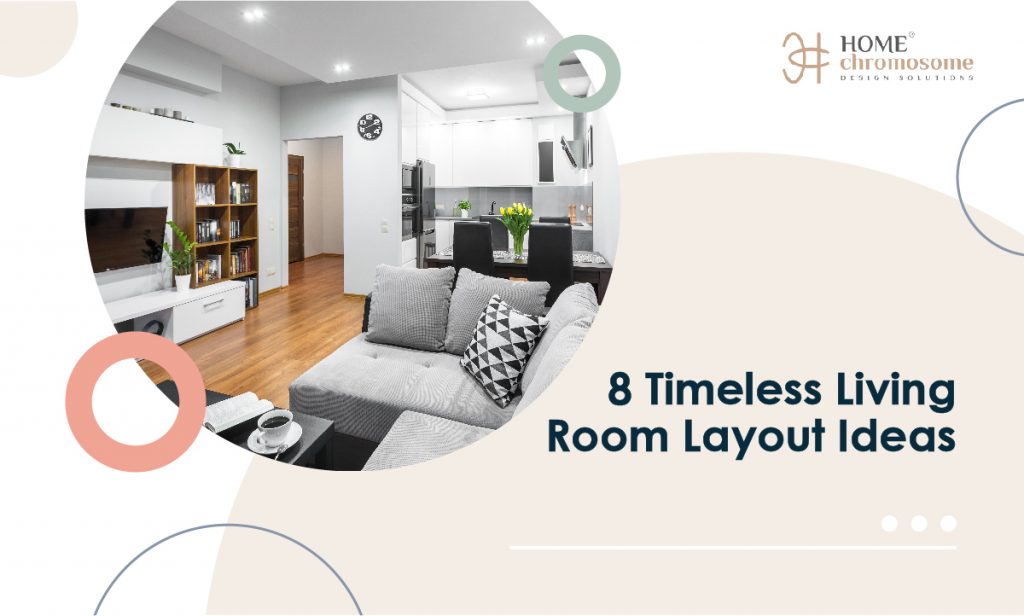 What is a floor plan?
A floor plan, a 2D graph drawing, shows a scaled aerial representation of a property's general layout. Since floor plans offer how various design features might seem in space or point out potential design faults, they are ultimately used as a starting point before developing the building's precise blueprints. They give immaterial concepts a concrete form. The dimension lines, measures, and relative placements between fixtures and things are displayed in floor plans, which are architectural drawings. They function as the first version of the plan for your design project and give the builder or designers something concrete. They can save resources. A floor plan can help you effectively communicate your design concept and can also save you time and money when purchasing supplies or hiring personnel. They can be helpful in outlining the big picture. If you're a real estate agent or someone looking to buy a home, a floor plan can help you view a potential place for what it could be.
8 Timeless Living Room Layout Ideas
1. Large living room layout
These living room layout ideas include a large home with ample living space. The sofas are typically positioned with their backs toward the media wall. On one side, there is the dining room and kitchen, and on the other, there is a law and a pool area. The huge windows let in sunlight, fresh air, openness, and a nice outside view. The location is kept as straightforward and crowded-free as feasible. A little sofa is placed nearby on the lawn side of the entrance and provides good views and a calm, relaxing ambiance. Homechromosome is one of the best interior design companies in Bangalore that can help you achieve the best living room interior design ideas.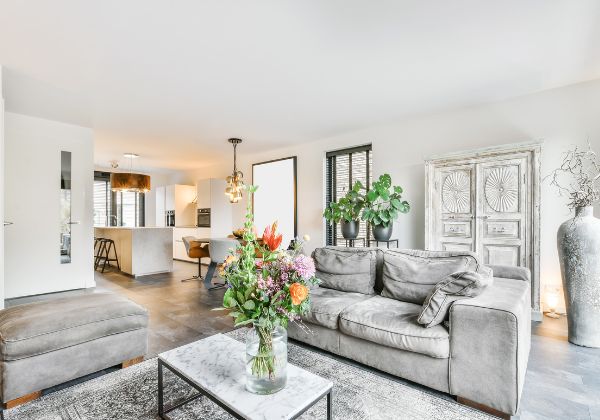 2. Living Room Layout Ideas: The narrow living room layout
These living room layout ideas include a compact living space deliberately planned to maximize space without overcrowding it with furnishings. In a compact, cozy space, everyone unwinds and seats themselves. The room includes a three-seater sofa in addition to two single sofas confronting the television wall with a console and side table. Natural ventilation and lighting are considered with the large window on one side. The brightness from the TV as the window will let in fresh air and light. Homechromosome is one of the best interior design companies in Bangalore that can help you achieve the best living room interior design ideas.
3. Living room layout with a fireplace
The fireplace is the center of attention for this living room layout. Designing a room around the fireplace is quite common in locations that experience more chilly temperatures. Near the fireplace are the majority of the sitting possibilities. The loveseat, couch, and recliners are placed close to the fireplace so you can enjoy its warmth on a winter night. Additionally, the media wall is not in the middle and is placed closer to the fireplace, which goes well with where the couches and recliners are set. Homechromosome is one of the best interior design companies in Bangalore that can help you achieve the best modern small living room ideas.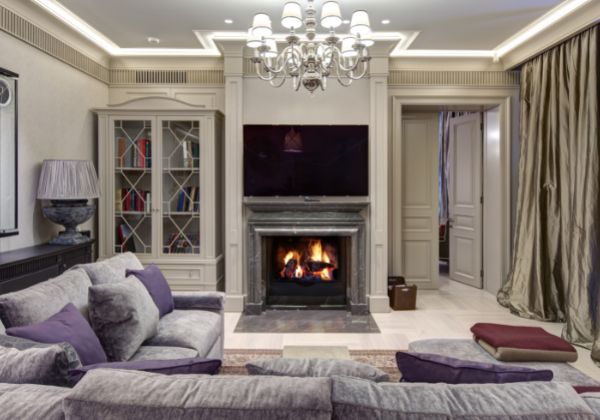 4. Rectangular living room layout
This arrangement of the living room layout ideas is relatively simple to create. It contains a small dining table for visitors and is located adjacent to the kitchen. This house's main feature, the living space, is accessible from every room. People can walk around a common area and interact more quickly because of this fantastic location. Additionally, they can dine and enjoy entertainment together at the same table. You may get the most remarkable modern small living room ideas by working with Homechromosme, a living room design company in Bangalore.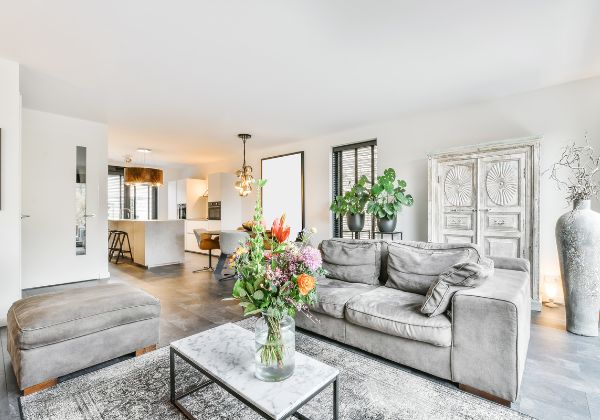 5. Open living room and kitchen
These living room layout ideas also include an open-concept kitchen, and there are no walls or a marked entry in the kitchen. The interior design of the kitchen and living room can be seen from one another. This is a modern concept that has recently experienced significant adoption. Cooking allows everyone to enjoy time together as a family or in their own space, even if someone needs to do it. Overall, it enhances the appearance of the house or apartment and leaves everyone who sees it with a great first impression. No walls divide the living room from the kitchen or dining room, giving the space a large open feel.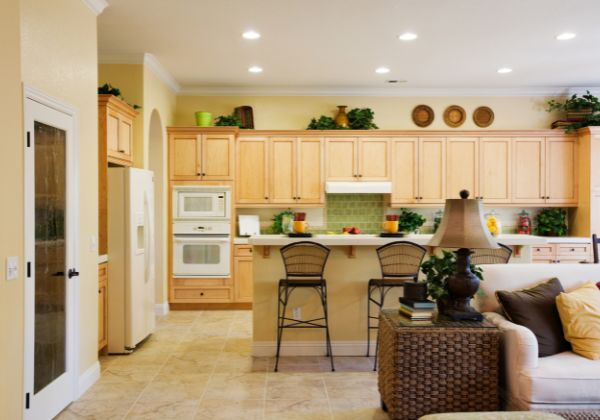 6. Symmetrical layout
These living room layout ideas require symmetry to facilitate movement and immediately instill a sense of calm and order. Avoid being overly sleek; small spaces may occasionally seem boxy. Instead, use lots of curves and varied surfaces to break up the shapes and provide interest. It suggests creating completely hidden doors when there isn't much wall space available; you may hang pictures within the door or even construct an open bookcase inside. Although matching armchairs or chairs can provide the same impression, two-facing couches split by a coffee table are the most typical layout. You may get the most fantastic modern living room ideas by working with HomeChromosme, the best interior designing firm in Bangalore.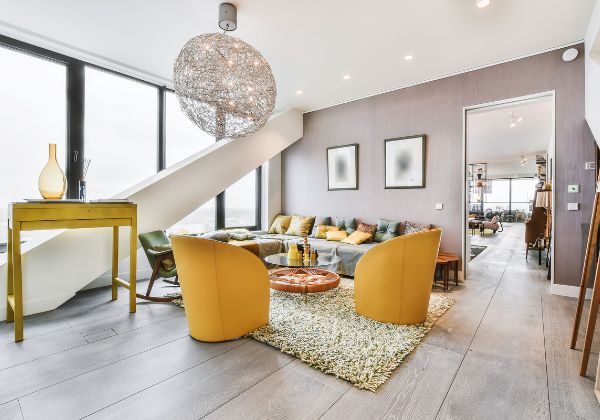 7. Small living room layout
When creating a tiny living room, keep the following things in mind: You might want to consider employing extra-large seats. With oversized furniture, a modern living room interior design appears smaller. Choosing the right couch size is essential as a result. A different seating configuration with four chairs can be adopted if there needs to be more room.
This will work just as well to fulfill the purpose of couches. Limit the quantity of furniture you place in the room. As you add more tables, these living room interior design ideas will get cluttered. You can get living room layout ideas with HomeChromosme, a living room design company in Bangalore.
8. A Living Room Featuring Stairs
A particular style of planning is vital for a living room with stairs. Having storage space beneath your stairs is a brilliant idea. Designing a staircase so that it draws attention is now widespread. Layouts for both small and large living areas may take advantage of stair storage. You can keep shoes, socks, raincoats, and umbrellas on the stairs. Toys and other goods, like footwear, books, umbrellas, and more, can also be stored in them. Home items that are not utilized frequently yet are nevertheless necessary to keep on hand.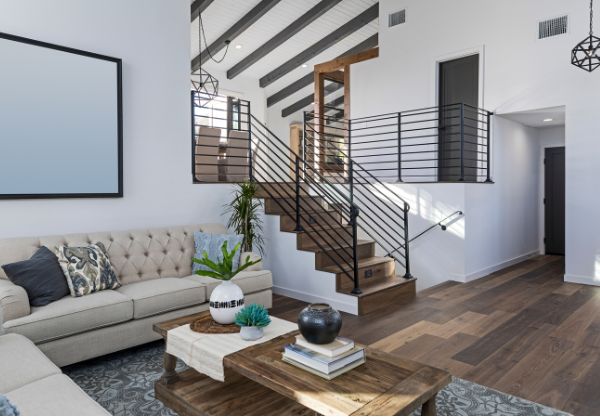 HomeChromosome
The best interior designer to help you develop your ideal home is HomeChromosome. Start with your perfect interior design by visiting the Home Chromosome website. Start with your perfect interior design by visiting the HomeChromosome website. To find the best home interior designers in Bangalore, look at their social media accounts and talk to their previous clients. You should also look at their portfolio. It should include real-time images of projects on which they have worked. If you are looking for the best home interior designer near you, please contact us. You can view our portfolio here and follow us on Instagram here. Email us at info@homechromosome.com for a quick response.