Your business's success is more than the product you sell; it's also about creating an atmosphere. One of the easiest to elevate your office interior l is through the decor. Whether you are trying to motivate or delight your customers, wall art is the perfect way to boost your business. Every office interior is different; it is designed by keeping the preferences and style of the owner. A fashion brand's office interior will be very different from a publishing house's interior. If you want to decorate your office wall with wall art, you can take inspiration from the field you are working in and incorporate it into your wall art.
Before you start decorating, it's important to remember that if you have small spaces, less is more. If you have a shared workspace or a small room, consider using two or three items instead of filling in every empty wall. This prevents the area from feeling cluttered, overwhelming, or stressful.
In this blog, you can learn how you can rock your office interior with just wall art. So let's get into it.
1. Add a Unique Clock in your office interior
Adding a unique clock to your office interior is always a great idea. It's practical because you'll probably need to keep track of the time throughout the day, and it's also a great way to express your personality and style. Finding an antique clock at a thrift store or ordering a specific style online can help you incorporate your design aesthetic into your workspace. Choose a large clock to cover the wall if you have a small space to work with. This saves you money on additional decor while adding fun and unexpected elements. If you have ample space to work with, you can choose a more miniature clock and surround it with other elements that complement or contrast the materials.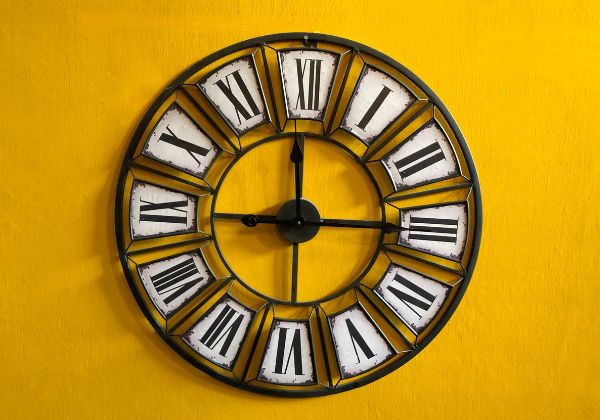 2) Create an Accent Wall 
If you have the freedom to change and give a makeover to your office interior, consider creating an accent wall. Creating an accent wall is the best option for those who work from home or have an entire room for themselves as a workspace. Creating an accent wall draws your attention and allows you to use color and texture to create contrast. If you have white walls, try a dark blue or dark green color with tan or neutral candles, lamps, or decor. The dark color will bring a calming element to the room, while the neutral accents will balance it out and keep it from feeling too moody. You'll appreciate having a dark and calming color to look at during the day, and the accents will make it even better.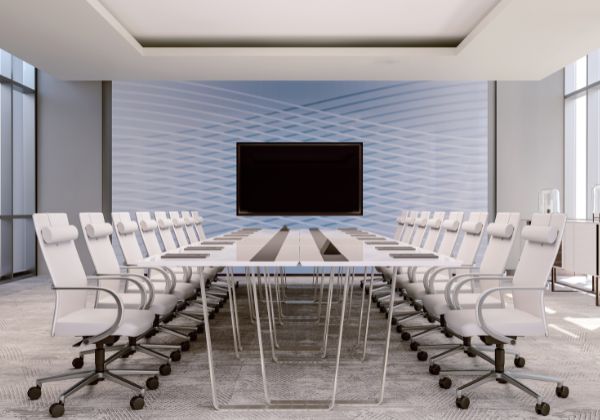 3) Try Installing Floating Shelves in office interior
You can build floating shelves on your walls when you have items like candles, pants, and picture frames that you want to display but have limited desk space. They can give you extra wall space and match any design style in your office interior. They are also easy to install and take down.
Using the rule of threes and keeping things simple, you can pair a candle with a picture frame and then a small plant on the opposite side. While adding beautiful accents and decor makes your space feel clean and clutter-free.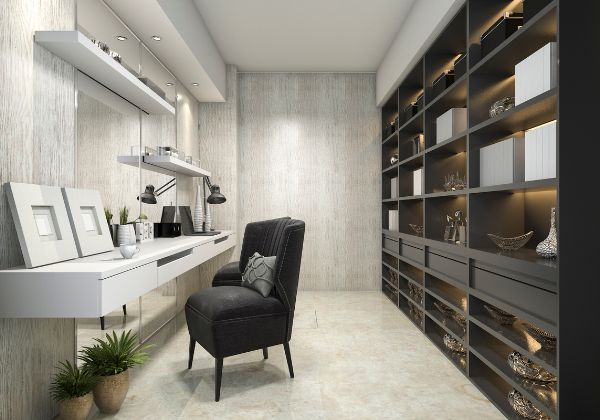 4) Fun Calendars
Calendars are helpful when you have important deadlines, tasks that need to get done throughout the month, or just keep track of the dates. To make it exciting and keep your office interior unique, you can choose an unexpected calendar and have fun with it. You can use a glass window and dry-erase marker to keep up with your important dates and to-do lists or use a sizeable black-and-white calendar to put a chic twist on keeping up with your dates. If you are crafty and creative, you can even make your own out of wood or any other material that adds texture and interest to your office interior.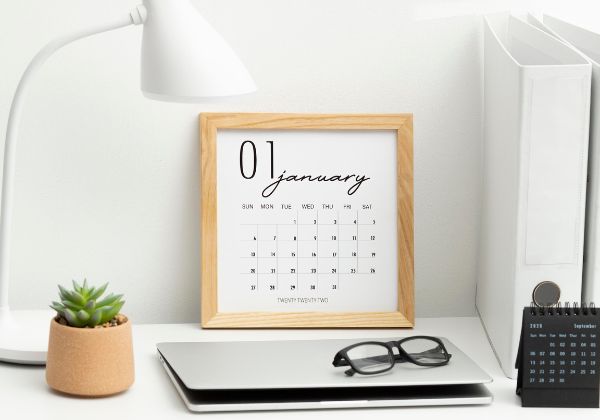 5) You can add colors through Paintings.
If you are interested in painting, consider using a large painting to spice things up if your office interior lacks color or personality. Adding painting is an excellent option if you work from a cubicle, shared workspace, or home office.
Choose paintings that have exciting and unexpected colors, and then use one of the colors to add additional accents and decor to match. An abstract painting with orange introduces the bold color and allows you to use throw pillows, blankets, and coffee mugs of the same color to tie everything together.
Paintings are a great way to turn boring space into an exciting and unique area to get your work done.
6) Work with Patterns 
If your office interior is mainly filled with plain white walls, it can get boring and prevent you from feeling excited or motivated when working. To avoid this, consider adding unexpected patterns through wallpaper to add character and fun to the office interior.
You can make your office interior feel like an industrial office by using wallpaper that looks like old brick or keeps it fun and modern with an abstract pattern. If you are into a farmhouse look for your office interior, you can choose an option that looks like a shiplap to add a rustic charm to your space. This is an excellent opportunity to add your personality and personal style to your office interior.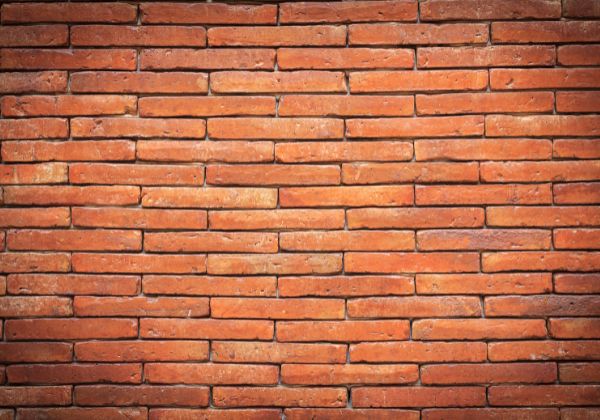 7) Add a Photo Collage
Office interiors that feel boring or unmotivating could always use a personal touch. Create a beautiful photo collage of your work, friends, family, or even your office clients to promote the brand image. You can make an informal collage by pinning pictures directly to the wall or keep it organized by pinning the photos to a string of lights or on a Corkboard. There are so many options to choose from, allowing you to make this exactly how you want it.
Looking at your favorite people, favorite places, and beloved pets for your personal workspace will help you smile and put you in a better mood.
8) Wall Holders for succulents 
Adding greenery to your office interior is a great way to help you relax and feel connected to nature while getting your work done. If you have limited space, you can use small wall holders for your plants, making a beautiful feature for your office. Adding plants can bring positivity and a sense of warmth to the atmosphere.
Succulents are perfect for your office space because they don't need constant attention or maintenance and come in many shapes, sizes, and textures. To add more fun, you can also have holders that look like stone faces, making the succulents part of their hair. This simple addition could help you smile during a stressful day.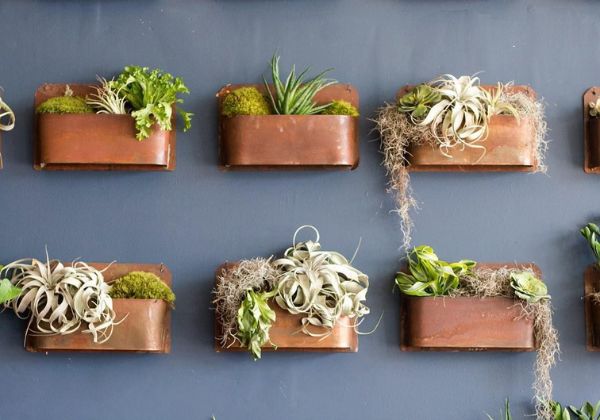 9) Put Vision boards in your office interior
It's easy to lose focus and motivation over time, whether working at your dream job or exploring a new career path. Creating a vision board and displaying it on a wall you will frequently see while working is an excellent way to stay on track and remember what is important to you.
You can keep it simple by hanging motivational quotes and pictures of your dream vacation on a corkboard or creating a collage of personal notes you write to yourself. Because this is a private vision board, you can make it however you want as long as it brings you joy and motivation when you look at it!
Additional tips: Adding Neon lights will not only act as functional light but also as a unique feature for your office interior. You may have a motto, a favorite saying, or just choose something that will make your employees and clients smile. Neon signs are fun because they add colored light to your office interior and are entirely customizable. You can even get neon signs from an antique store that will help you save money and add authentic charm to your office interior.
Choose Homechromosome for your office interior
If you want to give your office interior a makeover or are deciding to redesign it after years, a home chromosome can help you design your office interior. Homechromosome is one of the best interior design firms from Bangalore and has years of experience in turning your office into a unique workstation. To know more about their work and to book a consultation, visit their official website at www.homechromsome.com. You can view our portfolio here and follow us on Instagram here. Email us at info@homechromosome.com for a quick response.