When we think of the Mediterranean interior design, we think of sandy beaches, clear blue water, white walls and a comfortable, easygoing atmosphere. But this is just one part of the Mediterranean style interior design of decorating a home. This style has changed over time and has been inspired by how things are designed in different parts of Europe. It looks old-fashioned because the colors are primarily blue and earth tones, and there are bits of classic, modern, and up-to-date design.
The Mediterranean interior design concept is known for being warm and welcoming, which makes it an excellent idea for interior design. This is one of the most effortless designs because there are many choices and ways to assemble them. Because of this, it has also become one of the most popular ways to decorate the interior of a home. The Mediterranean interior design ideas come quickly, and there are almost no limits to what you can do.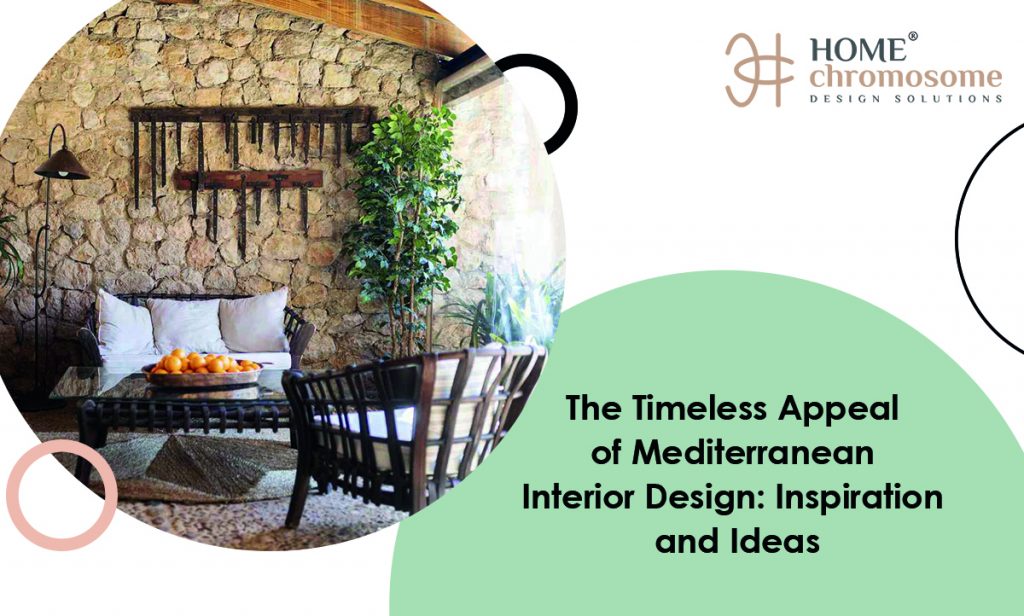 What is Mediterranean Interior Design?
The bright and airy public areas, seamless indoor-outdoor living, use of natural materials like wood and stone for important buildings, and the purposeful use of natural colors found in nature are some of the things that set this Mediterranean interior design apart. Specifically, the colors standard around the coast of the Mediterranean Sea, such as whites, creams, blues from the sea or sky, desert tans, and other colors depending on the area being shown. Most often, whites and creams are used.
The inside and outside of a home built in the Mediterranean interior design flow smoothly, bringing the outside in and the inside out. This shows how living along the coast in warm areas is a good mix of indoor and outdoor activities. Because of this, Mediterranean interior design is often seen as a twist on coastal interior design. This design is primarily straightforward and practical, but it still has a lot of options because of the different things that could affect it. These can be anything from natural neutral colors to highly coloured and patterned textiles. Ultimately, the Mediterranean interior design makes you feel like you are living on a luxurious beach at another time, with some rustic.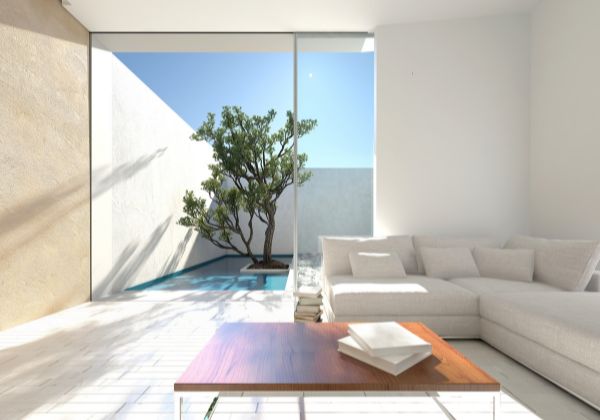 Brief History of Mediterranean Interior Design
People often think of the style of Greece, Italy, and Spain when you mention Mediterranean interior design. When most people think of Mediterranean Interior Design, these countries come to mind. But it's important to remember that the Mediterranean Sea borders 21 countries. Real Mediterranean houses could have come from Israel, Morocco, or elsewhere. Even though it is very likely that these countries' cultures have been influenced by each other because they are close to each other, it is also possible that their different cultures and design styles led to many different changes over time.
At the beginning of the 20th century, for example, people in the United States started to like Mediterranean interior design again. This was partly because of the Spanish Colonial interior style, which took many of its ideas from Spain and the Mediterranean regarding architecture and design. This style was a big reason why Mediterranean interior design became so famous. But the Spanish Colonial revival design used to build many homes, hotels, and other buildings was a big reason why coastal living became more popular and why California grew, which also helped coastal living become more popular. The fact that all of these things came together was another reason why this rebirth became more popular. Mediterranean interior design is becoming increasingly popular because it is easy to change and has a long past. This popularity is a clear result of how these two things work together.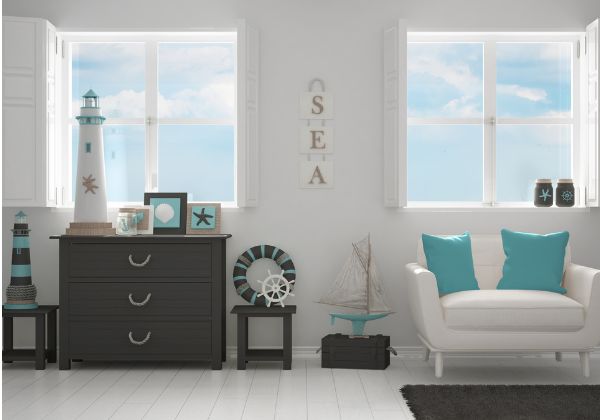 Mediterranean interior design ideas
Mediterranean interior design idea #1 – A Hint of the Nature
To make something look like it has much to do with nature, it makes perfect sense to use details hinting at a live world. In addition to more traditional plants like citrus and trees, vines and other plant life can be a beautiful addition to a room designed in this way. You could plant them in broken or worn-out rustic containers for an extra touch of realism.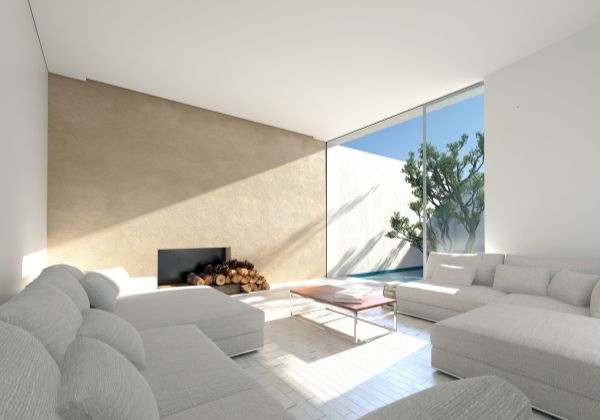 Mediterranean interior design idea #2 – Sea Blue
For this design to work, it needs a touch of blue that looks like the color of the Mediterranean Sea. Because blue, in all its shades from light cobalt to deep navy, is essential to this style, you should use it often when decorating your home. Hand-painted tiles give both the inside and outside of a house an air of coastal charm. Soon, you'll almost be able to hear the waves crashing!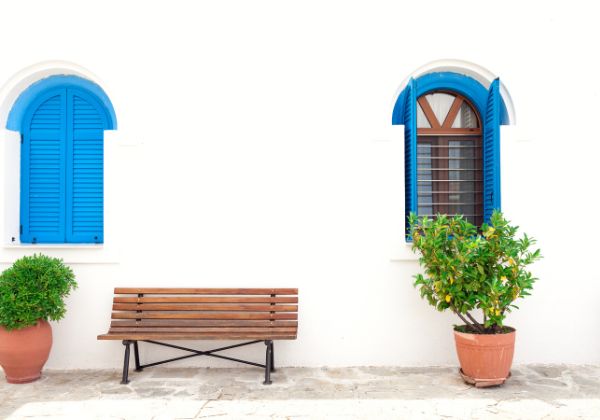 Mediterranean interior design idea #3 – Wooden Decor
Any natural material, but especially wood, can do a lot to relax a space that is mostly clean and calm. For this, pieces made of wood are excellent. A little bit of wood is always a beautiful touch, no matter if you have wood beams in your house that serve a practical purpose or if you like the way they look. Burled and hand-hewn pieces of wood are excellent choices for this style because they look natural, homey, and not too polished.
Mediterranean interior design idea #4 – Experiment
A Mediterranean interior design home has a unique interior design that can be done in many different ways. So that you can use anything you have at home to do tests, mixing modern furniture with pieces made of wood, brick, or stone, as well as rugs, can help you get the right mix of elements that make up a Mediterranean interior design. Textured wall panels on columns or fireplaces can give a room a traditional Mediterranean style. If you're having people over, choose a floor plan that is open and has a lot of places to sit. Use patterned tiles from the floor to the roof to give your home a unique look.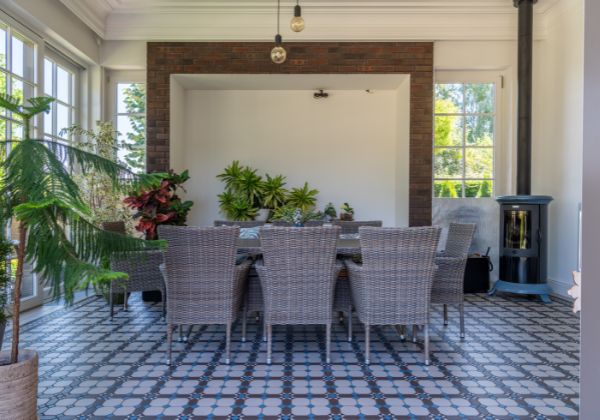 Mediterranean interior design idea #5 – Indoor and Outdoor
How well indoor and outdoor areas work together shows the traditional Mediterranean way of life. Some design elements, like plaster, stone accents, and airy linen linens, work just as well outside as inside. This makes it easy to bring your living room outside. Choose a simple fire pit with a shape you like, set up some chairs, and take some time to relax in your own private outdoor space. It's almost as fun as going somewhere far away.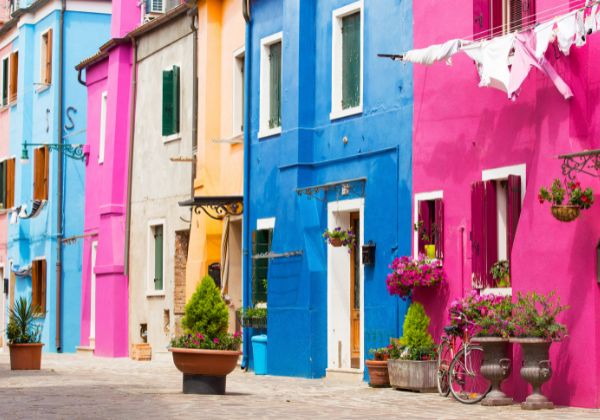 Mediterranean interior design idea #6 – Lights
To let in enough natural light, you need a lot of windows. Spending time in the sun may make a big difference in how you feel and how much energy you have. In interiors built in the Mediterranean style, windows are often placed to let in a lot of natural light. Large glass windows, French doors, or sliding glass doors are often used in Mediterranean interior design homes because they help create the airy and pleasant atmosphere that is typical of the style.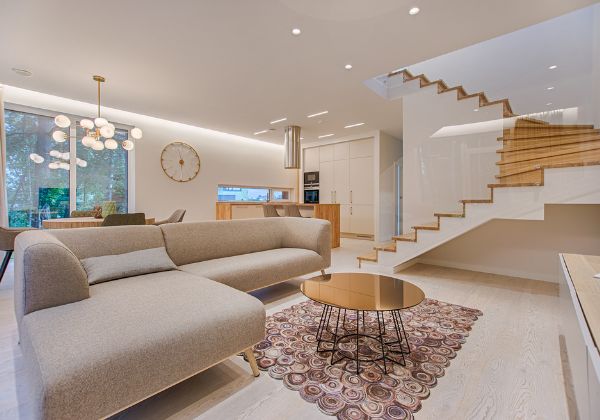 Mediterranean interior design idea #7 – Archways
Archways are a standard part of Mediterranean interior design, but only some homeowners can understandably have one. It's okay if you can build one from scratch right now.
Adding the illusion of an arch to a flat wall by painting it in the shape of a normal arch with a different color won't fool your guests, but it will still be a fun design feature. Shelves put "within" the arch make the look even better. To add sophistication, you could turn the opening into a half circle and use it as a door to another room.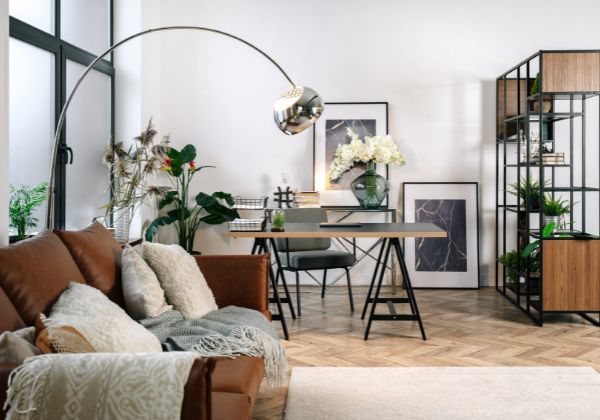 Mediterranean interior design idea #8 – Add any decor
Even though they may seem small, the right decorations can make a big difference in a room's appearance. You can give a room a sense of security by using rugs with traditional patterns and muted colors, or you can add a splash of color by using a rug with an eye-catching pattern and bright colors to go with any design. Plants like rubber plants or fiddle leaf figs can be a beautiful addition to a modern room. Plants like the Sansevieria, the ZZ, and the lemon would look great in your home.
Mediterranean interior design idea #9 – Keep it simple
Even though the Mediterranean interior design may give the idea of wealth, they are usually more understated and focused on functionality. Use primary colors like white, cream, and blue if you want your space to look clean and organized. The traditional look of a canopy bed and stucco walls can go well with bedrooms decorated in a Moroccan way; for this simple design, wicker, linen, cotton, and wood are all great material choices.
To Conclude…
To sum up, Mediterranean interior design is the best way to meet your decorating needs if you want a room of elegance and luxury. The building and design of the Mediterranean area were a significant influence on this style. The traditional look that is the heart of this loved style is best shown when deep colors and different textures are mixed. A room with a modern take on Mediterranean style interior design might be just what you need to make it look like it was taken from the sun-drenched coasts of Southern Europe! You can view our portfolio here and follow us on Instagram here. Email us at info@homechromosome.com for a quick response.