Traditional home interior designs show a country's rich and varied past, and Indian traditional styles do a great job of this. Every state in India has its style of design, which shows off that state's history, culture, and customs. India has a long history that goes back thousands of years. In traditional Indian home interior design, common elements include chandeliers, collections, vases, art forms, and flower arrangements.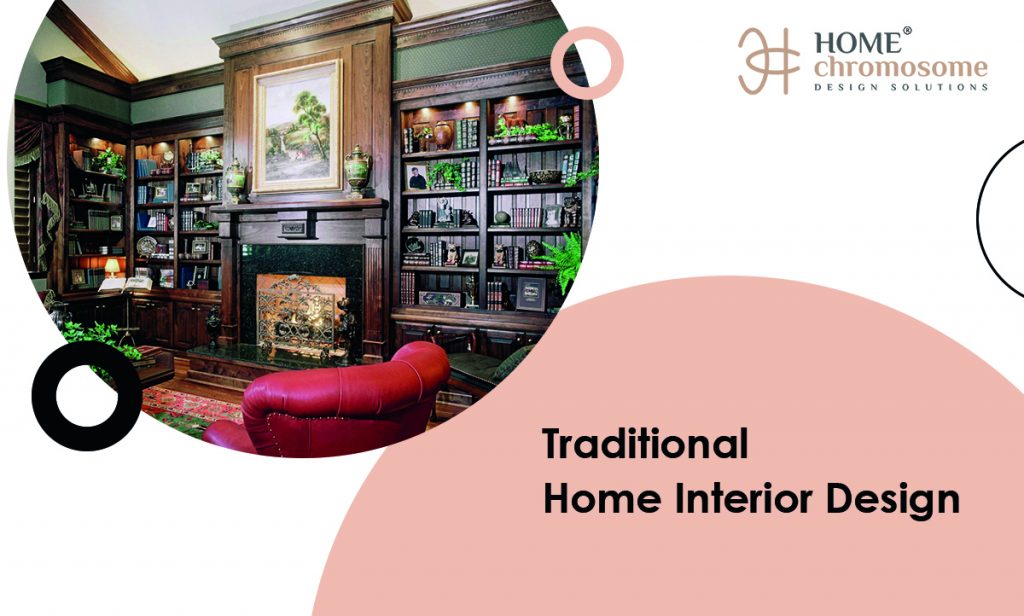 Rugs, almirahs made of carved wood, built-in cabinets, and paintings by local artists are other examples of expensive parts. Adding traditional Indian design features to our homes makes us feel closer to our roots. HomeChromosome gives you a starting plan to follow if you want to improve the area's overall look. Here are some beautiful examples of classic interior design styles that you could use in your own homes:
Traditional home interior design ideas
Traditional home interior design idea #1 – Colors
If your home is designed in a traditional home interior design, you should add bold colors to the walls and ceilings to make them stand out. Every house is different, and every customer has different wants. You can make a home that makes you feel the way you want it to make you feel by choosing a rich and dramatic color scheme that you have put together. It would be best if you didn't use blacks and whites because they can make other things in the room look less attractive.
Traditional home interior design idea #2 – Shapes and edges
Your choice of furniture should be elegant and artistic and have very detailed carvings. Most of the furniture, on the other hand, must be round and curvy simultaneously. So, stay away from anything rectangular, hexagonal, or square.
Traditional home interior design idea #3 – Furniture
To start, get rid of any furniture in your home that doesn't fit into a clear style or period. Next, remove any modern pieces that are too simple and sleek. It would be best if you replaced these with traditional items that you find exciting and full of personality and ones with a unique quirk or design. You should also highlight the building of items from different times that go well together to make an eclectic symphony of classic design. Also, try to stay away from anything with a lacquer, veneer, or plastic finish.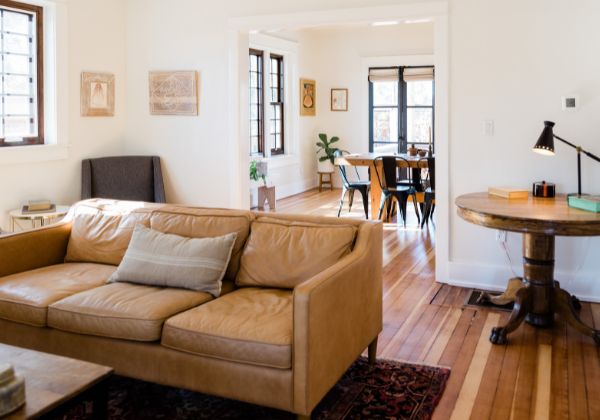 Traditional home interior design idea #4 – Upholstery in the furniture
Items from the traditional era need textiles and furnishings that are just as colorful and full of life as the rest. This can happen with patterns like damask, paisley, and others based on theme designs. In this case, you can create a more traditional atmosphere by adding modern pieces, like a black leather sofa set, along with the essential accessories that go with it and make it fit into a more traditional setting. You should pay attention to things like heavy cotton, fur, silk, plush, and wool, among other things.
Traditional home interior design idea #5 – Textiles
Textiles with traditional designs can be a great way to add wild but classic colors and patterns to your home; the sky's the limit when it comes to design. Traditional home interior design fabrics include old tapestries, new gingham, and flower and chintz patterns. There is a lot of joy and freedom to be found in this extensive collection of interior design traditional home pieces. You shouldn't use geometric patterns or designs because they look too clean. Choose pictures of nature for your furniture and pillows, and then put them next to bold stripes.
Traditional home interior design idea #6 – Accessories
There are a lot of accessories to choose from that go with this mix of design styles. However, they still have qualities that define the classic design. With furniture, traditional items for interior design can be inspired by a wide range of styles, from mid-century modern to traditional Chinese. Positioning is the key to success in this field. And by positioning, we mean rich, enticing images of things of the highest quality and are designed extravagantly. This is because almost all homes with a classic style that you will find when studying offer precisely the same. 
Traditional home interior design idea #7 – Window Treatments
Window coverings and treatments should have a classic and traditional look to give off an air of refined refinement and effortless grace. If you want your home to have a classic look, choose silk curtains in rich jewel tones, floor-to-ceiling drapes in neutral tones, and dramatic Austrian shades. Traditional home interior design can't have windows that are just glass. Consider putting a boxed valance with a Greek key pattern or an embroidered border at the top of your window treatments for the peak of traditional home interior design. You may be surprised to hear this, but it's the best way to get this look.
Traditional home interior design idea #8 – Making the flooring work better
Investing in high-quality rugs and doormats is the best way to give a room an old-timey feel because they tie everything together. If you are building a house with three bedrooms and a lot of space, you will need rugs in each room. Rugs in India often have a lot of beautiful designs and cultural symbols. Adding a bit of color to your dining room design is a good idea to make the table stand out from the rest of the room. You can also broaden your views by buying Indian cashmere carpets, known for the high quality of the natural silk they use.
Traditional home interior design idea #9 – Make a place where people can meet up
You and your family spend most of your time together in your living room or sitting area. There's also a chance that this is where you have people over. Because of this, you should make sure it has a warm and friendly feel. But you don't have to give up your living room's basic look to make room for it. There are many different ways to add traditional art to the living room interior design. You have many options, such as slipcovers for sofas, painting to hang on walls, high chairs, footstools, sofas, divans, and different ways to arrange sitting. Getting things and materials from old and traditional homes can drive up the cost of traditional home interior design, making it too expensive for some people to do. Because of this, you should think about it when making your budget.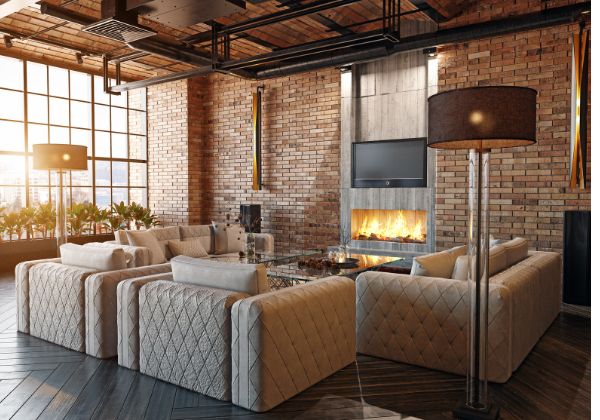 Traditional home interior design idea #10 – Symmetrical
No matter what kind of style you're working on in the house, you should always try to make things look symmetrical. Every traditional room we've seen has a unique symmetry that makes it stand out, looks elegant, and gives it a more simple feel. Because a modern home is usually very simple, this is the only way to decorate it.
Traditional home interior design idea #11 – Marbled Mantels
The last thing on our list for a classic interior design is decorating the mantels, the room's primary focus. Everyone looks at the mantel; if it's decorated nicely, it will be the center of attention. Try out different statues, essential items, vases, etc. But where they are placed is the most important thing.
Traditional home interior design idea by HomeChromosome
There are many ways to breathe new life into your walls, including planning a classic interior design theme. It's easy to decide, but everything that comes after this could be hard for you. We're here at HomeChromosome to help you in any way we can. We offer personalized services that are made to fit your needs and are priced to fit your budget. Contact HomeChromosome to know more. You can view our portfolio here and follow us on Instagram here. Email us at info@homechromosome.com for a quick response.