Modern bathroom interiors have a lot of different features, like one-of-a-kind bathtubs, sleek vanity units, and stylish dispensers and storage. Still, not all of these features can be combined in every area. Since bathrooms are where we go to relax and feel better, it makes sense to look nice. To help you with your modern bathroom interior design, we have put together some ideas for elegant and latest bathroom interior design ideas.
Modern bathroom interior design ideas
Muted Colors in Modern Bathroom interior
One of the things people will notice the most about your design is the color palettes you use. Choosing the color palettes that work much better for you may be a massive weight off your shoulders and can help set the tone for the rest of the things in your bathroom. Choosing a theme that is easy to decorate around will make your entire process much more manageable. Instead of bright, eye-catching colors like red, many modern designers like to use sophisticated monochromatic designs. You should save your more colorful ideas for the bedrooms and living room, maybe with a sofa, but try to keep the bathroom as simple as possible to make it as chic and modern as possible. It would be best to remember how monochrome color schemes and complementary lighting could work together to create a modern space. 
Different hues in Modern Bathroom interior
People often choose two colors together now because they can make a big difference in how a bathroom looks. By sticking to a tried and true color scheme, you can make the room look much bigger than it is. The combination of black and white is a popular choice, especially if you want your bathroom to look elegant. Red and white is another classic color combination that will never go out of style. It can give your bathroom a lively look. White also looks great with blue, green, pink, and yellow, which are good color combinations for modern small bathroom interior design. You could wear bright patterns in which different colors are mixed to make a colorful look. Use these different combinations to make your bathroom look one of a kind. Orange and green neon colors can also be used together to create a jazzy effect. The idea of flower design has become a popular choice for homeowners in this day and age.
Wet room area in Modern Bathroom interior
Since the bathroom is usually the dampest room in the house, it should have a lot of space for big windows. Why not try something new with one of the wet room's design elements? It is a place where style, comfort, and leisure all come together. You can make the place look better by choosing high-quality fixtures for the shower and tub. If you have enough space, it's best to design it in a complex way by putting your creative ideas into action. Check to see if there is enough airflow in your bathroom. Hang pretty curtains in the windows to make the room look fancier. You could also put a small plant in a pot and put it in the nook, which you could use to put in magazines and other personal items. Plants are a great way to clean up the air in the bathroom while also giving it a lively feel. 
Mixing Natural materials in Modern Bathroom interior
Mixing natural materials like wood with man-made materials like metal and man-made materials like metal with natural materials like wood will give your bathroom a more natural and high-end look. There are a lot of different things in the design of the interior. Using natural materials like bamboo shower panels and sink faucets will give this mix-and-match arrangement a cozier feel.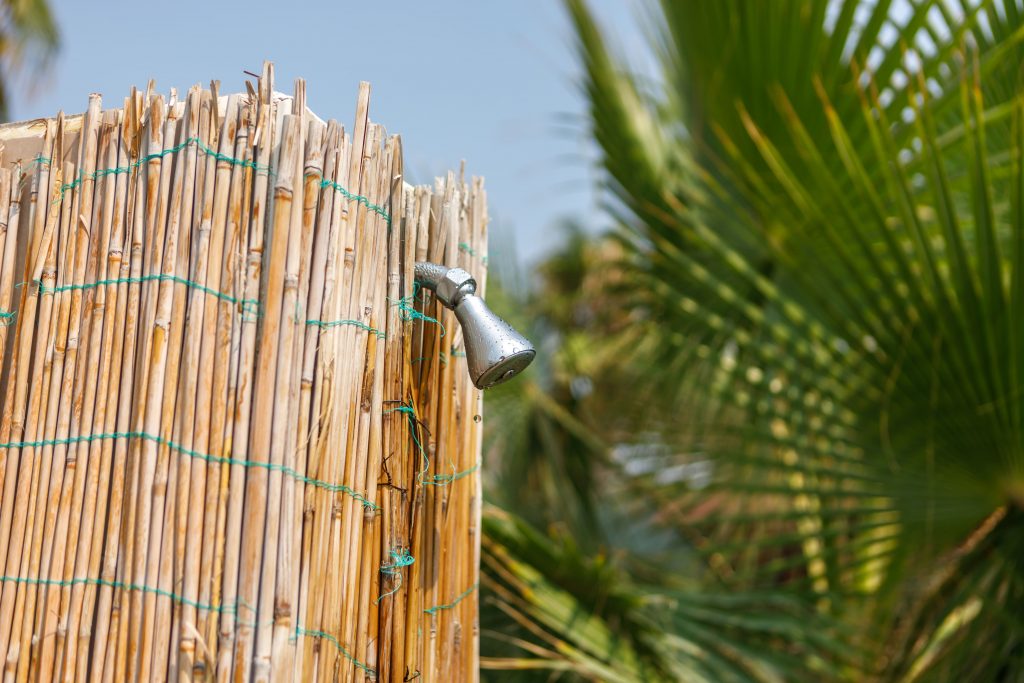 Exposed Materials in Modern Bathroom interior
You could also use exposed materials to add a touch of class to your modern spaces. Many bathrooms in modern homes have finishes that you could call "back to basics." There may not be any tiles or paint jobs, but they still have their own style. Grey concrete, exposed brickwork, and hardwood floors are all examples of this type of finish. When you put these materials together with industrial-looking shelves, you get both old and new finishes. You'll think of a Brooklyn loft from the middle of the 20th century when you look at them.
This modern bathroom interior is especially helpful if you have a lot of windows or even just one big window that lets in a lot of natural light. Because this creates more open space, your bathroom will feel more modern and welcoming. Installing concrete gray tiles or exposed brick next to your walk-in shower enclosure or roll-top bathtubs can give your bathroom a modern look. This gives the room a sense of openness and draws attention to the high-quality modern items. You can also draw attention to these features by choosing the proper lighting. To do this, make sure your bathrooms have spotlight lamps.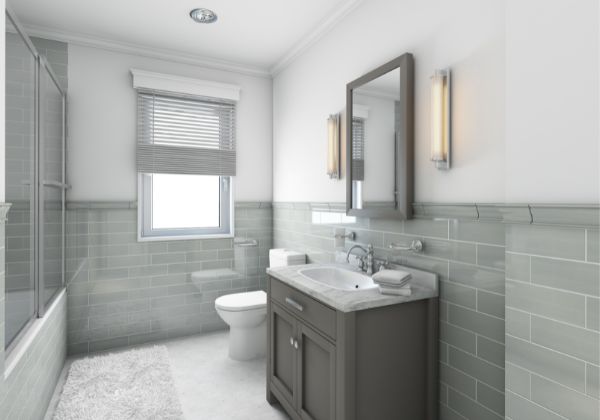 Round or curved furniture in Modern Bathroom interior
Another big problem is figuring out how to choose bathroom furniture or how to choose bathroom furniture that not only fits with the atmosphere of understated elegance and the design pattern but also looks good and works well enough for the room to flow. Your bathroom design needs to be modern while still being practical. Curved furniture, like bathtubs, can be a good choice for the bathroom of a house or apartment because it gives the room a sense of stability and usefulness. Curved furniture, like curved bathrooms, corner showers, and other curved furniture, is the perfect mix of style and furniture. You don't have to put your budget on the back burner. We have a great mix of packages and bathroom suites that include the stylish look of curved furniture and corner showers without emptying your bank account.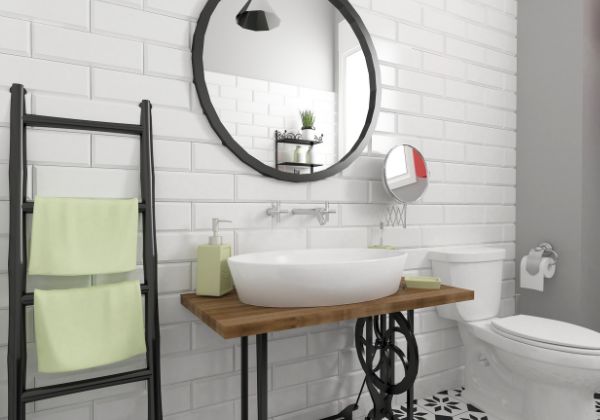 Rainfall shower in Modern Bathroom interior
A rainfall shower attached to the ceiling is a great way to give your home a stylish and modern look. Instead of a shower head attached to the wall, these shower heads will let the water gently fall from above. If you like to add a touch of luxury to your home, you should get this kind of shower. A rainfall ceiling shower is an easy way to add light elegance to your home, so you should consider putting one in your shower enclosure. It is one of the things that is mentioned more often than others, and it is an excellent idea if you want your fitting to strike the perfect balance between comfort, designer style, personality, and maximum functionality.
If you choose a model that is both simple and able to give you a high-quality showering experience, you will want to make sure that the accessories that you add to your bathroom match the style of the room. From the types of sinks and basins to the models of toilets, all of the little details and finishes need to have the most style, and this style should be able to carry over into the essential fixings and surrounding elements, like the towel shelves, in a way that is smooth enough to be called seamless.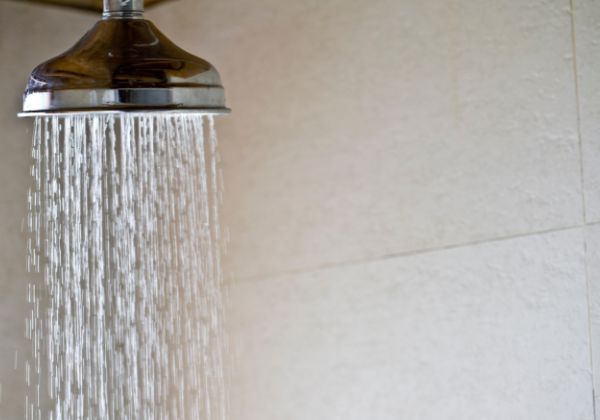 Tiles in Modern Bathroom interior
Decorative bathroom tiles can make an ordinary bathroom look a lot better. The best thing about this accent is that you can commit to it for a short time so that you can choose from a wide range of tile designs. Using a different pattern or color, you can change things up whenever you want. If you want something to be even simpler than they already are, tiles run the length of your bathroom floor up to one of the four walls. Or you could pick one of the four walls. Or you could choose one wall and let your mind wander. For example, this modern bathroom wall, made of black tiles, is a work of art that steals the show with a simple, black-and-white design.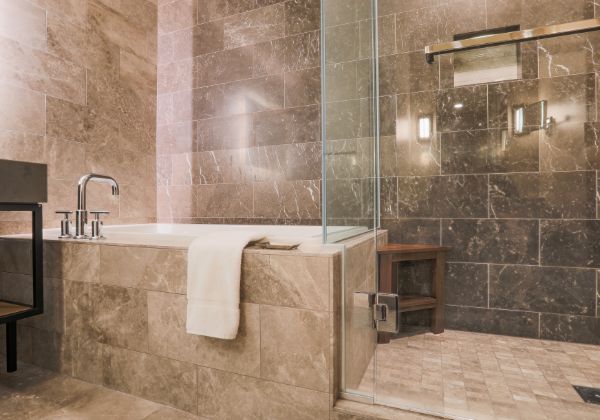 modern bathroom interior by HomeChromosome
Each part of your charming home was built with a specific purpose. For your karaoke, concerts, and stress-relieving baths, you need a modern bathroom that does more than its job to make you feel at ease. Contact HomeChromosome, if you are looking for the best interior designers in Bangalore, and transform your bathroom. HomeChromosome has a team of professionals ready to help you with anything you need to make your house feel like a home. Let our skilled professionals assist you! You can view our portfolio here and follow us on Instagram here. Email us at info@homechromosome.com for a quick response.