When it comes to living room interior decorating, the term "modern" is frequently used to describe a specific style. However, many types of looks can be classified as modern, ranging from mid-century to maximalism. Below are our favorite examples of modern living room interiors so you can sort through them.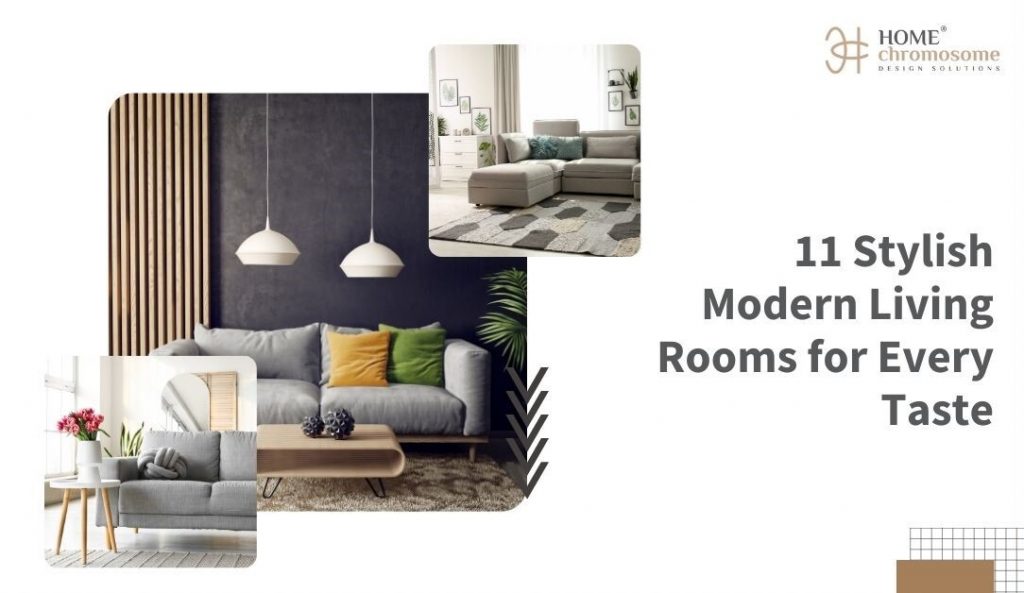 Colorful Modern Living Room Interior Design
This contemporary living room interior space includes furnishings and decor in lovely pops of color, along with the striking focal point of a hot pink fireplace surround, redefining what modern decorating means. Keeping the walls white while distributing vibrant colors throughout the room does not detract from the room's gorgeous hearth but complements it.
Contemporary and Transitional Living Room
You can also use a classic and neutral color scheme in your modern living room interior without sacrificing the wow factor. For example, in your modern creative space with a transitional theme, you could use navy blue accent chairs and decorative pillows against soft gray furnishings to create an elegant yet contrasting look.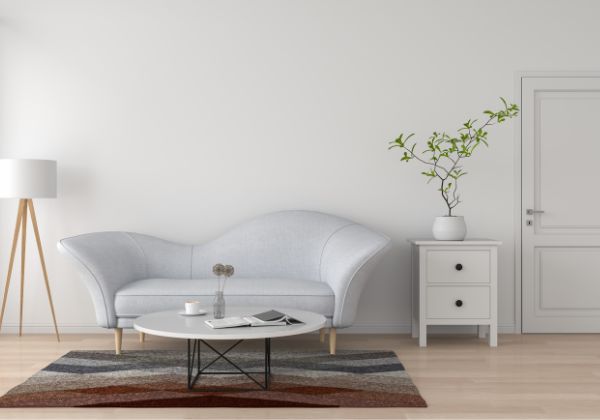 Modern Living Room Interior With Mid-Century Inspired Furniture
You can design this modern living room interior with durability in mind. A planter room divider separates the main living area and adds lush greenery to the space. The inviting tone is set by low-profile furniture with a retro, mid-century vibe and the classic pieces are both straightforward and comfortable, both characteristic of modern style. Above all, a statement light fixture puts a modern spin on the classic chandelier.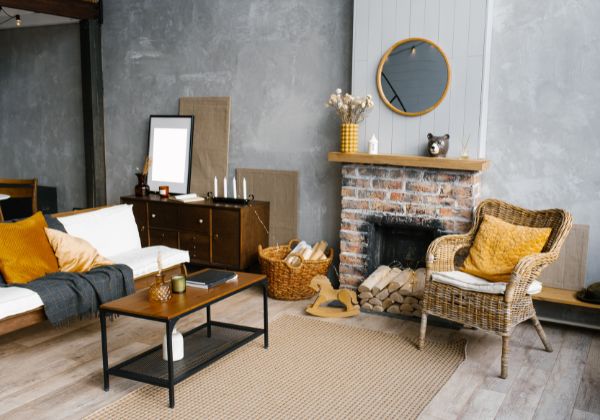 Minimalist Modern Living Room
A minimalist, modern living room interior that focuses on the perfectly manicured backyard makes sense if you have a spectacular view. This welcoming space has clean lines, minimal furnishings, and a simple color scheme that coordinates beautifully with the great outdoors.
Living Room Interior With Texture and Pattern
Beautiful wallpaper in a striking modern pattern can elevate the style of your small living room. From ribbed table lamps to the rattan coffee table, a wide range of contrasting textures adds visual interest.
Carefree Modern Living Room
Typically, the fireplace is the focal point of a living room, but not in this unusual apartment. The heart of this carefree space is an abstract self-portrait in black and white. You must balance the color and texture in any room you decorate. Take note of how the fiddle leaf fig tree in a pot softens the charcoal sofa. There's also a geometric rug and a leather side chair. Both are accent pieces that complement the industrial-inspired coffee table and copper side table.
Airy and Bright Modern Living Room
When most people think of modern decorating, they think of bright and airy spaces. And this modern living room interior exemplifies that idea. Pops of color brighten up this mostly neutral-toned room. The large wall prints add to the energy of the room. It's crucial to note that modern spaces can incorporate a variety of furniture styles, such as the spindle farmhouse chairs arranged around the Saarinen "Tulip" dining table. ​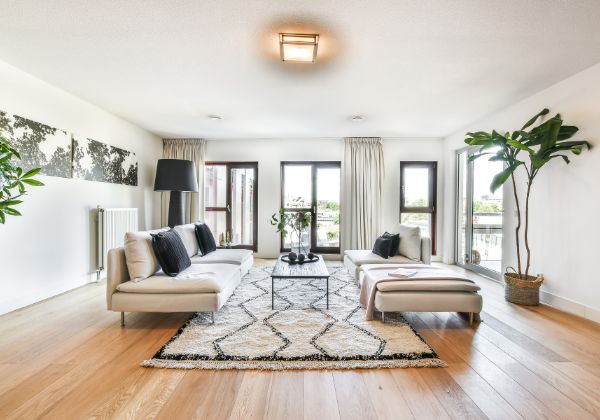 Black and White Modern Living Room Interior
The black and white geometric walls in this mostly monochromatic, modern living room interior put the "D" in drama. Metallic accents are always completely contemporary. Copper, the metal du jour, adds a touch of luxury here. ​
Modern Art Deco Living Room
Move over wanderlust because everything Art Deco is becoming popular. This whimsical living room combines contemporary art deco-inspired elements such as the faceted mirror and brass coffee table with ultra-luxurious items such as the plush jewel-toned furniture. As a result, the modern living room interior feels lush, vibrant, and inviting. ​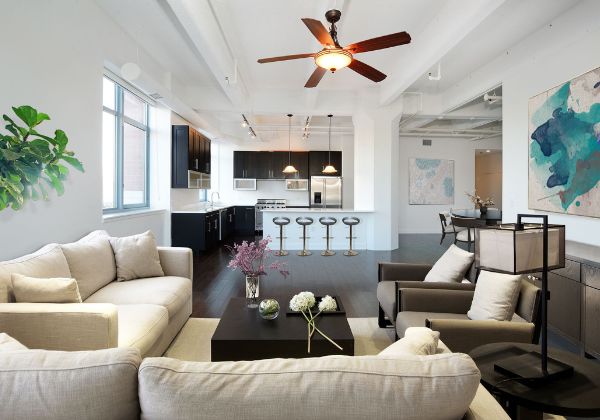 Modern and Minimal Living Room
The best living rooms, regardless of how modern and minimal they are, have comfortable furniture, as demonstrated in this lovely space. A super cozy throw and royal blue pillows accent the modular sofa. The shag rug is both contemporary and inviting. ​
Modern Living Room Fit for a Maximalist
Yes, modern design can appeal to maximalists. This modern living room interior features an explosion of color and texture, resulting in an irresistible space that is both eye-catching and cozy. Take note of how using black and white prints and a bold shade of blue throughout the room creates a sense of stylish unity.
The Bottom Line
Do you need a modern living room interior design in Bangalore? Contact HomeChromosome today to learn about never-before-seen modern living room interior designs! Get customized services that meet your specific needs while staying within your budget. So, if you're ready to modernize your living room but need some help, CALL US TODAY! ​ ​