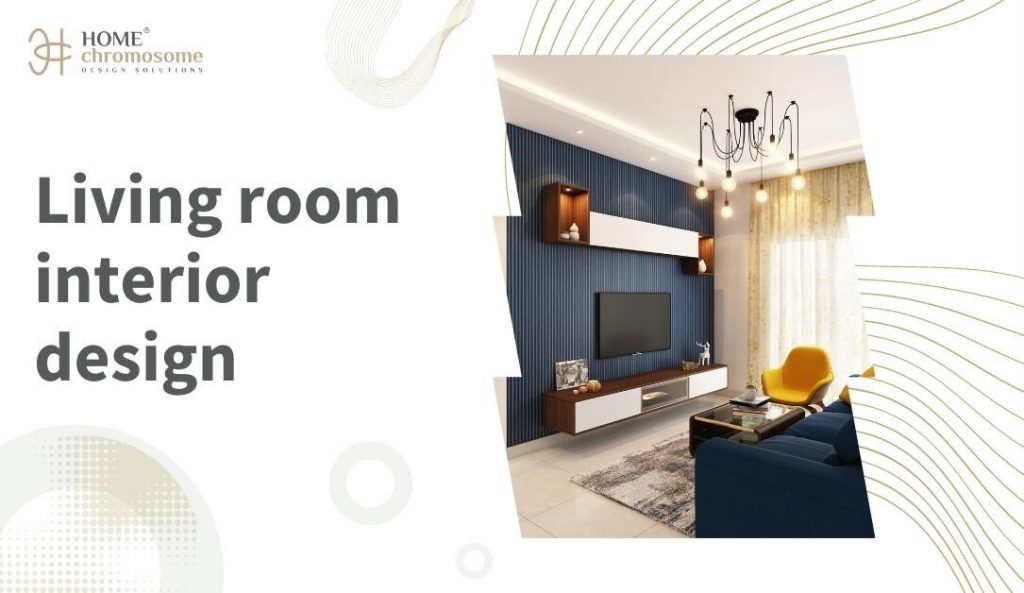 It goes without saying that the living room in your home is a reflection of your lifestyle and individuality. After all, the living room is the first thing that comes to the attention of anyone visiting your home. As such, it is crucial to make sure that your living room interior design is aesthetically amazing, highly functional, and comfortable.
Contrary to popular belief, narrowing down on the perfect living room interior design in India is neither difficult nor expensive. You just need to discover the right theme, your budget, and your needs, and then partner with an experienced living room interior design expert to get the job done. HomeChromosome is among the leading interior design companies in Bangalore that has established a reputation for itself for its top-notch living room interior design expertise. 
Read on to understand how high-quality interior design can transform your living room.
Living room interior design upgrade
India has a wide array of various cultures, traditions, and rich heritage. And you can incorporate all of that into your living room interior design seamlessly. By simply accounting for the available space, the outlook of your home, your custom ideas, and the expertise of your interior designer, you can truly upgrade your living room into something magical!
Rest assured, all the elements of your living room interior design would sync together without any hassles. Additionally, we also adhere to all Vastu rules to ensure that good fortune, health, and prosperity comes your way naturally. Therefore, we account for the following Vastu rules when creating interior designs for living rooms.
To bring in fortune and prosperity, the living room should always be located in the north, north-east, or north-west direction.
The main door is the means for the entry and exit of all energies, and so, it should always be situated in the north.
Various hues of pink, white, brown, yellow, etc., are perfect for bringing warmth, happiness, and fulfillment into your life. 
The sofas in the living room should face towards the east so that you get the warmth and vitality of the sunlight into your living room space. 
With that being said, let's discover some of the most exciting living room interior design ideas for your home.
Ensure top-notch living room interior design with a swing
The well-known swing (or jhula) is one of the most beautiful additions to a living room. It is ideal for bringing a traditional touch to your modern living room space. While a traditional swing is undoubtedly an amazing addition, you can elevate the design by adorning it with cozy cushions, artistic patterns, and ethnic fabric. You can even add some embroidery to make it look all the more special.
Ultimately, your living room swing can be simplistic, or you can include carvings. This boils down to your lifestyle, taste, and budget.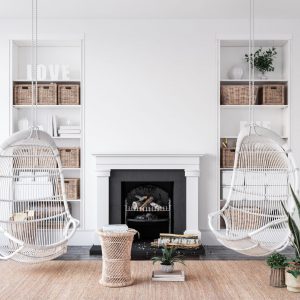 Utilize a biophilic design by including plants in your living room
Indoor plants make up the concept of biophilic design and are one of the best ideas for home decor. They instill freshness and positivity and make you feel rejuvenated in your living room. They are also a sign of good luck and prosperity. Having them in your living room would attract more good things into your life.
You can opt for an earthy theme to make a biophilic design seamless in your living room interior design. This can be done by utilizing furnished wooden inclusions and amping up your home decor with lush, green plants in beautiful clay pots.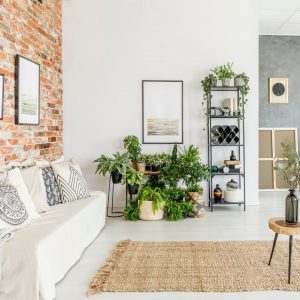 You can organize a row of plants in a straight line or arrange them in the corners of your living room. You can also consider hanging plants near the windows or placing them on a shelf behind the TV.
Wooden textures
Wooden textures are evergreen. They can make your living room interior design look ethnic, classy, and stylish, all in one! So, if you are trying to make your living room look upbeat and have the perfect combo of traditional and modern design, wooden textures are the way to go!
You can design your flooring to look like wooden boards. Have your drawers and cupboards in wood. Ensure your living room has enough natural light. Add elements like a potted plant or lamp to further complement the wooden outlook.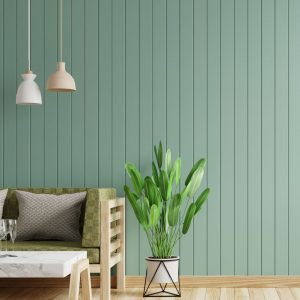 A minimalistic design
One of the most popular living room interior design ideas in recent times has been minimalistic design. You can opt for this amazing design element, particularly for a small house. For instance, you should utilize only a small number of basic pieces of furniture that look stylish and are a natural fit for your living room space. In addition, you should paint the walls and ceiling of your living room using only light and warm colors. Naturally, the colors of your furniture and carpet should complement the walls and the ceiling. You can also include a potted plant, beautiful artwork, or a statue at a corner to accentuate the look of your living room interior design in a remarkable way.
HomeChromosome – The Best Living Room Interior Design Experts in Bangalore
Just like a chromosome forms the basis of human life, we do the same for your home. We take charge right in the beginning so that you do not have to make adjustments later. We believe in being right the first time, and our 1000+ family of customers will vouch for it.
We are a brand to reckon with when it comes to taste, finesse, luxury, and extensive customization. We aren't just any interior design company. We are a "design firm"- a brand that works from the ground up to ensure complete harmony in every element that comes together to make your home the home of your dreams.
We understand that our company can progress when we have the right people. That's why we house the finest living room interior design experts in Bangalore to bring you nothing short of the best you can get. With a cumulative set of uniqueness, design outlook, creativity, and penchant for excellence, experience the highest standards of designs and customer service like no other.