If you enjoy everything being natural, you will also love the Rustic interior design for your house. The unfussy, casual beauty of rustic interior design not only satisfies our senses but also soothes our souls with a comforting ambiance. If you are trying to add a rustic appeal to your home, then rustic interior design style can be for you. If you want to create the charm and harmony of a rustic interior design at home, read the following blog.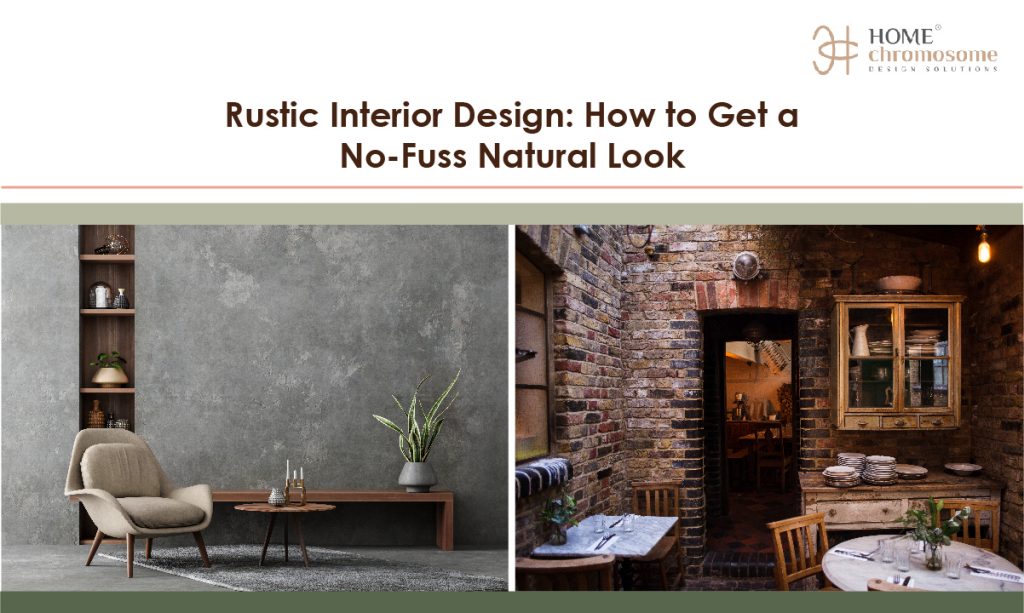 What is the Rustic Interior Design style?
It represents a natural, rough, aged, and casual design style. This category is broad and incorporates a range of variations in the style, including Tuscan, Coastal, Cottage, and modern Rustic. The relaxed look of the rustic interior design style is perfect for the countryside but can work fine for your city houses. Rustic interior design is all about practicality and making use of the things you have for your benefit.
Weathered, raw wood is one of the most common materials used to create a rustic interior design style.
This blog will help you create a no-fuss Rustic look for your home with these few tips.
1. Rustic Structural and Architectural features
Like Furnishings and decor, the Architecture and structure of rustic interior design also play a significant role. Wood floors with prominent grain, paneled walls, exposed ceiling beams, stone walls, and a fireplace can all add much character and charm. If you have any of these features in your home, you can highlight them with lighting and strategically placed decor.
2. Comfy Furniture
The furniture of a rustic interior designed home has a slight roughness to them. This includes raw wood frames, Carved stones, and textured linen pillows. Rustic Interior design also has a great sense of reusing and repurposing. As a result, worn and weathered tables and couches – those that come with a story or are beautifully ornate- are not uncommon.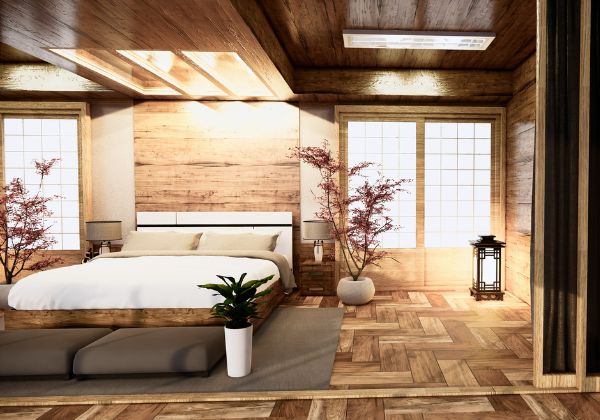 3. Use of Natural elements
The use of Natural materials is the most primary and often defining feature of Rustic interior design. Natural materials are essential and are not only limited to furniture; the elements like wood, stone, burlap, animal hide, and canvas can form a rustic look structurally or purely decoratively. The more unrefined the materials are, the better. Besides, raw pieces bring an earthy feel to the interior even more.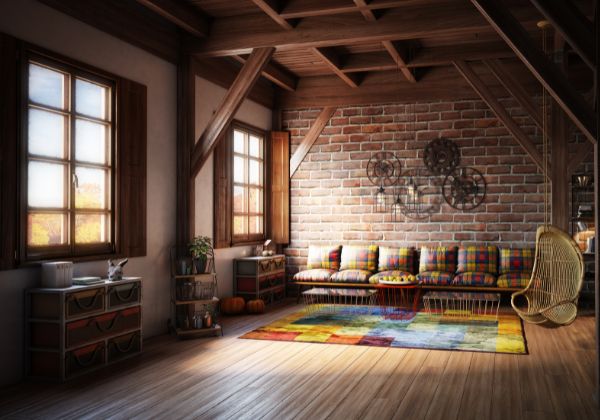 4. The earthy color palette for your home
Natural colours are ideal for a rustic home interior. An earthy, nature-inspired color scheme often translates into neutral and subdued tones, but this is not always the case. There can also be bold pops of color. The outdoors contains a wide range of colors, from reds to blues and greens and browns. When in doubt, however, stick to a muted color to ensure a warm interior.
5. Handmade and Artistic elements
For a rustic theme, sticking to natural, organic, handmade, and one-of-a-kind pieces is perfect for your rustic interior-designed home. The artisans and makers appreciate the art they specialize in, which makes these items more fitting. To add more organic touch to any design style, consider including clay pots, gnarly ironwork, mirror frames, and soft furnishing.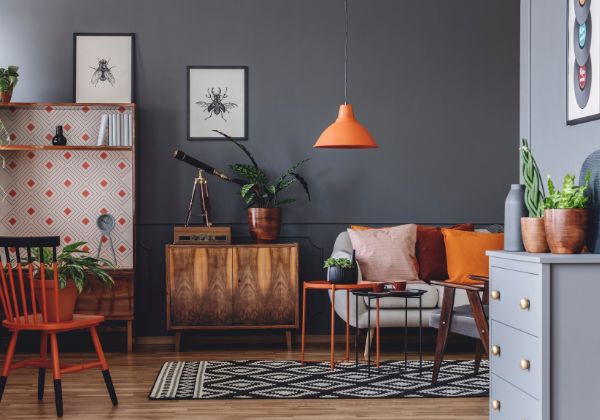 6. Shy away from shine
Rustic interior design is all about the old timely feel of rustic living spaces; there's little room for shine and sheen instead of flashy metallic accents and modern marbled surfaces. The use of synthetic material is mismatched when paired with a rustic interior.
That being said, contemporary rustic interiors have been rocking it lately, so it doesn't mean that having these modern-day fittings in the home is entirely unacceptable.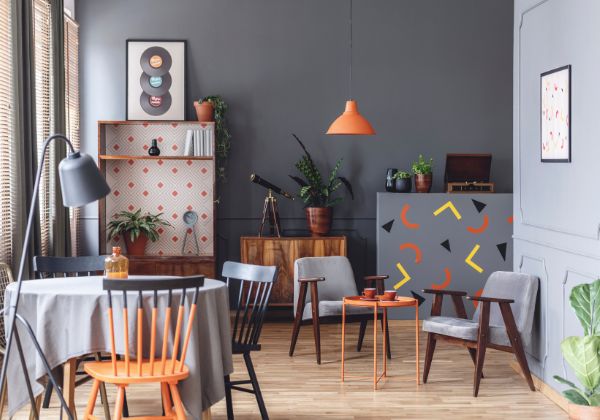 Some Rustic interior designed mixes for your home
1. Rustic Farmhouse Interior design
You will find rustic farmhouse interior design appealing if you adore down-to-earth casual homes. The blend of old and new combined with rustic country details will create a place that truly feels like home. Elements characteristic of this style include tongue and groove wood paneling, shiplap, white walls, rustic beams, open shelves, vintage furniture, barn doors, and large family-style kitchens.
2. Rustic Italian Interior design
Italian design is known for its opulence and ability to elevate architecture. And when combined with a beloved classic, rustic Italian interior design highlights the best of both worlds – old-world luxury and everyday classics. The combination also emphasizes Mediterranean design elements, specifically interiors and decor inspired by the sea and sky. These also have wrought iron, arches, columns, and rattan.
3. Scandinavian Rustic interior design
Scandinavian design can be combined with nearly every interior look to create a chic, warming, yet minimal home. Clean lines, combined with timbre, natural light, and greenery, can create a striking visual as well as a tranquil atmosphere. This is one of the reasons why Scandinavian rustic interior design is becoming familiar and popular in modern-day homes. People who long for a more contemporary feel should opt for a Scandinavian rustic interior design.
The Dos and Don'ts Of Rustic interior design
Do not rely on Contemporary materials like plastics. Since the relaxed, natural air is the core of rustic interior designs, sleek and ultra-modern designs can look out of place in a rustic setting.
Make sure to add natural elements. A rustic interior design is all about the natural world, so bringing the outside in with natural materials can be a good idea. These natural materials include wood, clay, stone, and living greens.
Do not include contrasting colors.
Adding too much contrast can detract you from the peaceful atmosphere, which is the main characteristic of the Rustic interior. You can use the outdoors for inspiration and a color palette guide.
Go for neutral color schemes.
Any hue found in nature is perfect – think mossy greens, olive, earthy browns, and pale blue.
Conclusion
Rustic interior designs are one of the most fuss-free interior styles, and they are easy to materialize. Less is often more when it comes to rustic interior design. A natural, earthy look can never go wrong for your home. Let the natural beauty of your home shine through organic materials and minimalistic designs.
Now that you are inspired to use this interior style to transform your home, all you need is a good interior design firm to make your dream home. Homechromosome and its team will make sure that you have your dream house. You can view our portfolio here and follow us on Instagram here. Email us at info@homechromosome.com for a quick response.