Modern vintage interior design is to make people long for the 1940s, which was a time of glamor and freedom mixed with today's trendy design. This style comprises warm and inviting colors, luxurious fabrics, and a unique mix of parts. It is full of furniture and textile with many decorative pieces, like old mirror frames, vases, clocks, and dishes. It is essential to create an atmosphere that fits that period.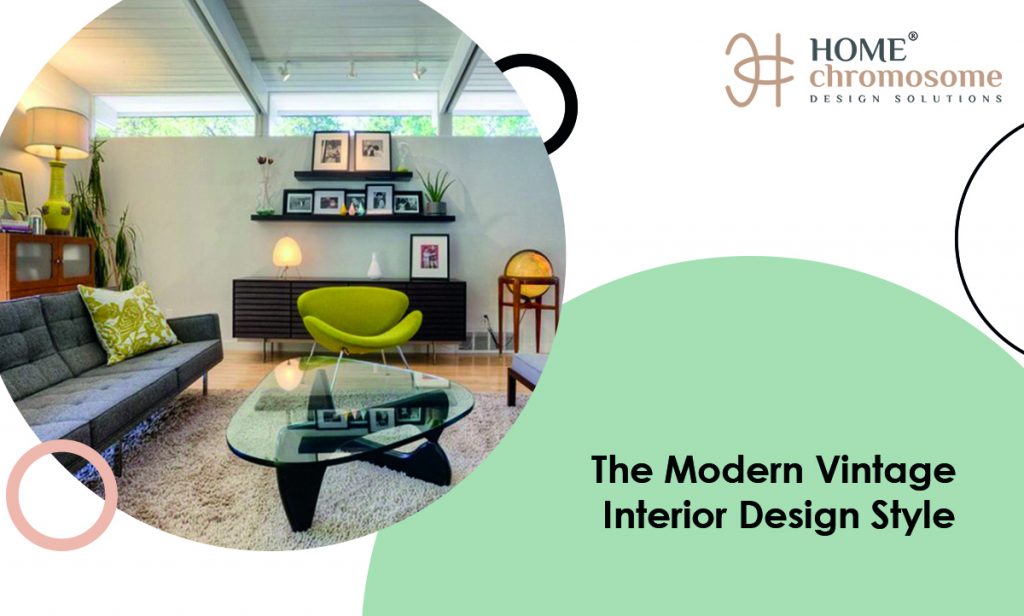 What is modern vintage interior design?
The vintage modern interior design was most popular from 1945 to 1975. Modern Vintage house interior refers to the style popular in the middle of the 20th century, from the 1940s through the 1960s. Whether it's clothes or the inside of a building, "design" shows who the people are, their culture, and their ideas. The vintage style was minimalist, with clean lines, functional use, ornamentation, and organic shapes. This way of doing things was also used a lot in architecture. The modern vintage interior design gives off a young and nostalgic vibe at the same time. It will never go out of style because it has a beautiful design that is also functional and comfortable. The style of interior design known as "vintage modern," sliding doors, patios, skylights, and other features make it easy to move from inside to outside. After the Second World War ended, cities grew and became more populated. As a result, people needed more modern furniture to fill the new homes being built. As technology developed, new materials were made, which let designers try out more shapes, textures, and colors.
Modern Vintage Interior design
Furniture in modern vintage interior design
When Vintage Modern architects and designers wanted to add an exotic touch to their designs, they often used odd combinations. To make a room feel mysterious and otherworldly, think outside the box and bring furniture with odd shapes and abstract patterns on the upholstery. This design style is defined by how it emphasizes open spaces and clean surfaces. So, instead of filling up space with heavy, fancy things, the trick is to keep open spaces around one central focal point that sets the room's theme. The theme of a room can be set by keeping these open spaces' edge on one central point of interest. The modern way looks bright when there is a statement corner table or a signature way to sit.
Wood should be your material of choice if you're going for a style of interior design emphasizing simple, clean, and uncluttered designs. Interestingly, your furniture doesn't have to match a Vintage contemporary design. If there are sofas or lounge chairs, patterned cushions must be used to keep with the design style. Even though you must use clean lines, bold fabrics, and graphic patterns, this is the case. The dining room of modern times could use a few different pieces of furniture, but the most important one would be a table decorated in a vintage-yet-modern style. The fact that vintage modern interior design isn't just made of wood might be the best thing about these pieces. Designers also use modern materials like plastic, acrylic, and other similar materials. Designers use old-fashioned patterns with geometric shapes, stripes, and neutral wools for upholstery.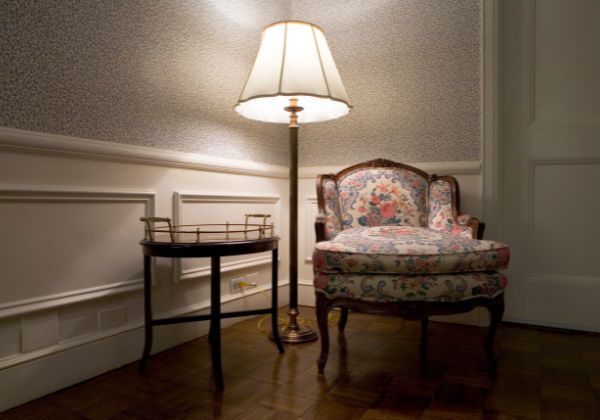 Add statement Antiques in modern vintage interior design
If you want to make a statement in your home, choose a piece of furniture or decoration that is old and has a lot of history and design behind it. This statement piece will stand out from the rest of the furniture in the room where it is displayed, making people want to talk about it. If you don't have any antiques, you can look for them online or in thrift stores near you. Some designs might not have much history behind them, but they can make up for that with bold designs. You can use a large wall clock with Roman numbers to act as a focal point in this living room and give it a unique look.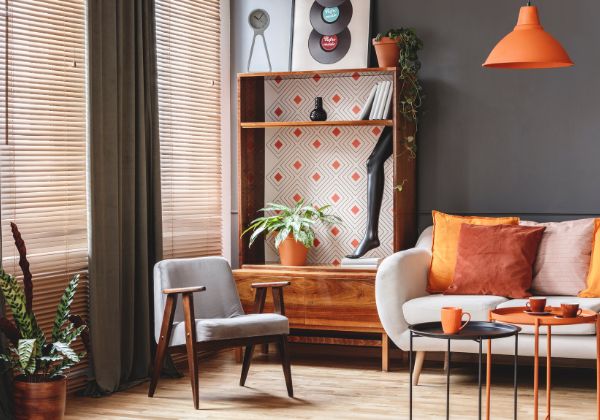 Colors in modern vintage interior design
When simplicity and minimalism are so important, a splash of color is just what you need to bring the whole design together. Whether you choose monochromatic tones or dare to use neon tones to bring cheer and vibrancy to the space, you must have the courage to try out different color choices. However, remember to keep your experimentation to the room's primary focus and not let it spread all over the space.
Wood, metal, vinyl, glass, and plywood are the most common materials used to build interiors in the modern vintage home interior style. The vintage style interior design comprises big shapes, significant patterns, and strong materials. The colors used can be anything from neutral to golden to stark, like black and white. It's possible to imagine a vintage-modern living room with sad colors like orange or rust. You can use more childlike colors like bright yellow, turquoise, and other spaces. The designers always make sure not to oversaturate a room, and they always make sure to ground the bright colors with some neutrals.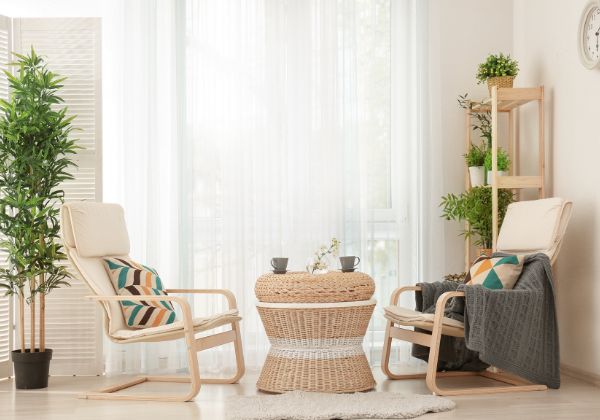 Textiles in modern vintage interior design
Curtains in homes decorated in a vintage style are usually very long and pretty. Fabrics with a shiny finish could be used, but this would depend on how other parts are made. Even though it might not look like it, vintage home designs often use materials with muted or pastel colors. One way to do this is to put bright drapes on walls that are painted in soft, plain colors or the other way around. Curtains can have a scene from the country, flowers, or a textured look. Lace is a cute detail that you can find on several old things. In some homes, these are often found on tables, nightstands, and armchairs. As long as they don't do too much, they can get a look that looks very natural.
Mix old and new things to make your look stand out in modern vintage interior design
Many interior designers today use antique pieces as decorations in rooms that have a modern style. You can get an eclectic look by putting together old and new pieces of furniture. This is a good choice for people who like traditional and modern designs but don't want to fill their homes with antiques. You might want to put some old things around the living room to get people talking. For example, putting an old clock on top of a bookshelf or putting out a set of antique dishes in the dining room are both great ways to start a conversation about the style of your home, whether it's meant to be casual or formal.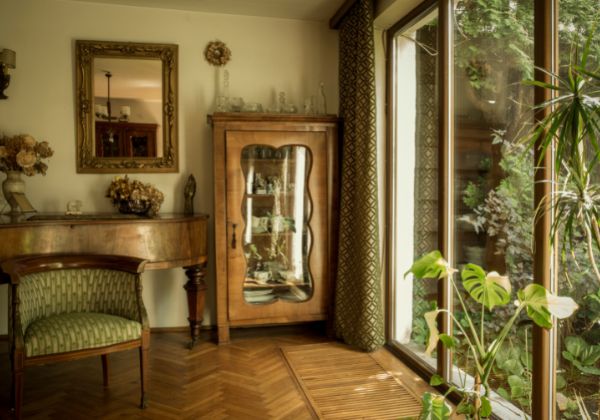 Locate your focal point in modern vintage interior design
By reusing old things, you can give your home a unique look that will stand out. Make a piece of furniture that fits different styles by using modern materials and color schemes. When putting together different decor styles in the same room, finding a good balance between how much furniture you use is essential. It would be best to mix up the designs, so they are not put into groups based on when they were made or what was popular then. If you got an old piece of furniture as a gift, you should try to find some other things from the same time period to match the rest of the room's decor.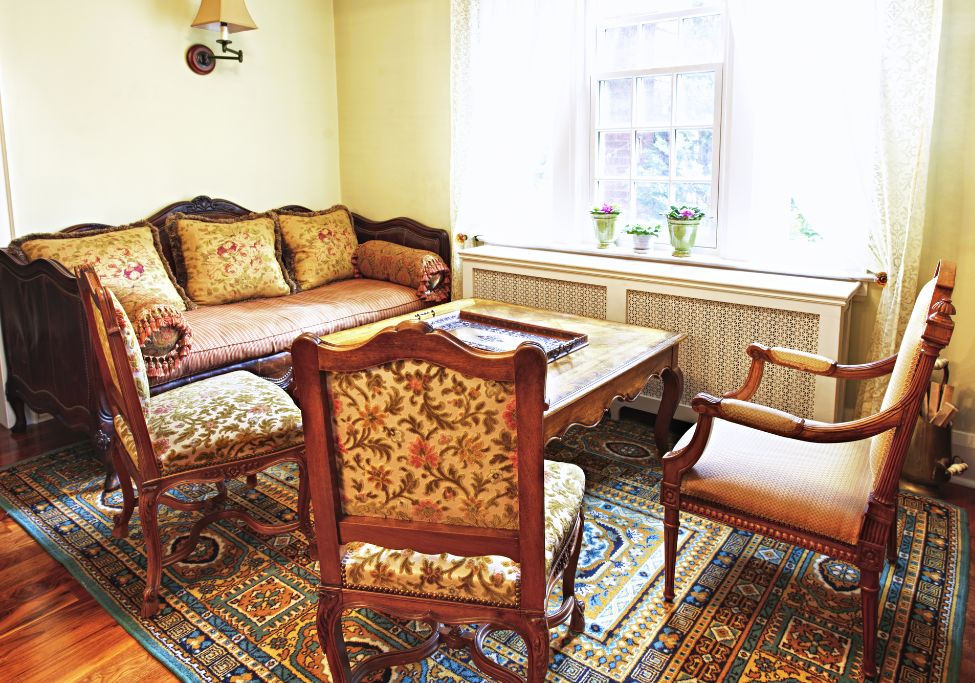 modern vintage interior design by HomeChromosome
Right now, the trend in interior design is to use antiques and other old things to decorate. There are so many styles to choose from that it's hard to know where to start. This blog tries to simplify the process by giving ideas and inspiration, from choosing the right color to picking vintage items that will stand out. Contact HomeChromosome to give your home a modern vintage interior design look. You can view our portfolio here and follow us on Instagram here. Email us at info@homechromosome.com for a quick response.