Japanese small apartment interior design and the way Japanese culture looks as a whole are often seen as some of the best examples of minimalistic homes in the modern world. The interior design of these spaces is well known for how beautiful it is and how well it combines subtlety, accuracy, and luxury. Their sense of beauty comes from Buddhism and philosophy, and they believe strongly in incorporating natural elements and the importance of the family home. From their point of view, the journey into the world of beauty starts at home. Because of this, they think that the desire for beauty is the same as the desire for home. The Japanese put a lot of effort into making their homes look like they came from nature. This simple, laid-back approach to design is a refuge from the busy world outside and a source of peace and calm inside the home.
What are the essential elements of Japanese small apartment interior design?
Shinto and wabi-sabi are essential parts of Japanese culture and building blocks of modern Japanese interior design. Wabi-sabi is about finding beauty in things that aren't perfect and accepting that life is short. Shinto, on the other hand, is based on kami, called spirits, and thought to be in everything, living and nonliving. When you put the two together, you get a base that is richly nuanced and has many different ways to build a house or make a place to live.
Every Japanese interior designer should show a deep respect for nature. This means that there are a lot of simple and straightforward resources. Japanese style rooms often have ceramics, objects made of cast iron, and concrete surfaces. Stone and wood are also common materials. Light or muted colors, bright white walls, many windows, open floor plans, and many plants all help create a calm and airy atmosphere.
What does a well-designed Japanese small apartment interior design house look like?
Architects and interior designers with a vision for the future have made a lot of modern houses that are a refined version of traditional Japanese living spaces. Most of the time, they also have several clever design features, like adjustable shelves or built-in storage, which save space and keep a room organized and free of clutter. On the other hand, the interiors of these homes are always as calm and straightforward in style as the landscapes that serve as their primary source of inspiration. These rooms have natural wood furniture, few decorations, and a focus on outdoor spaces like a garden, a broad view of a valley, or a private courtyard.
Japanese small apartment interior design Ideas
Japanese small apartment interior design Ideas #1 – Lights
Illumination is the art of using light in the Japanese house design interior. In Japanese aesthetics, light is one of the most important things. This "material" can be seen and felt, even though it can't be touched by hand. The dramatic effect that sunlight has on how we see a space turns it into a living thing that affects how we feel about it. During the building process, the movement of natural materials inside Japanese homes is usually the essential thing to consider when designing and building. We all feel happier and healthier when there is more natural light in our homes. This is because we feel like we're more a part of the world outside our four walls.
Japanese small apartment interior design Ideas #2 – Functionality
In a way, Japanese style interior design is similar to Scandinavian design; traditional Japanese furniture has a simple beauty that goes well with its functionality and finds craftsmanship. Japanese homes are often on the smaller side, which means that storage and furniture arrangements have to be done in creative ways. Think about modular systems and designs that can be changed to fit various needs and environments. In addition, Japanese-style furniture may also be shorter than other furniture. Because the tables are low, people can sit on Tatami mats or cushions, and benches or low armchairs next to large windows make it easy to see a garden. Screens and sliding doors are a convenient way to divide space into different areas, combine other sites, or combine different areas into a single open floor plan.
Japanese small apartment interior design Ideas #3 – Natural elements
Every part of modern Japanese interior design is filled with love and respect for nature. The best way to keep a deep connection with the natural world is to bring parts of nature into the home. You can bring a bit of Japanese culture into your home by growing traditional Japanese plants like Bonsai and bamboo in your yard or inside your house. You can use almost any dark plant and still get the same look. This is about putting some tasteful plants in your home, like plants or orchids. It's not typical for a Japanese home to have a lot of bright flower arrangements, so make sure that whatever plant you choose is natural, simple, and green. Japanese homes have big, expansive windows that let the outside in and give a full view of the surrounding landscape from any angle. You can put a large sliding glass door in the bedroom to see peaceful, natural views outside the room. Start your day by bringing the beauty of nature inside.
Japanese small apartment interior design Ideas #4 – Popular Colors
Earthy colors are often used in Japanese small apartment interior design homes because they reflect the beauty and simplicity of nature. Most of the colors come from the browns and greens of the wood and plants. Most of the walls have been taken down and replaced with screens made of paper that are hard to see through. Either wood or gray stone tiles are used for the floor. Because of how this design is put together, the colors are mostly muted and easy to understand. How can we make our own homes feel the same way? Use wood shelving, wall panels, and floors to bring in these natural elements. You could also make your floors or even your furniture look like stone by painting them gray. Also, don't forget how important it is to bring in a lot of greenery from real houseplants. When choosing your color palette, it's essential to keep things as simple as possible. Look out your windows to see what natural colors you can bring into your home today.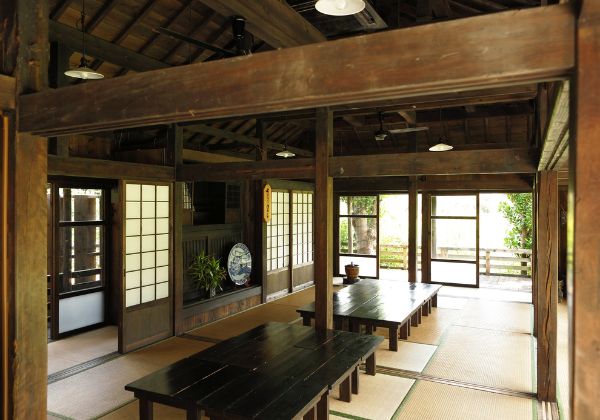 Japanese small apartment interior design Ideas #5 – Furniture
Even though many traditional Japanese homes don't have separate rooms with furniture for different purposes, like a living room or a TV room, we can still copy the simplicity of Japanese homes even though ours are more divided. Most traditional wooden furniture is made to be low to the ground, so floor cushions are often used in place of chairs during tea ceremonies. A simple way to copy this style is to put low furniture in our homes, like simple side tables and bed frames. We could also make things look more natural by putting floor cushions all around a low plank table. This would be an authentic way to eat and might even be a bit romantic. It's not hard to decorate your home in Japanese, whether going for an East-meets-West look or trying to make it look as much like the real thing as possible.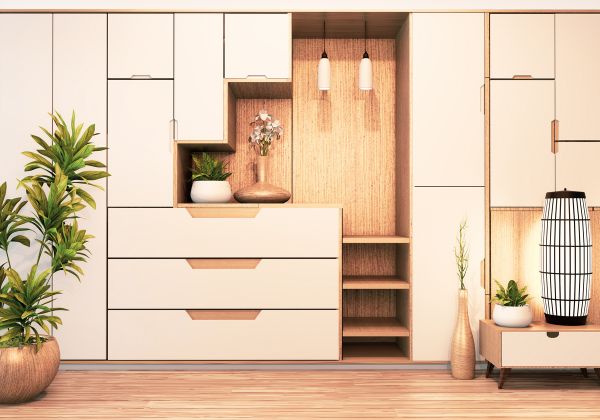 Japanese small apartment interior design Ideas #6 – Entryway
The Japanese entry is called a "genkan." This is where guests are greeted, and it's also where shoes are quickly taken off and, in most cases, indoor slippers are put on. The foyer has a Getabako, a cabinet or shelf used to store shoes. You will also notice that the entryway is simple and has a lot of wood and windows that let in natural light. Stone tile is often used to cover the floors of Victorian homes, especially in the foyer designs. We suggest copying the clean, simple lines of Japanese design if you want to make something that looks like this.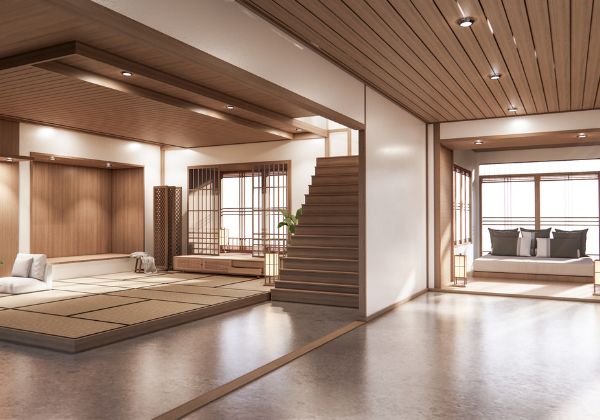 Japanese small apartment interior design Ideas #7 – Sliding Screens
A Shoji is a traditional Japanese sliding screen that is an important part of the interior design of Japanese homes. Because of how expensive housing is in Japan, most people live in small apartments, many of which are rented. Because of this, it is important to make the most of the available space. In contrast to doors, these Shoji slide back and forth. This saves space that a swinging door would take up. Authentic Japanese screens are often made of thin, see-through paper and are held together by a wooden frame.
On the other hand, you can find updated versions of these displays on the Internet. Most of the time, they are made of a wooden grid with glass panels inside. One more important thing about these screens is that, unlike doors, they don't block out natural light or the view of the outside world. To add this style to your home, you could remove a big chunk of the wall and put in a sliding door with glass panels.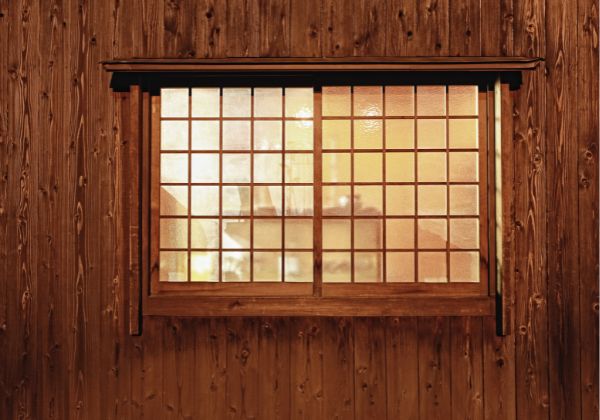 Japanese small apartment interior design Ideas by HomeChromosome
If you find that being in nature that is tranquil, soothing, and relaxing helps you feel fantastic, then pay attention to Japanese small apartment interior design. If you don't have the money to renovate your whole interior, you should at least experiment with changing one of the rooms and see how it makes you feel. Using Japanese style interior design in your home is sure to usher in an air of cheerfulness. HomeChromosome has a team of professionals ready to help you with anything you need to make your house feel like a home. Let our skilled professionals assist you! You can view our portfolio here and follow us on Instagram here. Email us at info@homechromosome.com for a quick response.