Referring to kids study room ideas makes it easy for parents and children to enjoy the room more. It usually becomes much more difficult for parents trying to decorate their kids rooms on a budget. Children's rooms today must serve as areas for play, study, and much more. Your children's learning and focus are impacted by the room's decor, which also adds style and standard. When planning the layout of the room, arranging the furniture, lighting, paint colors, ventilation, flooring, room environment, wall patterns, location, and other relevant materials, there are a few concepts and styles that should be taken into consideration. Creating the ideal kids study room ideas can be challenging. Here are some kids study room ideas by designers.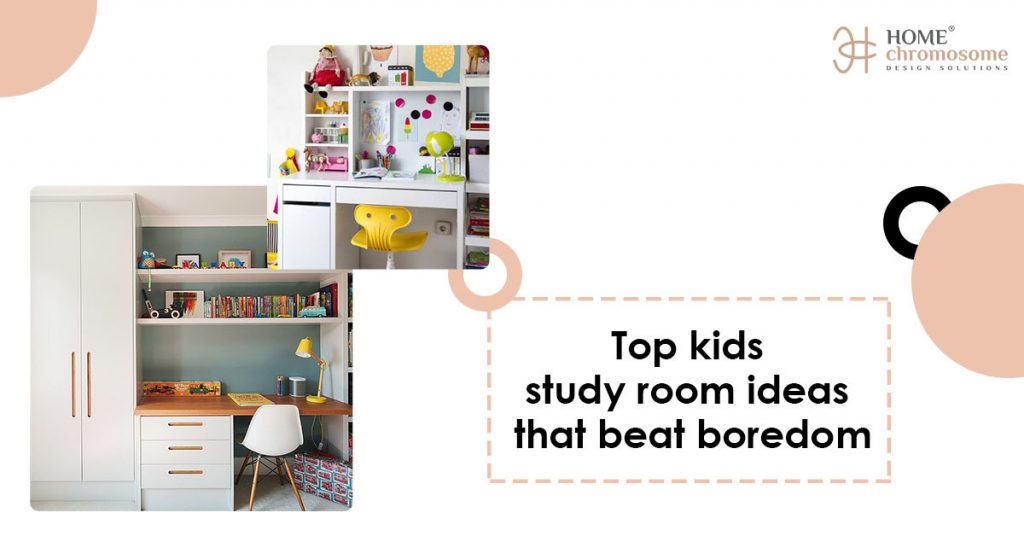 Things to keep in mind while designing kids study room ideas
Keeping extra spaces can be more beneficial, as it can be loaded with fantastic storage solutions and useful components. Bring a space that is always organized. If your room is distracting and you're having difficulties getting your kids to finish their schoolwork, it's time to rethink your playroom design plans and ensure it contains a place for them to do their homework. There are several helpful, beneficial, and simple ways to utilize tips and ideas for the study area to make homework less of a hassle and more of a pleasure. We have the best advice from interior designers right below. 
Modern kids study room ideas
Making a functional space for students and professionals is the aim when choosing modern kids study room ideas. There is no need to be concerned about noise in the current study space.
A modern study room is a workspace with all furnishings required for studying, including a desk, chair, lamp, bookcase, etc.
Pick a location that is both convenient and welcoming. Efficiency, not elegance, should be a contemporary kids study room design goal.
Pick a color palette that is light and airy, and make sure the furniture is modern and sleek.
Stay away from conventional furniture like couches and chairs in favor of more modular items that can be adjusted to make various seating arrangements.
Select organic items that could compliment the style of the room. Plants, pieces of art, and sources of natural light are excellent additions to contemporary study space. By selecting appropriate furniture that can make space for digital learning gadgets like phones, tablets, you may reduce distractions. Suppose you must use electronics while studying. Consider placing them on a stand or desk instead of resting flat on the ground. 
Keep your area neat and well-organized. Maintain order by arranging your books, papers, and other things on shelves or cubicles. To conceal your wires, use wall-mounted storage racks or baskets. If you have a sizable number of belongings, think about buying a storage container.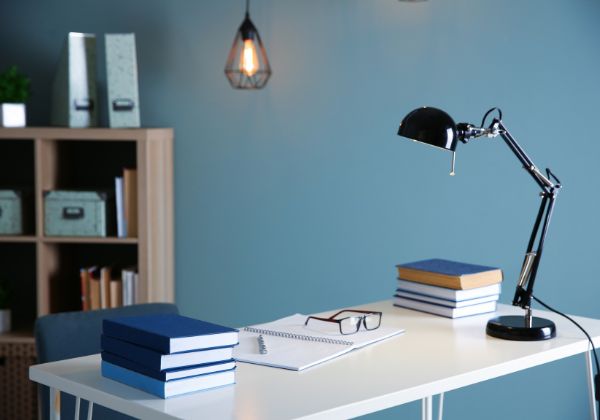 Bedroom and kids study room ideas
Bedroom and kids study room ideas #1 – Enhancing Your Study Table With Storage For Bedroom Areas
Making sure you have enough storage for your documents, stationary supplies, and other knick-knacks is one of the more significant problems of setting up a functional and usable workspace within your house. This problem can be resolved with the use of a bedroom study table with built-in drawers or a bookshelf design. Finding the proper study table design and improving the storage organization in your room will help you strike a balance between having easy access to your work supplies and retaining the comfort of your space.
Wall-mounted shelving is an intelligent, viable answer if you need more room on the floor for a workstation with built-in storage. Don't let the notion that your study table and work storage areas must be physically connected keep you from getting things done. Having all of your stationary supplies within easy reach of one another is possible with a bedroom study table and bookshelf arrangement that prioritizes efficiency above space-saving measures.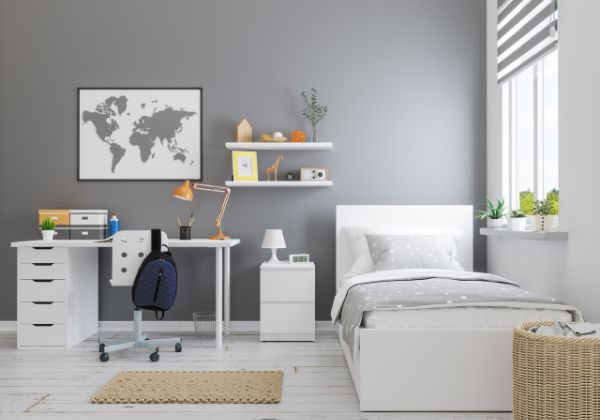 Bedroom and kids study room ideas #2 – Study table and platform bed
You will have plenty of space to add more storage due to the practicality of these unit designs and the abundance of hidden platform storage they include. They are built of plywood and oak laminate. Additionally, these units come with all the required pieces and are pretty simple to construct. The compact bedrooms are perfect for these platform beds. When not in use, the bed can be easily moved out of the way. Because of this, you won't need to be concerned about your bedroom interior appearing messy. Your writing and studying space will be provided by the platform bed. It's an excellent and sophisticated design. If you want a tiny study table with a study table for your master bedroom, this is a perfect choice. A sizable open storage area in the apartment can be used to keep books and valuables.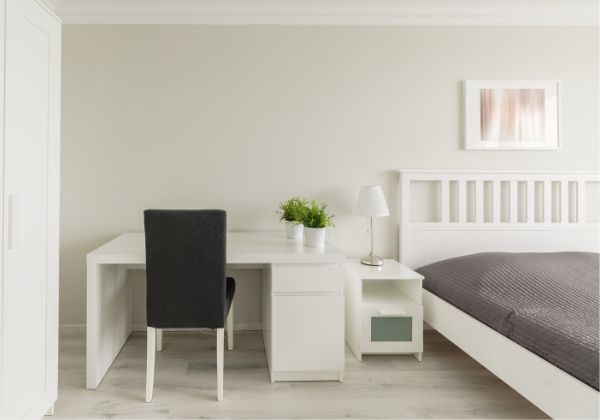 Bedroom and kids study room ideas #3 – Bedroom layout with a study area with open shelves
This is a beautiful choice if you want a study table that can also function as a coffee table. It features a sizable open storage area that may be used to keep books and valuables. A splash of color is added to the beige unit by the vivid orange chair. To store gadgets and books, you can combine them with a closed storage container. A modest bedroom layout with a study table might also serve as a dinner table for visitors. A shelf and a drawer are included in this study space, with open shelves for storage. The bucket that holds the table top is included with the table and makes for easy assembly.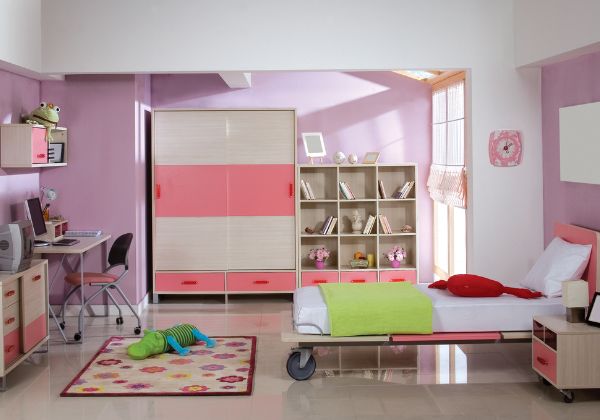 Kids study room ideas for girls
Kids study room ideas for girls #1 – Bedding
The bed is the proper foundation of a bedroom design that will last. When your child outgrows the crib, you can choose a full-size bed to prevent making a second purchase a few years later. You need to maintain the decor to do this. We advise allowing your child to choose the colors for the bed sheets and pillows since it gives them a sense of involvement while you maintain control over the quality and cost. The bedroom in these kids study room ideas has a bed and nightstands that match those in the room. The pillows are black and white, and the bedding is a soft pink color. 
Kids study room ideas for girls #2 – Lightings
Install night lights near your child's bed and desk lamps as their study units in addition to the ceiling lighting in their room. We advise choosing these in neutral colors like white or black that work with any bedroom theme. To generate a range of lighting alternatives, you may always combine different types of lighting.
Kids study room ideas for girls #3 – Multipurpose
Prioritizing your area and following your needs is a part of growing up. However, as a parent, you might choose furniture with several uses. We have created a room here that is ideal for teenage girls. It has a vanity unit for studying. Additionally, it connects two wardrobes and features drawers with a jewelry display on one end and built-in bookcases that can also be utilized as solid cubbies in the future. Your daughter can use the area however she pleases, thanks to the functional yet simplistic design. Children typically don't care as much about having storage space in their rooms. So it's up to you to find storage solutions that are both useful and attractive to look at. Typically, you wouldn't need a lot of storage, to begin with. Maybe a single cabinet or a set of chests of drawers will do the trick. However, for the time being, consider putting in a full-wall wardrobe that can house both baby clothes and toys. As she gets older, this still works out great!
Small study room design with bed
Your bedroom layout likely reflects your organizational style if you have "a place for everything and everything in its place." You don't see how you could rearrange things to add a second zone for your job. However, working on your laptop for an extended period of time while seated on your bed or in any other chair can quickly result in back pain or other aches and pains. For you, a fold-up wall-hung table or a bedroom wall-mounted study table might be the best choice.
Wall-mounted study tables don't take up any floor area. This is especially helpful in tiny bedrooms because they allow you additional placement possibilities, and fold-up study tables have the extra ease of being put away when they aren't in use. Consider using these designs for workspaces that get little traffic as well. For instance, you might set up a workspace in your guest bedroom for guests to utilize when they stay over, such as family members or friends.
kids study room ideas by Homechromosome
Kids get distracted easily, because they are very curious about the surroundings, so when it comes to studying they would want something which would help them have fun and learn. For that you need to create a simple yet enjoyable atmosphere. Homechromosome can help you achieve these kids study room ideas and allow your kids to study and have fun. If you are looking for the best home interior designer near you, please contact us. You can view our portfolio here and follow us on Instagram here. Email us at info@homechromosome.com for a quick response.