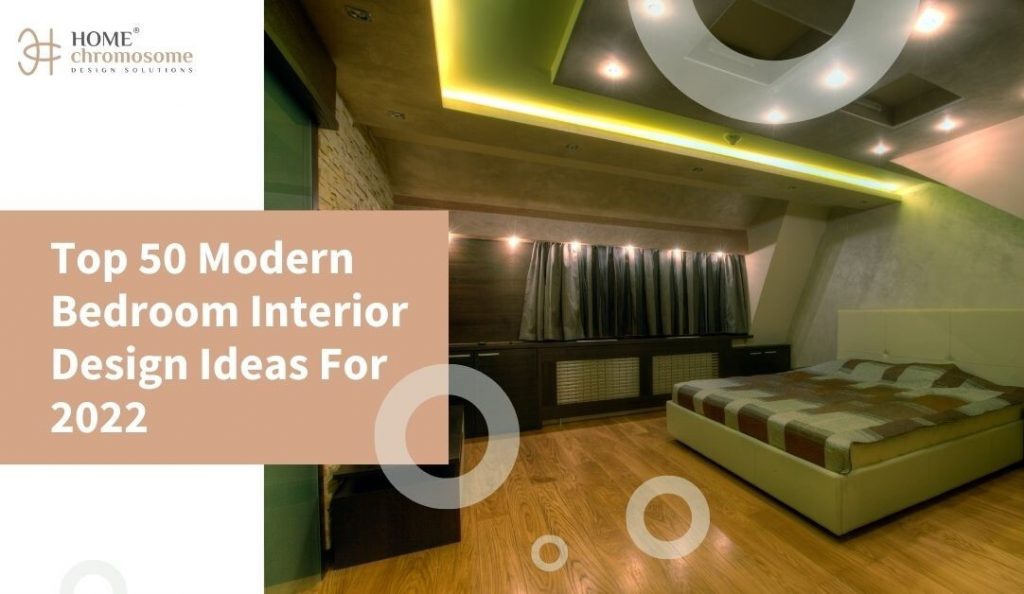 The bedroom is undoubtedly one of the most important parts of your home. So naturally, there is a huge demand for bedroom interior designers who can bring more beauty, style, and comfort to your bedroom space.
Are you eager to scale the aesthetics and functionality of your bedroom? Then check out 2022's fifty most exciting bedroom design ideas that you can implement in your bedroom today! Let's begin.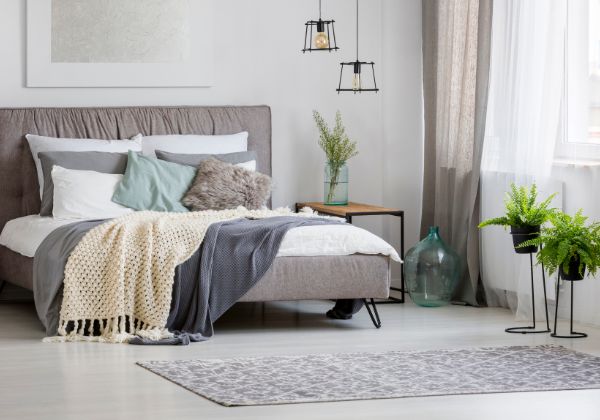 #1 The classic wooden design
Wood is an all-time favorite of homeowners, and naturally, including a wooden backdrop plus hardwood flooring is an excellent way to make your bedroom look more beautiful.
#2 Experiment with textures
Textures are some of the most underrated bedroom interior design elements. Be it the mattress, the bedside rug, or even the pillows, textured surfaces are truly a class apart.
#3 Contrasting light and dark hues
Light and dark-colored inclusions in your bedroom are a classy way to get the best of both worlds. The deep dark tones and the vibrant light tones make your bedroom look more stylish and luxurious.
#4 Bold colors are a hit
Bold colors help in making your bedroom feel more elegant and modern. You should absolutely give this a try.
#5 Ceiling at an elevation
Having a tall bedroom is an excellent way to make your bedroom look grand and astounding.
#6 Silver undertones
Be it the finishing of your bed or any other inclusion in your bedroom, having silver undertones can go a long way in making your bedroom look absolutely marvelous.
#7 A cozy and comfy bedroom
A contemporary and compact bedroom space can be super comfortable, giving you a memorable design that you would love.
#8 Accentuate your bedroom space with neutral tones
Neutral tones are super easy to apply and never fail to impress.
#9 A touch of gold and floral accents
A combination that not many are aware of, you can make your bedroom look regal effortlessly by adding a gold finish to your bed and complementing it with some fresh flowers at the bedside pedestal.
#10 Stay dedicated to a particular blend of colors
You must commit your bedroom interior design to a particular color scheme instead of going overboard with multiple colors.
#11 Try white + brown
Give your bedroom a jaw-dropping outlook by combining whitish accents with solid brown times.
#12 Wall art is always dependable
Ensure a stellar bedroom outlook by adding a beautiful piece of art to your bedroom wall.
#13 Include what is necessary
Including a wide array of home decor additions to your bedroom may appear chaotic. So instead, just stick to a few classy essentials.
#14 Add some textures to your walls
A simple texture on a certain part of your bedroom walls can give your bedroom a modern and stylish look.
#15 Black has got your back
Black is such a smooth and classic color that it goes well with nearly everything, including your bedroom space. Nothing echoes luxury and class better than black.
#16 A perfect trio
Combine three colors: one dark, one light, and one mid-toned to create a stunning trio in your bedroom space.
#17 Add many comfy cozy furniture pieces
If you have some space to spare in your bedroom, add a small sofa or a few chairs to amp up the coziness.
#18 Glamorous and glossy finish
Add sparkling and glossy surfaces to your bedroom space to make it look luxurious.
#19 In the shadows
By adding some overboard fixtures close to your bed and some strategically placed lights, use shadows to make your bedroom look amazing.
#20 Lamps
Who doesn't love lamps? Some dim-lit lamps can do wonders to your bedroom design.
#21 Classy white tones
By incorporating white tones, wake up to a vibrant and inspiring bedroom space each morning.
#22 A modern bedroom with a wooden ambiance
Design a modern and functional bedroom space with a wooden background. You would be surprised at just how effective this is.
#23 A charming headboard
The headboard of your bed can be adorned with high-quality material and decor to pave the way for a stunning bedroom outlook.
#24 Add regal elements to your bedroom
Get a completely regal bedroom space by including a posh rug, a luxurious bedside pedestal, and possibly a chandelier!
#25 Include cabinets
Make your bedroom more functional by adding a cabinet for your convenience.
#26 A bedroom overlooking the outside of your home
Assuming that your bedroom is next to your backyard or your garden, make it more personalized by having your bedroom overlook the outside view.
#27 A Victorian touch
Are you a huge admirer of the Victorian era? Then why not include some classic Victorian elements in your bedroom space?!
#28 Gray and brown nails it
Mixing great and brown sounds surprising, but you will be amazed by just how stylish it looks.
#29 Make it as splendid as a luxurious hotel
Incorporate the typical luxurious additions of a grand hotel, and you'll never get enough of your stellar bedroom space!
#30 A minimalist bedroom
Keep it simple and cozy with a wonderful minimalistic design that gets the basics perfectly right.
#31 An extraordinary ceiling fan
A uniquely designed ceiling fan can make your bedroom space look out-of-the-world, keeping it cool and comfy.
#32 The magic of rose gold
Rose gold is one of the world's most profound color combinations and can take your bedroom design standards to the summit.
#33 Blue is the warmest color
If you live in a cold region, consider adding more bedroom inclusions with the color blue for more warmth and comfort.
#34 Dual hanging lights
Putting hanging lights on either side of your bed takes your bedroom's style profile to new heights.
#35 Long and bold curtains
Add lint curtains with a bold color to make the room feel more welcoming and cozy.
#36 Blend modern and vintage design elements
Add some vintage elements to your modern bedroom design for a sophisticated space.
#37 Combine lights and floral accents
Include floral accents that are accompanied by beautiful lights as a part of your bedroom decor.
#38 Orange hues
Orange goes very well with your bedroom's light and dark accents.
#39 Natural light is always a bonus
If your bedroom has enough provision for natural light, then make sure that all your bedroom elements help in letting in as much natural light as possible.
#40 Statement light fixtures with a gold finish
Sleep in the lap of luxury by including statement lights plated with a golden finish.
#41 Add a brass touch to your bedroom wall
Give your bedroom wall a stylish brass finish for superb aesthetics.
#42 Add a creative wall design
Make your bedroom wall attractive by including creative graphics.
#43 Better home decor with concrete
Your bedroom would look marvelous with beautifully colored and textured concrete wall decor.
#44 Striped black patterns
Create striped patterns of black along with a lighter color on the wall behind your bed.
#45 Earthy tones
A huge favorite among homeowners and home designers alike, adding earthy tones with green and brown is an excellent choice.
#46 The infamous Scandinavian bedroom design.
One of the most widely regarded bedroom designs all across the world, incorporating a Scandinavian design is a brilliant decision for combining style and substance.
#47 Seaside vibes
Love the sea and the beach? Then, you can include those colors into your bedroom space and make it your own dreamy getaway.
#48 Panelled design
Adding panelled decor pieces behind your bed is a stunning concept.
#49 A dash of color
To ensure a unique touch, you can add a dash of a unique color that isn't there anywhere in your bedroom space.
#50 Art + lights
Ever noticed how famous artworks are lit by vibrant lighting? Turn your bedroom design into a masterpiece by having a central art piece on your bedroom wall and adding two lights on both sides.
So there you have it! We have presented the most spectacular bedroom interior design ideas for 2022. Are you still searching for a 'bedroom interior designer near me'? Get in touch with Home Chromosome today.