Getting your own Duplex in a large city like Bangalore is a dream come true for most people. Once you get your Duplex, you are faced with designing it. Duplex interior design is a big task; you need proper planning and execution to implement it. Maybe you are not so good with planning, but you know what decor you want for your Duplex interior design. The interior designer you chose is going to make you your dream house.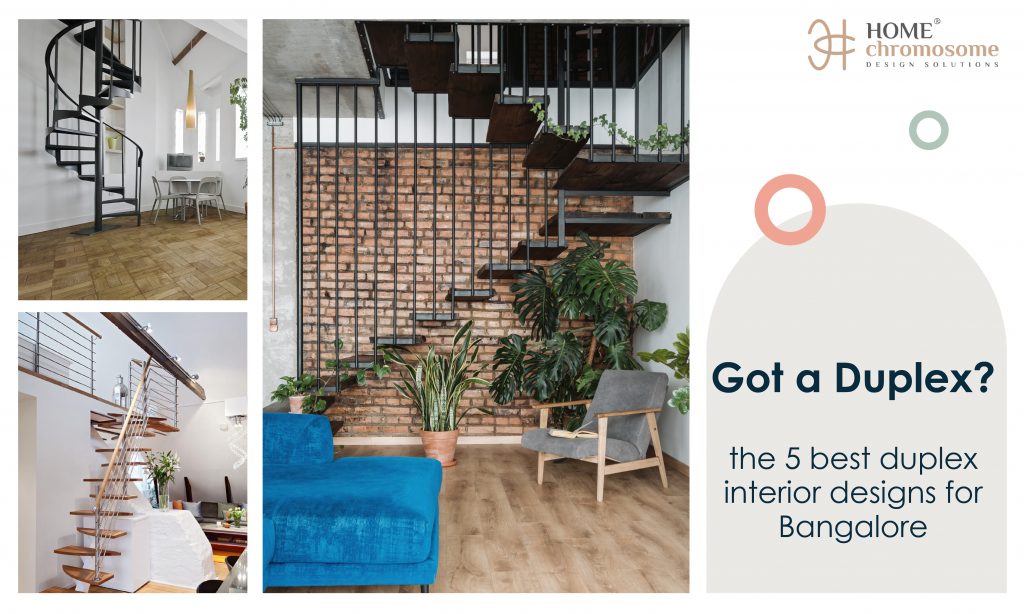 It's okay to feel lost and confused when it comes to designing a Duplex; with the help of the following ideas, you will be able to decide what kind of duplex interior design you want for your home.
What is a Duplex?
A Duplex house layout is for a single family home built on two floors, with one Kitchen and dining room. A Duplex has a Villa vibe with an open plan and more carpet space. If there is not much carpet space, like in a small duplex, you get more height, which will be used for storage.
A Duplex can feel like a luxury in itself, but you can always elevate the wow factor by adding details to your Duplex Interior design.
Your staircase will make a statement
The staircase that helps connect the units is a must-have feature of a duplex home. Why not spice it up a little? You could create a plant nook. For green space, add indoor plants. The steps can be made from natural materials such as driftwood. This will enhance the natural appearance. For added support, install a sturdy metal railing. You can also go for a gothic look by installing a spiral staircase with gold-colored railings to resemble a palace. Don't overlook the stairwell—it can be the house's focal point. You can also use the materials of the staircase (natural hardwood, granite, etc.) to inspire the rest of the living area.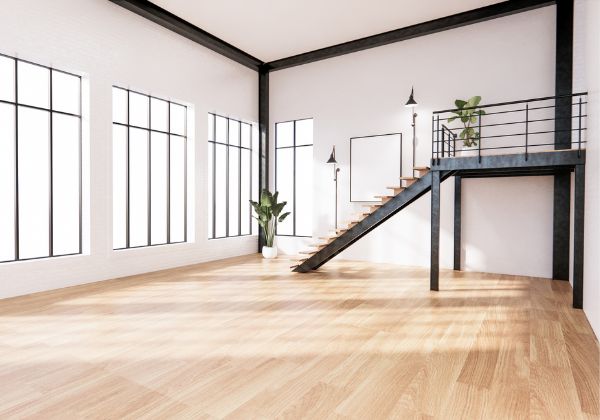 Invisible railings can also be an excellent idea for your duplex stair design. Light, thin, transparent glass railings with a reinforced steel staircase are popular and look very classy. Not every Duplex home is necessarily large despite the expanse of space; keeping embellishments and design elements at a minimum is the perfect way for your duplex interior design.
Color paint suggestions for your Duplex
Choosing an ideal color scheme while doing duplex interior design can always be a task as the look of your Duplex ultimately depends on this single element. You can consider a few color ideas for different parts of your Duplex.
White
If you love neutral colors and want to keep your interior minimalist, this is the perfect color for your walls. White is a color of peace, purity, and calmness. It looks elegant with any other color combination for your Duplex interior design. You can also use white on the ceilings to make your Duplex look bright and spacious.
Pink
The color pink reflects joy and happiness and can be an excellent choice for your Duplex Interior design. It makes any room look bigger and brighter as it reflects light. Pink is often considered a feminine color in the girls' bedroom. But you can use pink for your creativity and break the stereotypes by incorporating pink in your Duplex interior design. You can use lighter shades of pink for the master bedroom or the lobby area. You can also use pink as a combination with other neutral colors, such as grey or pastel shades.
Red
This color will bring warmth, richness, and elegance to your Duplex. Red is supposed to represent energy and enthusiasm; therefore, this color is perfect for your living room or the space in your Duplex where you would love to spend time with your family.
Blue
Blue adds calmness and tranquillity to your room. While doing the decor for your duplex interior design, pick a lighter shade of blue for the room. It is the color of the sky and water and goes well with other light shades.
Light pastel colors work great in Duplex interior design. If you want to separate spaces, use dark, contrasting colors
Duplex interior design ideas for your rooms
1) Duplex interior design – The Dining room
Select a modern dining table design for the contemporary dining area. Traditional wooden or stone dining tables add a nice touch as well. For a trendy look, use a high table. If you want the space to appear larger, use lighter colors. Place a bench on one side of the table and chairs on the other. Experiment with new table and chair designs to give your dining room a new look.
2) Duplex interior design – The Living room
You can select from various duplex house design interior ideas based on the size of your home. Choose an opulent sofa set for the living room or a small elegant one for a minimalist look. Add home décor items such as vases, center tables, side tables, bookshelves, and so on to complete the look. To add greenery to the room, place plants on the side tables.
3) Duplex interior design – The Bedrooms
Create a theme for your bedrooms. Your bedroom is your personal place, and the vibe of your Duplex interior design should represent your personality and style. If you want to make your bedroom looks royal, go for the color palette that will exude richness and boldness. Add elements that will create drama. If you want something minimalistic, you can create a neutral color palette for your walls and avoid unnecessary clutter in your bedroom. 
The theme for the kids' bedroom could be their favourite cartoon characters or the Color shade they like. You can go with one color or a combination of the same colors.
4) A proper Lighting
Proper lighting as a decor for your Duplex interior design will elevate your rooms. Natural lighting can bring warmth and brighten up your space immediately. If there's not much way to introduce natural light, you can opt for false ceiling lights in your Duplex. False ceilings or Chandeliers can bring elegance and brightness to your living room. According to your Duplex and interior design needs, you can also put lights near the staircase and accent lighting in the areas of the house. Use white lights to brighten up the place. 
5) Furniture
Furniture will make your duplex interior design look stylish and trendy. A similar set is not required when purchasing furniture, but a similar design aesthetic is. Combine techniques from various chair and couch pieces in similar finishes and colors. Place them in multiple house rooms, with matching upholstery and furnishings. This will improve the look and feel of your home while keeping everything in sync. Furniture is an essential part of the interior design of a duplex house.
You can even go for minimalist furniture design for your Duplex interior, creating a calm yet refined atmosphere. Sleek silhouettes are frequently mixed with soft components such as velvety fabric.
Utility, minimalism, and simplicity are the three tenets of Scandinavian contemporary furniture. They are typically made of natural wood and have a functional design. As a result, the style is simple yet vibrant, emphasizing functional items with round shapes and no edges. There are no ornate or ostentatious decorations here. It is ideal for the interior design of a middle-class duplex house.
6) Play around with Layouts in your home
Because you're working with two floors in a duplex home design, you may wonder how to separate the living and private spaces while distributing the functionality and fluidity of the entire home. While the lower floor traditionally includes the home's entrance, one may prefer to plan the kitchen and living room there while leaving the bedrooms on the upper floor. There's no reason to change this idea if the opposite makes more sense in your home's current layout. For example, if the upper floor has a terrace ideal for entertaining guests, you could design the living and dining rooms around it, leaving the bedrooms and study on the lower floor.
7) Create a central point in your Duplex
The common areas of duplex apartments can be unusually large at times. To create a more intimate atmosphere, use a floor rug to demarcate a zone. Following that, you can choose between a traditional dining table set and more casual seating options on the carpet. Side tables and coffee tables complete the look. It will work wonders as a kitchen Duplex house Interior design. You can even paint this open plan section a different color to distinguish it from the rest of the space. Make a welcoming space that draws attention and becomes a natural gathering place for people.
Duplex interior design by HomeChromosome
Homechromosome is Bangalore's leading interior design company. They are a team of experts with years of experience. Duplex houses can be challenging to design when you don't have the proper resources and guidance. Homechromosome will help you create the home of your dreams. To book a consultation and understand their previous work visit their website at www.homechromosome.com. You can view our portfolio here and follow us on Instagram here. Email us at info@homechromosome.com for a quick response.