For many people, modern and contemporary interior design is somewhat the same. Even the dictionary definition supports the interpretation as they consider these words synonymous. But if you ask a home or interior designer, they will tell you these styles refer to two distinctive styles. While these two decorating styles share some common characteristics, there are also differences that this blog will cover.
Let us now understand modern Interior design.
Modern interior design refers to the specific period from the early to the mid-twentieth century. Modern design is a precursor to contemporary interior design. The inception of modern design happened at the peak of the modern art movement, informed by Scandinavian and German Bauhaus designs. The distinct style is focused on simple form and function, which are valued as equals under this style. Think earthy palettes, natural materials like wood, leather, stone, and streamlined silhouettes.
Contemporary interior design
Contrary to modern design, contemporary design is an ongoing process reflecting contemporary design's prevailing fashions. It incorporates elements of modernism, minimalism, Art Decor, and other international styles without overly emphasizing any one of them. Even though the modern design is by its very nature somewhat ambiguous, there are a few characteristics that aid in its definition. Some key elements include neutral color schemes, stark minimalism, clean lines, and organic silhouettes. Expect to see natural textures like hemp or jute coupled with metals like nickel, steel, and chrome.
Now let us look at some differences and similarities between these two styles.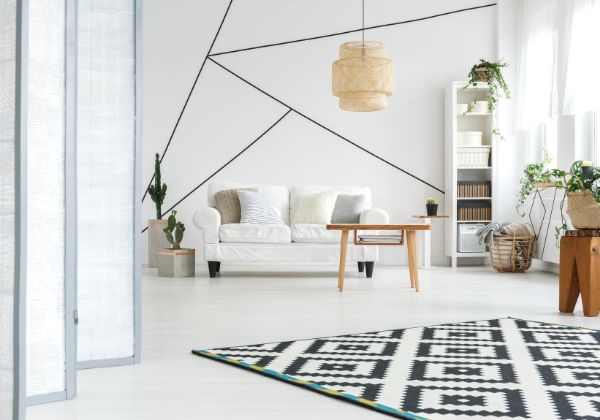 Modern vs. Contemporary interior design
Given below are some major differences between modern interior and contemporary interior:
Modern decorative pieces typically serve a predetermined purpose. In contrast to decors using contemporary interior design techniques, most ornamental items utilized in modern design frequently boast a purpose.
Contemporary style is more fluid – Since the term contemporary refers to "living at the moment," this style is more fluid and keeps constantly evolving. Contemporary interior design is eclectic since it tends to take inspiration and styling cues from different eras. While modern interior design concept follows a format of minimalism, clean lines, and balance.
 Wooden and eco-friendly elements are used in modern design. Modern interior design methods frequently incorporate a significant amount of natural materials to retain a streamlined appearance and feel and prevent the room from feeling clinical. These include imitation or natural leather, wood, and stone. While contemporary interior design trends support the idea of utilizing raw materials, they frequently incorporate concrete, steel, and other industrial-inspired components. 
Most of the decorative pieces used in modern interior design have a meaning behind them. In contrast, the decors used in contemporary interior design tend to focus more on aesthetic charm and form.
Even though modern interior design furniture favors straight and strong lines, most modern spaces don't require cold or stark hues. Instead, they are filled with warm and natural neutral colors. On the other hand, Contemporary interior design style has a bold starkness in them, such as monochromatic black & white. However, it may also swing from one extreme to another on the color wheel.
Contemporary Furniture designs are curvier-Modern furniture prioritizes solid and straight lines. Yet, contemporary furniture design ideas have a more organic silhouette. Modern furniture typically combines comfort and sophistication with a contemporary look and feel. Nickel, stainless steel, and chrome are some of the prominent metals used in furniture with a contemporary design approach.
Modern design colors have earthier hues- One of the key differences between contemporary and modern interior design is the use of color. Modern interior design trends frequently adhere to a more restrained color scheme of black, white, and grey. However, these additional hues are typically pure, saturated tones like indigo, scarlet, and orange. However, modern design colors often emphasize organic tones and include tones of turquoise, brown, rust, and greens.
Contemporary interior design keeps constantly evolving to the latest trends; it tends to pick up various elements that cannot be utilized in modern interior design.
Both contemporary and modern interior designs make use of geometric elements, which is one of the reasons why their design concepts are similar. For a modern interior design, it could be a geometric lighting fixture. At the same time, for a contemporary room, it could be a large-scale sculptural lighting fixture installed on a series of exposed beams against a white ceiling.
Now let's look at the similarities between contemporary and modern interior designs: 
Open space – Both modern and contemporary design adopts an open floor plan concept to create the feeling of spaciousness. In this concept, the kitchen is frequently merged with the dining room, or the living room is combined with the kitchen. This technique will result in simultaneously airy and comfortable living space.
Furniture with exposed legs- Furniture pieces like couches, ottomans, and chairs typically have bare legs and slender bases in both contemporary and modern styles. Both designs emphasize furniture with shiny surfaces, such as exposed glass and metals. Additionally, you can find a lot of natural wood elements in both contemporary and modern furniture, such as architectural beams, raw reclaimed wood tabletops, and end tables with metal bases.
Minimal Aesthetics- Both contemporary and Modern interior designs have clean architectural lines and zero flashes. Both designs feature simple architectural designs that showcase sophistication and timeless elegance.
No ornate designs- Contemporary and modern interior designs prefer a simple and uncluttered look as they tend to shy away from the use of heavy elements and ornate designs.
Conclusion
Indeed, contemporary and modern styles share a number of parallels and overlapping components, which may help explain why newcomers to the realm of interior design frequently find these terms confusing.
Since there hasn't been a universally accepted set of guidelines for all types of art, the distinction between current and modern design remains unclear. The fact that recent contemporary designs have begun to include mid-century modern design features also contributes to the confusion. Regardless of your design aesthetic, Homechromosme interior designers can expertly help you realize a contemporary or modern look for the interior of your home.
You can view our portfolio here and follow us on Instagram here. Email us at info@homechromosome.com for a quick response.