Contemporary Indian interior design has become popular in recent years. One of the most popular trends in India is to use Indian handicrafts to decorate the inside of one's home. Indian handicrafts that can be used in this way include, among other things, ethnic fabric prints, sculptures, and folk paintings. People in India also like to add visual interest to their homes by using bright and lively colors, antique accent pieces, and traditional wooden furniture. You don't have to do much work to make it look like an Indian home, just a few minor changes here and there will do the trick. Here are some of the best Indian home interior design ideas that you can refer to.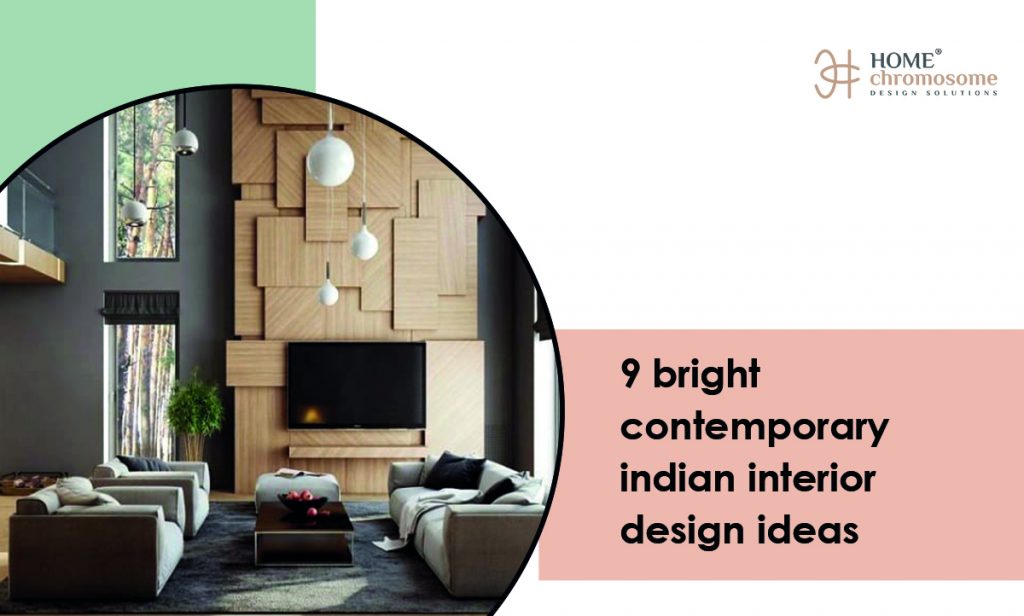 9 bright contemporary Indian interior design ideas
Colors in Contemporary Indian Interior design
Be bold and give your house a bright look. Contemporary Indian interior design is always associated with bright colors, like blue, red, yellow, and green. In contrast to the current style, which clings to black and white, contemporary Indian interior design is known for accepting everything that shines out and blending it all as one. A mostly dark room with many patterns and textures or a mostly light room with a few colorful accents can be an excellent example of Indian-style interior design.
Layering khaadis, beiges, creams, and whites with colored accents can give your home a more traditional look that is simpler and more elegant. Also, we can't ignore the bright tapestry or the classic piece of art that serves as a counterpoint to the rest of the room. Instead of trying to make one color stand out, use all these cute and light colors to set the mood for the area.
Patterns in Contemporary Indian Interior design
India has been in the textile business for hundreds of years, and many beautiful forms of art exist everywhere. Because of this, it would be hard to name the patterns and materials typical of Contemporary Indian interior design in a home. Still, the most common fabrics are cotton, linen, silk, and khadi. All these can be worn as they are or decorated with embroidered or printed designs. Some prints are Khari, Ajrakh, Ikkat, Kalamkari, etc.
Despite all of this, it's essential to know that Indian-style home decor emphasizes using natural, simple fabrics just as much as it emphasizes embroidered and printed patterns. All that needs to be done is to find the right balance. When decorating an Indian home, there are no rules to follow. It's essential to wear something that fits your style and lets you move around quickly. Even removing all patterns and using only colors to create focal points on plain, simple furniture can make a big difference in a room's appearance.
Furniture items in Contemporary Indian Interior design
Even suggesting that you shouldn't use a cabriole or chesterfield for an Indian-style interior design would be ridiculously obvious. Even if you don't have any Contemporary Indian interior design, you can still decorate your home in an Indian style by making a few simple changes to how it looks. First, every piece of furniture in a Contemporary Indian interior design home must be made of wood. This is the most important thing you need to do. Wood, especially darker-colored wood furniture, adds to the overall ethnic feel of the space. The color makes the other colors stand out more, and its soft texture goes well with the embroidered fabrics around it. You can use a divan instead of a sofa, but if you want to get the look you want without spending too much on new furniture, you should pay more attention to the colors and fabrics you choose. Also, instead of using glass and metal for the center and side tables, you could use wooden trunks and chests and tie the whole room together with a beautiful rug.
Flooring in Contemporary Indian Interior design
Natural stones are often used as flooring in Indian homes because there is no need to worry about keeping the temperature stable. Almost always, tiling is used on floors, regardless of the materials used. Terracotta, Athangudi tiles, Jaisalmer stone, and oxide flooring are all traditional ways to add color to a floor. There are a lot of bright colors to choose from, like red and yellow. If you want flooring with a neutral tone, marble, granite, and Kota stone are all great choices. Rugs and mats can be used to add some colors to the floor.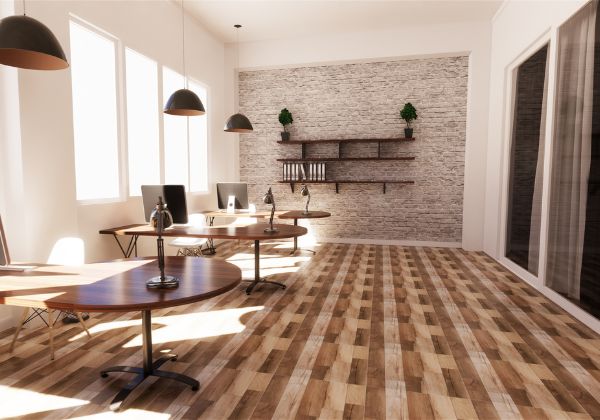 Fill the nooks and corners in Contemporary Indian Interior design.
Wooden curios and unique handicrafts are chosen to improve the look of the modern Indian interior design. Putting up handicrafts from different places is a great idea when thinking of ways to decorate the inside of Indian apartments. Also, because India has so many different kinds of handicrafts, you can use many things to decorate your home. Some of the best things to choose from are puppets, clay pottery, diyas, lamps, brass pots, decorative metal and marble boxes, ceiling lights, small furniture, mirrors, plates, and other similar things. Your home will feel more traditional because you have decorated it with brass lamps and conventional Indian pots. These things can tell a story about India that is full of history. Consider putting mirrors in the corners of the room to make it look bigger and give the impression of more space than there is.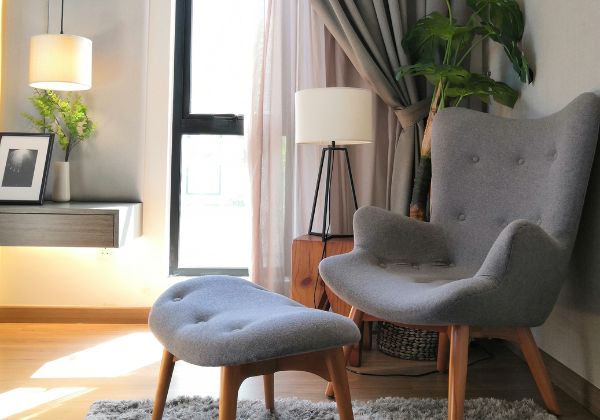 Textile in Contemporary Indian Interior design
Since there are so many traditional Indian textiles, you can find something that fits your style. Most modern Indian interior designs have a desi touch, primarily through fabrics. Prints like ajrakh and dabu use colors that aren't too bright. Because of this, they easily fit into current and modern trends, especially those that lean towards minimalism. Prints made with the Kalakari and Jaipuri methods are more colorful and work well with designs that look back in time.
The ikat, bandhej, and lehriya patterns work so well together to make a look that is both elegant and fun. Hand embroidered work like kashida, phulkari, kutch, chikankari, Kanth, etc., has a clear bohemian style.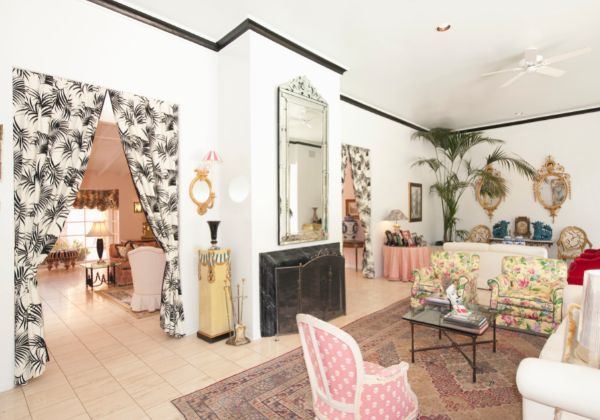 Pooja Room in Contemporary Indian Interior design
Pooja rooms, also called prayer rooms, are some of the quietest places in your flats and are a must. In recent years, marble flooring has become increasingly popular because it looks elegant and divine. Nothing is more beautiful than pure white marble for the floor of your prayer space. Inside an Indian temple or other places of worship, the decor is often stunning and enchanting. The walls should have soft lighting and be painted in bright colors. If you use marble, granite, or wood to decorate the inside of your pooja room, it will look radiant. In small rooms, you can use a cupboard pooja mandir design or a hanging pooja room with a traditional prayer room design based on Indian architecture. Each of these choices is a good one.
Plants in Contemporary Indian Interior design
Carefully choosing your plants can not only keep your home blessed and full of life, but it can also help keep Indian culture alive. A house doesn't feel like a home without some plants around it. If there is room on the balcony, fill it with pretty plants in pots. Your care and attention can help plants both inside and outside. If you want to bring good energy into your home, keep a tulsi plant or put a few lotus plants around the room. Both of these are good ideas. In Indian-style homes, ornamental plants can also be used to decorate areas that people use. You can use a modular kitchen design and put small plants in the kitchen and balcony to let in more fresh air. Also, learn more about the great ideas for indoor gardens in Kerala.
contemporary indian interior design by HomeChromosome
Most housing developments, like small flats and apartments, are limited by a lack of space, which makes the area feel crowded and unwelcoming. There are many ways to bring contemporary into small flats and apartments in the city. This will let you make a small space look better. All you need is help from the best interior designers like HomeChromosome, who can give your homes the desired features and turn them into beautiful places.  Let our skilled professionals assist you! You can view our portfolio here and follow us on Instagram here. Email us at info@homechromosome.com for a quick response.
In conclusion, contemporary Indian interior design is a unique and sophisticated style that blends traditional Indian elements with modern design principles. It incorporates natural materials, bold colors, intricate patterns, mixed styles, art, decor, and lighting to create a warm and inviting space. With its vibrant and eclectic look, contemporary Indian interior design is gaining popularity both in India and around the world. Whether you're looking to redecorate your home or simply draw inspiration, contemporary Indian interior design is definitely worth exploring.