1 BHK flat furniture design – Arranging furniture in a small living room can take much work. Because the space is small, you only have a few choices. However, with the proper layout, you can make a space that is useful and looks more significant than it is. Use these tips when setting up your small living room furniture to make the most of your space. This blog has 1 bhk flat design furniture ideas, which helps setting up a small living room with an open floor plan, and other similar themes.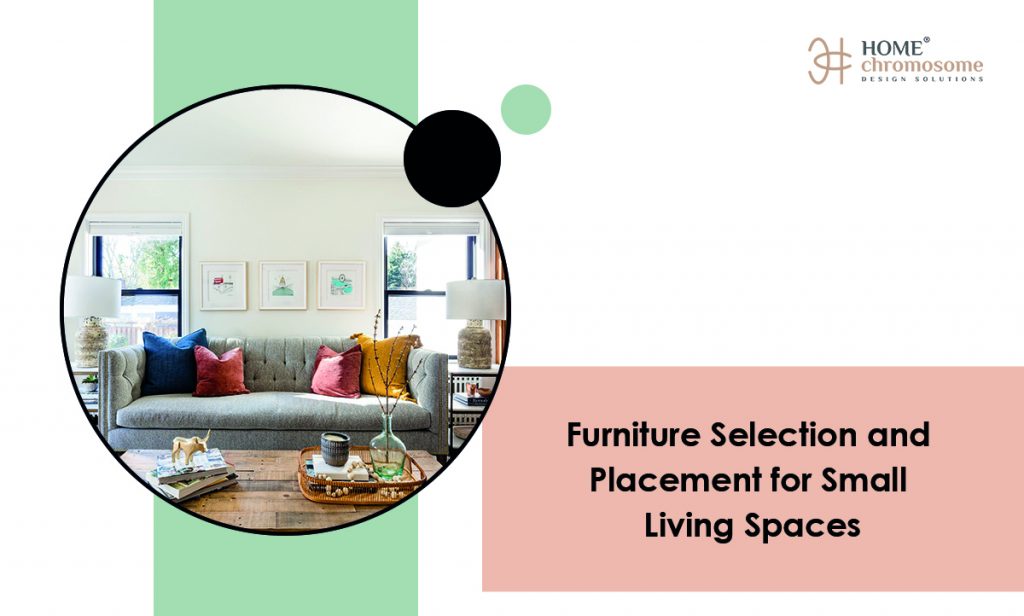 1 Bhk Flat furniture design ideas
1 Bhk Flat furniture design idea #1 – Sectional
This plan is excellent for a small, cozy living room where you have to walk through the middle of the space to get to another room. The space is mainly occupied by a chaise lounge and a small sectional couch pushed up against the wall across from a TV. There is room for one chair and a small coffee table on the other side of the chair.
A couch with a chaise lets you stretch out and relax, but it will only take up a little room in your living room. Just remember how long the sofa you want is and ensure enough room on either side of the couch. If you want to ensure that a sectional looks like it takes up too much room, you could buy curved or circular furniture instead. They can still do their jobs even though they take up less visual and physical space.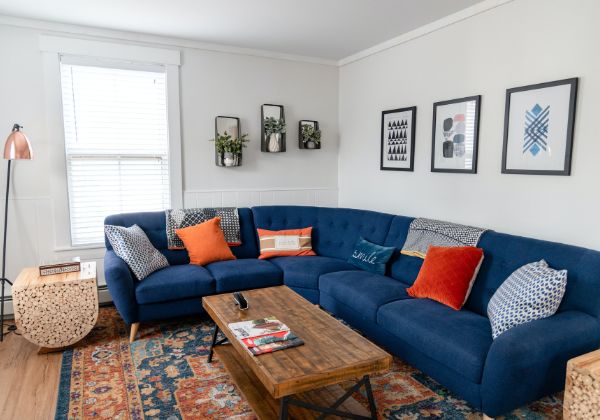 1 Bhk Flat furniture design idea #2 – Open floor plan
If your 1 bhk interior design has a small size and an open floor plan, finding a way to arrange your furniture that works might be challenging. Two side chairs are put on opposite sides of the sofa to make it look like there is a wall behind the chair. This helps separate the area from the dining room or kitchen behind it while keeping the room open and airy. In this traditional set-up, the sofa is in the middle and is the main center of the living room. It is right across from a TV stand or fireplace. The key to making this plan work is to ensure everything is the right size and that your furniture has a little space on all sides. There are some small rooms where leaving little space around furniture might work, but in this one, you should leave more space around each piece.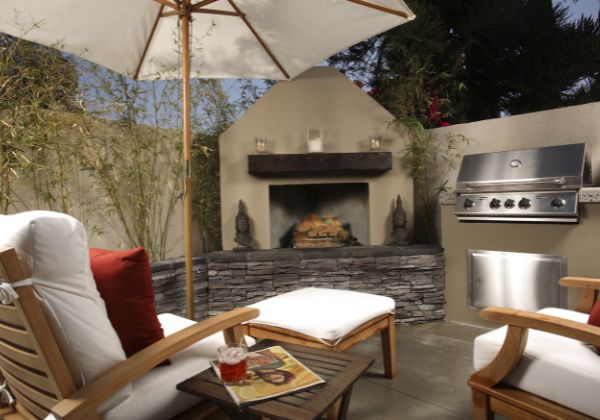 1 Bhk Flat furniture design idea #3 – Library
Some 1 bhk furniture design need a fireplace or a TV entertainment unit as their focal point. If you want the bookcase to be the focus of the living room, place the couch so that it is perpendicular to the built-in or freestanding bookshelf. Then, put two lounge chairs directly across from the couch so that they face each other. The sofa in this arrangement is off to the side, so you should try out more significant pieces. Large pieces in muted colors mixed with a variety of white and acrylic accent pieces will help make the room look bigger than it is. Since your bookcase is the room's main feature, you should add a splash of design by wallpapering the backs of your shelves. This will also help when dressing because the wallpaper will make the shelves look full and keep them from looking too styled.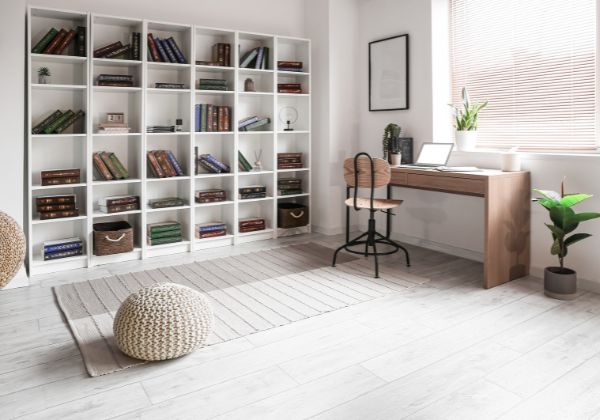 1 Bhk Flat furniture design idea #4 – The fireplace
The fireplace is the most exciting part of this traditional 1 bhk flat interior design idea. The fireplace gets more attention in this formal arrangement because the furniture doesn't have to face a TV. There are two chairs on the other side of the fireplace, from where the couch sticks out against it. Choose a seat just the right size to fill the room without making it feel too crowded. It's essential to be aware of the space on each side, especially if you need to get to other rooms that are close by. Remember to do your best to keep the fireplace's main feature. You suggest getting a plastic coffee table. After all, it is the perfect piece for a small living room like this one because it doesn't block your view of the fireplace.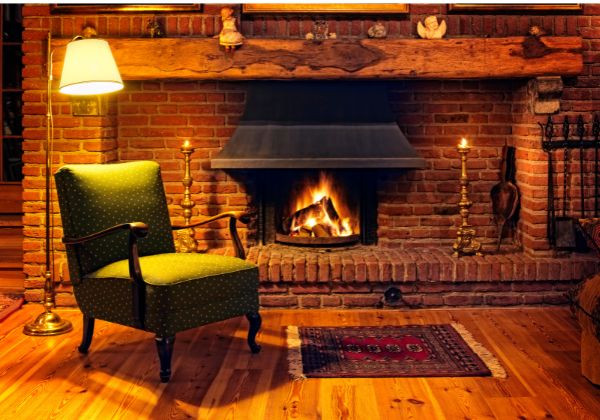 1 Bhk Flat furniture design idea #5 – Prioritize the size of the furniture
When dealing with an older home, it's likely to have a strange layout and need more room. To fix this, make it a priority to buy furniture that is the right size for the room. You should get a deep sofa if you don't have enough room for a full-sized couch. If you have few parties, you can find a loveseat with just as much charm that will only take up a little room. It would be best if you weren't afraid to put a chair in front of a window as long as there is enough space on all sides for light to come in. If you want floating furniture in a small, complex space, look for pieces with smooth, modern ends that can stand independently.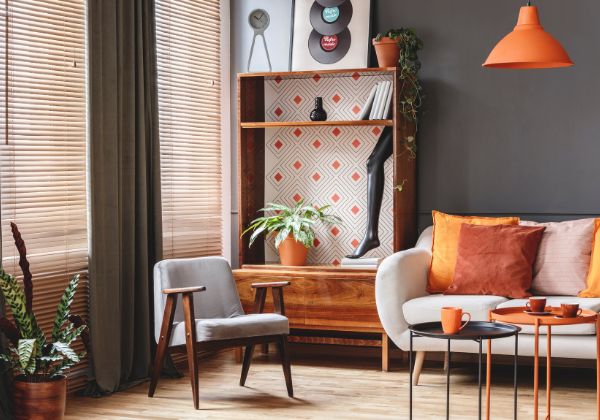 1 Bhk Flat furniture design idea #6 – Add Character
Get rid of the side chairs and use the main ones. First, you should find a comfortable couch that fits the room. Then, you can add a nice overstuffed ottoman for extra seating when guests are over. Here, you should spend your money on the couch. Since this will be the only real piece of furniture in this small room, choose a sofa with a lot of character to serve as the main point. If you want to add a nice layer to the room, choose an area rug with almost the exact perimeter dimensions. By putting different textures and patterns on top of each other, you can make a small room feel much bigger than it is.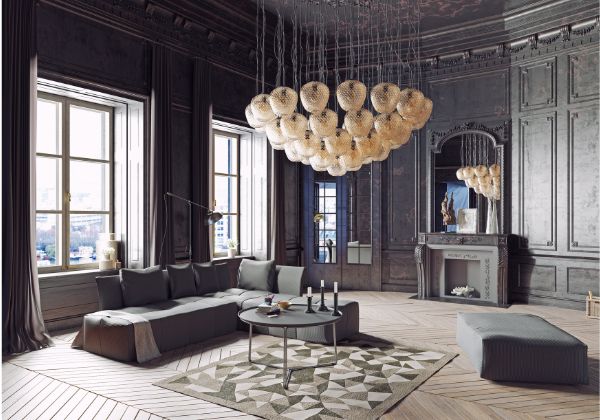 1 Bhk Flat furniture design idea #7 – Don't limit yourself.
People often say that small rooms look like shoeboxes, which is a negative thing to say about them. One way to plan unusually is to put the furniture in the room in a triangle instead of along the walls. Place a hassock, bench, or low table as one of the triangle's three legs to make a low area next to the door. Instead of drawing attention to the shape and size of the room, it will draw attention to the arrangement of furniture in the room's middle. This 1 bhk interior design cost is affordable.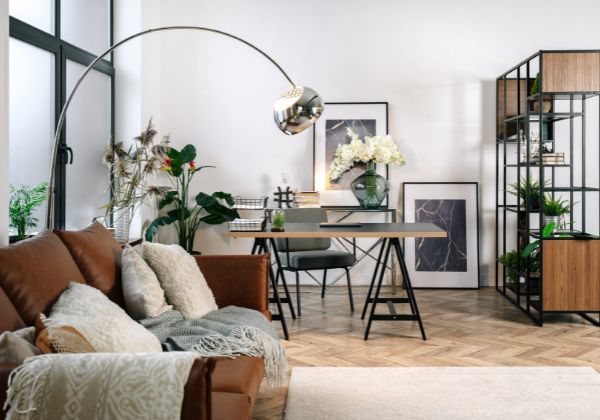 To Conclude…
When arranging furniture, a few smart moves can hide, show off, and smooth small spaces. When squeezing an overstuffed sectional sofa into a small living room, it's hard to see the benefits of living in a small house or flat. However, despite looks, small can be lovely. It can be healthier, more efficient, and cheaper at the same time. Take advantage of the chances that come your way and enjoy the beauty of your warm and friendly living room. You can view our portfolio here and follow us on Instagram here.