One crucial area that can be both private and for guests is the living room. It is frequently used throughout the day in most homes. A living room experiences everything, from creating memories to receiving visitors. While a living room's decor is vital, its lighting is a crucial component. The living room lighting ideas can use various techniques to make their living spaces more vibrant. These days, the floor areas are already multifunctional due to the lack of available square footage. One thing we may readily delegate to the floor area is lighting. In this living room, lighting ideas such as ceiling lights can be used to make the living room brighter to achieve. Depending on the type of illumination needed- accent or ambient- the ceiling lights can be chosen.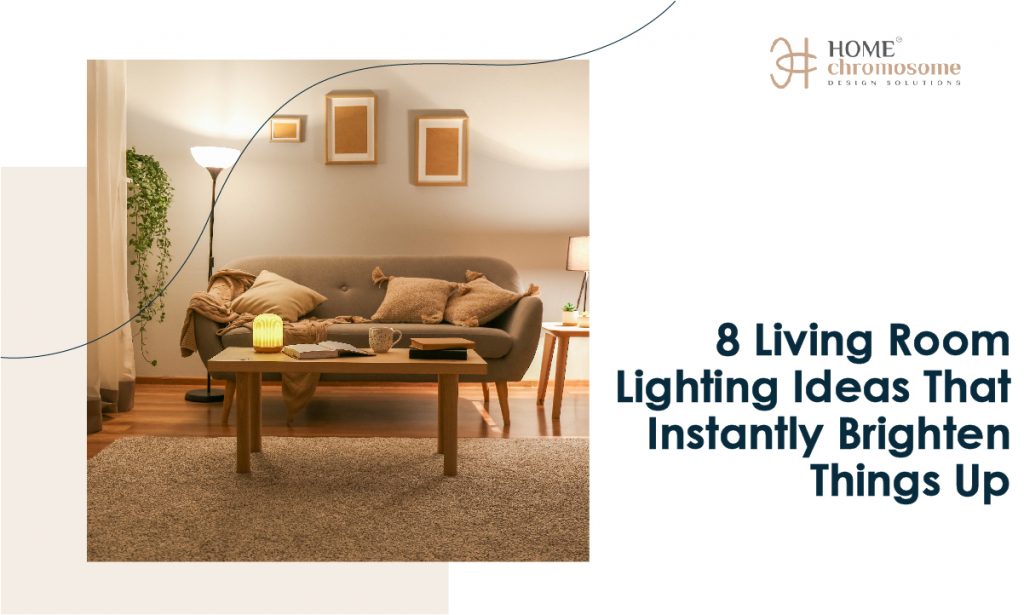 Why is lighting important for a room?
A space gains a new depth through expertly positioned lighting, bringing a living room interior design idea to life. Excellent lighting adds height and depth, illuminates cozy areas, and highlights your most striking features. The right amount of light and shade is extremely important for revitalizing a room's atmosphere. It wouldn't be appropriate for an interior designer to sketch a grid of downlights into their blueprints for your home. You may maximize the impact of your area by hiring lighting professionals to collaborate with your interior designer.
You can utilize shades and light to create a space that is both cost and striking. To do this, you need to downlight the artwork while creating a darker area around it. In order to provide significant depth and intrigue to each space, you can combine uplights, floor lights, feature lights, pendants, downlights, wall lights, hidden lights, integrated architectural lighting, and lamps. You can employ several approaches to address various problems. You can use downlights with narrow beams to highlight specific features, like an occasional table with flowers; however, they are usually combined with other highlighting techniques. Different techniques will be used to light a lovely curtain fabric rather than to create focused, bright areas for activities like working, reading on a desk, or cooking.
Best Living room lighting ideas listed for you:
1. Living room lighting ideas – Layer the lights
This is one of the best living room lighting ideas that believe that less is more when living room interior design. However, more is better when it comes to lighting a little living room. Layer your lights with a more prominent ceiling fixture and floor lights around the space set the mood and give practical and task lighting where it is most needed. Make sure that the rays of light are concentrated on the area of your living room where you enjoy reading or watching TV.
2. Lighting should be placed behind your furniture
This is one of the best living room lighting ideas, and one can frequently try to create more floor space in limited spaces by putting the furniture toward the walls. But if you want to let in more light, levitate your furniture. The room can be made brighter by moving the furnishings away from the wall and setting a tall or arched floor lamp behind it. Additionally, the floor lamp continues to add some visual interest. Try this lighting option next to an accent chair in your living room's main seating area, a dark nook, or nearly.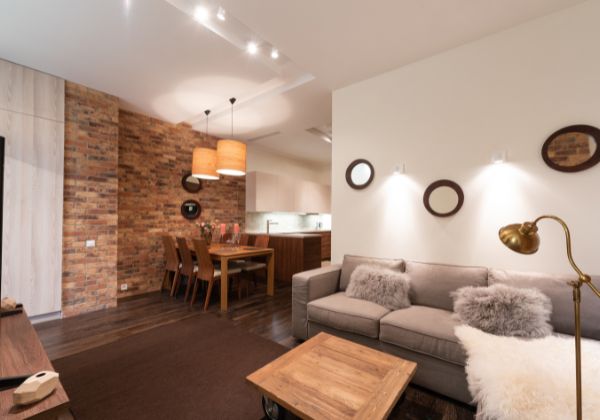 3. Up twofold
This is one of the best living room lighting ideas that can make double your favorite beautiful ceiling fixtures. By doubling the center lights, you may give your living room symmetry and a fun design element. Additionally, the additional light can instantly brighten a dim space and draw your gaze upward, giving the impression that the room is more significant. While combining and contrasting different lights within the same space works, if you are doubling the ceiling light over one area, adhere to the same style to prevent the space from appearing choppy.
4. Choose multipurpose lights
This is one of the best living room lighting ideas by selecting lighting that serves two purposes. Great possibilities are end tables with lamps included or side tables with built-in lighting. Finding a clever and fashionable solution will give you the best of both worlds because you have limited space in a living room interior design yet need both components in the distance. Additionally, these pieces of furniture can indeed be relocated around the room to light up different regions as required for when you feel particularly cramped for space and need more space to entertain.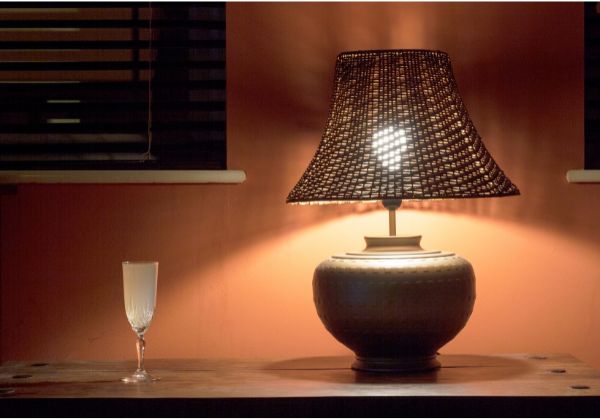 5. Make a symmetry
This is one of the best living room lighting ideas that believe that a pair of complementary lamps can help you establish symmetry surrounding your couch or fireplace and frame various areas of your home. Allowing two identical lights to draw your attention to the point of focus is preferable to disperse them throughout the same space. Choosing two similar lamps has the added benefit of creating the impression that your area is more significant than that because it seems more coherent.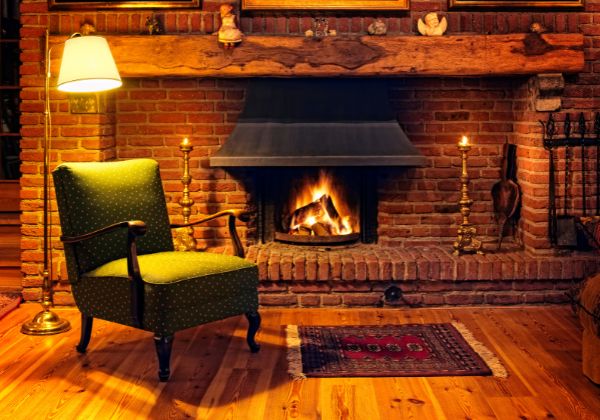 6. Sconces
It is one of the best living room lighting ideas when it comes to living room lighting, and you need to choose something more decorative if you prefer a traditional look.
Wall lights don't always have to blend into the background.
We adore how this sconce's delicate design blends seamlessly into this neutral grey living space.
Above eye level is typically the ideal when deciding where to place wall lights, as this will reduce glare.
Wall sconces will conserve space while adding ideal accents of light where you need them.
Don't let an electricity shortage prevent you from completing your wall scones plans, whether to illuminate a shady nook, frame an exquisite work of art, or offer more light to the area where you enjoy relaxing and reading.
Without employing an electrician, you can install scones by simply attaching puck lights controlled by a button to the sconce.
To illuminate your environment, just attach the puck light where the lightbulb would generally go.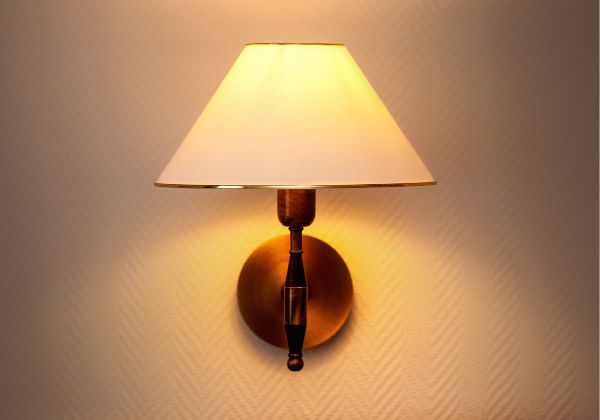 7. Warm wall lights
This is one of the best living room lighting ideas; when working with a living room that faces north, it is imperative to create a pleasant, even glow from around the area's perimeter. Wall lights will assist reflect light into the space, creating a cozier atmosphere and giving the space more depth than overhead lights. They won't occupy any valuable space or clutter surfaces, so they are an outstanding solution if your living room is small.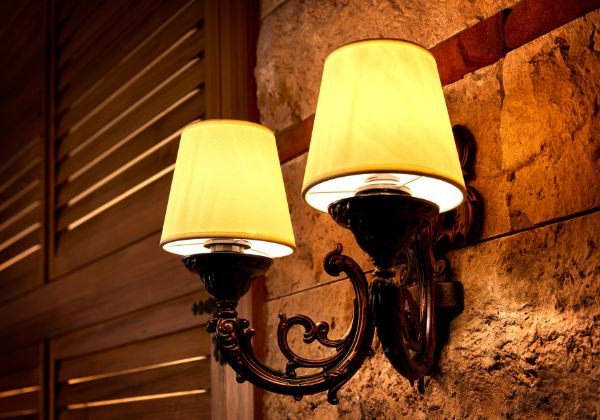 8. Art inspired Lights
If you have a living room with little wall space, you can use these living room lighting ideas and use your lighting fixtures as works of art. Leave out the conventional lamps and lampshades as well as the fundamental ceiling lights. Instead, let the lighting selection show off your taste and style. Fabulous lighting alternatives can spruce up your compact room. Select eye-catching lighting with a variety of sorts in the space.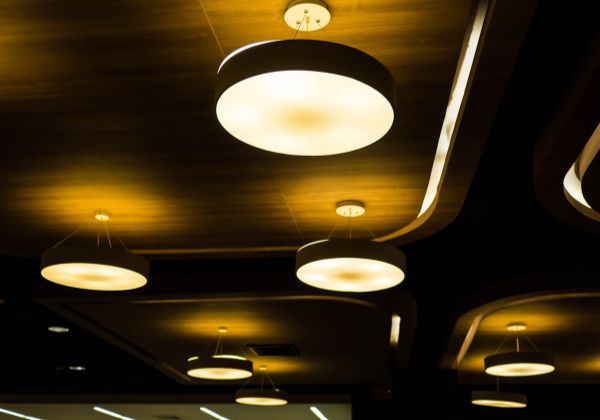 HomeChromosome
The best interior designers in Bangalore to help you develop your ideal home is HomeChromosome. Start with your perfect living room interior design by visiting the Home Chromosome website. Start with your perfect interior design by visiting the HomeChromosome website. To find the best home interior designers in Bangalore, look at their social media accounts and talk to their previous clients. You should also look at their portfolio. It should include real-time images of projects on which they have worked. If you are looking for the best home interior designer near you, please contact us. You can view our portfolio here and follow us on Instagram here. Email us at info@homechromosome.com for a quick response.