It may appear not easy to arrange your television in your living room with the other furniture. It performs effectively if you can set aside a room just for your TV and arrange chairs around it. But since many individuals don't have space benefits, the living space frequently serves as both a seating area and a place to watch television. The majority of the furnishings are arranged to face the television. No matter how hard we try, the TV frequently becomes the center of attention with everything else around it. But if you want to rearrange your living room furniture so that the TV doesn't take up more space than anything else, this blog is for you. Here are some of the best living room arrangements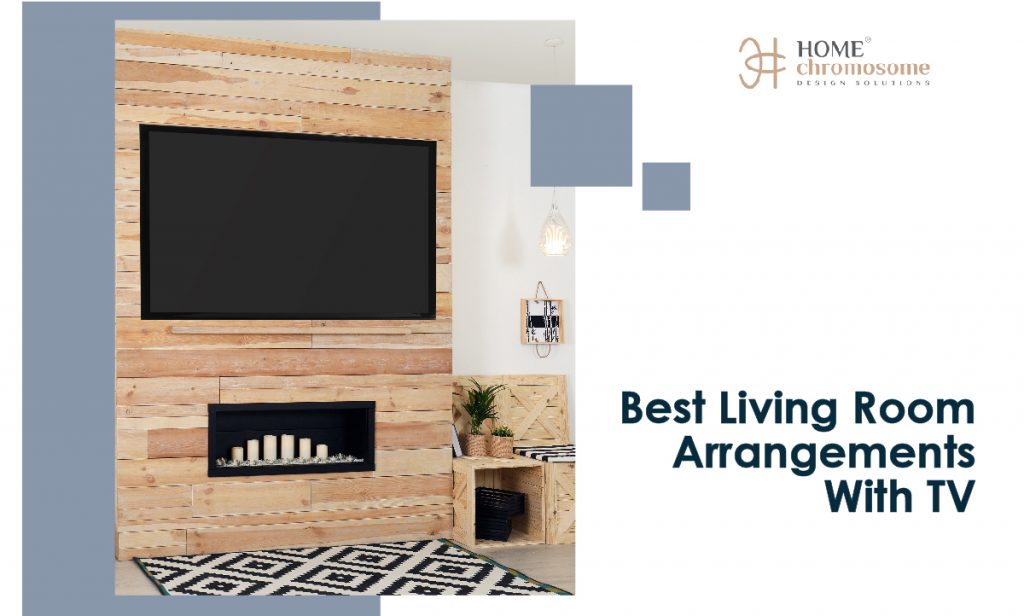 Living room interior design ideas for TV Arrangements
Hide Wires behind the wall of the storage
In most living room arrangements, technology plays a significant role, from Wi-fi to background sounds, and the movement is toward completely hidden solutions. Although many contemporary systems advertise themselves as wireless, wires are still necessary for aerials, charging stations, and routers.
Include designated areas of all of your media in your living room storage wall that includes a space for your TV, leaving enough space in case you decide to buy a larger model. Avoid leaving a gap too wide because it will make your TV appear oddly small. Homechromosome can achieve these Living room interior design ideas.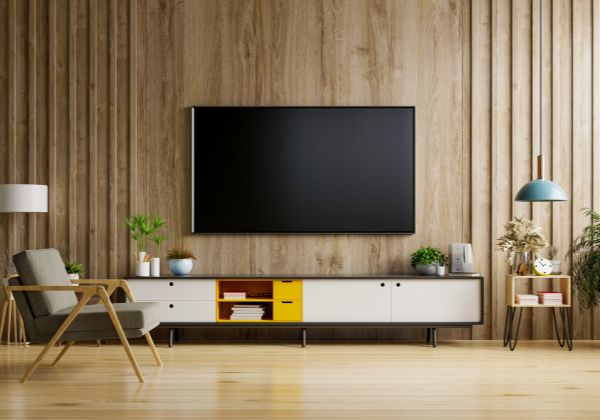 Streamline design – Living room interior design ideas
A slender couch or more extended sofa lining the wall opposing the television can provide an excellent viewing experience while funneling enough fluid space toward the center of the room for a shoebox-size room that is narrow.  To maximize every square inch of space, accents like tables, pieces of art, and lights can be placed close together along a wall.  If there is room, a matching ottoman can serve as a large footrest and a place to keep periodicals, instruction, and remote controls.  Homechromosome can achieve these Living room interior design ideas. 
Embrace the size and style of your screen
There is no getting around that televisions are a crucial component of life unless you choose to forgo owning one and spend every evening playing chess. 
Therefore, even if your living room is relatively modest, there is no use in avoiding a large screen when selecting a TV for your living room arrangement.  
Designers frequently try to cover or obscure them, although this isn't always possible, especially in smaller areas.
In these circumstances, the best action is to embrace the TV and make it feel like an essential design component.  
Embedding the TV into a joinery piece has several purposes and is one of the best living room interior design ideas.
The media unit can be created for storage and hiding wires.
The multipurpose piece subsequently evolved into a focal point of space, embracing the TV rather than serving as a cover for it.
Homechromosome can achieve these Living room interior design ideas.
The corner TV area
The first approach to arranging your TV is to put it in the intersection of your living room to change how it is set up.
While it's customary to mount the TV on an enormous wall in the living room so you can sit and watch your favorite shows, doing so in a corner instantly detracts from the TV-centric atmosphere of the space.
Hang artwork on the neighboring wall while the TV can be placed in the corner, next to the sofa.
This configuration ensures you regularly watch TV while minimizing the TV's appearance.
Homechromosome can achieve these Living room interior design ideas.
Using a wall as a TV Stand
How to infuse life and depth into your constrained area without making it appear awkward is a concern that invades us all. Why does the living room still seem unfinished even after the wall has been painted and the drapes have been installed? Because a television still needs a proper location in the center of a living room. Given the variety of possibilities, it cannot be easy to locate and set up the television. One of the finest options is to mount it on the wall, which will do away with the need for a media cabinet. Additionally, it will add a soft charm and seamlessly merge into the surroundings. Homechromosome can achieve these Living room interior design ideas.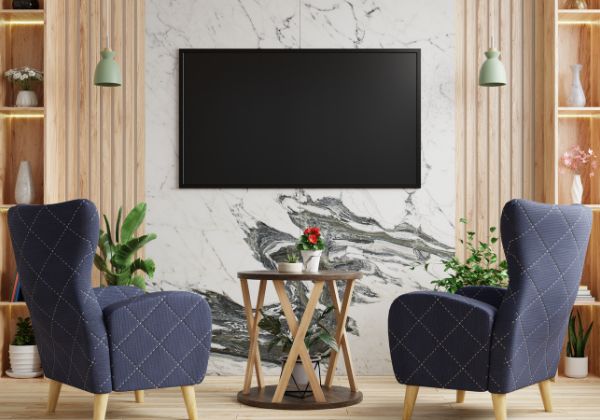 Employ a corner TV stand
A well-designed TV room may add dimension and make watching more enjoyable in any small apartment, yet one minor error might detract from the space's beauty. To blend your media set with the area, you can use a corner TV stand. Family members will have more room to sit down and watch their favorite shows with a setup that includes a small corner TV stand. There are further possibilities, such as a corner TV stand with a fireplace that looks great in small living rooms. Homechromosome can achieve these Living room interior design ideas.
Building a book shelf near the TV
Building a tiny library or bookshelf near a TV to give it an exciting look or just converting the area into a bookshelf entertainment unit are other beautiful ways to design a space. In this manner, many different objects and household products could be put.
Some designers believe concealing the TV in plain sight is the best resolution for small living spaces.
To enhance the living room's attractiveness, it can be easily hidden in a frame or behind sliding doors.
If you choose the proper size, positioning it just above the fireplace would make it seem like a natural fit.
The appropriate height to mount or place the TV comes down to personal preference, but raising it too high might strain the eyes and degrade the viewing experience.
Second, it relies on the size and distance of the TV as well as the sofa's height.
Homechromosome can achieve these Living room interior design ideas.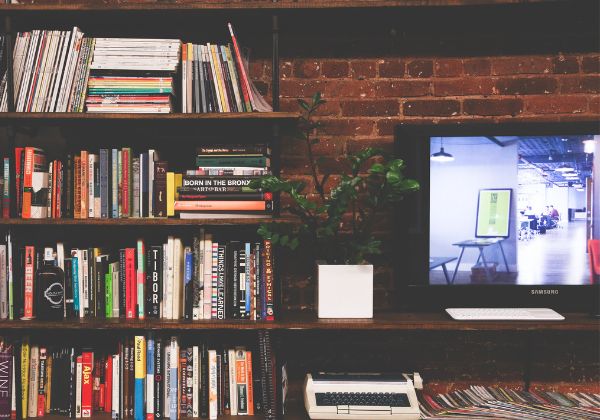 Pick the right decor
If your living room is small, you shouldn't worry since, with the right Living room interior design ideas, you can raise its aesthetic standards and make it livelier. It's crucial to choose the correct sofa, coffee table, accent chairs, lighting, utility, storage areas, and colors because the living room is where all the entertainment takes place, where you host visitors, and where you display your interests and lifestyle choices. Homechromosome can achieve these Living room interior design ideas.
Streamlined TV Unit with wall finish
Your family room can gain a tonne of richness and elegance with a modern and elegant TV unit design.  Use a wall to your advantage by being inventive.  Create a black brick wall to give your living space a contemporary industrial atmosphere.  While the clock and paintings displayed over the television create a sophisticated environment, the rustic, sleek oak cabinet with white storage on the right seems ultra-modern.  The chic planters on either side finish the appearance.  Homechromosome can achieve these Living room interior design ideas. 
An arched TV stand with wooden panels and cabinets
If you're tired of the minimalist, wooden TV unit design, consider layering your TV unit with an arching frame to define a particular place. Design a wooden arch inside the wall, then add panels on either side. This will offer your TV unit design a distinctive touch and keep things understated yet attractive. The room is made more practical by the wooden cabinets that have been painted white. To display your decorative items and dress up the appearance of this arched TV unit design, you can also create open shelves on the sides.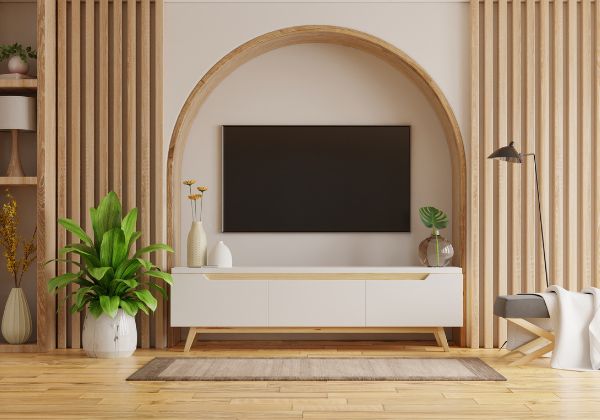 HomeChromosome
The best interior designer to help you develop your ideal home is HomeChromosome. Start with your perfect interior design by visiting the HomeChromosome website. To find the best home interior designers in Bangalore, look at their social media accounts and talk to their previous clients. You should also look at their portfolio. It should include real-time images of projects on which they have worked. If you are looking for the best home interior designer near you, please contact us. You can view our portfolio here and follow us on Instagram here. Email us at info@homechromosome.com for a quick response.