Cabinet interior design is an essential part of furniture design for any room that wants to look clean and organized. You can also make the interior of your home look better by putting in stylish storage cabinets. Because each room has different storage needs, you need to choose a cabinet plan that works with not only your way of life but also your budget and style for your home. In the modern world, cabinet styles and designs come in a crazy number of styles, designs, finishes, sizes, and materials. You could use one of these modern cabinet ideas in the following interior design.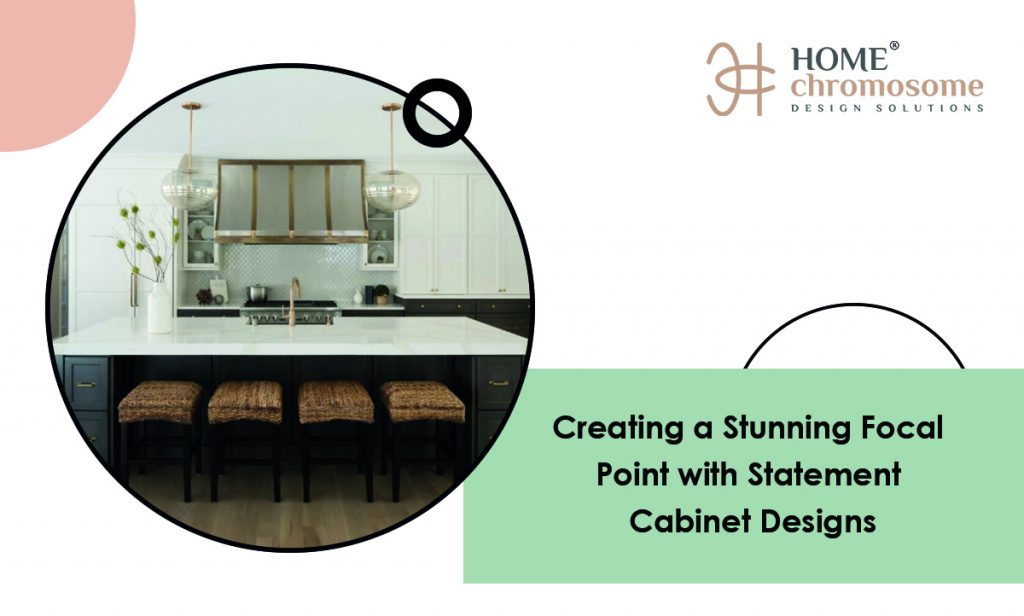 How to create a Focal point with statement cabinet interior designs?
Focal points are often considered one of the most fundamental parts of interior design. In other words, it is the most essential thing in the room. It should be the first thing people see when they walk into the room, and the rest of your design should revolve around it. Keeping this in mind, you must ensure you put it in the right place. This blog will help you get all the information you need about choosing the cabinet for the best focal point for your design.
Cabinet interior design ideas
Cabinet interior design idea #1 – Upper Glass Cabinet
If you add glass cabinet designs to your all-white room, it will look more expensive and airy. Glass cabinet designs have a lot of benefits. Not only does glassing up space make a room look more elegant, but the clear light reflection also makes a room look bigger than it is. Even if you don't want to show off your showpieces with these transparent sheets, you can always choose cloudy glass designs with pretty prints that make your room look nice and hide what's inside. If you don't want to use the invisible sheets, you can do this instead.
Cabinet interior design idea #2 – Corner Cabinet
Because most apartments don't have a lot of space these days, you're likely having trouble finding a place to store the many things that every Indian room has that can be used later. Building more shelves out of the tiny empty spaces you find in every corner of the room will go a long way toward giving you more storage space. So, it would be best if you reinforced those walls so that you have more space to clean up afterward.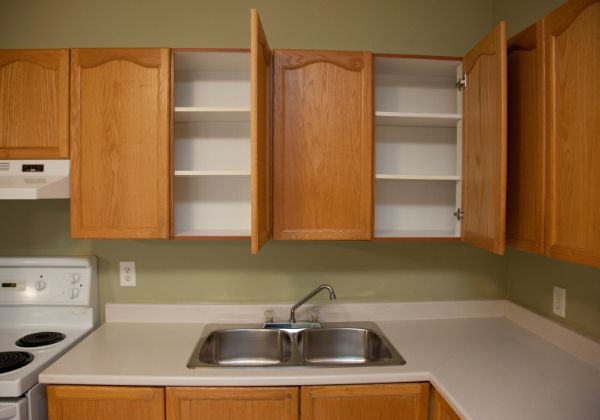 Cabinet interior design idea #3 – Floating Cabinets
Installing hanging cabinets is a simple way to make the most of the space in your room and draw attention to the beautiful hardwood floors. With these stylish raised enchanters, clutter will never pile up in the room again, so you can finally eliminate that mess. Also, modern rooms with floating cabinets make good use of their room and are great for people with bad backs who find it hard to bend over.
Cabinet interior design idea #4 – Use your imagination and a wide range of materials.
Too many choices to choose from, making it hard to decide. Mix different materials or shapes to make the most of the space you have in your room. When you use a blush-colored countertop, you should go for a more natural look with warm wood tones and brick fixtures. You can also try out several other textures and combos of textures to make things more interesting. Take the object of wood as an example. Using different types of wood, you can make your cabinets look bubbling with beauty.
Cabinet interior design idea #5 – Glossy Cabinet Designs
Not sure how to make the inside of your room look more attractive without making many changes? Gloss-up! With just one coat of shiny paint, your cabinets will stand out and be the center of attention. A shiny surface also bounces light back into the room, making it look bigger than it is. And if you want a lot of glitz and glitter, we suggest you choose deep, dramatic colors with shiny finishes, like a cherry/wine red or a deep royal blue. This could make modern cabinet design look even more beautiful than it already does.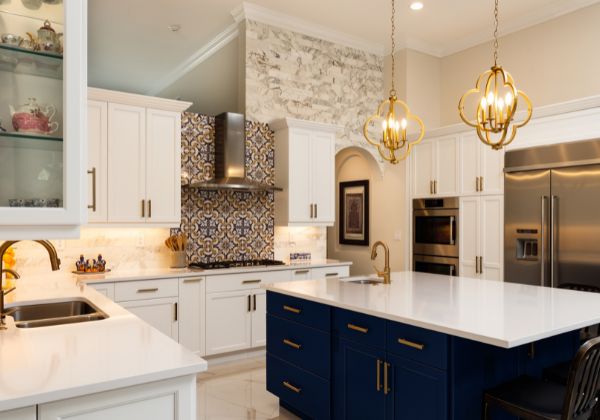 Cabinet interior design idea #6 – Colors
The first step in picking the colors for your cabinets is to imagine how those colors would look with the paint on the walls. For example, if you have a small room, the best colors for the walls and floor would be light colors or white. This is because a white room makes it look like there is more room inside than there is. Remember, you can also choose white doors to reflect more light and make your room look bigger. You can do this by doing what was said in the last line.
A soft, calm color scheme looks great with a dark brown cabinet or natural wood tones because light green, light blue, and yellow paint colors go well with them. For your cabinets, you can also choose bright shades like crimson, orange, navy blue, magenta, etc. Change the color scheme on your base cabinets between dark and light colors to add a sense of texture to the design of your cabinets as a whole. Last but not least, you can give your high-end modern indoor space a high-end modern look by choosing a black room with black cabinets. By adding these to your room's design, you not only make it look more modern, but you also make it seem more worthwhile.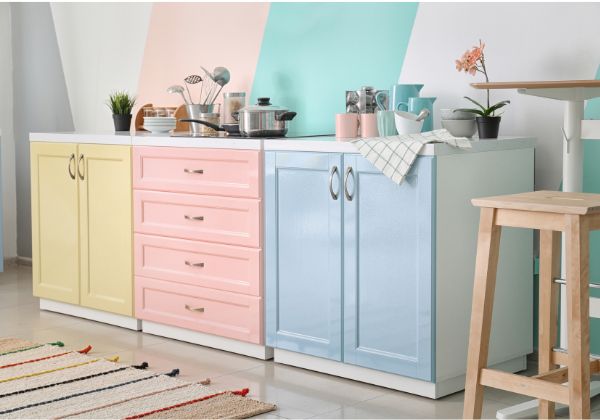 Cabinet interior design idea #7 – Steel Cabinets
Did you know that one of the main reasons stainless steel cabinets became popular in the first place was because they were cheap and easy to keep up? It's crazy to think that people would be happy with or "make do" with these beautiful works of art. Look how much they've changed since yesterday. Metal finishes on cabinets are one of the most popular choices for modern rooms. This is because they make your room look more modern and sleek.
What better way to get rid of many bright colors than to replace them with shiny silver cabinets that are simple but make a strong statement simultaneously? Modern interior designs don't work well with bright colors, and silver cabinets are a great way to eliminate a bright color scheme. You can use spray paint, which is easy to clean and doesn't cost much, to cover these shiny areas if you want to. But you won't want to give up the overall feeling of a single-toned rustic scene easily.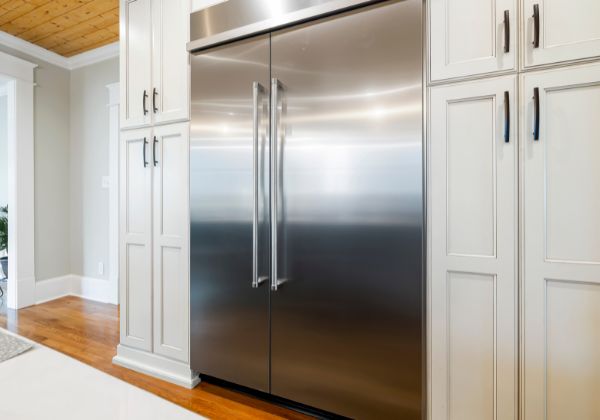 Cabinet interior design idea #8 – Beige Wardrobe
For these cabinets styles and designs, the cabinet has a glossy finish on the doors, giving it an air of luxury, and a mirror panel, which adds a bit of glitz to the overall design. If you build a cabinet that goes from the floor to the ceiling along one of the walls, you'll have a lot of room for your clothes, shoes, accessories, and bags. On top of it, you can put a beige high-gloss laminate sheet to make the design look more modern. Place a mirror wall in the middle of the room to make it look bigger and more open.
Cabinet interior design idea #9 – Floor to Ceiling with a dressing table
The soft pink and white colors in the house cabinet design give it an air of wealth. Installing a floor-to-ceiling wardrobe in front of the bed is a great way to make the most of the space you have in your room. The white paint on the wood cabinet and the black knobs greatly contrast the white carpeting. On the right side of this closet design, there should be a pale pink changing area, and the mirror should be layered with recessed lights to make the room feel like a dream.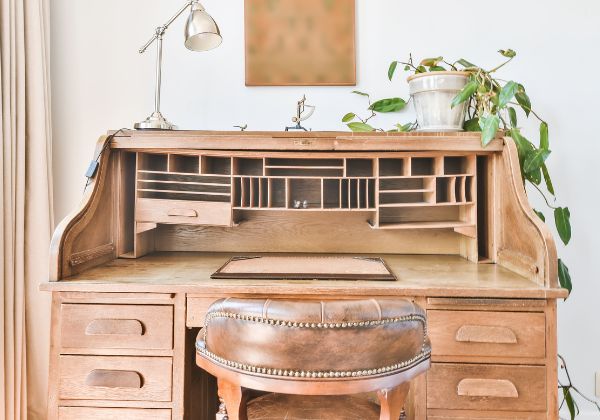 Cabinet interior design idea #10 – Mirrored Cabinets
For example, the mirrored closet makes a bedroom interior look more elegant and can be used better. Furniture that can be used for more than one thing gives even the smallest homes an air of class and order. Even though your cozy room is small, you can design it with a storage unit with a sliding mirror door. Build a walk-in closet area to the right of this cabinet to hang and show off your favorite clothes. The full-length mirror on your closet door makes your room look bigger and brighter.
Cabinet interior design ideas HomeChromosome
There are several different modern and unique cabinet designs to choose from. If you want to make changes to your room or make a new one, you can use the ideas in this article as inspiration to help you prepare your space in an organized way. You could also talk to a professional knowledgeable about arranging the cabinets to create a focal point. Contact us at HomeChromosome to get started with your house's interior. You can view our portfolio here and follow us on Instagram here. Email us at info@homechromosome.com for a quick response.