2 BHK flat stands out because the rooms are big, and there isn't a lot of clutter. This type of bedroom is an excellent example of the saying "less is more" because the colors are soft, and the furniture is airy and light. 2 BHK flat interior design is something to consider if you're looking for a way to make a place to relax in peace. Comfort is a must if you want a private space to feel calm and quiet. We have put together the best 2 BHK flat ideas for making the most of the space in your small flat.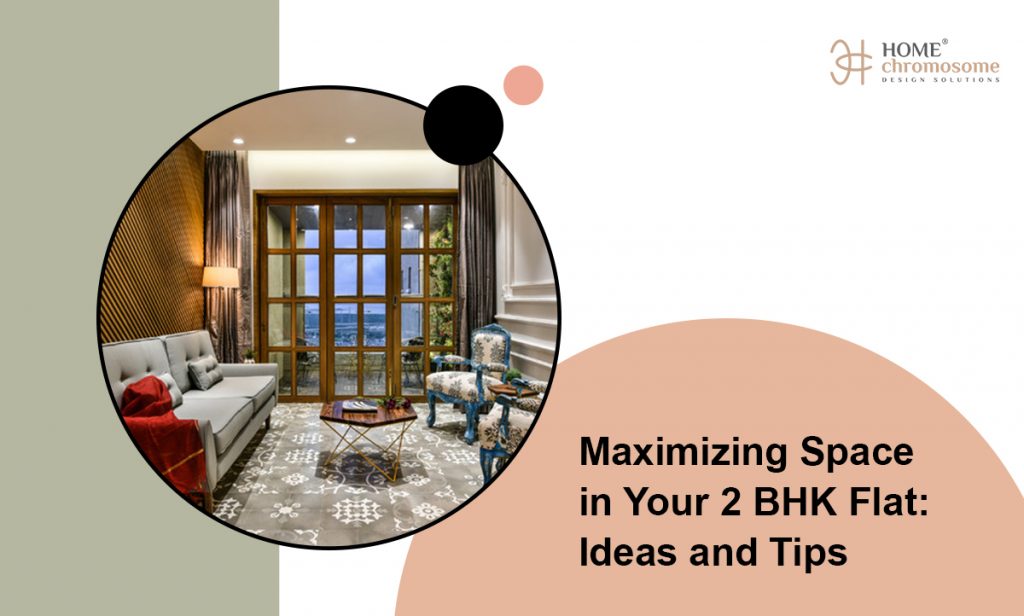 2 BHK flat ideas
2 BHK flat idea #1 – How to choose the best style for you
It's essential to choose a design that matches your tastes and the way you live. The patterns, colors, and other parts of your home can show who you are. For example, a classic design is considered a mix of things that will last and pays much attention to symmetry. On the other hand, the modern way to make a visual statement is with clean lines and a lot of attention to symmetry. On the other hand, the modern way to make a visual statement is with clean lines and many different textures. But if you don't have a particular style, you can try out a lot of different shapes, patterns, textures, and other things. Whether your interior design leans more towards the traditional, the modern, the brighter, or the neutral will depend on what you like. No matter what style you like, it's easy to make a 2 bhk flat look like a mood board from Pinterest.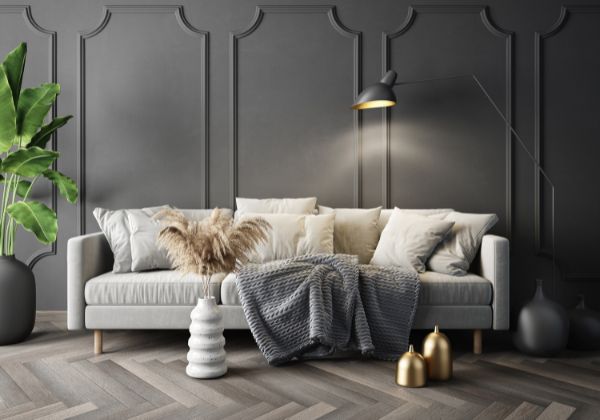 2 BHK flat idea #2 – Colors
Every person has a different way of thinking about color. Some people would feel better with a quiet tone, while others would feel better with bright colors. No matter which colors you choose, you'll get the most out of them if you keep balance and coherence in mind as you use them. There are also other color themes, like monochromatic interiors, neutral interiors, black-and-white interiors, and so on. You should also add some of your personality to the color scheme using wallpaper or a unique wall design. Getting this done can be done in a few different ways.
According to the advice of design professionals, you should use warmer colors in larger rooms and more neutral colors in smaller ones. Remember that the color of your home is not just about the walls but should consider the furniture, rugs, curtains, accessories, and other things, regardless of how many or how few colors you decide to use. It would be best to talk to an interior designer about the best colors for your home. They will be able to help you choose unique colors and add a classic, elegant touch.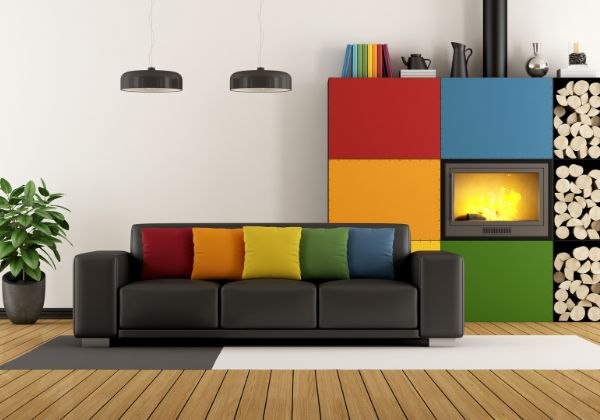 2 BHK flat idea #3 – More efficient use of space means better organization.
If the space is used well, the flat can be turned into a home that works well and is functional. Don't look away from any part of the problem. You can make the most of odd spaces with some creativity during the design process. For example, you can turn a hidden corner in your bedroom into a cozy reading nook by adding a soft accent chair and a small, moveable table to the space.
You can make the most of the space in your 2 BHK home by installing corner shelves, window seats with storage, false ceilings, entryway storage units, and so on. Do you have to do this in every single one of your rooms? You should make sure to use hidden spaces in a more creative way so that they look like a natural part of the design and not like something that was added on.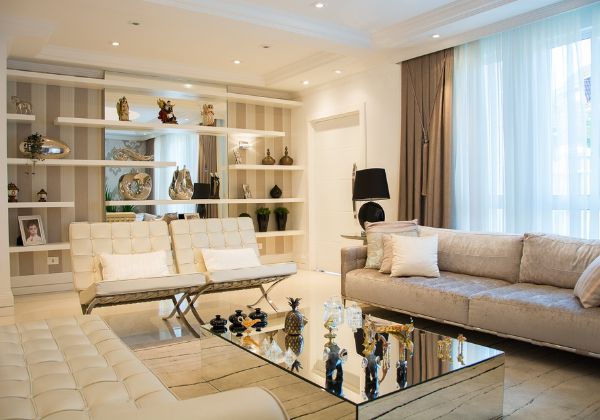 2 BHK flat idea #4 – No Clutter
When decorating a 2 bhk flat, the most important thing to remember is to fill the space with only a few pieces of everything, including furniture and decorative items. Choose a few that will add drama and charm to your home, and go with those. You might like a single piece of furniture or artwork that makes a statement more than a group of smaller ones.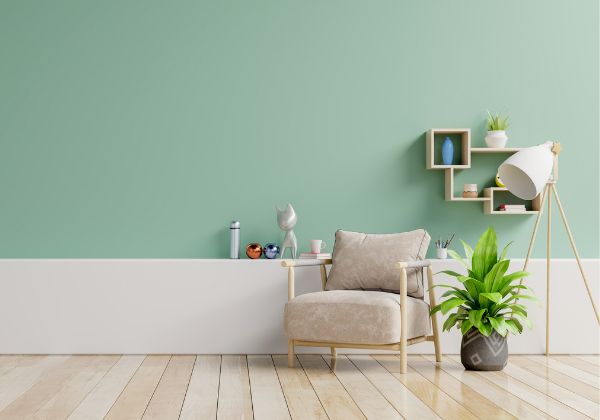 2 BHK flat idea #5 – Use negative space
You should keep some empty space, no matter how big or small your 2 bhk flat is. It could be the space between different things or the space around them. Negative space helps keep visual order and gives your eyes a place to rest. This lets you enjoy a room's design to the fullest.
You can keep everything regarding how well you use the space in your 2 bhk flat apartment because there are many ways to make negative space. Keep an eye out for parts that are both nice to look at and functional. Because of this, you won't have to put a lot of different parts in your house. Ensuring enough space in the rooms and throughout the rest of the house is essential. If you feel like your flat has too many things in it after you're done building it, you can "edit" it and eliminate the ones that don't add much value.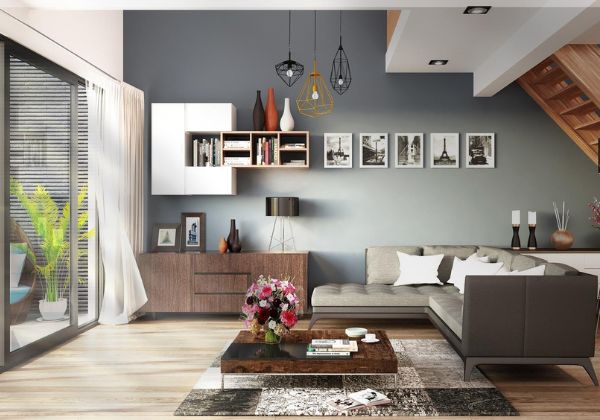 2 BHK flat idea #6 – Individually Made Furniture
By making furniture that fits the space, you can get the most out of it. If you buy ready-made furniture, you'll have to squeeze it into the space you have, which will hurt the look of the room as a whole. Handmade furniture, however, will fit right in with the rest of your decor. Make sure you put a lot of thought into storage when making your furniture. Add some designs with a quirky look to make your home look more charming and unique.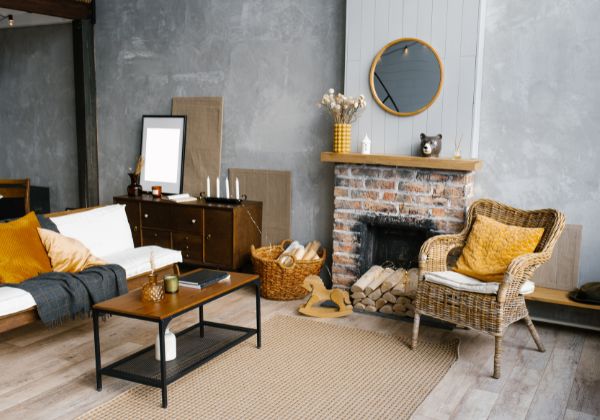 2 BHK flat idea #7 – Functionality
Make sure that most of the things in your home, if not all, serve a purpose and look nice. A guest at your house can sleep on a daybed or a sofa that turns into a bed in the living room. An ottoman with storage space can look nice and be helpful. When you have people over to your house and need more space in the living room, a center table that can be moved could be beneficial.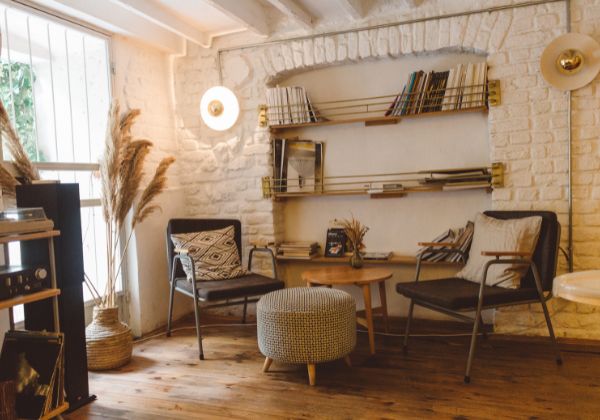 2 BHK flat idea #8 – Lights
Because there are so many great lighting options, choosing the right ones for your home can be easy and add glitz and charm without much work. Lighting that is unique and beautiful can add to the space's overall design. Be bold and use big chandeliers or unique fancy lights because doing so will help you make warm and inviting rooms.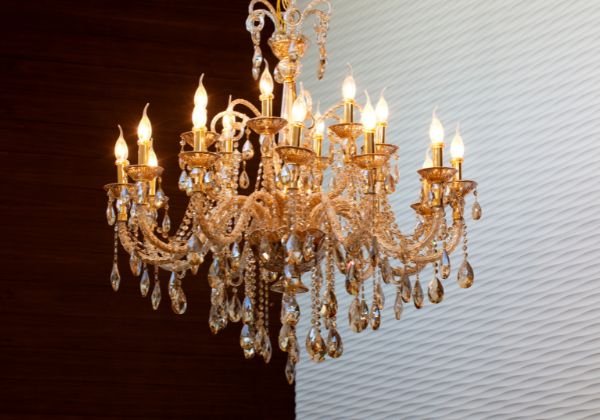 2 BHK flat idea #9 – Put the storage areas in an easy-to-reach place.
Even though enough storage can help keep a room cluttered, too much storage can be bothersome to look at. Use vertical storage or come up with creative ways to store things. To hide something, you can build a wardrobe with sliding doors and knobs that can't be seen. Use the space above your doors and windows to store more things. Bring in some bamboo baskets, accessories that can also be used as small storage units, and other similar things to help you organize and make the space look better.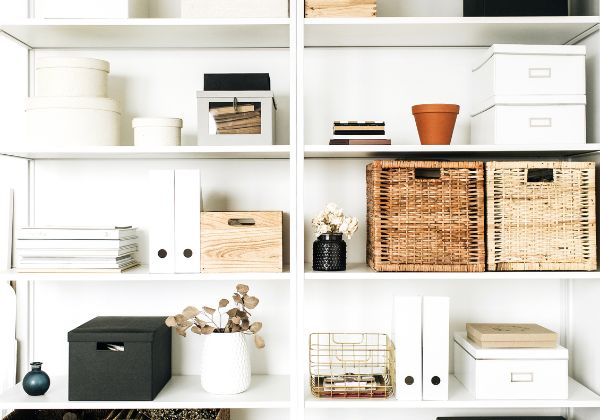 2 BHK flat ideas by HomeChromosome
To make a beautiful, elegant, and classy 2 bhk flat flat, you must be clear about your ideas, designs, and decorations. If you need help figuring out where to start, talk to our experts in HomeChromosome. We will discuss your ideas and use our knowledge to build the home of your dreams. Contact HomeChromosome to know more. You can view our portfolio here and follow us on Instagram here. Email us at info@homechromosome.com for a quick response.