In a luxury classic villa interior design, the standard of living is much higher than in an average home. Compared to your homes, it gives you more space, which means you have more room to decorate the inside however you want. How you use the space you have is up to you. Because you have to decide what to do and what not to do, designing a villa is twice as hard and takes twice as many decisions as it might seem. You don't have to worry because we will give you some tips on improving your house's vibe and atmosphere through its classic villa interior design.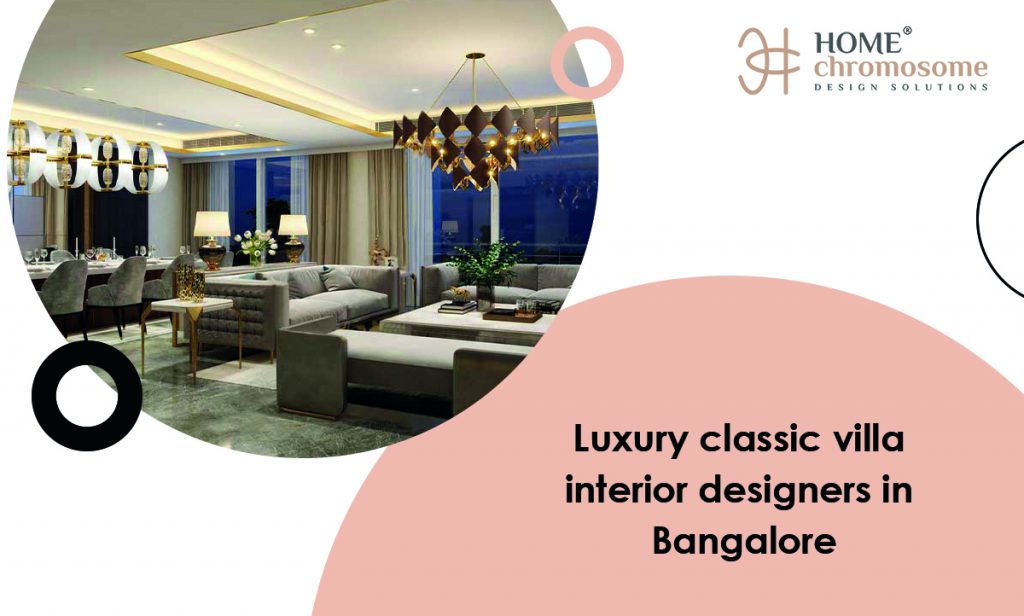 Luxury classic villa interior design ideas
Luxury classic villa interior design idea #1 – Find the focal
In this villa interior design ideas, luxury classic villa interior design is characterized by symmetry and order. How the furniture is arranged and the space is styled usually revolves around a vital focus point like a fireplace. Check your house by starting with its most essential parts. The key to designing a place is to have a focal point, like a wide bay window or a set of French doors, around which you can build. If you don't have a starting point, you can find the line that runs down the middle of the room and use that as your starting point. 
Luxury classic villa interior design idea #2 – Symmetry
When figuring out how to arrange the furniture in your room, think about balance. Try to make mirror images, like two similar sofas facing each other with a coffee table in the middle. You could also mix things up by putting one long sofa and two single armchairs across from each other, making the room look balanced.
Work your way around the room, starting with the most significant pieces of furniture. Then think about where your artwork and other decorations will go, remembering that similar pairs usually work best.The most important part of this style is how the furniture is put together. Once you know how to set up the furniture in this relatively simple way, you can spot the look in films and magazines and copy it in your home. A piece of furniture is considered a classic design if it is well-made and has detailed details like inlays, carved legs, or turned legs. It may also have decorative details with a botanical or animal theme.
Textiles with stripes and solid colors and those with texture and designs that could be more obvious are popular choices. By following the rules of placement, you can create a classic style by putting together more traditional items with pieces that have straighter lines. This will lead to a merger.
Luxury classic villa interior design idea #3 – Think of softness, not boldness, when choosing colors.
These luxury villa interior ideas have a traditional element, a color scheme that comes from nature is often used. Instead of bright colors, choose neutral yellow, blue, green, and brown tones. Following the placement rules, you can work with emeralds, plums, and robust designs. Even though off-white is more traditional, bright white edges and details can give a traditional style a more up-to-date and modern look.
For example, choose two seats of the same color and look for cushions of the same fabric or color. Place them on the other side of a lighter and more neutral sofa. Structure and layers are also fundamental. How things are put together, or arranged, is the "glue" that does the aesthetic work, and using the same color scheme throughout the room creates harmony.
Luxury classic villa interior design idea #4 – Accessories
When trying to get a steady vibe, where you put accessories is just as important as what you put there. Try hanging one large piece of art in the middle of a sideboard and two similar table lights on either side. You could also hang art pieces on either side of a doorway of the same size or color. You could also arrange four to six more minor works in a simple grid to estimate the size of a larger piece.
When it comes to pillows, it's essential to make sure that the colors and the way they are set up go together. You could also tilt them into the corners of the sofa and place them in front of the other for a more formal look. This would match the colors and patterns on the other end of the sofa. You could copy the way the people are sitting on the couch across from you. To make things easier, use things that come in sets or pairs. If you want a more traditional look, choose two different things of the same size and shape and put them next to each other to look like mirror images. This is a more advanced method you can use as you get braver.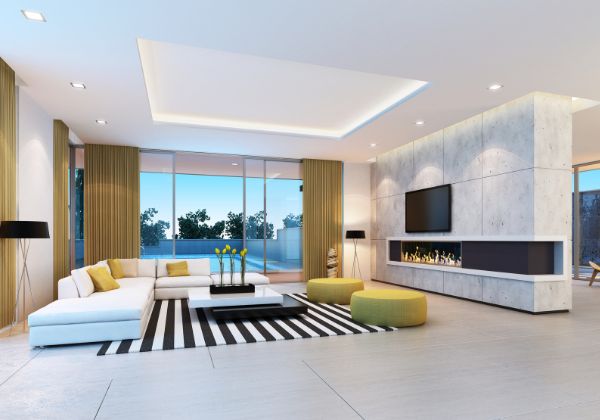 Luxury classic villa interior design idea #5 – High-Quality materials
Develop a twist on the simple style and mix it with a modern look that uses high-quality materials. Also, use natural, solid materials, which will give your modern classic decor a sense of incredible luxury. Because of this, luxury classic villa interior design works well with gold accents, glass, stone, metals, or velvet for soft furnishings. For example, putting natural stone flooring in the kitchen and bathroom would make it look like it was built at a different time. Installing hardwood flooring in the living room or dining room will also give the room a modern smell and an attractive smell for a more basic design.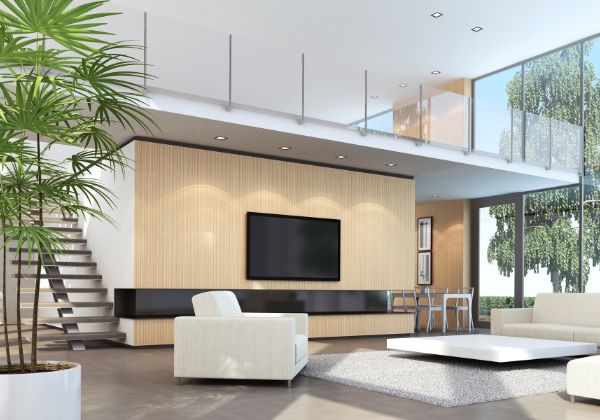 Luxury classic villa interior design idea #6 – Minimalist
People tend to think that minimalism, one of the most modern interior design trends to consider, means harshness and coldness, which is not at all the case. Minimalism is one style that you should think about. There is something called "warm minimalism," which is a warmer take on minimalist interior design. It is full of simple elegance and focuses on cleaning.
Think of something simple yet elegant, with a subtle touch that mixes comfort and luxury. The trick is to keep rooms clean and well-edited by using fabrics without prints and artistic items that can be used for at least two different things.
When thinking about minimalist interior design ideas and trends, a modern art gallery or museum is an excellent place to start. These places have a well-thought-out way of filling a room with simple necessities while giving it a strong sense of drama that can be natural or made up.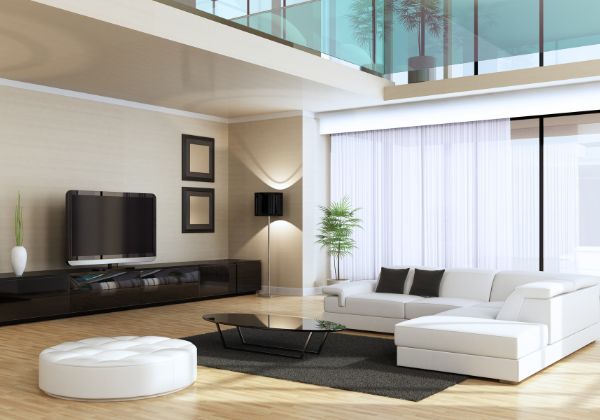 Luxury classic villa interior design idea #7 – Elegant Fibers
The luxury classic villa style is an example of beauty on its own. When picking out a traditional fabric, remember it should be simple enough and draw enough attention. In traditional interior design, velvet, cloth, and cotton are the primary materials used. You can finish the look by putting down stone, marble, or wood flooring, all of which fit in with a more classic look.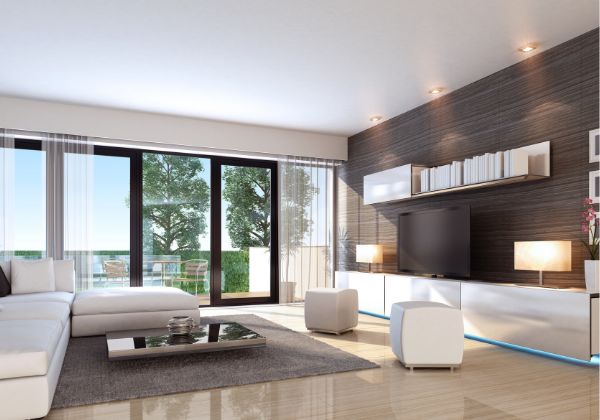 Luxury classic villa interior design ideas by HomeChromosome
This blog lets you learn about the most important parts of current luxury classic villa interior design. The luxury classic villa interior design style is great for people who like to look back on the past but also value the usefulness of modern life. It is, in fact, the place where the best parts of both worlds can be found. Whether you want to use luxury classic villa interior design in your living room or bedroom, this style makes your space more elegant and gives it its personality. You can view our portfolio here and follow us on Instagram here. Email us at info@homechromosome.com for a quick response. Contact HomeChromosome to get started with your luxury classic villa interior design.