Cleaning and decorating your home are equally important. In fact, it is essential that your house be thoroughly cleaned before we start decorating with decorations inspired by Diwali. Many families even go so far as to have their homes renovated and fixed up. The home furniture is being shifted to make room for Deepavali interior decoration ideas and to allow for their emergence. It is also wise to paint a wall with a fresh coat.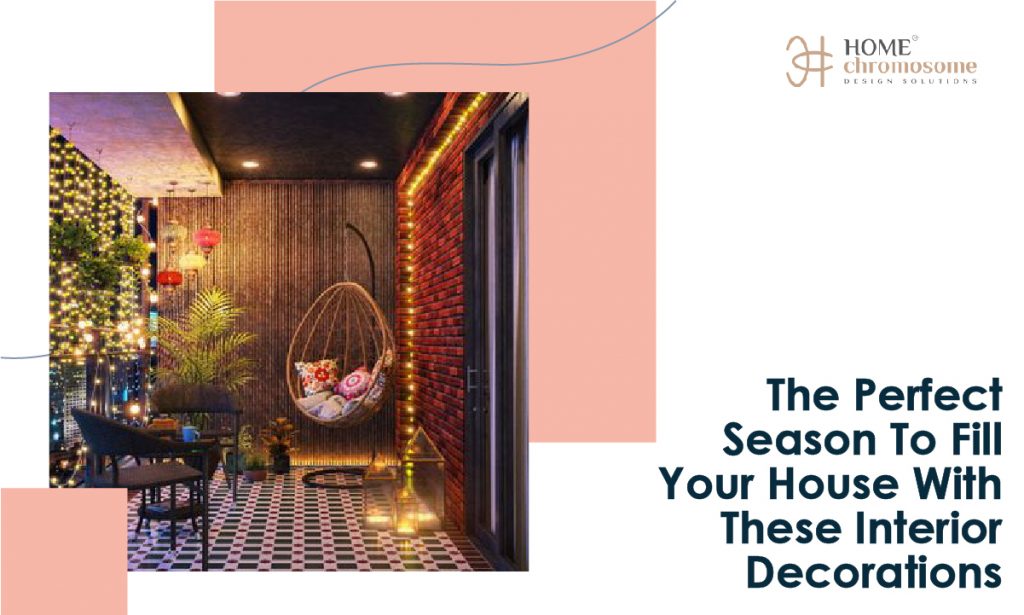 Many homes are already fully prepared for Diwali, and many homes are already fully designed for Diwali, but not every one of us could have the energy to adorn our homes thus far in advance. These Diwali home adornment ideas can be used as a final list to adorn your home before guests arrive. HomeChromosome is the best interior designers in Bangalore who can help your house to get a festive feel.
Lights
The most effective method to get around any obstacles in terms of how your area looks overall is through lighting. The perfect alignment of the sparkling lights on patios and balconies has a certain mystical quality. Using fairy lights to illuminate your living environment will also enable you to create a beautiful scene. It won't require much of your time and serves as a fantastic lightning replacement. String lights are nothing novel. Still, it's the best way to decorate your house, and it's also our personal favourite. You can do countless experiments with string lights, and you'll never grow weary of the concept.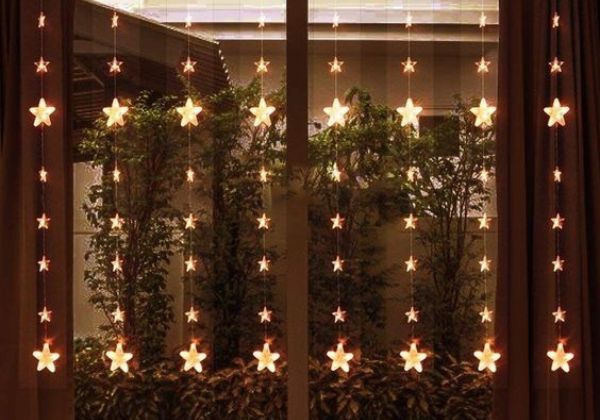 Even when arranged casually, they are very stunning. You can make them drop like curtains with or without curtains, which is the best way to be inventive with them. They can permanently be mounted on your window's linings, borders, and curtain rods. Unquestionably the most classic method. But you can add faux or real flowers to give it a modern twist. Lightings are one of the specialties of Home Chromosome, the interior designers in Bangalore.
Lighting decoration tips by interior designers in Bangalore
You can similarly arrange the light fixtures after twisting the garlands. You may roll up some string lights into a ball and place it on a desk or table for puja; the results will astound you. It doesn't matter if it is a modest vase on your tea table, front door, or anything else- you can complement it with string lights. These jar or bottle lights are the safest and most practical choice you have. Simply spend a few dollars to purchase these attractive jars or bottles.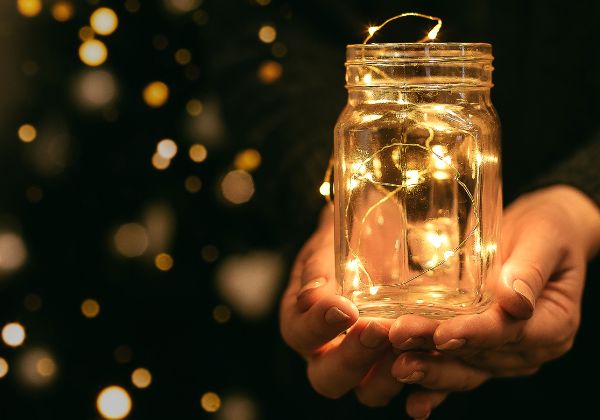 You could always make your jar and bottle, though. These jars and bottles can be filled with candles, artificial diyas, string lights, and more. These jars and bottles can also be filled with flowers, followed by the addition of a diya, a candle, or string lights. HomeChromosome is the best interior designer in Bangalore when it comes to finesse, luxury, and extensive customization.
PS: We have 8 Living Room Lighting Ideas That Instantly Brighten Things Up for you!
Choice of Colours
HomeChromosme, the interior designers in Bangalore, believe that colours significantly impact how people feel and can lift their spirits. Up until the paint is entirely on the wall, the colours you choose will determine how you feel. There is little significance in the room's size. Choose a colour that will make the walls of the house look lively and new. However, it will be here; the more, the merrier.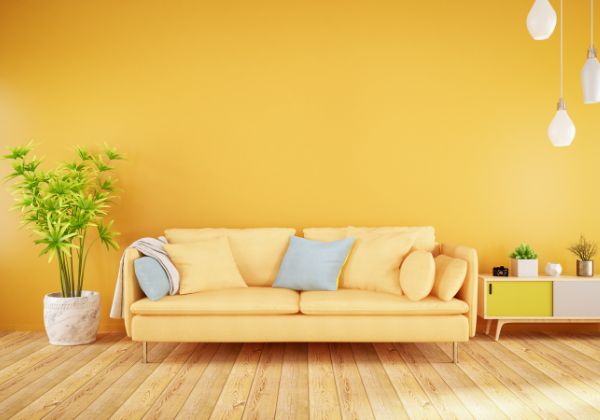 For instance, Home Interior Designers in Bangalore, Homechromosome, can assist with painting your kitchen a soft shade of cheerful colours like yellow, peach, or pale orange. This colour emits a variety of moods both during the day and at night in the natural world. Another painting tip for a bedroom is to combine two colours to create a brand-new colour scheme. The three hall walls should be painted in the darkest colour possible to create a strong contrast and make the TV stand out in the living rooms. The previous TV end table and shoes can be swapped out with a comprehensive, tiny table where other accessories can be placed, such as the TV remote, a set-up box, a vase, and other decorative items. HomeChromosome is the best interior designers in Bangalore when it comes to finesse, luxury, and extensive customization.
Pooja Room Decor
The pooja room is the centre of the festival. According to the best interior design company in Bangalore and many more people, it is essential that this room should be spotless, elegant, and functional because it serves as the focal point of the Diwali season. When decorating the pooja room, go all out. Start by scrubbing the floor, the bases, and the copper or brass statues. Old flowers and cobwebs from corners should be thrown away.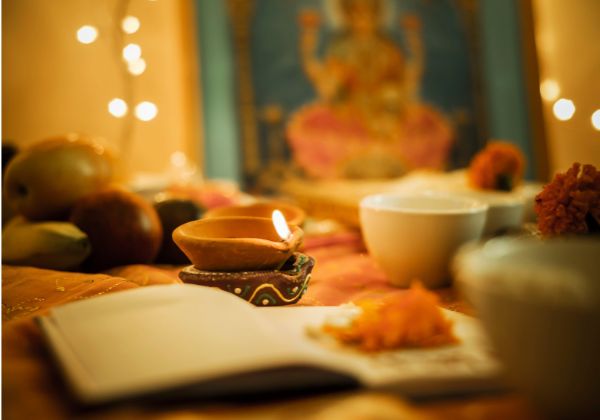 One can hang marigold flowers around the pooja area a day or two before Diwali. You may create a flower float with a lovely smell of roses and geraniums. Place those vintage brass candlesticks and lamps around the idols after giving them a good cleaning. The area can also be adorned with diyas and other lights. HomeChromosome is the best interior designers in Bangalore when it comes to finesse, luxury, and extensive customization.
Rangolis
Rangoli is a necessary component of Diwali decorations. Nothing is more attractive than creating a rangoli for the home to celebrate this auspicious occasion. Rangoli are texture patterns created on the floor using powdered colours, similar to the idea of texture painting on the walls. Rangoli is the practice of decorating a bed with drawings and patterns made of chalk-colored sawdust and flour to welcome the goddess Lakshmi. Religious motifs like mangal Kalash, Goddess Laxmi's footprint at the front door, Om, Swastika, lit Deepak and Shree are popular rangoli themes for Diwali.

According to the best Home Interior Designers in Bangalore, put a lit Diya in the centre of your rangoli to make it look even more beautiful. To further increase the Rangolis aesthetic appeal, you can utilise flower petals and leaves. To make your Diwali glow, sprinkle some gold and silver sparkles on the pinnacle of your rangoli. HomeChromosome is the best interior designers in Bangalore when it comes to finesse, luxury, and extensive customization.
Style The Walls
Wall decorations can be used in any room and with any type of furniture. This Diwali, infusing wall decor with a spiritual theme will help you not just with holidays but also with being decorative and spiritual all year long. A terrific option for lighting up the entire puja area or, for that matter, any space you want to decorate is metal wall decor with LED effects. They may be able to provide you with a quiet, peaceful atmosphere that will aid in keeping you spiritually inspired. Even Visitors who come to your home on holidays or regular days will notice this artwork and commend your decision to have it in your home.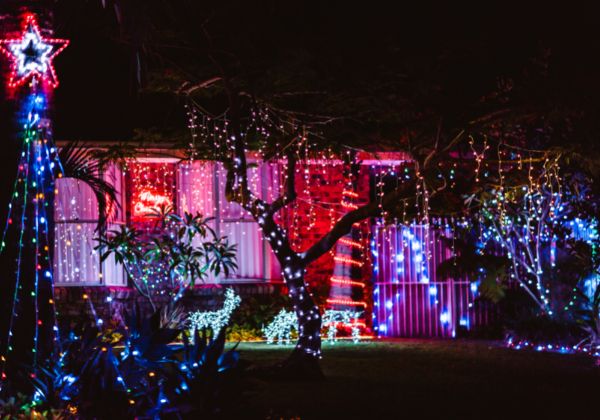 The wall will be the best and most cost-effective alternative if you've chosen to go against the grain and embrace change by changing the appearance of your room with paint. Putting texture on your home can get lustre by adding colour to the walls. However, painting the entire house may not be a cost-effective option. However, there are many wallpaper designs available, so you may pick your favourites to transform the appearance of your walls even without paint. HomeChromosome is the best interior design firms in Bangalore when it comes to finesse, luxury, and extensive customization.
HomeChromosome interior designers in Bangalore
HomeChromosome is an interior design firm in Bangalore that works with people who respect sophistication and appreciate the finesse and high standards in the world of the best home interior designers in Bangalore. You can visit the Home Chromosome website to find the best design plans and get started with your dream home. If you are looking for the best home interior designer near you, please contact us. You can view our portfolio here and follow us on Instagram here. Email us at info@homechromosome.com for a quick response.