Dining room decorating ideas on a budget: The dining room is more than just a space for sharing meals; it's a gathering place where lasting memories are created. Elevating this space with elegance doesn't need to be expensive. This comprehensive guide will walk you through achieving a budget-friendly dining room makeover that radiates style and charm without exceeding your budget. From strategic planning to creative DIY projects, we've covered your dining room decorating ideas on a budget.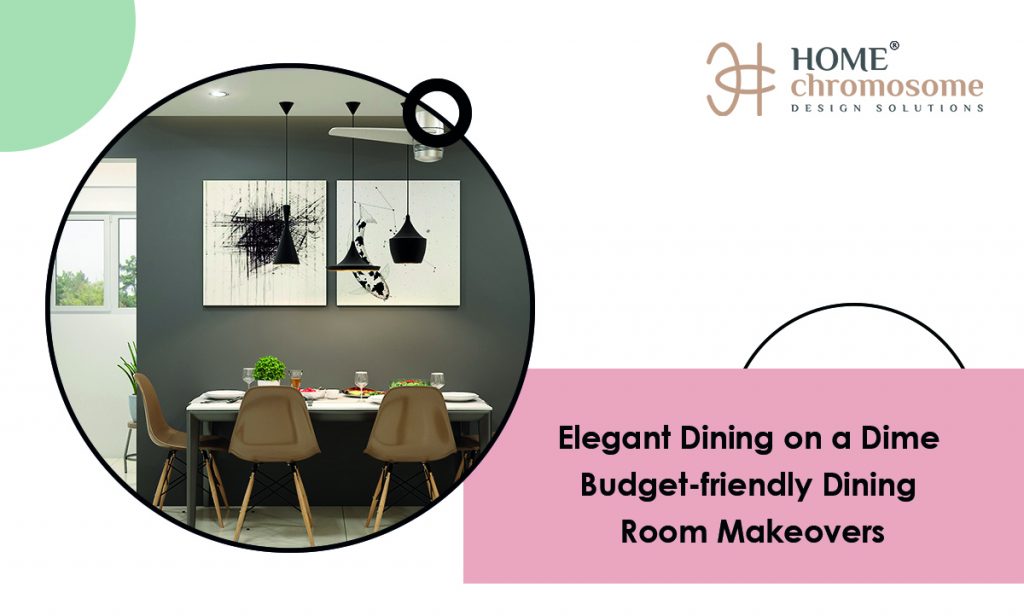 Dining room decorating ideas on a budget
Dining room decorating ideas on a budget #1 – Strategic Planning and Inspiration
Start by envisioning your ideal dining room in detail. Consider factors like the size of the room, the amount of natural light, and the existing architectural elements. Create a physical or digital mood board with images of decor, fabric swatches, paint samples, and even texture inspiration from materials like wood, stone, or metal. This board will serve as your creative compass throughout the makeover process.
Dining room decorating ideas on a budget #2 – Thoughtful Color Palette
Go beyond selecting colors; consider the psychology of the hues you choose. Soft grays can create a serene and sophisticated atmosphere, while warm beiges provide a cozy and inviting feel. Pair these neutrals with accents in muted blues or subtle blush tones for a touch of elegance. Incorporate variations in texture through woven placemats, a distressed wooden centerpiece, or even a textured wall treatment like shiplap.
Dining room decorating ideas on a budget #3 – Declutter and Clever Arrangement
Clear the dining room of unnecessary clutter, storing away items that don't contribute to the new aesthetic. As you arrange furniture, think about the flow of movement. Consider placing the dining table near a large window to take advantage of natural light or positioning it near a feature wall to create a dramatic focal point. If space permits, create a cozy reading nook or a small bar area in a corner, utilizing the room efficiently.
Dining room decorating ideas on a budget #4 – Smart Furniture Choices
Thrift stores and vintage markets can hold hidden gems that align perfectly with your vision. Look for a dining table that evokes the desired aesthetic; a distressed farmhouse-style table can bring a touch of rustic elegance. Pair it with contemporary upholstered chairs in a complementary color or pattern, balancing the old and new seamlessly.
Dining room decorating ideas on a budget #5 – Dazzling DIY Artwork
If you're an artist, create an abstract canvas that reflects your color palette and mood board inspiration. Experiment with techniques like layering soft pastels or adding touches of metallic paint for depth. If art isn't your forte, repurpose elegant botanical prints found online by framing them with thrifted or repainted frames. Alternatively, curate a collection of vintage postcards with botanical illustrations for an artfully eclectic wall display.
Dining room decorating ideas on a budget #6 – Luminous Lighting Updates
To stay within budget, explore flea markets and online platforms for gently used lighting fixtures. A dated chandelier can transform with a coat of metallic spray paint or a change of lampshades. Ensure that the new fixture aligns with your cultivating style; a crystal chandelier brings luxury to a vintage Hollywood glamor-inspired room.
Dining room decorating ideas on a budget #7 – Luxurious Textiles for Allure
Select textiles that create a tactile experience in the room. Velvet seat cushions not only add a touch of luxury but also provide comfort. Layer the dining table with a textured tablecloth that complements the color palette, and choose coordinating napkins with delicate embroidery or a subtle pattern. Complete the look with decorative pillows that pull from the accent colors in your mood board.
Dining room decorating ideas on a budget #8 – Mirrors for Depth and Drama
Consider a large vintage floor mirror placed strategically against one wall, reflecting light and creating an illusion of space. Alternatively, gather smaller decorative mirrors in various shapes and sizes to create an eye-catching arrangement on a feature wall. This arrangement can add visual interest while enhancing the room's elegance.
Dining room decorating ideas on a budget #9 – Curtain Elegance
Select floor-length drapes in a luxurious material like silk or faux silk to bring a touch of luxury. Hang the curtains higher than the window frame to create the illusion of taller ceilings and a grander space. Choose a neutral color that complements your palette while adding softness to the room.
Dining room decorating ideas on a budget #10 – Captivating Table Settings
Compose captivating table settings by blending vintage and contemporary dinnerware. Layer chargers are made from metallic-rimmed glass or woven rattan for added texture and visual interest. Experiment with different ways to fold napkins and use elegant napkin rings. Create unique centerpieces using taper candles of varying heights, interspersed with small floral arrangements that match your color palette.
Dining room decorating ideas on a budget #11 – Greenery and Botanical Flourish
Place potted plants on a sideboard or windowsill, choosing containers that align with the room's theme. Consider plants with soft, elegant leaves like ferns or succulents for a touch of natural elegance. Create a functional and visually appealing small herb garden in decorative pots on a windowsill, bringing a fresh and aromatic dimension to the room.
Dining room decorating ideas on a budget #12 – Accent Walls for Focal Points
Consider patterns that resonate with your chosen theme when designing an accent wall. A classic damask pattern in metallic hues can enhance the room's elegance. Alternatively, create a DIY stencil design using metallic paint, adding a touch of glam and texture to the wall. Ensure the accent wall's color and design harmonize with the rest of the room's decor.
Dining room decorating ideas on a budget #13 – Personalized Wall Art
Create a gallery wall that tells your family's story and personal journey. Combine family photographs, framed vintage postcards from your favorite travel destinations, and inspirational quotes that resonate with your dining room's ambiance. Arrange the frames in a visually pleasing layout, with larger pieces at the center and smaller ones surrounding them. To maintain a unified look, spray paint all the frames in a single color that complements your chosen decor scheme. This gallery wall becomes a conversation piece, adding a sentimental touch to your elegant dining room.
Dining room decorating ideas on a budget #14 – DIY Wall Molding
For refined sophistication, introduce DIY wall molding that adds architectural interest to your dining room. Create simple paneling using thin strips of wood, such as chair rails and picture frame molding. Paint the panels in a shade contrasting slightly with your wall color, such as a lighter or darker hue. This subtle contrast adds depth and texture to the room. Consider using a stencil or adhesive decals to create a pattern within the panels, further enhancing the classic elegance of the space.
Dining room decorating ideas on a budget #15 – Vintage Finds as Decor
Embark on a treasure hunt through antique stores and flea markets to discover unique vintage decor pieces. Look for ornate picture frames that house your cherished family photographs or vintage candle holders that can grace your dining table as elegant centerpieces. To ensure these pieces harmonize with your decor, repaint or distress them using techniques that match your chosen color palette. Infusing your dining room with these aged treasures imparts to the space a sense of history and charm.
Dining room decorating ideas on a budget #16 – Statement Ceiling
Elevate your dining room's elegance by turning your ceiling into a statement piece. Apply a subtle metallic finish to the ceiling for a touch of glamor that catches the light from the chandelier or pendant fixture. Alternatively, add texture and depth using a textured wallpaper that complements your decor theme. For a creative twist, stencil an intricate pattern using metallic or pearlescent paint, creating an unexpected and visually captivating ceiling.
Dining room decorating ideas on a budget #17 – Mirrored Furniture Accents
Amplify the sense of space and luxury in your dining room by incorporating mirrored furniture accents. Place a mirrored tray on the dining table to showcase elegant glassware and candles. Consider a vintage mirrored sideboard to provide storage, reflect light, and create an illusion of grandeur. The mirrored accents add a touch of glamor and create a dazzling play of light throughout the room.
Dining room decorating ideas on a budget #18 – Luxurious Chair Covers
Transform simple dining chairs into luxury seats with custom slipcovers from rich, textured fabrics. Choose sumptuous materials like velvet or brocade that resonate with your chosen color palette. Tailor the slipcovers to fit the chairs perfectly, and add decorative touches such as contrasting piping, fabric-covered buttons, or intricate embroidery. These luxurious chair covers add depth and sophistication to your dining area, inviting guests to dine in comfort and style.
To Conclude…
Elevating your dining room's elegance on a budget is a journey that combines meticulous planning, inventive thinking, and savvy choices. By opting for a timeless color palette, exploring thrift stores and creative DIY projects, and employing artistic strategies, you can cultivate an environment of sophistication that mirrors your style and resourcefulness. Remember, true elegance transcends price tags, manifesting through the harmonious amalgamation of design elements that reflect your individuality. Enjoy the process of turning your dining room into a haven of affordable luxury. Happy decorating!