Natural Elements in Interior design has become the new trend as people have become more aware of the environment and are looking for ways to make their house more eco-friendly. As a result, the popularity of nature-themed and organic features has exploded in recent years.
Natural elements in interior design suit the earth because they are used repeatedly. Also, the quality of these things is better than that of mass-produced furniture made from processed materials. This project aims to make your living space more comfortable by bringing in some of your best natural elements and ideas. But don't make the mistake of trying to fill your home with all sorts of natural materials and features. Be picky to create an elegant home with a theme based on nature that fits your tastes. Here are the best organic interior design ideas to make your living space more relaxing by adding natural and organic things.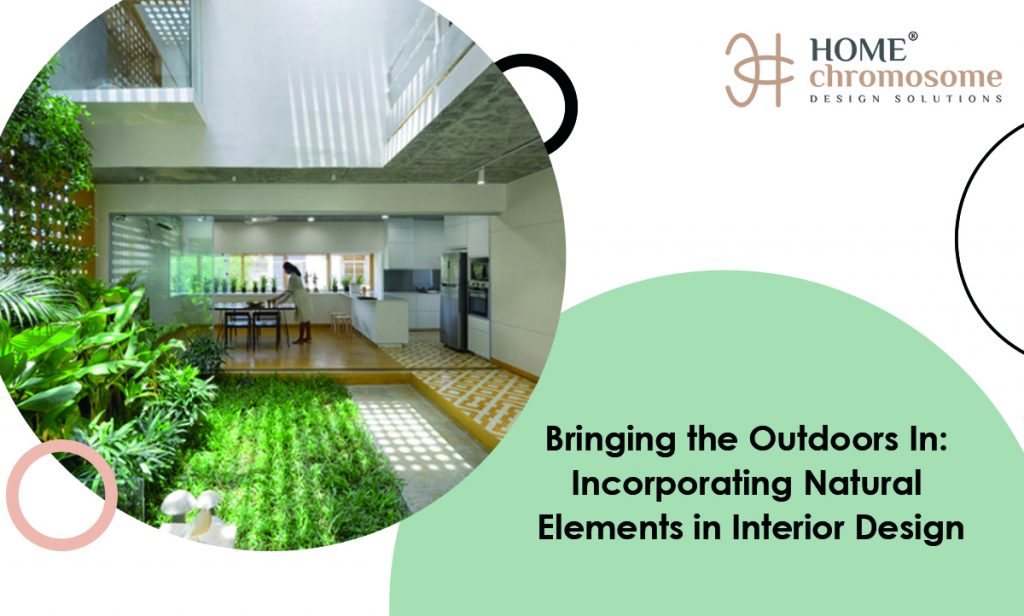 Natural Elements in Interior design ideas
Natural elements in Interior design idea #1 – Stones and wood
Decorate your house with natural things, like stone and wood, to make it feel like home. For example, you can bring the outdoors inside by making an accent wall out of natural stone, a headboard out of river rock, or a backsplash out of rocks. You could add more color and texture to almost any area by building a brick-feature wall. This would make it look like a loft in the city. Install rich hardwood floors for a look that will last, and fill your home with wooden dressers, chests, sideboards, desks, and headboards to bring the warmth of nature into every room. Install real wooden beams in a high ceiling or cover the whole ceiling with reclaimed hardwood planks to get the feeling of being one with nature more quickly.
Natural Elements in Interior design idea #2 – Fabrics
Textured fabrics can make a massive difference in the success of an interior design project that aims to create a relaxing and cozy atmosphere. Natural fibers like linen and cotton have a unique texture that feels great against the skin and can help make a space warm and friendly. You could replace your plastic curtains with natural linen or add textured throw pillows or a cozy cotton throw blanket to your sofa. You could also try getting curtains made of natural linen. Adding more texture will bring a bit of nature inside and create a warm and cozy atmosphere. Natural materials feel great and can be used for a wide range of things because they can be changed. Since there are so many different colors and patterns to choose from, it will be easy to find a design that fits your tastes and the style of the rest of your home. Using rough materials in your interior design is an easy and effective way to make a room feel calm, welcoming, and comfortable. This is an easy and effective way to get to these goals.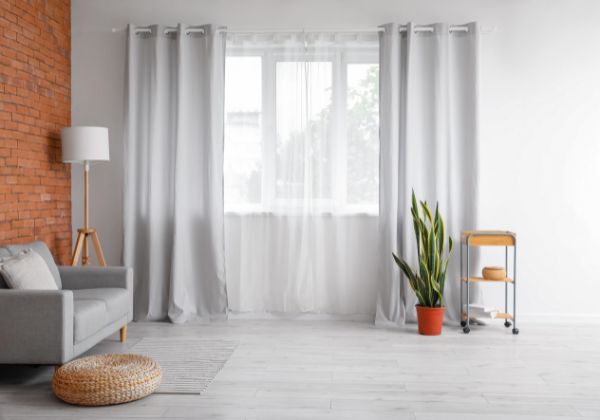 Natural elements in Interior design idea #3 – Choose things made from natural materials.
Choosing furniture made from natural materials is a great way to feel connected to the outside world without leaving the comfort of your home. Simple choices that can significantly affect include using leatherwork, dried flowers, cotton blankets, and wooden furniture. If you still need to figure it out, think about how calm you feel outside in the fresh air. Now think about how much more powerful it would be to bring that feeling into your house!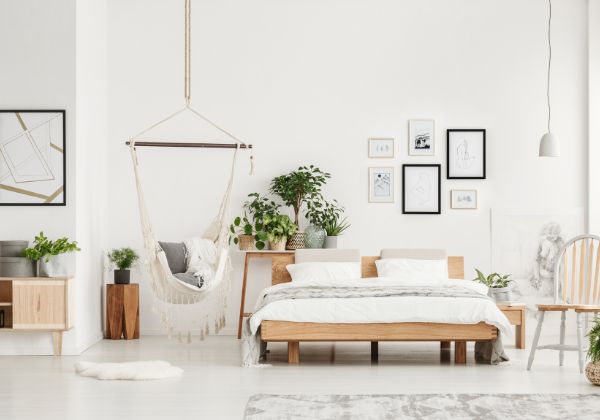 Natural Elements in Interior design idea #4 – Sustainability
Since green living and saving the Earth's valuable resources have become more popular, homeowners have shown a renewed interest in finding construction materials that have been recycled and used in new ways, reclaimed from other building projects, or reused for new uses. Because of sustainable interior design with natural elements, more and more building materials are being recovered and used in new ways. Remember these things when arranging your home: Old wooden railway ties can be used as ceiling support beams to give a room a rustic look. Timber yards can provide contractors and builders with salvaged and locally made wood products. You could use old railway ties as beams to hold up your roof.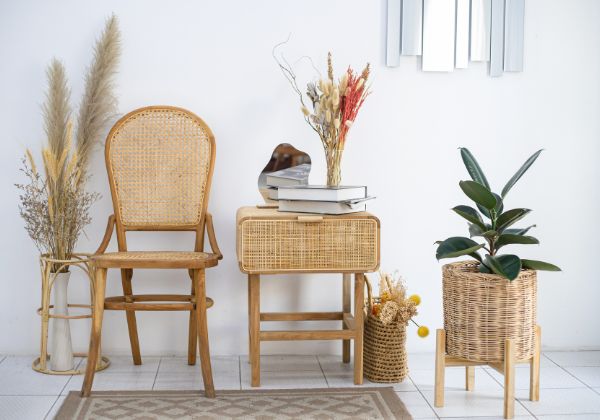 Natural Elements in Interior design idea #5 – Flowers
Do you remember when the only plant in people's homes was fake and usually had a very thin layer of dust? Flowers and potted plants like succulents are easy ways to add natural beauty to your dining room table, coffee table, side table, or front door table. More and more people are bringing nature into their homes in its natural, native state. Many people used to think that taking care of and keeping houseplants was a hard job. Today, you can brighten any space by putting a fresh flower on your home office desk, planting indoor bulbs, or keeping low-maintenance plants like succulents, cacti, or succulents.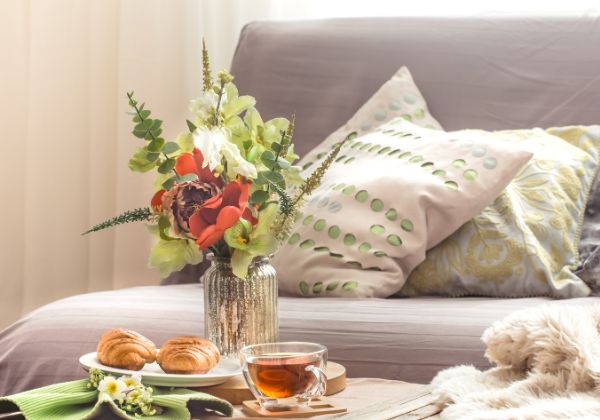 Natural Elements in Interior design idea #6 – Colors
Many people worry a lot about picking color palettes because they want to make a space that makes them feel good and shows who they are. If you choose soft and earthy colors, you can make your room look more natural. This will stop the walls from making the room look too small. This doesn't mean you shouldn't use any other colors; it just means you should use them as accents and accessories. The best place to find inspiration for these colors is in nature, such as the color blue for the ocean, the color green for plants, or even the colors orange and pink.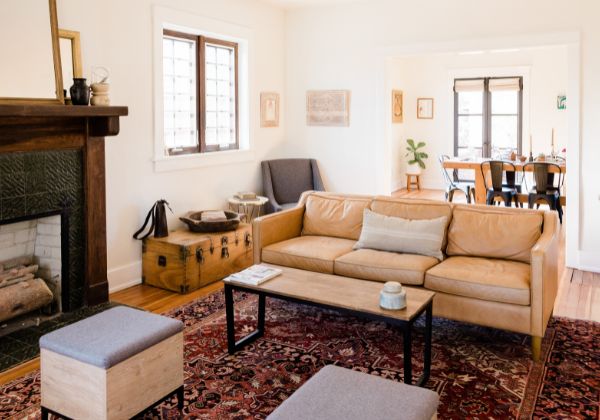 Natural Elements in Interior design idea #7 – Rustic
Choose natural wood options when looking for new furniture for your rustic interior design with Natural elements. This will not only make your home feel more natural, but it will also make it look more natural, but it will also make it look more rustic, no matter where you live. When you have people over, the beautiful look of bare wood in your interior will be a conversation starter and add to the natural atmosphere you've made there.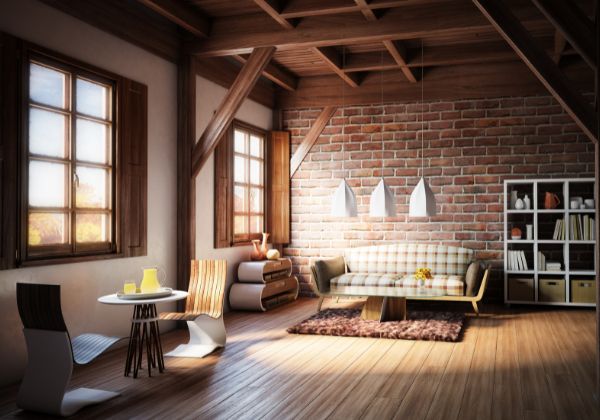 Natural elements in Interior Design idea #8 – Use accessories
Once you've designed and furnished your home with biophilia in mind, you should use the same inspiration to help you choose accessories. This will make your house feel like a whole. Choose seagrass mats for dining areas, pottery for your dinner set, and dried grasses and flowers to put on essential pieces of furniture as decorations.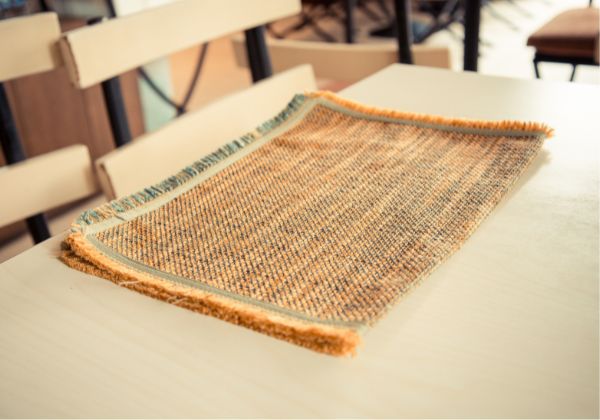 Natural elements in Interior design idea #9 – Bring a lot of light in
Even when it's cloudy outside, having a lot of windows or bi-fold doors is a great way to let in natural light, which will not only make you feel great but also give you the vitamin D you need so badly. You won't have to turn on the lights when you don't need to, and you can open the windows whenever you want to get some fresh air. Both of these are beautiful ways to save money.
Natural Elements in Interior design idea #10 – Plants
Our last tip for making your house into a biophilic paradise is to buy some plants to put inside. There are plants with big and small leaves and tall and short plants, so there is something for everyone. If you want to get the most out of your plants and get the best results from them, choose air-purifying options to help you sleep better while also cleaning the air you breathe.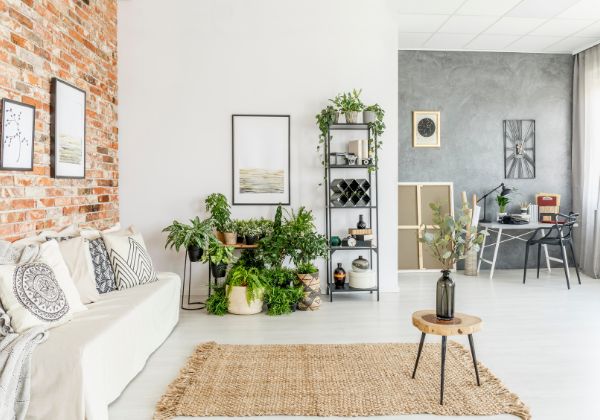 Natural Elements in Interior design ideas by HomeChromosome
Adding natural elements to a living space will undoubtedly create beautiful textural differences. The things listed above will always be part of making a constantly changing place that never stays the same. The most important thing to remember is that even if some materials go out of style in the future, with the help of HomeChromosome, your home's classic look will last forever. You can view our portfolio here and follow us on Instagram here. Email us at info@homechromosome.com for a quick response.