1 bhk flat design ideas can take much work to renovate well. Most of the time, the rooms in these flats are small and have limited space. This is especially popular in cities. Putting together a small house with only 1 bhk home design can be challenging. To make the most of your floor space, you need to find a balance between adding enough pieces to be helpful, providing storage, and keeping the home as clean as possible. In this post, we'll look at the different ways to make the most of the space in a 1 bhk interior design and the different design elements that give the impression of space. Here are some interior design ideas for 1 bhk flat in Bangalore.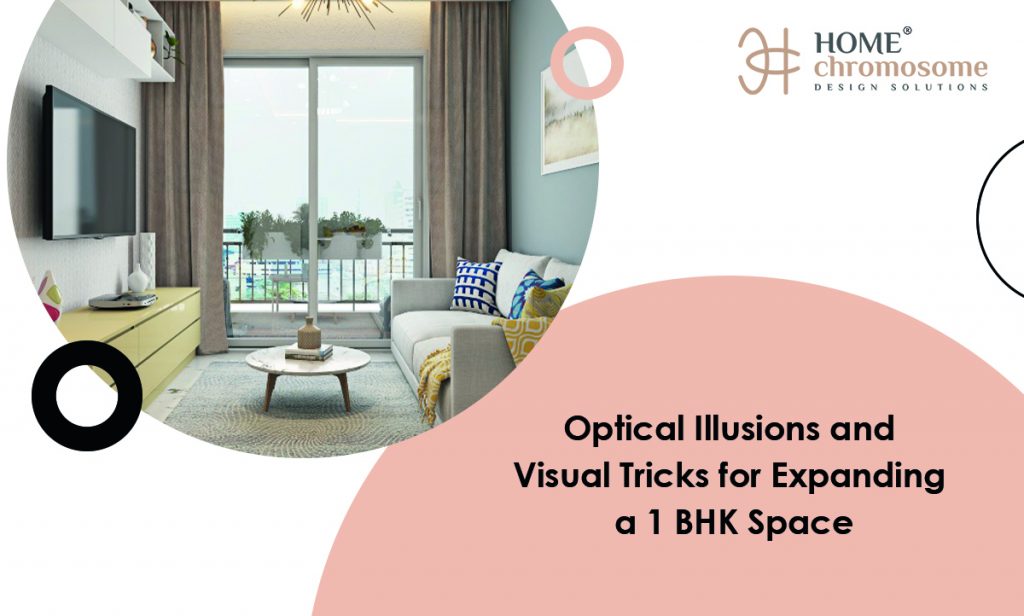 1 bhk flat design ideas
1 bhk flat design ideas #1 – Using the vertical space to its fullest
One of the best things about a 1 BHK home design is its ample wall space. Your home's vertical space could be used for cabinets, bookshelves, beds that fold up, and tables and chairs that fold up. When walls are used well, they give the impression that there is more space. When trying to make more floor space, homeowners shouldn't put things directly on the floor. Instead, they should take advantage of the extra space vertical heights offer. If you have a book rack, put the books that are lighter and thinner on top and those that are darker and thicker on the bottom. One could use a ladder that folds up into a small size to reach the shelves over the doors and windows. Another way to use vertical space is to choose pieces of wide and long furniture, like long curtains and large shelves. Putting wallpaper on the ceiling is another way to make use of the available wall space. Anything that makes you look up gives the impression that the room is more significant than it is. When shelves are high, they free up space on the floor, giving enough room for displays and lowering the need for more furniture.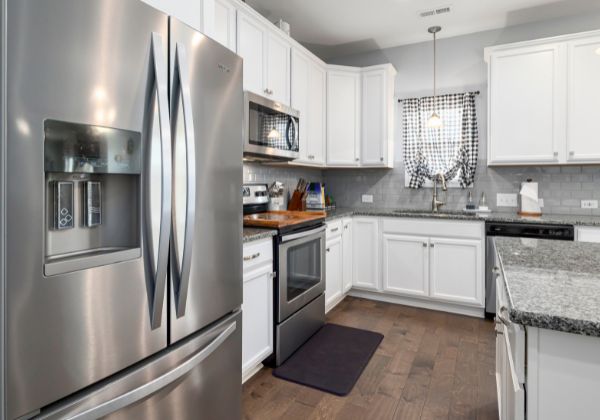 1 bhk flat design ideas #2 – French Windows
In this 1 bhk flat interior design ideas, French windows usually take up a lot of space on the wall where they are put in because the glass goes from the floor to the ceiling. The room is bright because of its desirable design, which lets in a lot of light and fresh air and lights up the whole space. The French windows make it seem like there is more space than there is because they draw the eye to an area farther away. This gives the room a greater sense of depth. It makes people want to look outside of their own homes. When you let in natural light and open up the inside of your home, it can look like there is more space than there is. If the windows are made to be see-through, a lot of natural light will enter the room.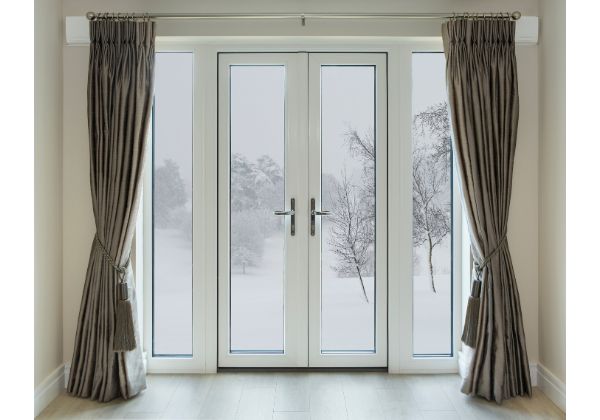 1 bhk flat design ideas #3 – Mirrors
In this 1 bhk flat low cost interior design ideas, Using a mirror, a time-tested optical illusion, can do wonders for how much space you think you have in your home. Setting a center point and pointing the mirror in that direction can give the impression of depth. If you put the mirrors so that they reflect light from the French windows or any other source, your room will look much better. If you can't hang the mirror on a wall, you can put it on a shelf, in the kitchen, or elsewhere. Set up mirrors of different sizes in critical spots all over the battlefield. Putting one in a room's corner can make the space brighter.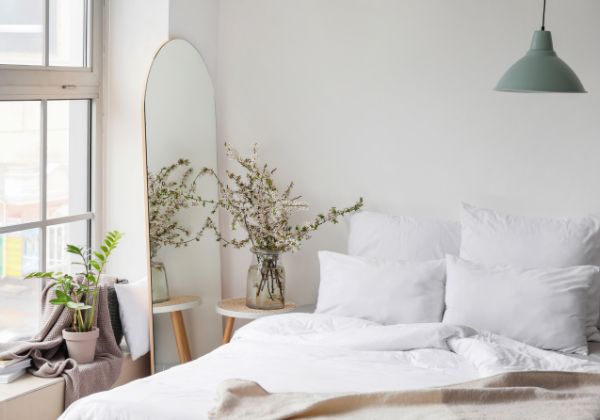 1 bhk flat design ideas #4 – Colors
By intelligently using color, you can make a small room look like it has more depth and width. Using colors that make the area look calm and even-toned can make it look bigger. When used in a small space, colors like white, beige, light brown, grey, and cream can give off a mysterious vibe. Apply it to the ceiling and the walls to make it look like everything in the room moves together. If the walls are painted a dark, powerful color, picking rugs and carpets in a lighter tone can make all the difference in the world. At the very least, you should use dark colors to paint the furniture. If you paint the wall trims and moldings in lighter colors, the room might feel more open and airy.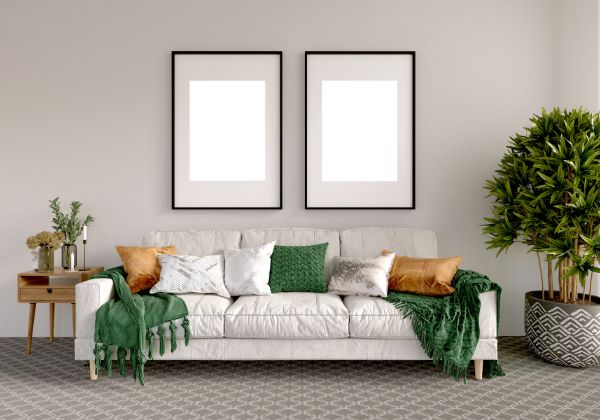 1 bhk flat design ideas #5 – Right pieces of furniture
Since home design is constantly changing, choosing furniture that can be used for more than one thing is wise. When it comes to high-tech furniture, you can choose from many different options. Videos on the internet that show how to do projects can be a great source of ideas. For example, you can remove the lock that keeps the table attached to the wall to use it however you want. You can also choose to have a bed that folds up. Innovation has hit such a high point that you can now buy a stylish bed-sofa table for a fair price. When decorating a home with limited space, it's essential to pay attention to the size of the furniture. Putting the furniture at a lower height makes it look like there is more space. Invest in furniture with a raised base or a strong visible leg.
Make sure any furniture you buy that is light and easy to move also has a built-in storage box. You can find a space to store things like old clothes, CDs, books, etc.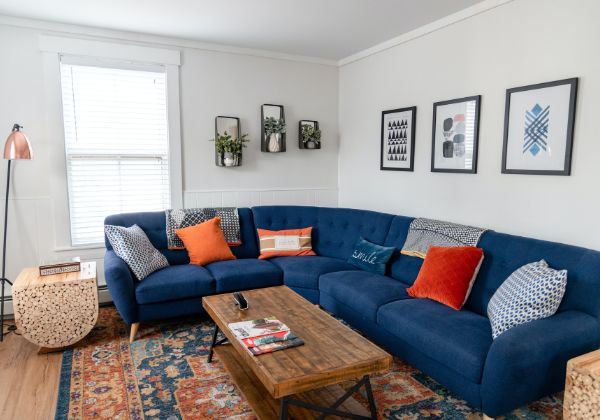 1 bhk flat design ideas #6 – Smart Storage
No matter how big your home is, it will always feel small if it's full of people. Small space leaves little room for many different storage options. Even though this is the case, one thing you can do is make the most of the space you have. Keep personal care items and cleaning supplies in their storage bins in the bathroom. This will make it easier to keep the room clean and organized. Your current furniture, like the sofa or the center table, can have more storage space underneath it. The same holds for the bed. The kitchen cabinets may be able to slide out to show more storage levels. This would give you more space for cooking tools and kitchen cleaning supplies. Install the shelves on top of the fridge, under the washbasin, or under the sink to make them easy to reach and clean.
1 bhk flat design ideas #7 – DIY
When we do something by ourselves, we always feel proud and happy about it. The "do-it-yourself" method, also called the "DIY" method, helps you be more creative. You can get ideas for how you want your home to look by watching movies online, reading magazines in print, or just going with your gut. Putting big pieces of art in the middle of a wall might give the impression of more space. If you want to be more daring, you could paint your walls with bright patterns to make it look like you have more space than you do. Using carpets as dividers in a single space makes it possible to split the space into different areas.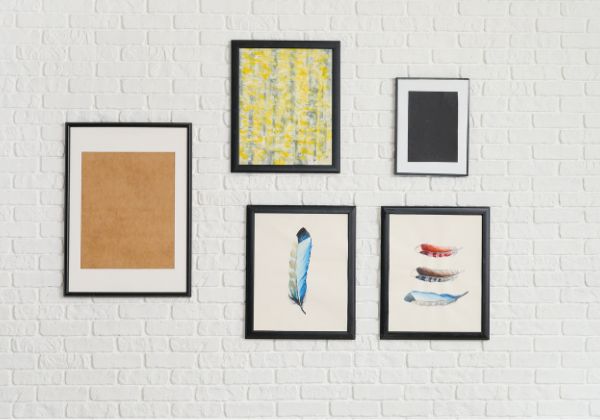 1 bhk flat design ideas #8 – Lights
Have you ever considered why white lights are used only in hospitals? People think a completely white interior signifies a clean and healthy place. A strong white light can also help doctors feel more alert and refreshed. In a similar way, the lights in a room can make a big difference in how it looks as a whole.
Uplighting is a way to make your low ceilings look higher than they are. And if your ceilings are already high, it can help to make them stand out even more. If you use this approach, you will make a vertical path for your eyes to follow. It takes the eye away from the room's width and puts it on the height made by the space's lighting. If you decide to use wall lamps or wall lights instead, you can quickly help the eye look up by putting them higher than they would generally be.
How a room is lit can give the impression that it is more profound. Backlighting is the art of carefully putting lights behind furniture against a wall to make it look like the wall goes on for longer. With LED light strips, this is easy to do.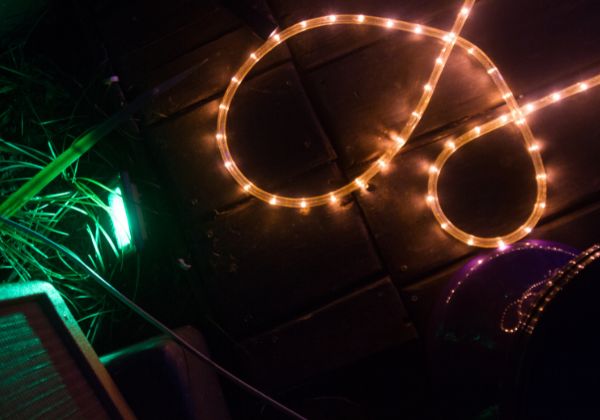 To Conclude…
Even living in a small room, you can keep your sense of style and be more valuable. If you intelligently decorate your home, you can make the most of your space, make it feel like a welcoming place to live, and use every nook and cranny. You can make a small apartment look stylish and functional by buying furniture that can be used for more than one thing, making the most of vertical space, choosing light, cheerful colors, and using visual tricks. Take advantage of the chances that come your way and enjoy the beauty of your warm and friendly living room. You can view our portfolio here and follow us on Instagram here.