2023 will be the year of the latest kitchen design trends. Remodeling the kitchen has quickly become the most wanted home improvement. This is because kitchens are places with a lot of use, so they are often updated. The reason for this is relatively easy to figure out. People's relationships with their kitchens have changed significantly over time, which is likely to continue. Because the world we live in today is so unpredictable, many people are looking for peace and happiness at home. And because of this, many people who bought their homes in the last few years are looking for new ways to add color, pattern, texture, and good energy to their homes. Here are the top latest design trends.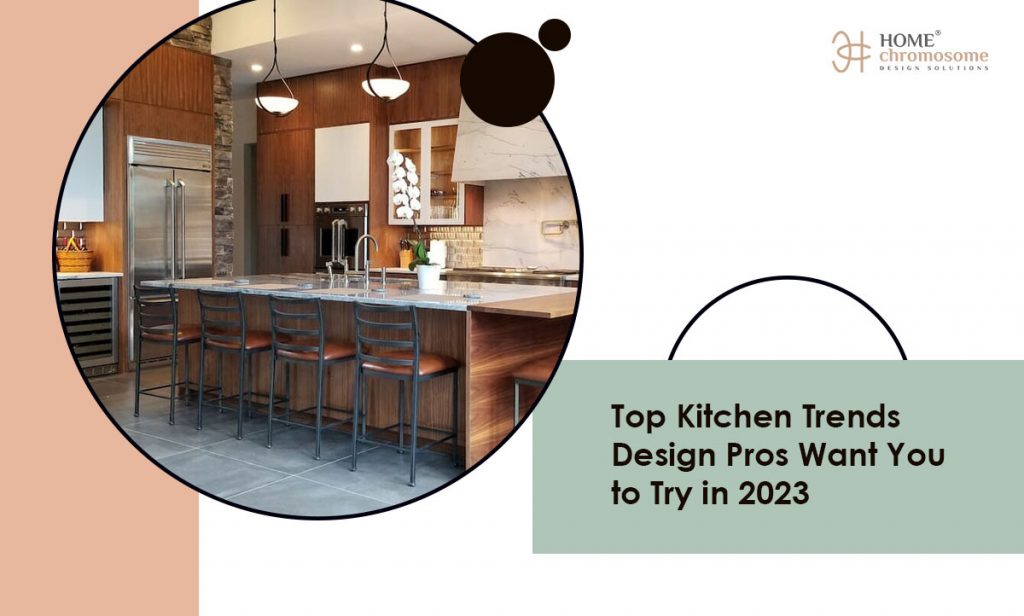 Top latest interior design trends for kitchen
Latest kitchen design trends #1 – Finished with a bright brass color
Brass finishes, usually quite bold, look great with black, green, red, and blue because they are so different. Most cabinet handles are made of brass, no matter what color they are. Brass accents like faucets, tabletop edges, and even locks go well with the room's beautiful colors. When put on primarily blue and green cabinets, this perfect shade of brass gives them an elegant look and takes an exciting kitchen design to the next level. Having brass finishes can make a room look better or make it look like it's falling apart and boring. This subtle touch can do either of those things. 
Latest kitchen design trends #2 – Stainless steel
Because stainless steel kitchens look modern and classy, this material will always stay in style in kitchens. They can make a beautiful artistic statement while still fitting in with their surroundings. Stainless steel, like small appliances built in, will never go out of style in the kitchen. This is why it is so popular and recommended for rooms with a lot of space. It is also very durable, which is why it is becoming more and more popular for use in kitchens. So, stainless steel is an excellent choice of material highly recommended for modern kitchens' look.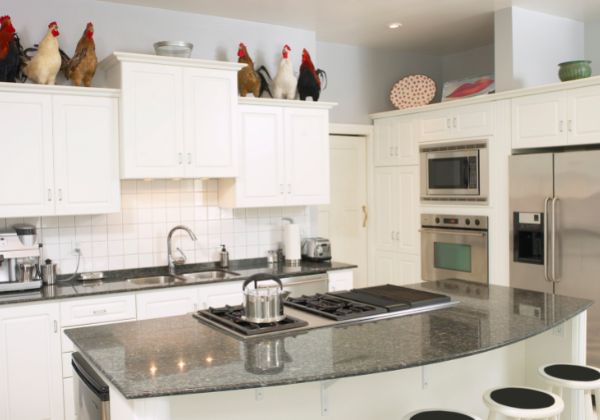 Latest kitchen design trends #3 – Different kinds of materials
Mixed contrast and variety add to the beauty of each design spread around the room. For example, in the same kitchen, you could put a marble countertop, wooden cabinets, dark timber, vinyl floors, and so on. When you use many different materials in the kitchen, you can mix and match many different design styles. When many of these things are put together, they work well and create an atmosphere that looks good. So, using other materials in a kitchen will add to the beauty of the space. 
Latest kitchen design trends #4 – Black Kitchen
Even though white kitchens are more prominent than ever, black kitchens are becoming more popular because they are sleek and dark. If you are severe or have a serious attitude, you should get an all-black kitchen, which gives off a sense of drama, elegance, and gloom. Adding a few natural elements, like a subway tile backsplash, to an otherwise all-black room can make it feel cozier and more like home. It can also add to the room's serious, sophisticated, grown-up vibe. Even more, beauty can be added to the room by adding colors that contrast with black, like white.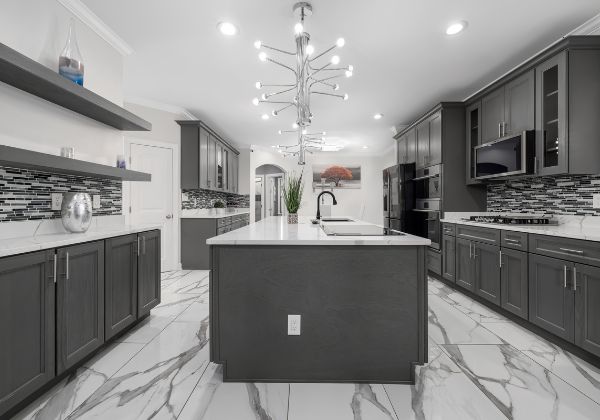 Latest kitchen design trends #5 – Pendant Lighting
Pendant lighting in the kitchen adds a decorative touch that, depending on the chosen style, can make the room look more modern and add a sense of drama already there. So, pendant lights can be used instead of using regular lights in the kitchen. This will not only make sure the space has enough light, but it will also give off an air of refined sophistication.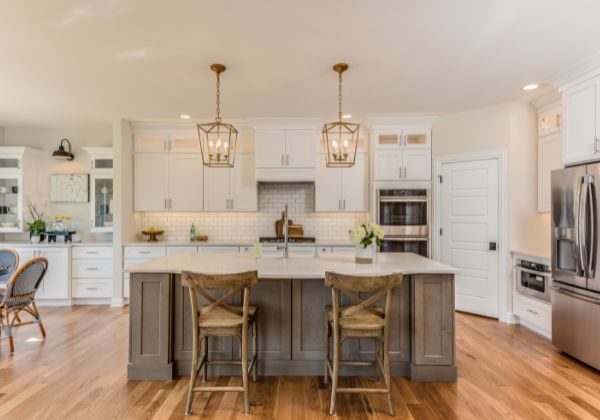 Latest kitchen design trends #6 – Different Countertops
Different countertops add a sense of sophistication and elegance to a room, making it look more attractive. The space will look more elegant and fancy if the countertops are black and white. If the countertops mix red and blue, the kitchen will feel more lively and fun. The room will look more elegant and fancy with black and white countertops. In this new and open way of thinking, any color can be used, but the colors must differ. It will give your kitchen a sense of character, which was a design trend last year but is now being used in this new style of kitchen.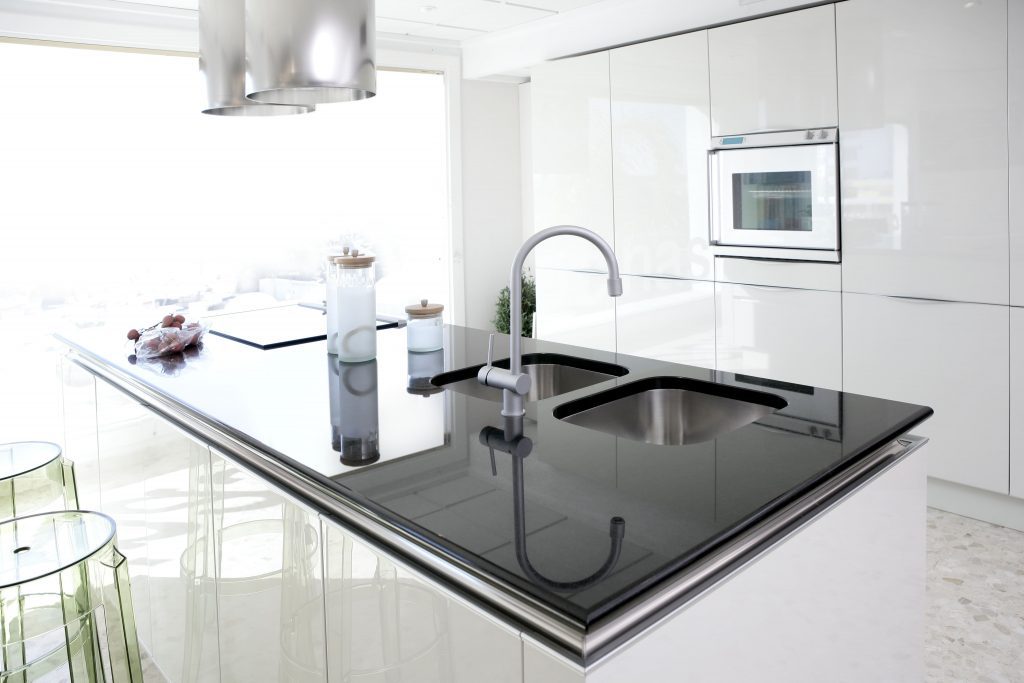 Latest kitchen design trends #7 – Vinyl Flooring
In the past few years, there has been a significant rise in the demand for flooring that is both nice to look at and suitable for its purpose. Because they look like a plank of natural wood, they give the kitchen a modern and classy look. This is because the natural look of wood makes everything else on or near it stand out. People in modern times are constantly surrounded by ordinary things, so designs that remind them of scenes from nature are more likely to appeal to them. If you want a more natural atmosphere and a calm feeling, choose vinyl flooring instead of laminate.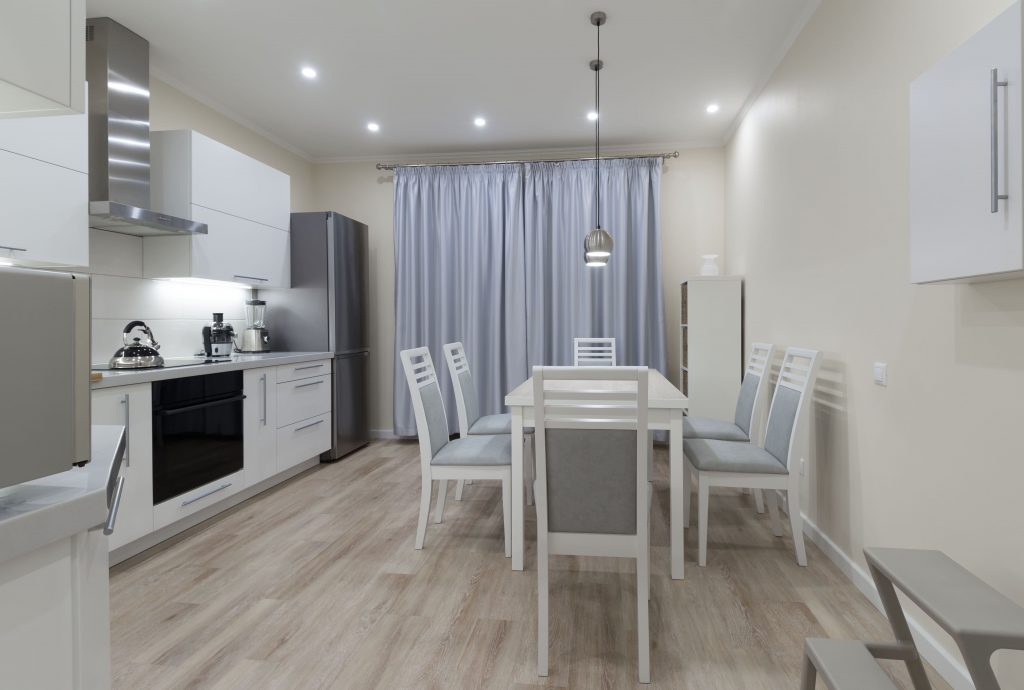 Latest kitchen design trends #8 – New rustic
Some of the newest rustic designs might make your kitchen feel like it's in the country or the mountains. It has earthy colors and natural materials and looks worn or torn. These beautiful kitchens show that you can do anything in a modern space, even make it look like it was made from natural materials. Because a bigger room makes you feel like you're walking through a forest, these are best for kitchens with a more extensive layout.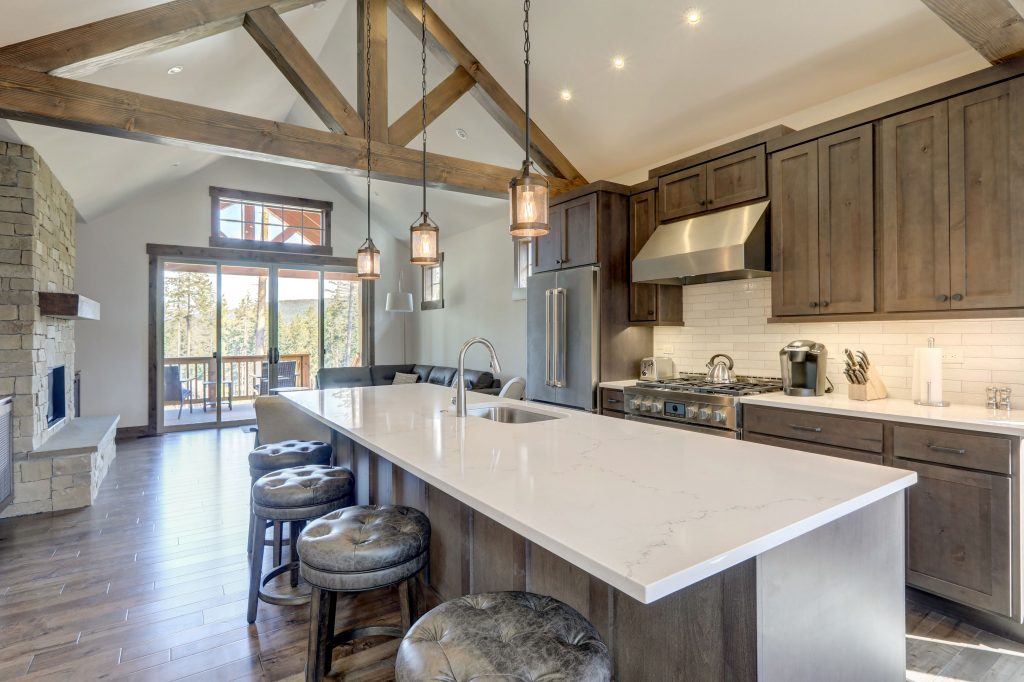 Latest kitchen design trends #9 – White Kitchen
The sophisticated and understated beauty of white design elements makes white rooms and furniture so classic. Because of this, it shouldn't be surprising that white kitchens have stayed popular over the years, especially in recent years. The color white is calm, uncomplicated, simple, and clean. The light was also getting brighter, so the room would never feel boring. These things are essential for a place where many people go in and out. Not only that, but white is also easy to change. Other colors, however, can be hard to paint over or change. White is a calming color that can be brought out by installing light fixtures or using natural white stone as countertops.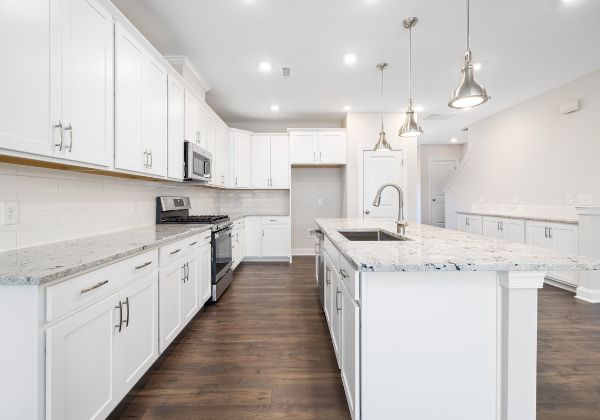 Latest kitchen design trends #10 – Wall Cabinets
Cabinets that go from wall to wall are an excellent way to store things we use daily in the kitchen. Wall-to-wall cabinets let us keep our most important things within arm's reach, so we don't have to move from one place to another to get something. Also, wall-to-wall cabinets, especially open shelves, add an extra layer of cleanliness to a room. Since less is wasted, there is more room to work with, which means more things can be done in the same area. It is an excellent choice for kitchens that are tight on space. 
Latest kitchen design trends #11 – Open plan living
Open-plan living is extraordinary everywhere. Most of the time, house plants, cabinets, screens, free-standing furniture, and other things are used to separate places in modern times. It is seen as practical and makes as good use of space as humanly possible. Because of this, it is a good choice for people with less space to work with. Even so, it makes it seem like the room is quite significant. It also gives a sense of separation and structure, which makes it possible to do different jobs in the same place.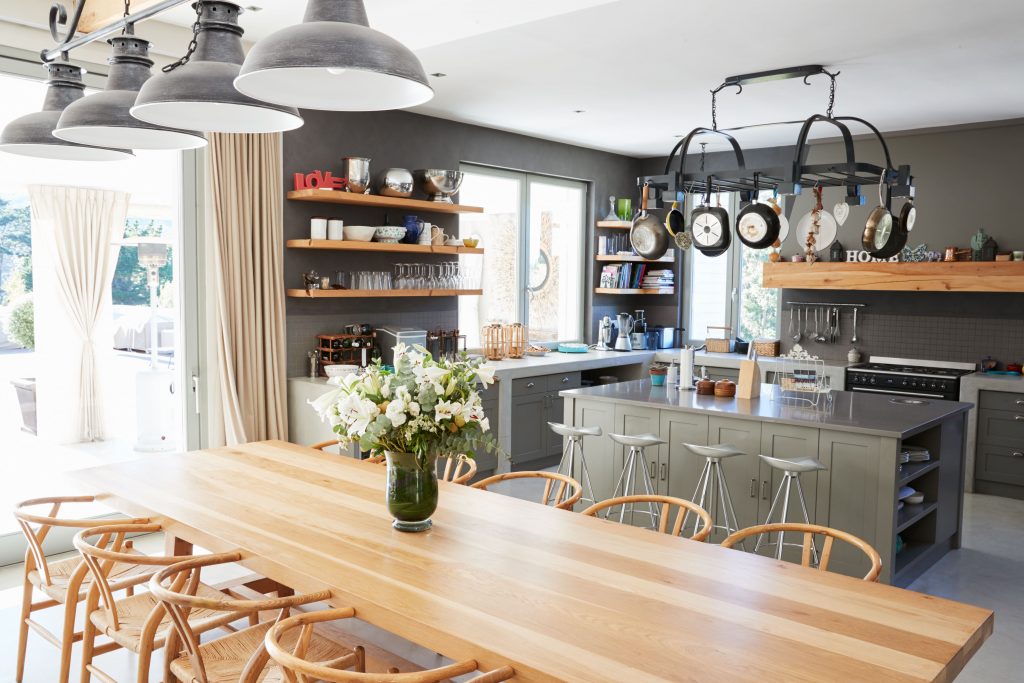 Latest kitchen design trends #12 – Backsplashes
When it comes to modern kitchen design, backsplashes with different colors are becoming more and more popular. When you use contrasts in the kitchen, you create a space that is both visually interesting and more elegant and luxurious because of them. Normal backsplashes make the beauty of the room stand out, but contrasting backsplashes make the beauty of the room stand out much more than normal backsplashes do, even though normal backsplashes look nice and match kitchen countertops. Most interior designers like to use backsplashes that are different from the rest of the room. In modern kitchens, this is usually done with paint colors. This is because backsplashes with different colors look very elegant and classy.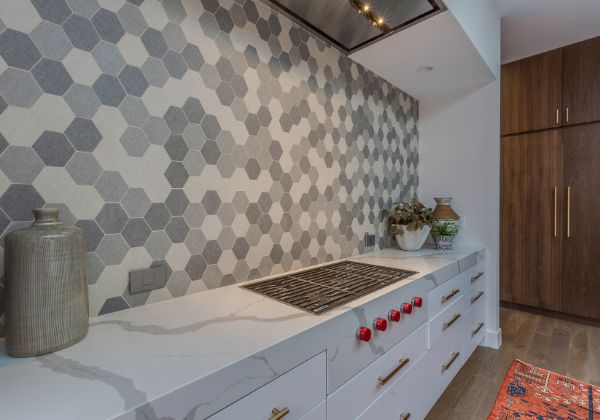 Latest kitchen design trends by HomeChromosome
There are a lot of the best latest kitchen design trends. For beautiful decor, our expert designers by HomeChromosome can help you find the right balance between what is modern and what is classic. You can visit our website and get started. Visit the Homechromosome website, get started with your interiors, and have fun. Let our skilled professionals assist you! You can view our portfolio here and follow us on Instagram here. Email us at info@homechromosome.com for a quick response.