Finding apartment interior designers in Bangalore can be complicated with so many options. Apartment interior designers in Bangalore have a ton of experience, and the interior design goals for your house are addressed in the most effective approach. However, several considerations must be made before hiring interior designers in Bangalore.
To start, you need to be clear on the features you want in your house or office. Make sure your designer knows any unique themes you wish to have in particular rooms. It is essential to make sure the designer you employ has the experience, but ultimately, the design of your house or place of business must be completed with your input.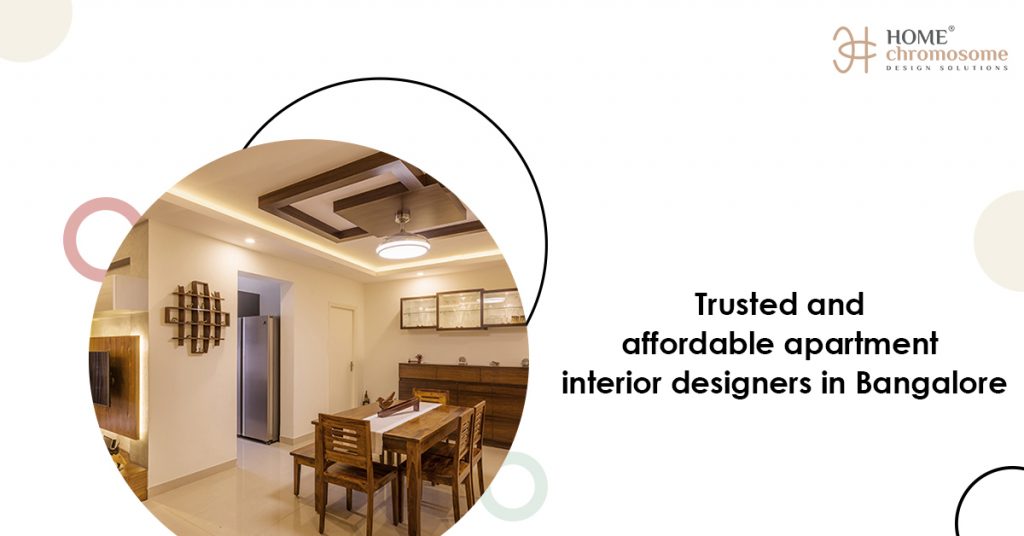 Affordable interior design Bangalore
Set a budget before hiring an interior designer so you may choose one who fits inside your price range. Depending on their level of professional expertise, interior designers have varying fees. In order to set your budget appropriately, it is usually preferable to research it a little online first. You must enquire about the critical details, such as the type of material utilized and the caliber of the plywood, tiles, paints, etc. For personal happiness, it is essential to be aware of the material used. Additionally, you need to be mindful of the variables affecting price. You can utilize it and save a significant amount of money if a superior and less expensive substitute for material is available.
Apartment bedroom interior design
There are many apartment decorating ideas available, but how you arrange the furnishings in your home will depend on the size of the room. You're aiming to open up a tiny flat. Or a bigger space that requires more light from the outside? Renters won't likely be allowed to undertake any significant modifications, but changing the design of your house can be something other than a meaningful, long-term change. The entire atmosphere of the room and how you feel while residing in it may be affected by everything from the table lamps to the window treatments to the wall art.
#1 Tips by apartment interior designers in Bangalore – Choosing Handmade and Organic Items for a Rustic Look
Feel a strong passion for all things organic and natural, which you wish to include in the decor of your apartment? Do you want to keep it cozy and handmade? The rustic design aesthetic is the only option. Maintain an earthy color scheme full of earthy tones like browns, beiges, and greens to get this effect. Reds, blues, and gray are all acceptable color choices as long as they appear natural, cozy, and warm. The backbone of a rustic home is wood, usually salvaged and distressed rather than shiny and polished. To replicate the homemade look, use rough materials like jute and raw cotton and patterns like ikat and patchwork. Synthetics and plastics are strictly forbidden. However, rustic iron and other metals can be used as accessories.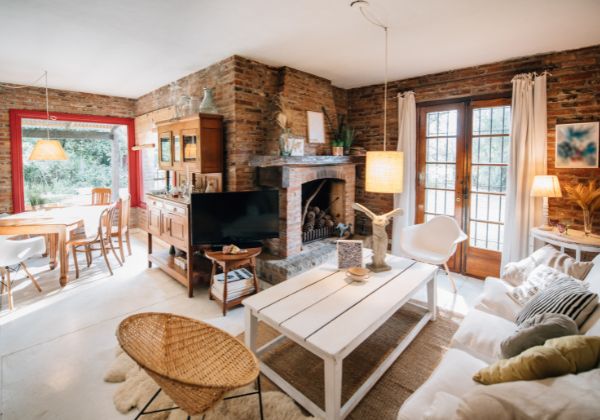 #2 Tips by apartment interior designers in Bangalore – Minimalism
You should choose a minimalist design approach if you want your apartment to be a safe haven of effortless elegance and peace. This design works exceptionally well if you want to create an open, light environment in a tiny area. Start by throwing out your belongings until just the bare necessities remain that you wish to keep. The result will be clutter-free surfaces and neat, uninterrupted lines since you invested in adequate storage and kept stuff out of sight. The hues to try are those with a cooling impact, such as white, black, and cream. Install furniture with simple, clean lines in keeping with the design. A well-done minimalist design should be ageless, so avoid anything overly trendy or contemporary.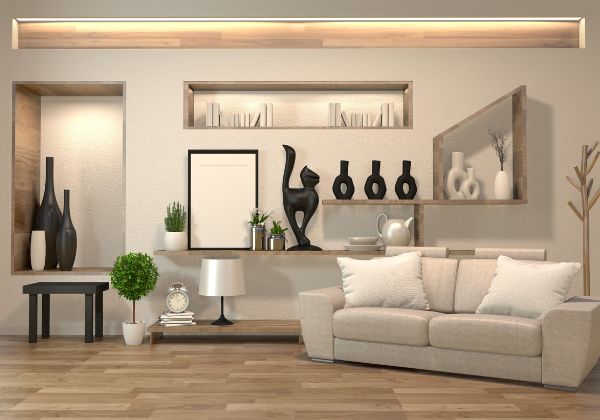 #3 Tips by apartment interior designers in Bangalore – Classic Modern
The modern classic style combines the conventional and easy with the fashionable and cutting-edge. Play with shades of brown, beige, gray, white, and black if you're going for this aesthetic. The colors are soft, pure, and pale. Instead of using too many items, concentrate on a few that elevate the space. Your furniture will continue to be fundamental, modern, attractive, and free of carvings. Vital minimalist components are included in the style, which indicates aiming for orderliness and cleanliness. You want to achieve a delicate, fashionable, and sophisticated style with modern interior classics. Nothing is blatantly loud, elaborate, or overly cluttered. But don't mistake this for being dull; feel free to add a little excitement with a splash of color or a contemporary piece of art.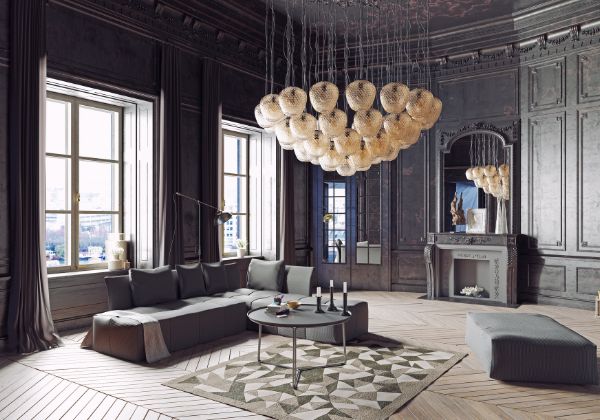 Cost of apartment interior designers in Bangalore
As the space in your house where most of the items related to food are kept, the kitchen may have slightly different home interior costs in Bangalore then the other rooms. In addition to an oven, microwave, and refrigerator to keep food products fresh, every kitchen must include a sink with running water. Depending on the size of the space, the price of the kitchen countertop and adjustable cabinets might range from Rs. 1 lakh to Rs. 3 lakh. Depending on the size of the room and the final style you desire for your home, interior design costs in Bangalore range from 3 lakhs to 15 lakhs. Your interior designer has to know your spending limit as well as the kind of ideas you are considering.
According to your demands, the designer will provide you with a pricing estimate. In Bangalore, a 3bhk interior design typically costs approximately Rs. 8 lakhs. The interior design fees are based on a percentage of the projection added to the project's cost once you and your apartment interior designers in Bangalore agree on a total estimate needed for your home. For instance, increase the project budget by 30 to 45 percent to pay for interior design services. Additionally, some apartment interior designers in Bangalore bill a set amount per square foot. However, it's important to remember that interior costs in Bangalore should typically be 10%–15% of the cost of the property, and for bigger homes like villas, they may be as high as 30%–35%.
Best apartment interior designers in Bangalore
Every big customized residential building or remodeling project requires the services of an interior designer for the property. There are several factors to take into account, which might be pretty stressful if you need a professional providing design that completely understands your concept.
Giving assistance but also adhering to a systematic and logical process. Throughout the whole architectural design process, your builder/architect team should include local interior design firms.
Before they are finished, have your builder and interior designer evaluate your plans and requirements.
Your presence, at least at one of the architect's sessions with your contractor and interior designer, is excellent. There is no doubt that the collaboration will result in the most outstanding design for your future house.
Your contractor may impact the design of your home's utility, cost, and constructability. The top apartment interior designers in Bangalore combine large-scale and small-scale elements that will improve your home's design's comfort and aesthetic appeal.
Each person's productivity and interpersonal relationships can be shown by the interior designers. Any project scope and budget may be accommodated by a home interior designer.
Homechromosome – apartment interior designers in Bangalore
From those who enjoy bringing organic, rustic elements of nature to their homes to those seeking something more contemporary and edgy, we offer something for everyone. We offer everything from those looking for distinctive originality and creativity to those who wish to create a haven of peace in the middle of busy Bangalore.
Homechromosome are the best apartment interior designers in Bangalore who can help you make your house a home. You can view our portfolio here and follow us on Instagram here. Email us at info@homechromosome.com for a quick response.
In conclusion, affordable interior designers in Bangalore is possible by working with a budget, researching cost-effective materials and furniture options, and finding an experienced and reliable interior designer who can help you achieve your desired look within your budget. It is important to prioritize the most important aspects of the design and make smart choices when it comes to selecting materials, finishes, and furniture. Additionally, by exploring alternative options such as upcycling or DIY projects, you can save money and still achieve a stylish and unique look for your home. Ultimately, with some creativity and careful planning, it is possible to achieve an affordable interior designers in Bangalore.