Bathroom design ideas: You've come to the right place if you want to find ideas for a luxury bathroom. In a time when people are paying more attention to self-care and making their homes healthier, creating a master bathroom that is both luxurious and relaxing may do a lot for our mental and physical health. But luxury doesn't just mean having a master bathroom suite with the latest state-of-the-art tools or a bathroom with minimalist design ideas. You can decorate and design your home in many ways, from simple and cheap modern bathroom ideas to more involved projects that will pay off in the long run.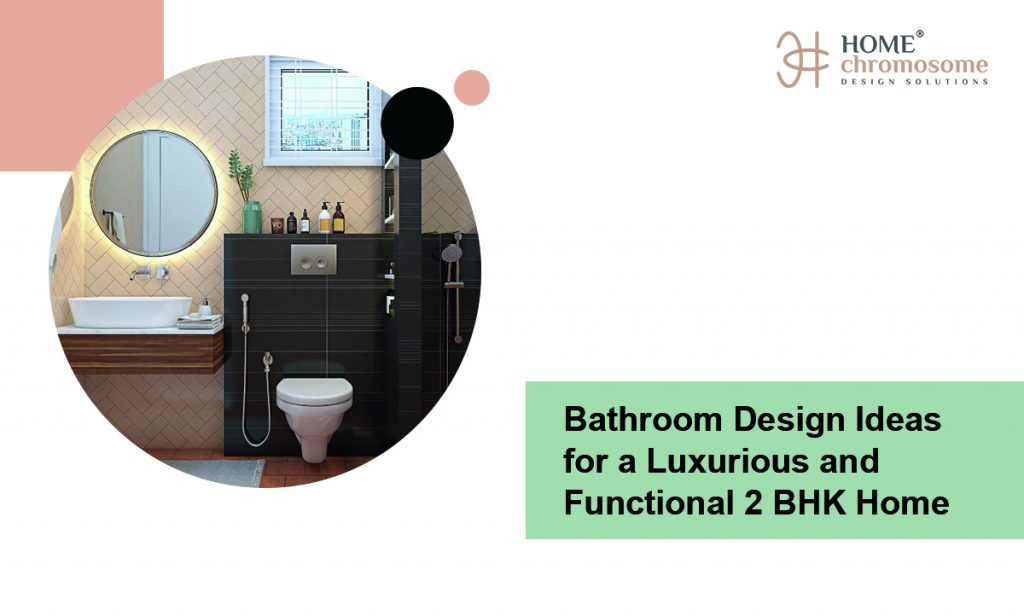 Bathroom Design Ideas
Bathroom Design Ideas #1 – Beautify your floors
The floors in your bathroom decor need to be very strong and resistant to water if you want them to last long and serve you well. If the wrong material is constantly exposed to water, it will quickly break down. It would help if you also thought about how much the floor will cost, how easy it will be to put in, and how it will look when done. Choose tiles that look expensive or fake marble to look like a high-end designer. You can make the space look nicer by building a path up to the wall and putting a bathtub at the end of it. If you don't want the floor to look plain, put some pretty mosaic tiles around the edge.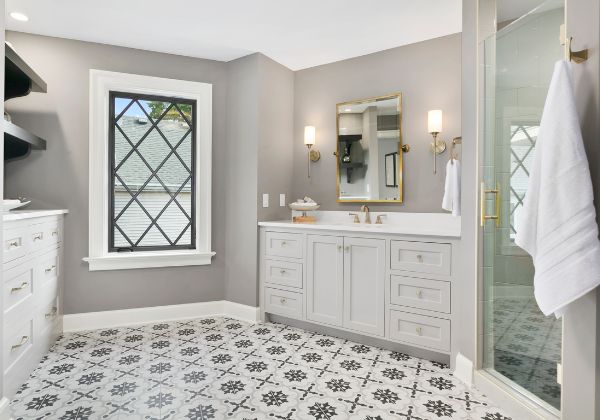 Bathroom Design Ideas #2 – Elevate With Lighting Fixtures.
It is only possible to make a place that works with enough light. This functional item can be turned into a design statement by adding eye-catching lighting fixtures. Our time is marked by beautiful product designs that can be changed to make any place look better. You can find beautiful chandeliers, pendant lights, and bathroom mirror lights that will take your flat interior design to the next level. If you want to design a room that flows and fits the style you're going for, ensure that even the light fixtures fit the general idea.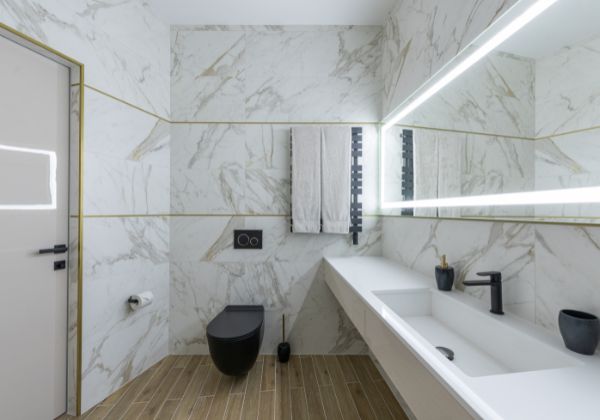 Bathroom Design Ideas #3 – Create a spa-like experience
In bathroom decor ideas, a spa-like bathroom experience can be achieved without breaking the bank. The term "spa" refers to a place that encourages relaxation and renewal. It is set in a quiet place that has been carefully planned to help you calm down and relax. You can get a similar feeling by getting rid of things you don't need, putting in a new shower head, or buying goods that look nicer. You can help create a relaxing experience by spreading a calming scent into the air and taking long, hot showers or baths.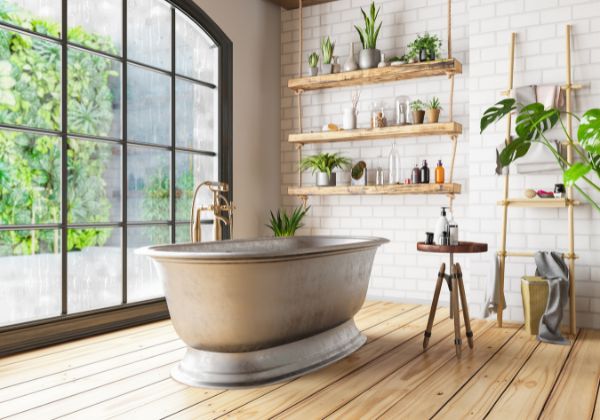 Bathroom Design Ideas #4 – Colour
Interior design is based on the idea that color can create the mood or setting you want. Much thought is given to the choice of color to trigger a particular psychological reaction. When you see the right shade of red for you, it can wake you up and refresh you. People think of happiness and joy when they see the color yellow. People think the color blue makes people feel calm and represents the natural world. You can create a setting specifically suited to your tastes by selecting the right tint for each color. You can strategically create a sophisticated look by using hues in your bathroom 2bhk interior design. This can also make a small bathroom look like it has more space than it does.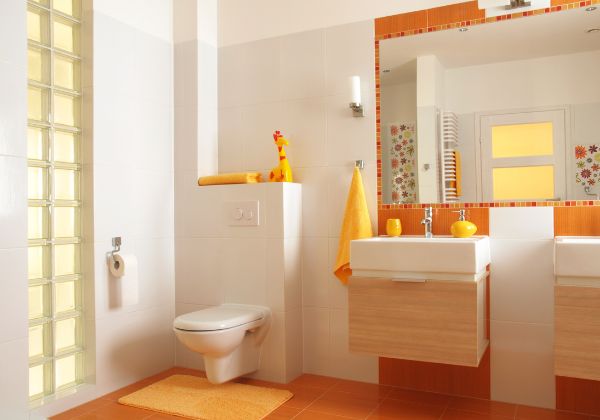 Bathroom Design Ideas #5 – Mirrors
Large, beautiful mirrors in latest bathroom designs are now a staple in every aesthetically pleasing Pinterest post. Putting mirrors in a spa in an intelligent way can be very helpful. Using them can make any area look like it has more space and make a room look more stylish. Putting a stylish LED strip light around the mirror is a great way to take your bathroom experience to the next level. The trendy thing to do these days is to buy a lot of mirrors in strange shapes.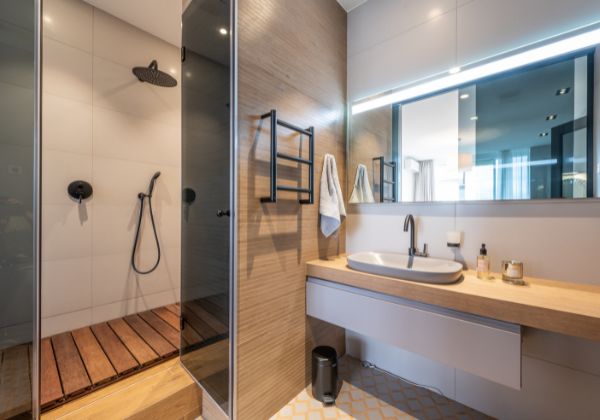 Bathroom Design Ideas #6 – Curate a Plant Display.
Putting flowers in the area where you shower or bathe might seem like an odd thing to do at first. Even so, it leads to surprising results. Having a collection of plants in your bathroom has several significant benefits, such as reducing stress and making the air better. By putting a vertical plant display on the wall next to the bathtub, you can get a look good enough to share on Instagram. You can make a big, eye-catching show or use small succulents to fill the space around the sink. Aside from this, you can also put plants on a moving shelf. You only need to remember to decorate your bathroom with plants that can survive in that environment.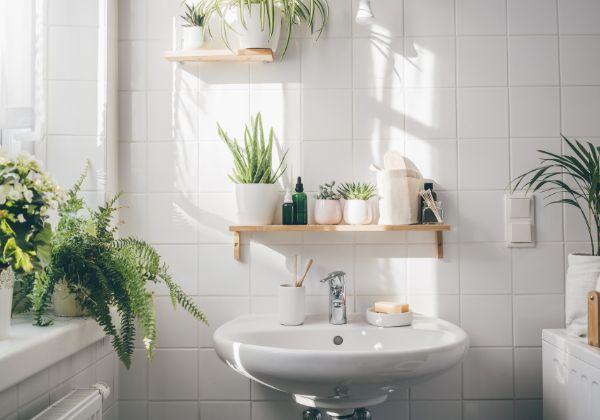 Bathroom Design Ideas #7 – Walls
In every interior design job, walls are essential to decorating. Cleaning the walls of a spa will make the room look better. One of the best design ideas for your bathroom is to build an accent wall with tiles, add full-size mirrors, or paint it in light colors to make it look bigger.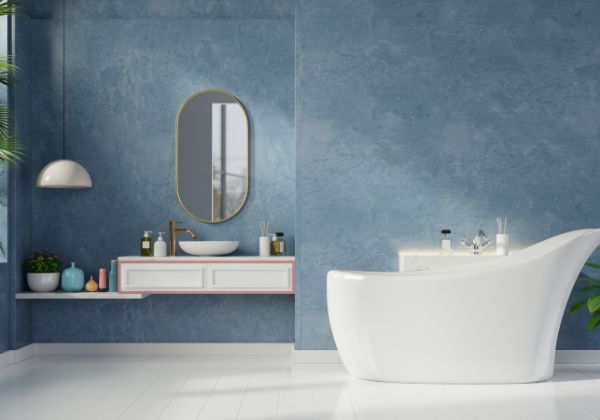 To Conclude…
Since the " hustling " culture is becoming more common, many of us are finding that our busy schedules are making our lives more and more difficult. Making the most of your spa time becomes crucial to "self-care." One of the most effective ways to add charm and relaxation to your life is to enhance the experience of regular, everyday activities. Focusing on the bathroom and making small changes, like putting wacky designer tiles or a vertical plant accent wall, can give your bathroom a more modern feel.
When you've had a hard day, designing a place to kick back, relax, and get some sleep can do a lot for your mood. Before you start redesigning or remodeling your bathroom, think about your needs or the needs of the person using it, and don't be afraid to ask a professional for help. Ensure you have enough storage, enough lighting, and an excellent color scheme. Use the tips and ideas for designing a designer bathroom to excite your sense of sight and create a state of relaxation. You can view our portfolio here and follow us on Instagram here.