Low budget small restaurant design is one of the many things that makes a customer think it is excellent. The way a restaurant looks inside directly affects customers' first impressions and adds to the overall atmosphere of the place. If you do a good job designing the interior of your business space, people will remember it for a long time. As a result, your business will be memorable. Your restaurant needs nothing more than a "wow" factor to catch your guest's attention as soon as they walk in the door. This will make it more appealing and bring in more people. If you have a small budget, a great low budget restaurant design may seem like a complex and expensive task for your business. But don't worry; we've put together low budget restaurant design ideas that work well.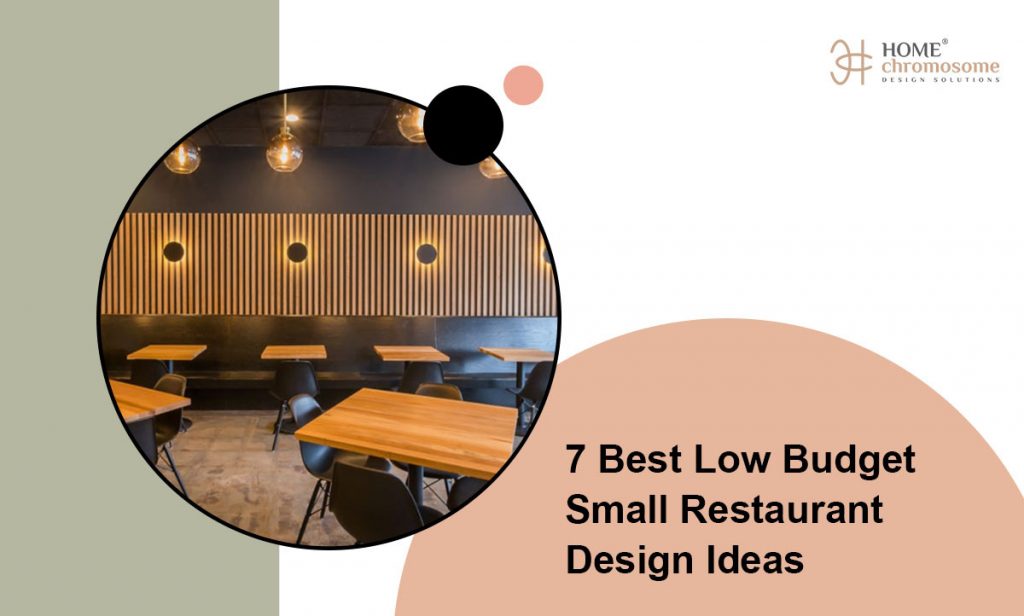 Low budget small restaurant design
Statement walls at Low Budget small restaurant design
Going for a statement wall is always a good idea, and if the rest of your room is boring, it can be an exciting addition. For example, if your restaurant is small and only has "four walls and a ceiling," this doesn't give the customer much to look at or tell about your business. In this case, a wall with a big, bold statement can be an exciting addition. Adding a statement wall to the mix immediately brightens up the area and gives it that pop of originality that every restaurant needs. It also will keep your budget. Statement walls can be anything from a mural to a block of color. The only rule is that they have to be eye-catching and pleasing to look at. For example, a lime-green wall might look great if your restaurant is made of a lot of dark wood. On the other hand, a mural with more details would be a great contrast to a restaurant with a simple design.
Keep things as simple as possible at Low Budget small restaurant design
It may be tempting to throw caution to the wind and come up with a fascinating idea for a restaurant interior design that uses a lot of different colors and textures. However, doing so is an excellent way to blow through a budget in a concise amount of time without getting much in return. When this mistake is made, the space becomes too full, confusing, and hard to focus on. This isn't nice for the customers and doesn't make for a pleasant atmosphere. Instead, it would be best to spend some time reviewing your ideas and narrowing down your color palette and materials until you have chosen a few. This will make your spending more targeted and effective, leading to less lavish spending. This kind of planned simplicity is also likely to give a restaurant interior design low budget that will last a long time and stay in style, so you won't have to spend money to change it up in a few years.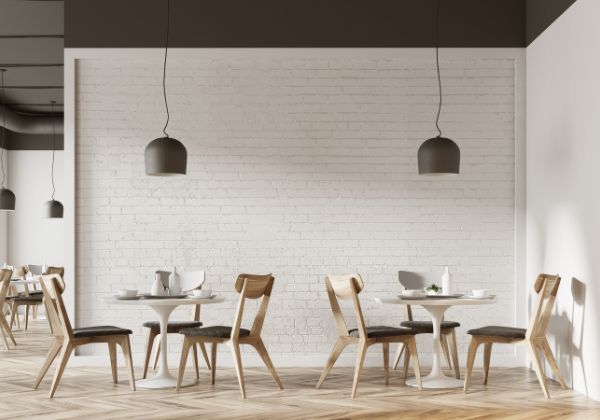 Warm Colors at Low Budget small restaurant design
Warmer colors, like brown, can make your space feel more inviting. One way to do this is to stop using grays and whites and start using warmer colors instead. The grays and whites give way to browns and warmer shades like burnt orange and golden yellow. Warmer color palettes are more inviting, and psychological studies have shown that they make people feel more excited and raise their heart rates, which makes them hungry. It has also been demonstrated that warmer color palettes make people feel safer and at ease. When natural and earthy tones are used in a restaurant, diners can feel more at ease and enjoy the people around them.
Restaurants are rushing to add more colors and warmth to their interiors, which shouldn't be a surprise. If you want to warm up your area, you can do this in many different ways. Warm tones can be used in a restaurant. For example, a steakhouse might use earthy browns and deep reds, while an Indian restaurant might use warm emerald colors.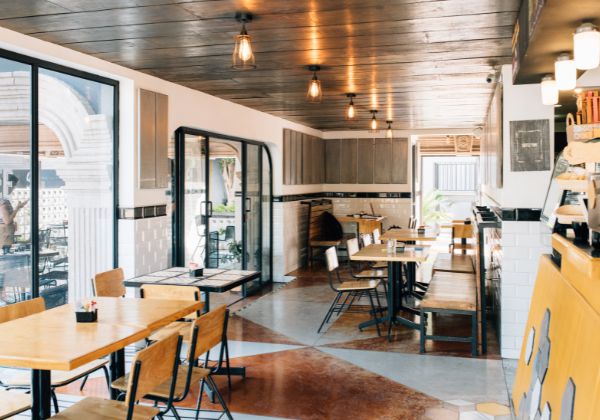 Lobbies and waiting rooms at Low Budget small restaurant design
Many people find it unsettling to be in close quarters with many other people. Changing the layout of your restaurant to make room for more customers is one of the best ways to make customers feel at home when they return to your restaurant after being away for a year or more. It's also essential for restaurants to have a more powerful lobby or waiting room that limits the number of seats they can have. This often means that people have to cram into a small space. Replace the host stand in the front with a smaller piece of furniture or even add seats outside so customers can wait in a well-ventilated area where they don't have to interact with other customers.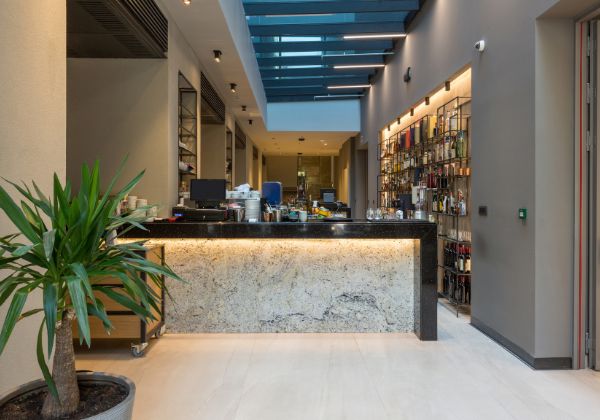 Open Kitchens and Floor plan at Low Budget small restaurant design
Customers are becoming increasingly skeptical of the goods and services they buy. This lack of trust is prevalent in the food service business. Diners are looking at the ingredients and how the food is made with more care than ever before. A lot of restaurants have opened up their kitchens and made their floor plans more open so that customers can see what's going on in the kitchen. This is done to gain customers' trust and show them that the business is honest. In an open kitchen, diners can not only see how their food is cooked but also be entertained by it and feel like they are part of the whole process of making their meal. People can see, smell, and hear their food being made when the kitchen is open to the dining area. This makes for a more exciting time while eating.
Outdoor dining at Low Budget small restaurant design
Many restaurants had to make significant changes to how they run their businesses because of the pandemic. In addition to giving customers more options for takeout and delivery, many restaurants have adapted to the changing times by expanding or adding to their outdoor dining areas and using parking lots and other outdoor places. In some cases, restaurants that already had outdoor dining areas were fixed up so they could be used all year long in all four seasons. This style trend is not likely to end soon.
Separate the rooms at Low Budget small restaurant design
Many restaurants had to make big changes to how they ran their businesses because of an epidemic. Because many companies had to rely on delivery and takeout services more than ever, it became even more critical to have a convenient place where customers could pick up their orders. Restaurant wonders who used to focus on the in-restaurant experience can now reach a whole new group of customers by offering takeout and delivery, which started as a way to meet a pressing need. Restaurants can keep taking advantage of this trend if they have a separate area for handling takeout orders and deliveries. When a restaurant's ordering system is busy, there is a constant flow of delivery people and takeout customers in the restaurant and the delivery staff. This can be hard on the restaurant and the people delivering the food. Because of this, more and more restaurants are making separate areas for delivery drivers and customers to pick up orders without adding to the already high level of traffic.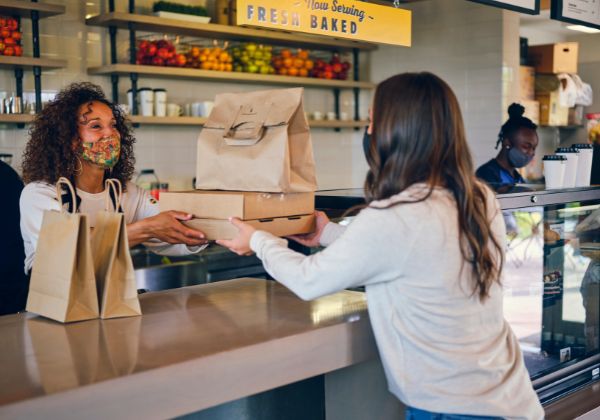 Low Budget small restaurant design by HomeChromosome
Don't be afraid of trying something different when designing your restaurant. With creativity, you can use almost anything to make a one-of-a-kind design. If coming up with unique ideas for a low budget small restaurant design isn't one of your most vital points, contact us at HomeChromosome. You can view our portfolio here and follow us on Instagram here. Email us at info@homechromosome.com for a quick response.