When we think about interior design, we expect high-end, exclusive design. Still, when we think about modular kitchen interior design, we think something simple, Why? The hub of our daily life in the kitchen. Many people usually start their days in the kitchen with a cup of tea or coffee or the most important meal of the day, Breakfast. The kitchen is where your family can cook together as an activity or a good learning space for cooking. Due to the kitchen's significant impact on home value, people frequently invest in kitchen remodelling.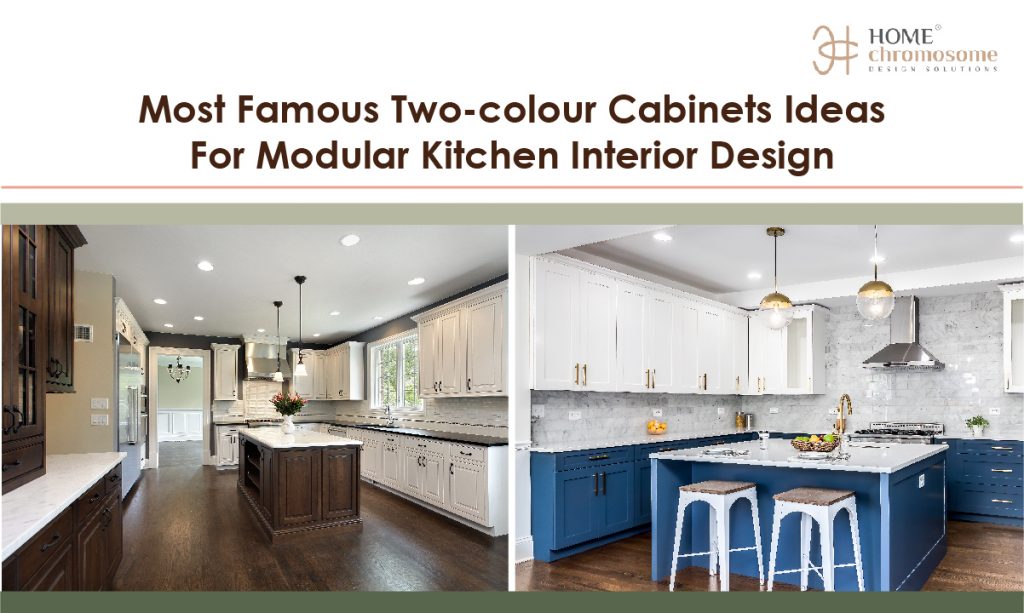 People have a particular way of maintaining their kitchen, so they want their new kitchen to be easily accessible. Simply said, a beautiful kitchen is an investment in the well-being of your family. Let's first learn what modular kitchen interior design includes and how you can design two colour cabinet ideas for modular interior design.
What is Modular kitchen interior design?
The kitchen is likely to be the most used room in the house, which is why people refer to it as the heart of the home. Aesthetic considerations should be considered while planning and designing your modular kitchen. While functionality is at the core of each kitchen design, you shouldn't base your decision on rebuilding the room or creating a new modular unit. You should take the help of the best kitchen designers in Bangalore, HomeChromosome, where you can also choose the ideal countertop and lighting among the other modular kitchen features. You could make sure to find the best modular kitchen interior design, turning your modular kitchen into a room you will enjoy for many years.
You would probably agree that having a well-organised kitchen can make a huge difference whether you're a gourmet cook or cook for yourself. To ensure hassle-free, timely cooking, a modular kitchen interior design with predetermined places for each and every kitchen requirement is a great way to go. This makes the process easier and much more enjoyable. You'll discover all you require with HomeChromosome, the best kitchen interior decorators, to begin your modular kitchen interior design. HomeChromosome, kitchen interior designers in Bangalore, assemble a professionally designed, modular kitchen that not only serves your needs but also reflects your personality.
Here are the two colour cabinet ideas for modular kitchen interior design

Black and Dark Grey modular kitchen interior design
With trends shifting away from traditional dark grey and towards the other end of the colour spectrum, kitchen decoration is turning over a new leaf. Dark kitchen designs, whether black, create an elegant and evocative atmosphere that, when appropriately lit, doesn't look depressing. With these ominous and dramatic kitchen designs, you may give the centre of your house a startling personality boost. You'll discover all you require with HomeChromosome, the best kitchen interior decorators, to begin your modular kitchen interior design.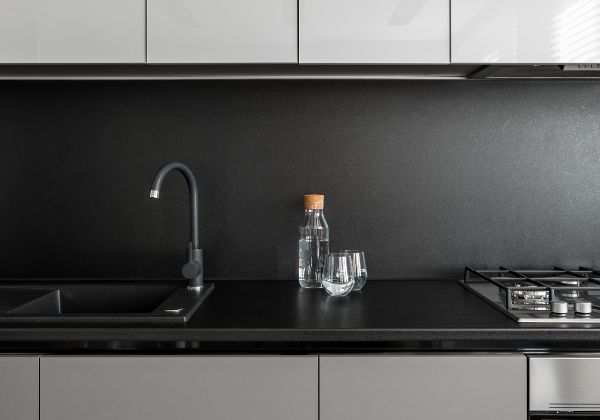 Grey and Beige modular kitchen interior design
Next, consider pairing a grey cabinet with a beige wall colour to make your kitchen cosy, and inviting. Even though grey and beige aren't common colour combinations, kitchen interior designers in Bangalore adore how easygoing and relaxing this kitchen seems. That being said, as grey looks better with cooler tones, we wouldn't advise painting your walls in anything warmer than this. When it comes to compact kitchen design, monochromes are a standard option. These understated colour schemes for the kitchen give the room a modern appearance and can expand it. You can also choose monochrome in beige and grey colour schemes that are considered neutral.
Navy blue and White modular kitchen interior design
You can't go wrong with white cupboards at the top and navy cabinets at the bottom.
This style is immaculate and bright, and it ages well.
To add some warmth, combine it with a butcher block, quartz, or marble countertop.
There are countless possibilities for all types of kitchen designs, but this is one of the most common ways to combine navy cabinets.
If you're not quite ready to dedicate your entire kitchen to navy blue, the navy blue island is a fantastic alternative.
A navy island will ground the room and provide a pleasing contrast if your kitchen is white.
Modern farmhouse kitchen interior designers in Bangalore and HomeChromosome are perfect.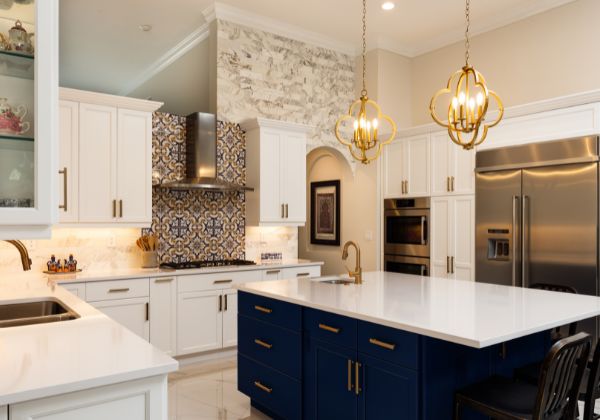 Blue and Grey
Although white kitchens have been a design staple for years and are timeless, why not personalise the trend by including accent colours like blue? The hue will remain your favourite for many years, won't take away from your design, and can be used with any interior design style.
A deep blue island with a wooden surface, blue pendant lighting, light blue bottom cabinets, and a vintage blue oven combine the traditional with the contemporary in this room. The best result in a kitchen can often be achieved by bravely taking conventional colours like blue and white to new heights. HomeChromosome, the best interior decorator modular kitchen designer in Bangalore, can help her achieve that.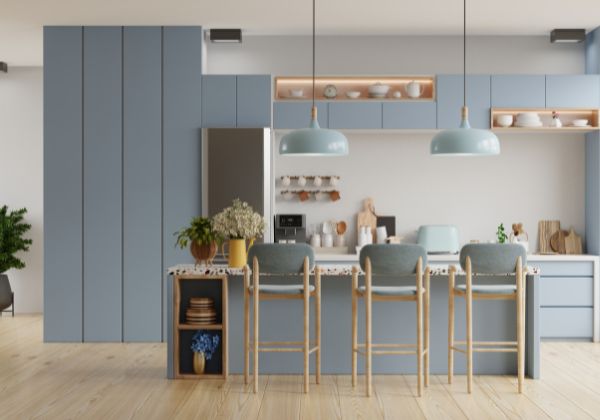 Cool Grey and Warm Orange
The subtlety of grey neutrality is sufficient for it to stand alone. However, it comes to life when paired with the flaming oranges that may be applied on the island.
The dazzling accessories are shown, and texture is added using a lighter shade of the same grey. The open shelves' backs can be painted with it.
Orange is a colour that is incredibly versatile and always fashionable. It is created when strong red and happy yellow are combined.
The colour orange is considered to boost mental energy and general well-being and to indicate success, happiness, and good health.
Orange will be your kitchen's best buddy whether you decide to go completely natural cool grey.
HomeChromosome, the best interior decorator modular kitchen designers in Bangalore, can help her achieve the best modular kitchen interior design.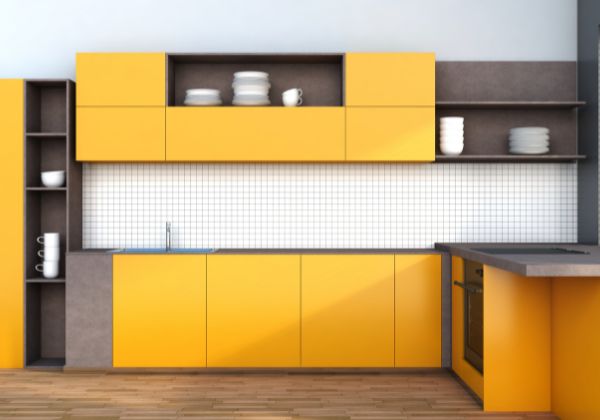 Wood & Glass
The design of modern kitchen interior design requires extensive planning. The contemporary aesthetic homeowners picked for the living and dining spaces is typically carried over into kitchen design which would be possible by the best kitchen designers in Bangalore, HomeChromosome. This essentially makes a modern, glass-fronted cabinet the best choice. Modern homes use glass extensively, so it only makes sense to include cabinets with glass doors in your kitchen.
Glass is an essential component of modern home interior design. Glass-front cabinets are frequently accompanied by lovely displays that sparkle with delight. This is quite close to the truth. For those who enjoy converting these wonderful shelves into showcases, kitchen cabinets with glass doors are great. But that in no way implies that those who are less "tidy" cannot wear them. Currently, a wide variety of glass types are available. Stained glass or even frosted glass doors still provide the glossy coating of glass doors and perform an excellent job of hiding the content of the cabinets.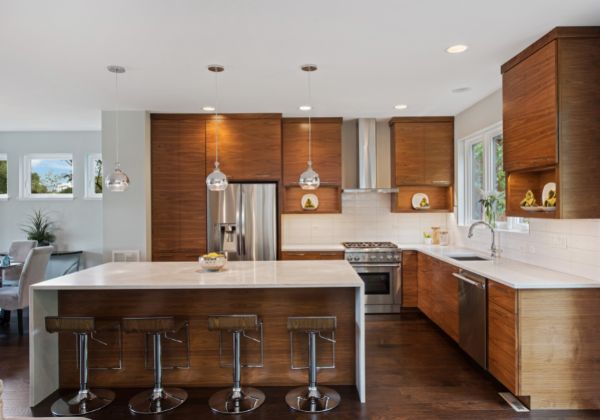 Green and White
There is no doubt that green is currently in style. Green is becoming more fashionable in every house room, from under to olive, but we can't get enough of it in the kitchen. Green is a colour that represents rebirth, vigour, and energy; it is not just a trend. Although it gives the kitchen a modern vibe, it may also feel equally conventional and timeless. Bright green kitchen walls and basic white kitchen cabinets make up the traditional green-and-white colour scheme. Green is one of the most widely used colours in decor since it is the most aesthetically pleasing. Dark sage colour also goes well with vivid golds and whites.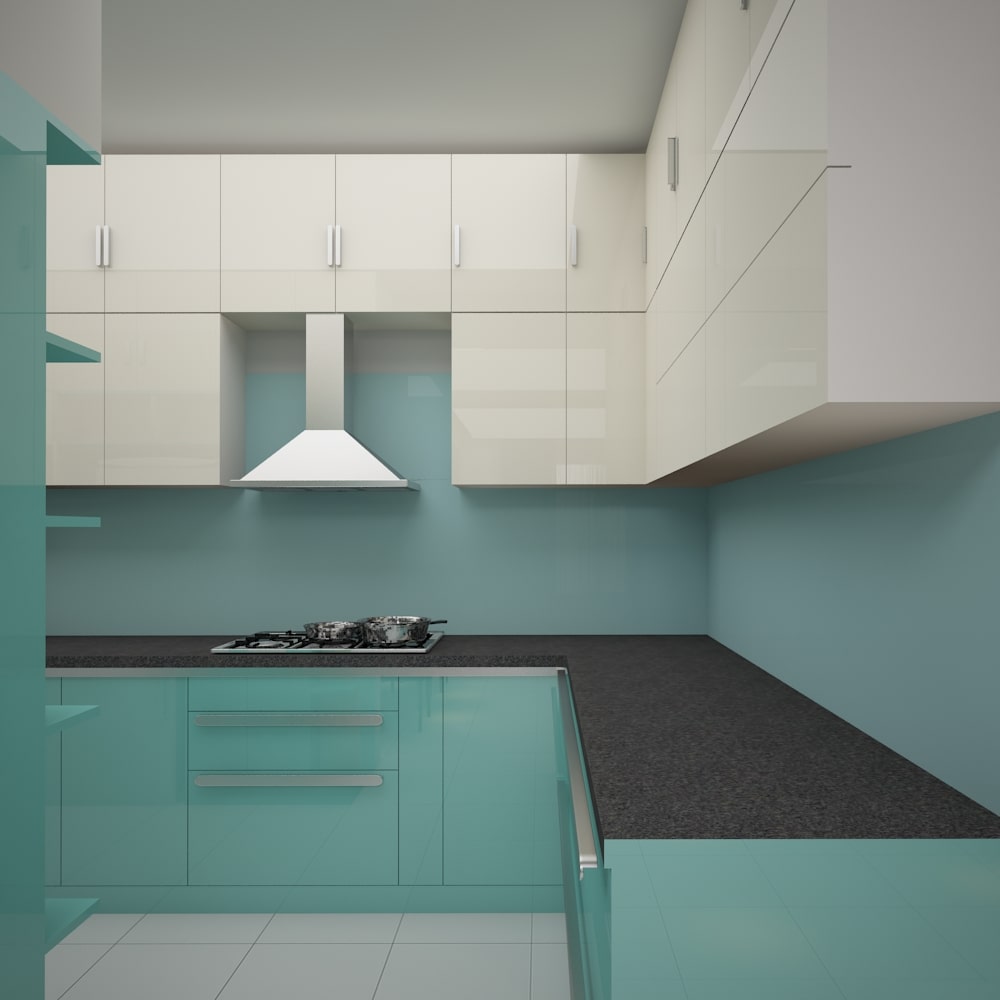 HomeChromosome
The best home interior designers in Bangalore, HomeChromosome, collaborate with their customers who value sophistication as well as elegance and high standard in the industry. Visit the HomeChromosome website to find inspiration for your home's decor and start planning your modular kitchen interior design. Follow us on Instagram for the latest interior design ideas and inspirations. Email us at info@homechromosome.com for a quick response.