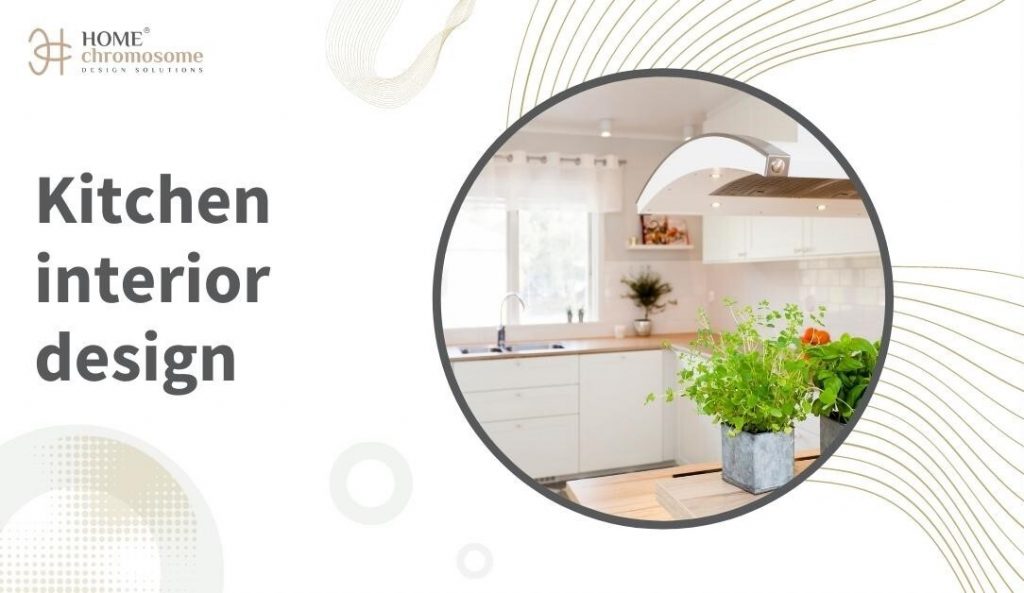 The kitchen is an important part of any household. And considering its importance in an Indian household, having a kitchen space that offers convenience, utility, and space efficiency are of utmost importance. Therefore, kitchen interior design is a crucial aspect of home design that must be considered at all times. It is worth noting that kitchen interior design can be implemented during the initial design process or later when you are considering a renovation. Additionally, a kitchen interior design upgrade is a great way to accommodate the needs of a growing family.
Today, we discuss the top kitchen interior design upgrades you can make in your kitchen for a better and more convenient cooking experience. A kitchen interior design upgrade also adds to energy efficiency significantly. 
Kitchen Interior Design Upgrade
Focus on improving the kitchen work triangle: A kitchen work triangle consists of three touch points where you tend to work the most when in the kitchen. These touch points are the cooking area, the refrigerator, and the sink. Keeping a clean space and easy transition to these points ensures you are able to cook without losing momentum. This triangle is also where most of the essential items are to be placed, including whole grains, spices, and even cooking utensils. Defining a kitchen work triangle is important as it gives a clear vision for kitchen interior design upgrades.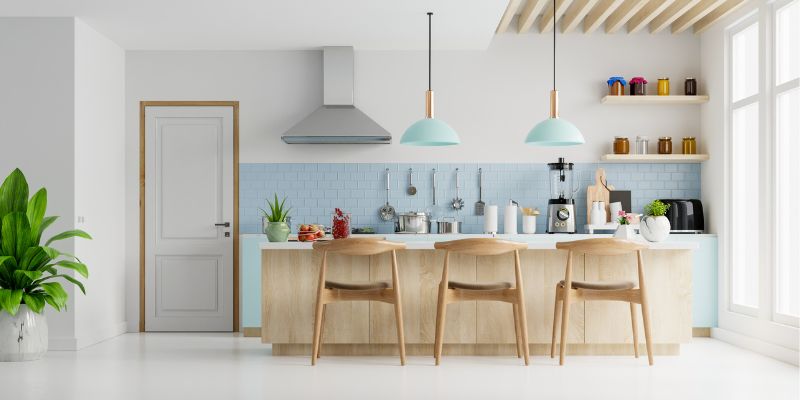 Choosing the right color for kitchen space
Maintaining the kitchen is an everyday thing that every Indian household participates in. At the same time, white may seem a great idea, considering the fact that there could be oil splashes during the cooking process. However, white walls and kitchen interior design can get dirty more frequently, requiring more cleaning efforts. To avoid this, consider installing stain-resistant tiles near the cooking area. For the remaining part, you can consider getting the plastic painting done. These paints are usually stain-resistant and do not get dirty regardless of how many times the kitchen has been used. Using bright colors to brighten up the cooking area is also recommended.
Keep the kitchen interior design well ventilated
Installing an exhaust fan or chimney to prevent smoke and cooking oil from depositing on the tiles and slab surface. A kitchen balcony or backyard ensures fresh air circulates throughout the cooking process. Having windows in the kitchen helps ensure an adequate supply of fresh air into the cooking area.
Adequate countertop height
820 mm to 860 mm is the recommended height for countertops in India. A short countertop will make it difficult to work, and a too high countertop makes it difficult to install appliances and work.
Brighten up the space with adequate lights
While natural light is the best, if your kitchen interior is not blessed with it, consider installing appropriate lighting to brighten up the space without overdoing it. Yellow light is a good light option to look at. Alternatively, you can consider installing white lights too. Consider getting overhead lights to get maximum light on when cooking. You can also consider under cabinet lights. This lighting is popular and convenient. Picking the right light is important otherwise, it can make it difficult to manage cooking. Positioning of lights is another crucial factor to consider. Wrong positioning can hamper the quality of light you are getting while cooking. LED lights are a great way to brighten up any kitchen while also adding to cost efficiency.
Utilize corner spaces
Corner spaces are often either left ignored or heavily underutilized due to limited space availability. But with creative ideas and implementing innovative kitchen interior design ideas, you can get the most out of every available space. For example, installing a dedicated corner to keep spices, adding last-minute decoration pieces, and even installing lights for aesthetics. Corner spaces are also a great spot you can utilize to create your own mini farm growing herbs that require less sunlight exposure. Alternatively, you can consider stocking items used regularly and keeping them in front of your eyes.
Trash can placement
Proper placement of a garbage disposal bin is essential to prevent the garbage from ruining the kitchen. It also helps with odor management as the trash can consist of organic, wet, and dry waste. With cabinets installed, keep the dustbin under the sink area for maximum efficiency. If your kitchen is short on space, keep a mini dustbin and throw it out frequently.
The need for a kitchen interior design upgrade!
Kitchen interior design is a great way to increase available space efficiency and effectiveness without renovating from scratch. It is incredibly important to identify spots that need cleaning and maintenance the most since, based on this design, modifications can be made. With living spaces of different sizes, every household has different expectations from the kitchen. By adopting smart, innovative, and creative ideas, you can make your kitchen space efficient and a happy place where you can enjoy cooking! Kitchen interior design is a great way to upgrade, and HomeChromosome is your stop to get the best kitchen interior design upgrades!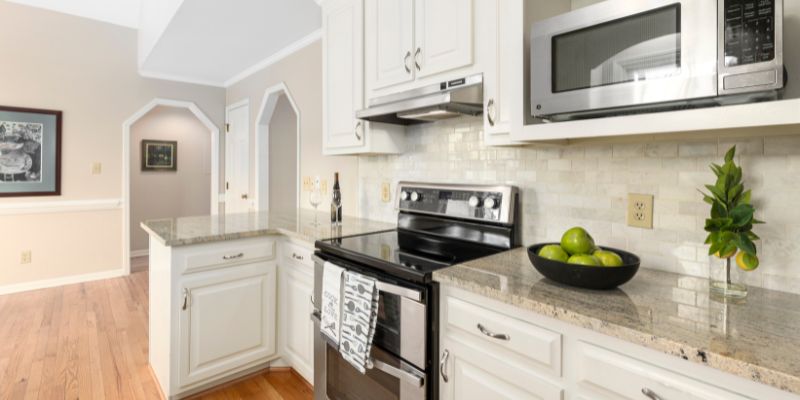 We understand your kitchen needs and are able to deliver the best results that are within your budget. We work with your expectations and deliver them flawlessly! Our team of experts has worked with multiple kitchen needs and has a track record of delivering exceptional results that are customized at all times.
HomeChromosome – The Best Kitchen Interior Design Experts in Bangalore
Just like a chromosome forms the basis of human life, we do the same for your home. We take charge right in the beginning so that you do not have to make adjustments later. We believe in being right the first time, and our 1000+ family of customers will vouch for it.
We are a brand to reckon with when it comes to taste, finesse, luxury, and extensive customization. We aren't just any interior design company. We are a "design firm"- a brand that works from the ground up to ensure complete harmony in every element that comes together to make your home the home of your dreams.
We understand that our company can progress when we have the right people. That's why we house the finest kitchen interior designers in Bangalore to bring you nothing short of the best you can get. With a cumulative set of uniqueness, design outlook, creativity, and penchant for excellence, experience the highest standards of designs and customer service like no other.