A bedroom doesn't need to be large or have high ceilings to feel opulent. The interior design of a small bedroom in India frequently has a cozier, more private vibe that can help make the area calming and individualized. The secret to creating space and using accessories and color in ways that are both practical and visually appealing when arranging furniture in a tiny bedroom. Even though you don't want to cut out on aesthetics, you shouldn't be rolling out of bed every morning and stumbling over furniture legs or banging into your dresser. These decorating ideas for the interior design of a small bedroom will enable you to make the most of your available space and create the illusion that the room is much larger than it actually is. This blog is for you if you are looking for the best interior design small master bedroom.
7 Bedroom Ideas for small rooms
1. Keep the layout in mind
It can be alluring to purchase the most oversized bed imaginable in order to furnish an opulent hideaway. However, doing so in an interior design of a small bedroom in India may make it appear claustrophobic. Instead, choose a bed frame with the space, like, an iron bed with a transparent headboard and footboard. A platform or storage bed, which lacks a footboard, also functions well. Reduce the bed's profile to maintain the room's center open and elongate the space. You must choose how you want to use the space if you want to make the most of the interior design of a small bedroom. Of course, you need a place to sleep, but you might also want to use it for a home office or as a place to get ready in the morning.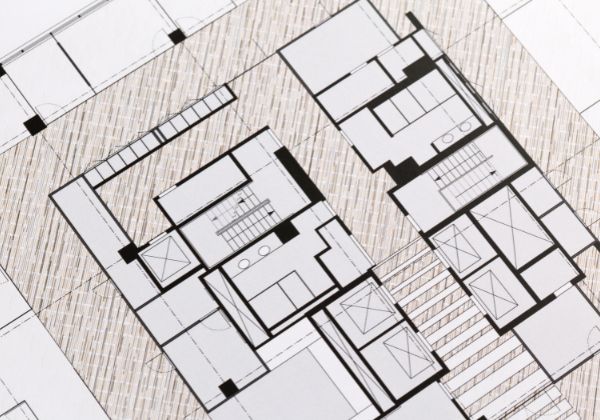 2. Use Bold Textures in the interior design of a small bedroom
It is time to show some bold textures if you have been keeping your ceiling plain and bland. Your space can gain depth and structure from a statement ceiling, which also draws the eyes upwards and gives the appearance of a higher ceiling. There are several methods to give your ceiling a twist, including eccentric patterns, eye-catching fixtures, vibrant colors, and evocative textures. If the interior design of a small bedroom has unusual nooks and corners, decorating it might be challenging. To downplay distinctive features like lower ceilings, choose light, clean hues. Bright whites look elegant in any space. In this interior design of a small bedroom, you transform your ceiling by adding some 3d butterfly stickers and even glow-in-the-dark star stickers giving the room a fun twist.
3. Minimalism
Furniture forced to suit the space, congested corners, and floors covered in garments can make the interior design of a small master bedroom appear smaller and disorganized. Decluttering is a fantastic way to start if you want to give the impression that the interior design of a small bedroom is more prominent. You may create a sense of space and add airiness to your area by removing visible objects. Give everything a place to live by organizing your storage. Put your clothing in the closet, your medications on the nightstand, and a beautiful vignette on the open shelf. While you're at it, give your furnishing a thorough inspection as well. Create ample expanses of negative space by clearing out what is unnecessary. There's nothing like a little decluttering to breathe fresh life into the interior design of a small bedroom.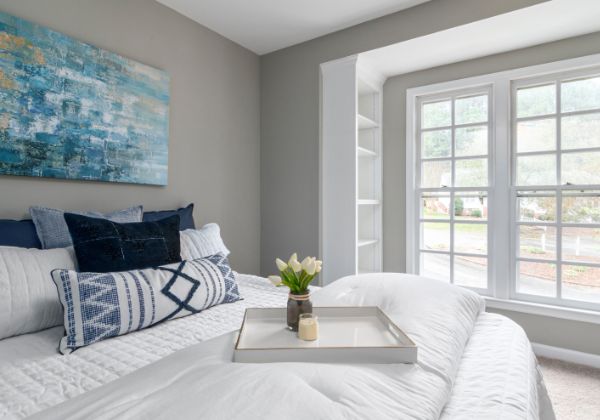 4. Colors
More light equates to more space. The solution to your tiny space problem may be a light color scheme for your walls and ceilings. Colors that are neutral can let in more light and naturally uplift your mood. No worries; you can take advantage of them if you play your cards right and still obtain the additional room you desire. Paint all the walls with the same colors when using dark colors in a small or medium space. Stretching your space beyond its actual dimensions can dilute your corners and muddy your room's edges. Choose a monotone color scheme for your walls, bedding furniture, and fixtures if your room is a true shoebox. This might provide a smooth flow and evenness among your elements.
5. keep Striped Walls in the interior design of a small bedroom
The clever little bits known as strips can change the shape of your interior design of a small bedroom by deceiving the eyes. While horizontal stripes might stretch your area across, vertical lines in muted colors can provide the appearance of a more significant ceiling. Given that stripes have a repetitive appearance, you can be sure that they won't overpower your room's other features but will act as a simple backdrop for them. Consider using striped wallpaper, or if you're feeling creative, let your creativity run wild by mainly using stencil or masking tape.
6. Under bed storages
When designing the interior design of a interior design of a small bedroom, think strategically about storage in a compact bedroom, use a nightstand with drawers and shelves and attach a floating shelf above. For the best clutter control in tiny spaces, take into account room organizers. There are several possibilities for beds with built-in storage if you don't have enough closet space and want to avoid filling a small bedroom with large dressers. Consider a bed frame with built-in storage drawers or a bed frame that rises up to reveal secret bedroom storage—utilizing furniture risers to lift your bed higher off the ground so that you can fit storage containers below.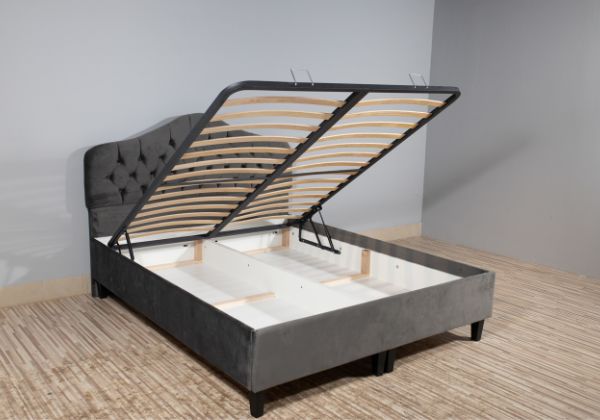 7. Maximizing lights
A professional plan needs to tweak the lighting to modify how a room is seen ultimately. Additionally, the lighting source need not always be a traditional ceiling lamp. It could also be a chandelier, pendant, or recessed light. Desk and stand lighting could be an intelligent solution. There is one more way to change the interior design of a small bedroom to make it appear wider and taller than it actually is, whether it is a standing mirror across the room, a mirror hanging above your bed, or mirrors mounted to the backs of your doors.
HomeChromosome
HomeChromosome is a home interior designer in Bangalore to help you develop your dream home. Visit the HomeChromosome website and start with your dream living interior design. You can view our portfolio here and follow us on Instagram here. Email us at info@homechromosome.com for a quick response.