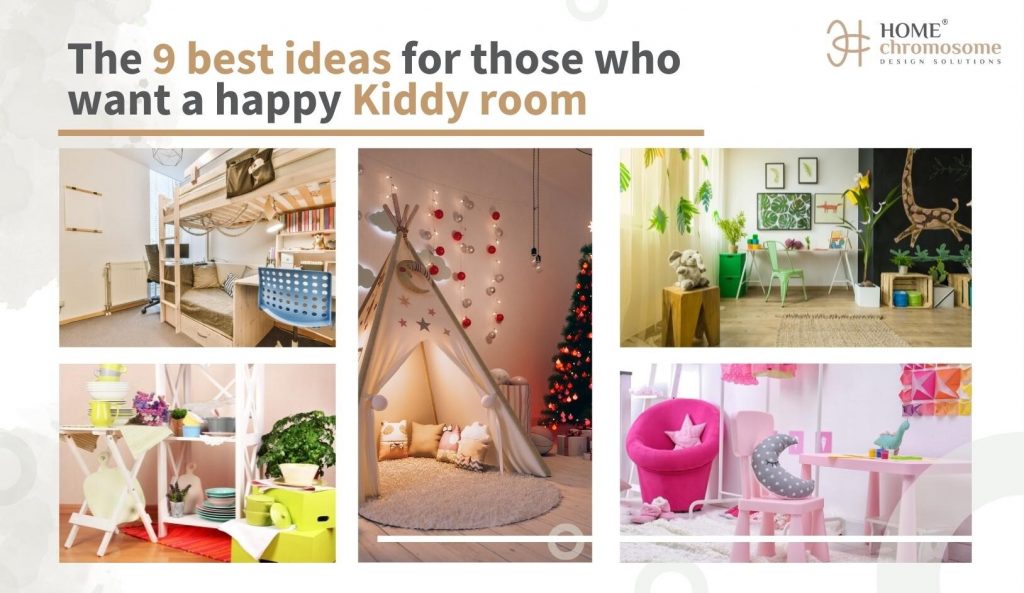 Wouldn't you love it if the first-ever memories of your kid majorly included times spent in a wonderful nursery that helped him/her develop into a happy child? A room that made his/her days fun yet also helped him/her learn different things on a consistent basis. It's all about upgrading your child's room by using fun, colorful, and creative components without overdoing it. This forms the basis of kids' room interior design and can go a long way in making your kids happier.
HomeChromosome is a leading interior design company in Bangalore that has a penchant for designing the most interactive and fun interior living spaces for your children.
We understand that your undivided attention towards your child involves a lot of time and energy, and as such, you can look into creating a fantastic kids' room interior design that they would absolutely love!
Accordingly, we have compiled a list of the most simplistic yet effective kids' room interior design tips that you can inculcate as per your budget and lifestyle. By going through these tips, you can rest assured that your child would have a lot of fun and enjoyment in their beautifully upgraded living space. So let's find out how you can transform your child's room into a happy kiddy room!
Ensure that the walls are painted with a peppy and fun color
Pick the wall paint in a lively color that your child would love – it very well may be anything from blue to dazzling yellow or a rosy orange. This will make the room go to another level altogether!
Who said you can only opt for two color choices for baby room designs—blue for a boy and pink for a girl? No way! Match the nursery wall colors, as intently as could be expected, to your child or little girl's favorite shade, and see their eyes light up in charm when they get a sneak peek of their room!
Make sure that there is adequate natural light
You should ensure that there is an abundance of natural light in your child's room. Needless to say, this is a major aspect of pepping up your kid's room in a natural and easy way. One of the best ways to achieve this is by installing a large window made of glass, complemented with vibrant curtains and lights that add to the charm.
In case you are finding it difficult to usher in natural light to the room, you could include several artificial lights that your child feels comfortable in. It is worth noting that an abundance of light is absolutely necessary for a child's room as it helps them read and play without any hassles.
Include chalkboard paint on walls
It is a well-established fact that most children have a natural affinity for scribbling on any surface that they come across, including the walls in their rooms. So the best thing to do here is to give them a surface to scribble to their heart's content. With some chalkboard paint, you can give your child their own space to scribble and have fun in the process.
Glow-in-the-dark accessories
A good number of craft stores have accessories that glow in the dark. Some of these include stars, canes, balls, and other accessories that you can hang in their rooms. You can also go for glow-in-the-dark paint, make patterns on the ceiling or walls of your child's room, and see them get amazed! You can always go for a design that your child loves instead of sticking to a generic design.
Use soft and cozy cushions
At the point when your kid will go through hours in his/her nursery, you must ensure that the seating and bedding offer the highest comfort.
An uber comfy mattress, a spacious seat, a little table that is convenient for your child to use, and a bed that he/she can effortlessly climb onto are absolutely necessary components of a kid's room. You can also add a soft rug to make the room even more comfortable for your child.
Add readable components to your child's bedding
Almost every kid loves stories. You can add a dash of storytelling to your child's bedding by adding their favorite fairy tale or story to their bedding in the form of words and interactive pictures. This also helps them lull off to sleep.
Create memories on a child-friendly board
One can find a child-friendly board from any local convenience store and have it put up in the kids' room. Using delicate board pins, you can put up the most memorable moments in the form of pictures and drawings on the board. This not only serves as a forever means to bring back some of the best memories but also inspires their young minds to create more such drawings.
A small bookshelf
Installing a small bookshelf is a great way to encourage your child to naturally pick up books and start reading them. While these books may initially have only pictures, the bookshelf develops a habit of grabbing hold of a book and opening it up to go through it.
Include all their favorite books and comics, making it one of their favorite places to hang out!
Wallpapers and murals are a great inclusion in your child's room
Having a wallpaper or a mural of something that your little one loves is an excellent way to make them happier and more active. Not only does it look great, but it also encourages your child to be more expressive.
When you opt for wallpaper, ensure attractive and colorful patterns that your child would love. You can also go for customized wallpapers that showcase your child's favorite colors and cartoons.
When it comes to a mural, you have greater freedom in painting anything that your child loves. It could be an animal plushie, scenery, fun shapes that make your child happy, and essentially anything you feel that your child would love.
If you need help in ensuring the finest interior design elements in your child's room, get in touch with a top-notch interior design company like HomeChromosome to help you create a memorable and beautiful room for your little ones.