When it comes to home decor, one of the most crucial steps is the decoration of the bedroom walls. In fact, bedroom wall decor is one of the priorities of a professional bedroom designer. After all, no one wants to wake up to boring and plain walls right in front of their eyes. Therefore, to ensure that your bedroom decor is complete and has top-notch aesthetics, you should ask your bedroom designer to create unmatched wall decor. Regardless of what your budget is, you can make your bedroom space more lively, beautiful, and stylish by applying some simple yet effective bedroom wall decor ideas.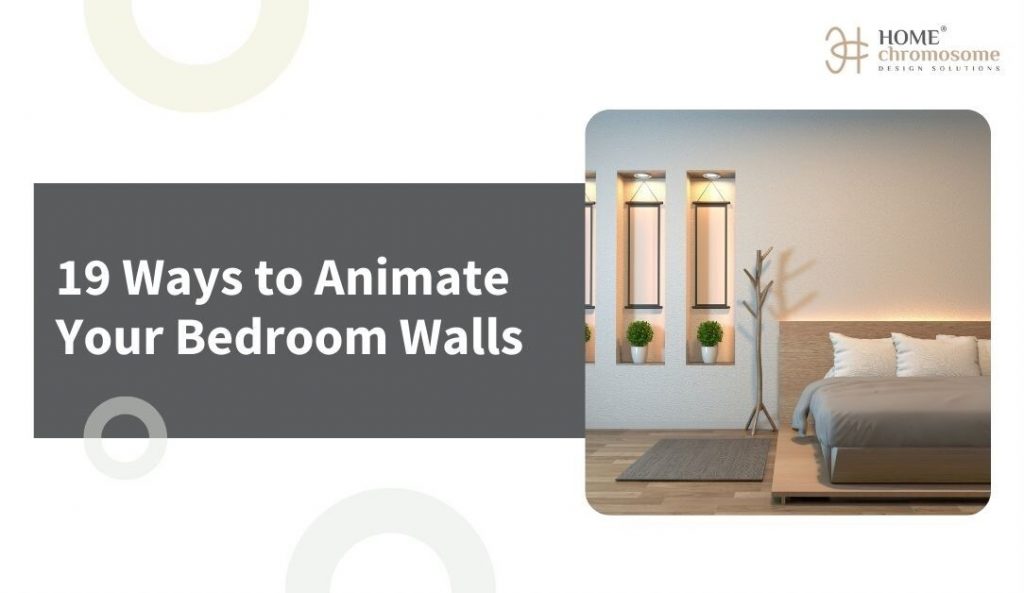 As the premier bedroom designer experts in Bangalore, Home Chromosome utilizes its many years of experience to create super stylish and functional bedroom spaces that you would absolutely love. Therefore, we have crafted 19 of the most amazing ways with which you can animate your bedroom walls and turn your bedroom space into a cozy and attractive living space.
The pointers presented in this write-up are simple to apply to your bedroom space and are sure to make you stare in awe at your decorated bedroom space.
With that being said, let's get into these 19 ways to upscale your bedroom wall decor seamlessly!
The 19 Best Bedroom Wall Decor Ideas By A Professional Bedroom Designer
#1 Adorn the walls with upholstery
It is a great idea to adorn your bedroom walls with high-quality upholstery. Whether it is velvety covers or a rich, patterned texture along with decorative inclusions, you can also combine popular color themes like black and white, earthy tones, or sea colors to turn your bedroom walls into an aesthetic wonder.
#2 Include a gorgeous sculpture in your bedroom space
Channelize your artistic taste by including a beautiful sculpture on the wall beside your bed. This is an excellent way to make your bedroom look more luxurious and graceful.
#3 Include attractive textures
You can add a wooden texture as a finished surface to your wall or put up a textured wallpaper of your choice. Either way, having textured surfaces on your bedroom walls is a great addition to ensure a classy bedroom space.
#4 Create a mural, a painting, or attach a wallpaper
You can exercise your creativity to create a beautiful mural or painting. Otherwise, you can also go ahead with wallpaper displaying breathtaking art. The artwork can be customized to include your art or readymade art. Make sure you stick to your preferences and taste.
#5 Mounted antlers are a classic
Not many are aware of the fact that antlers are one of the most versatile bedroom wall decor inclusions. Whether it's plain style or adorned with jewels, you can experiment with antlers to take your home decor to the next level.
#6 Install a rug or carpet on the wall
It goes without saying that your bedroom should be as cozy as possible. One of the best ways to ensure this is to set a cozy ambiance in your bedroom space. Add a beautiful rug or a carpet on your wall to make you feel super comfortable.
#7 Distribute all decor items evenly
Rather than gather all the items and stack them up in one part of the bedroom, you should instead distribute them all across the room in an organized manner, allocating a dedicated item for the wall.
#8 Go for the blue and pink combo
Combine shades of blue and pink, and give your walls a smooth finish. This adds a gentle and rejuvenating touch to your bedroom design. The best part of this combination is that it complements any form of light (both natural and artificial) flawlessly.
#9 Include something of sentimental value
If you have something that you or a close family member made a long time back, or if you have something that means a lot to you, then why not use it as a bedroom wall decor piece?!
#10 Use a glossy red finish on the wall
In the last few years, this unique wall decor concept has gained a lot of popularity among homeowners. With the rich and glossy finish, give your bedroom a complete makeover.
#11 Create a bedroom decor that is ideal for the whole family
What is more special than creating perfect bedroom decor for you, your significant other, and your children? Therefore, include both adult and kid-friendly bedroom wall decor inclusions that everyone would love.
#12 Build bookshelves on the walls
Create a functional bookshelf that not only has all your books but also has the provision to include small decor items. You can also consider building individual shelves of different sizes to make them look more stylish.
#13 Dedicate a wall exclusively to pictures and frames
Pictures and frames are special, so why not devote a particular section of the wall to them? They look beautiful and hold a special place in your heart and mind.
#14 Put up a mirror
Mirrors are a classic addition to any part of the home, and the bedroom is no different. We recommend you have an ornamental mirror that suits the color and pattern of your wall.
#15 Make patterns by sketching or painting on the walls
You don't have to rely on wallpapers or textures to get an attractive pattern on your bedroom wall. Instead, you can do it yourself by using a paintbrush and some sketch pens. This way, you will be able to add a high level of personalization to your bedroom decor.
#16 Put up three frames in a line
This is a unique wall decor set-up that combines three pictures or frames arranged in a horizontal line. This gives your bedroom a very elegant, unique, and extremely appealing outlook.
#17 Attach a lamp
While bulbs and fluorescent lights are great, a lamp is always something special. So consider attaching an attractive lamp on the wall behind your bed or two lamps on either side of the bed.
#18 Versatile wallpaper colors
Regardless of whether your wallpaper has vibrant colors, bold colors, or neutral tones, go with the blend of colors that suit the rest of your bedroom space to create a majestic outlook.
#19 Add posters
Most people go ahead with wallpapers, artwork, decor pieces, textured patterns, and paintings on their bedroom walls. However, they forget about one amazing wall decor inclusion: posters! Posters are a great way to add both character and color to your bedroom space and turn it into a masterpiece.
Looking for the best bedroom designer in Bangalore? Get in touch with Home Chromosome today.