When designing your home, you should focus on decorating the living room tastefully. It is a place where you can relax after a long day. Also, a living room is ideal for hosting parties and entertaining guests. Thus, it must have an aesthetically pleasing appeal. So, if you're looking for the best living room wall color ideas, here are the top 15 options your home designer may recommend.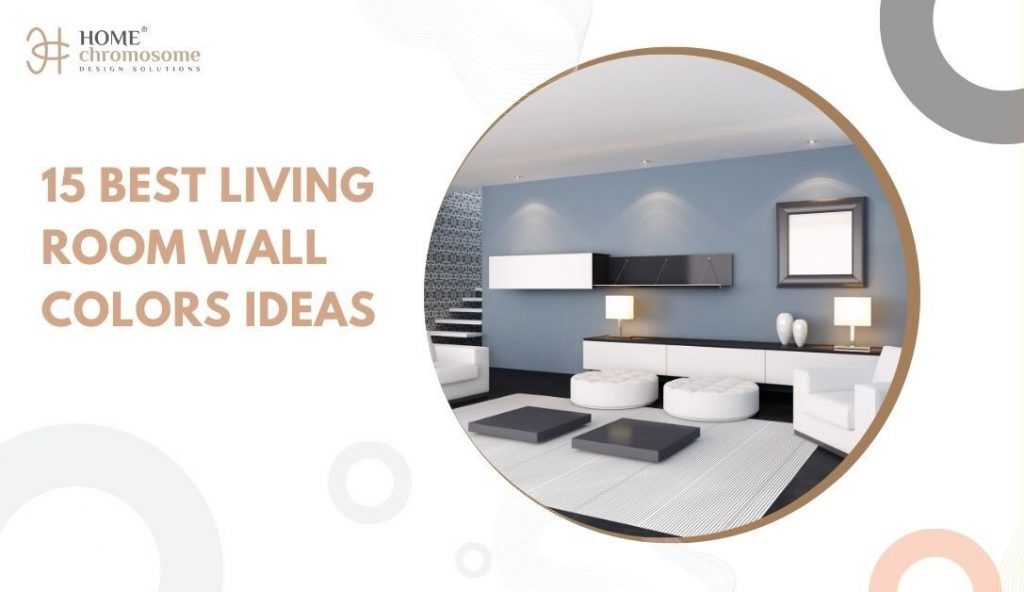 Glossy White
When creating a sophisticated and classy living room, white is the way to go. It adds a gleam of cleanliness to your living space when your white walls have a glossy finish. You can pair pristine white wall color with almost any color of accessories. Your home designer may add creamy all-white sofas and shelves for the area; if you want to go the extra mile in emphasizing the white element in your living room, which will complement the overall look of the space and your living room wall color.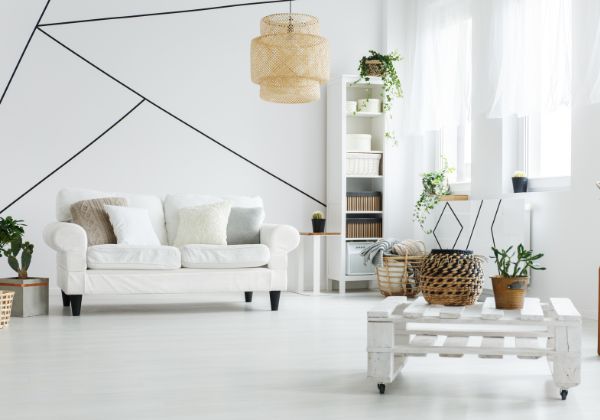 Radiant Red
Crimson red wall color is a slightly unusual but extremely interesting choice for a living room wall color. It gives the room a welcoming and warm appearance. Also, when it comes to red, you have many color options to choose from. Aside from crimson, your home designer can also experiment with maroon, rose, and burgundy. Finally, if you want to change up the décor, you can pair the red wall color with white or black.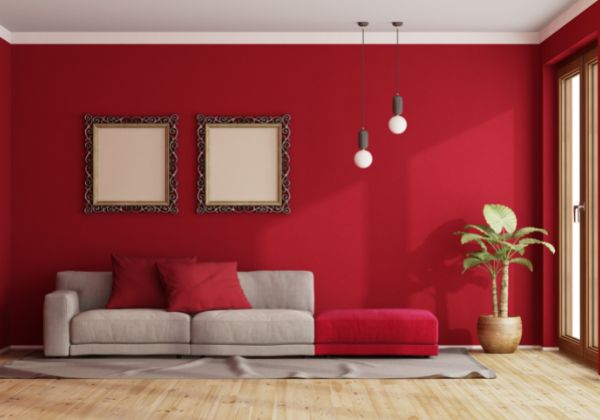 Rich Emerald Green
Adding rich and luxurious colors to your living room will enhance its aesthetic appeal. The regal emerald green is the perfect solution to this requirement and looks great on the walls of a living room. Your home designer can complement it with wooden photo frames, ornate mirrors, and brown-toned furniture.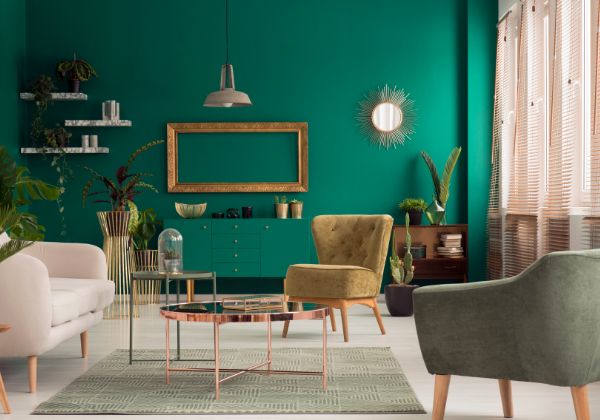 Sprightly Baby Blue
The use of bright and light shades of blue is one of the classic wall color ideas for the living room. It not only adds an ocean vibe to your living room but also gives it a spacious and airy feel. Your home designer may choose a sky blue or baby blue color for the walls of your living room. This color is ideal for creating a calm aesthetic appeal in your living space. Use brightly colored furniture and cushions to add pops of color to the décor.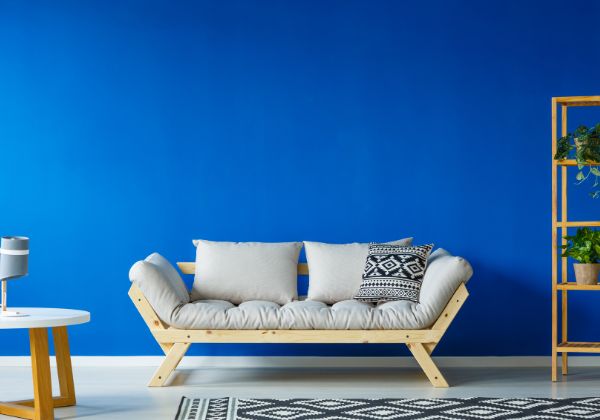 Regal Gold and Beige
There is nothing more regal than a touch of gold. So what better way to make your living room feel royal than to add splashes of gold to its walls? Beige and gold are classic color combinations that will enhance the aesthetic appeal of your living room. Because the color scheme is heavy on warm undertones, you can break up the monotony by incorporating rugs, crisp white curtains, and sleek furniture.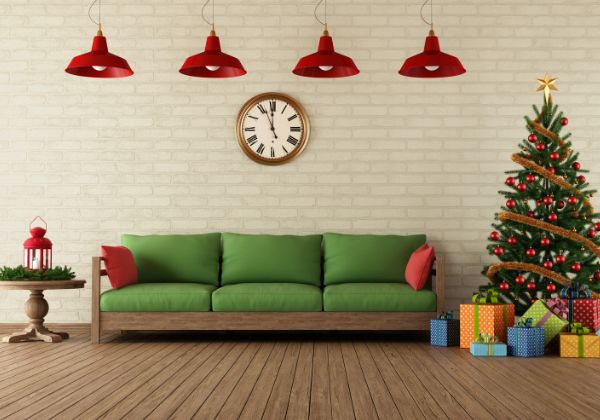 Rich Persian Blue
Persian blue is another popular shade of blue for use as an aesthetically pleasing wall color in a living room. By nature, this color is rich and creamy. Thus, it gives your living room a warm and elegant impression. It goes well with white couches, minimalist rugs, and sleek lamps. Your home designer may keep the décor simple to highlight the richness of the Persian blue wall color.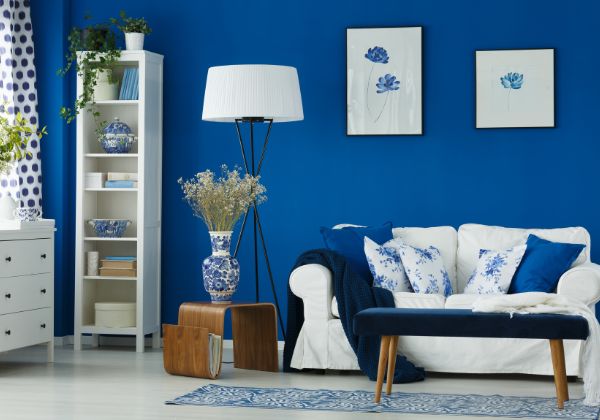 Charcoal Black
Charcoal black is one of the most inventive living room wall color ideas. Black is commonly perceived as a dark and foreboding color. However, this is a huge misconception. A matte black hue gives your living room walls a raw, aesthetic finish. You may ask your home designer to use white as a perfect contrast option to give your living room a Zen vibe.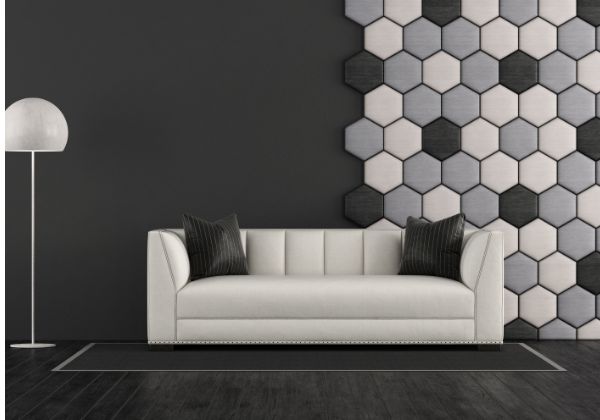 Slate Grey
If you're looking for slightly unconventional wall color ideas for your living room, you might be tempted to go with a slate grey finish. It gives your living room a clean, industrial look. Your home designer may combine it with white matte black furniture and some statement monochromatic art pieces to make your living room look like it came straight from an upscale fashion magazine.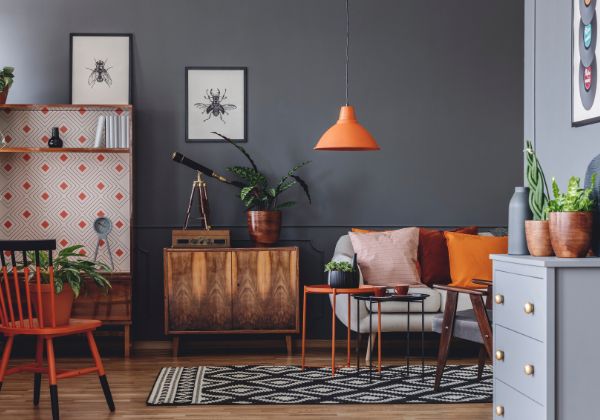 Elegant Pink
Pink is a fantastic color to use in your living room if you want something soft and bubbly. It's a delicate color that works well with darker shades like violet and deep grey. Pink transforms your living room into something out of a fairytale.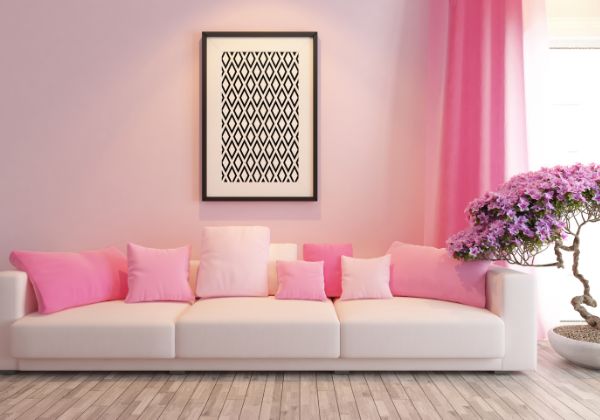 White and Mint Green
White and mint green can be a fun color combination for your living room walls. Green is a tranquilizing color. It can work wonders in brightening up a space when combined with white. This color scheme works well in large and small spaces, such as living rooms. Your home designer may choose a creamy mint green color for an entire wall and pair it with lightly textured white walls.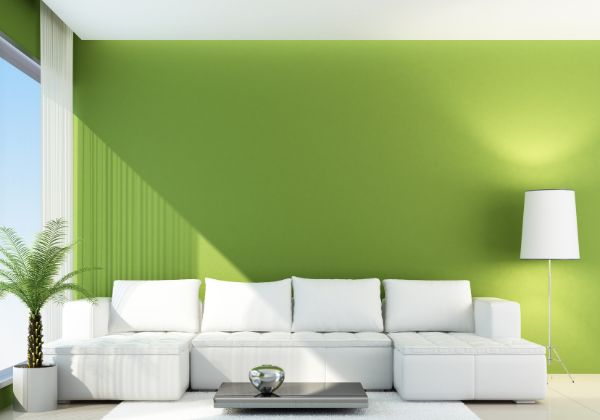 Cheerful Yellow
Nothing adds a bright touch to your living room like a bright yellow. You should prioritize yellow when looking for the best wall color ideas for the living room. It is available in a variety of light and dark shades. Your home designer can also choose complementary furniture in earthy tones to complete the bright look of your living room.
Plush Purple
A full, rich shade of purple is another royal color for your living room. It brings a positive energy into the living space. Therefore, it is a wise choice among all the aesthetically pleasing wall painting ideas for the living room. Your home designer may use lighter-colored furniture, such as white and yellow, to cut through the richness of the color.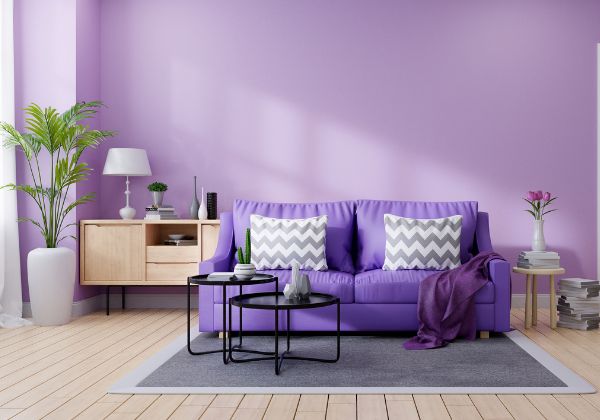 Floral Patterns
Who says living room walls have to be monochromatic? To take your living room walls to the next level, you must consider the feasibility of bright and bold wallpapers. To add definition to your living room, your home designer may choose intricately designed floral wallpapers as a backdrop.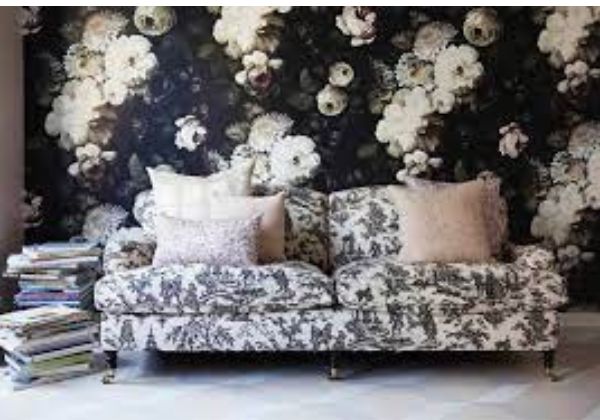 Stripes and Textures
When it comes to living room decor, simplicity is key. However, you don't want to crowd it too much. Thus, you can paint your living room walls with simple stripes and textures. Your home designer may choose simple pastel colors such as light blue, grey, or pink and create horizontal or vertical stripes or interesting textures in contrasting colors to create a beautiful living room décor.
Warm Brown
Lastly, a warm and joyful living room can always benefit from a generous dose of brown. It gives the seating area an earthy and rustic look. Your home designer may choose light brown wall colors that contrast with dark brown ceiling paint and décor accessories.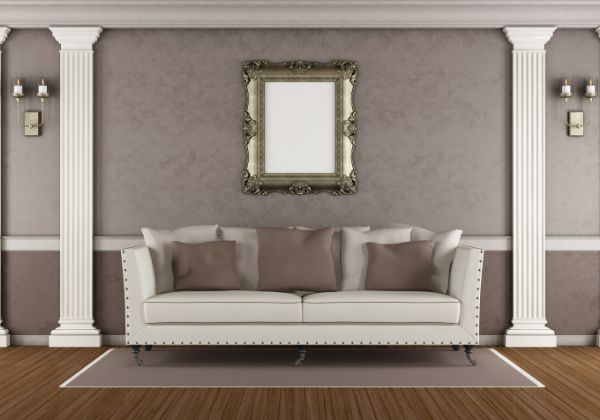 The End Note
Thus, the best living room wall color ideas are no longer a mystery. You need to stay true to the spirit of your home and select the appropriate colors based on your preferences. The living room will be cozy and aesthetically pleasing once you've painted the walls a nice color.