Creating a jaw-dropping living space in your home interiors is easier said than done. Regardless of the size of your home, having a top-notch interior home design is a much sought-after pursuit in 2022. So if your home interiors do not reflect your individuality, taste, and lifestyle, then it's high time you opt for a professional home designer for your space.
When you partner with a home designer in Bangalore, you can rest assured that your home interior design is in good hands. They are experienced and skilled enough to understand your unique needs and desires and apply them to the design process. There are various elements that your home designer can incorporate into your living space and turn it into something magical!
The secret behind creating a stylish, comfortable, and functional living space is all in the intricate details. By paying close attention to these various details, you can see a stunning interior design take shape right before your eyes.
But many of these home designer techniques are not too difficult to comprehend. Creating a perfect design that blends well with the entirety of the home needs professional expertise. However, there are still some home design tips that you can apply to your living space. That's what this page is about.
We will present some of the most effective home design tips for you. Let's begin!
#1 Utilize more patterns
You can go with one major pattern that can be repeated in smaller units, or you can mix two or three patterns that blend in harmoniously. Some of the most typical examples where you can put in patterns include your cushions, carpets, rugs, tablecloth, etc.
If you are going with large patterns (such as those on your walls), include white spaces around them to make them more impactful. Some of the most popular patterns are geometric and minimalistic designs that sync seamlessly with any part of your home.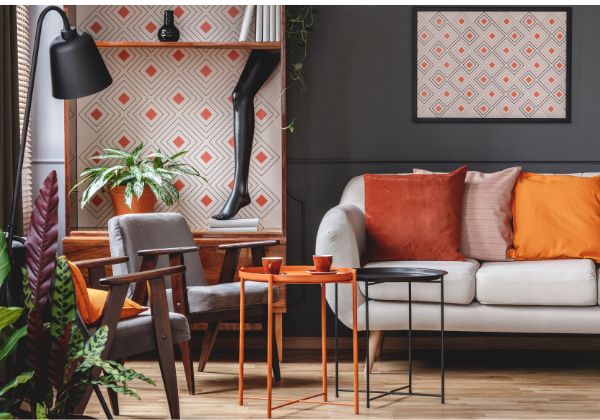 #2 Get more plants and greenery
Indoor plants and greenery are popularly referred to as biophilic designs. This form of home designer technique has gained widespread prominence across the world. Whether you are looking to make a style statement, are fond of plants in general, or are looking for a way to fill some space, plants are evergreen.
A biophilic design is also a natural fit if you are going for earthy elements in the rest of your home.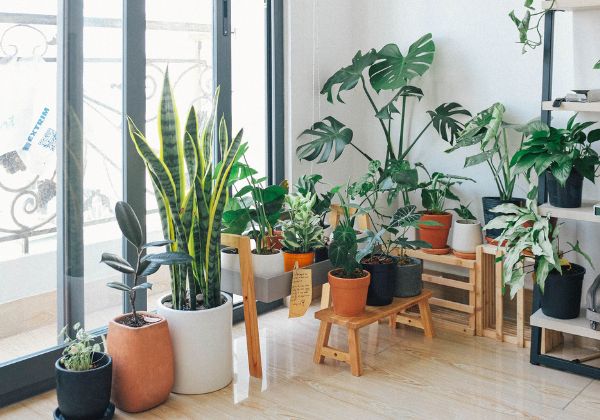 #3 Painting inclusions
It goes without saying that a single large framed painting can make your room look odd. You can instead opt for a collection of several small pictures that you can arrange on a wall dedicated to this design. Set all the paintings behind the sofa set, or you can also hang them on both sides. You can also frame the painting with a white overlap to make it look super classy and stylish.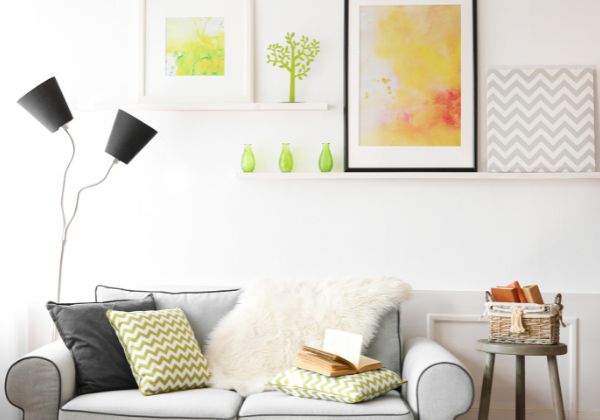 #4 Go for a color scheme that perfectly fits your personality and preferences
Picking the right colors for your home is one of the most important aspects of interior design. Here we have some usual trends in colors that you can use to your advantage.
The usual practice is to go ahead with warm tones in the drawing-room or dining room. These warm colors have a bright and positive vibe, making them ideal for families.
For the bedroom, cooler tones like blue, green, and lavender are perfect.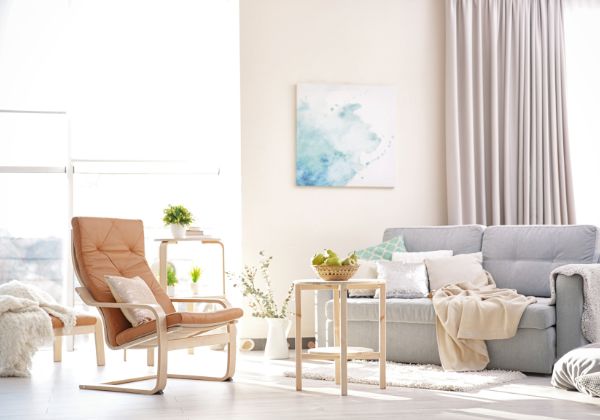 #5 Give utmost priority to lighting
This is more or less a given. Lighting is crucial in setting the best impression for your living space and the ambiance when you have people over at your place. You can experiment with table lamps, lights fixed overhead in a false ceiling, hanging lights, or even floor lights.
You should also include lights of varying brightness and designs to complement the occasion. For example, yellow lighting is more welcoming and intimate, while white lighting is more robust and feasible for homely tasks.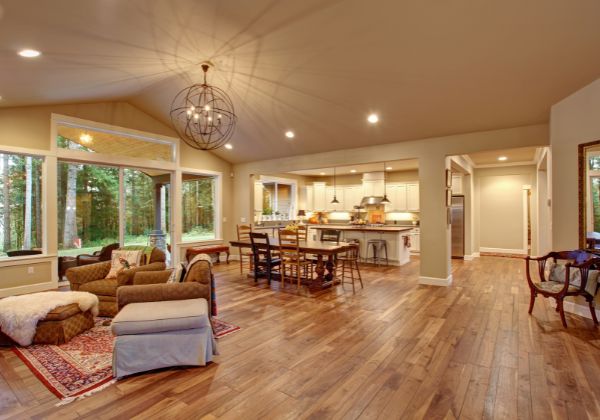 #6 Use mirrors effectively
Mirrors are a classic addition to any living space. They are well-known among home designer professionals for their 'magnifying' effect. In other words, mirrors can help make small rooms appear larger or make dimly lit rooms appear brighter.
The aim is to place the mirrors meticulously in order to reflect light from an illuminated source and lead to a gorgeous view of a certain aspect of the room. It is also worth mentioning that the frame of the mirror can have a special design that reflects your taste and preferences.
#7 Include tasteful artwork
You can never go wrong with art! Get yourself some breathtaking artwork or art pieces from local artists. Pick high-quality and beautiful art that suits your taste, and include them in different parts of your home. In fact, having artwork in your living or dining room is excellent for initiating a conversation with your guests. Most importantly, the artwork directly indicates your uniqueness and personality. So make sure you go with art that strikes a chord with you.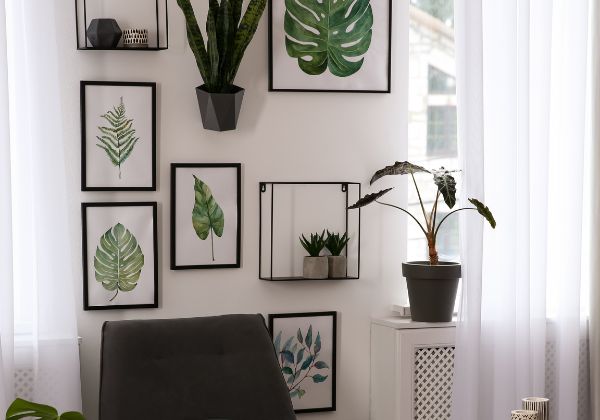 #8 Opt for a stellar bathroom design
Bathrooms are undoubtedly one of the most important parts of your home. As such, they deserve as much care and attention as the rest of your home.
Go with beautiful tiling, wonderfully crafted bathware and fixtures, mirrors that reflect style and class, and great shower curtains. You can also inculcate unique and cutting-edge designs for your sanitary ware making your bathroom stand out.
#9 Kitchen design
What was once in the background of any Indian home has now come to the forefront of home interior designing. Today's kitchens host people for meals and are not just limited to cooking. By including well-crafted cabinetry, kitchen island, slab, and sink, you can include a state-of-the-art kitchen design that you would absolutely fall in love with.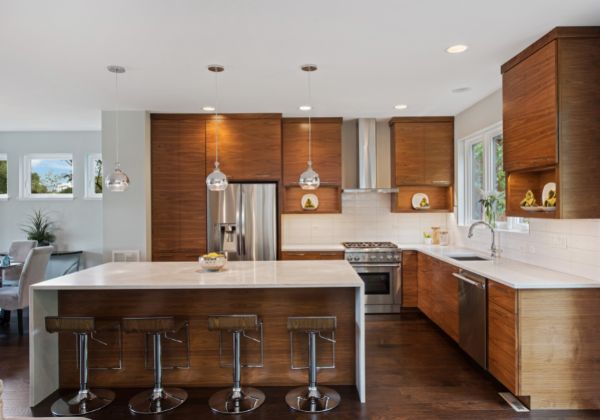 #10 Experiment with black and white
Black and white is a very popular and proven color combination that can ensure a timeless design in any part of your home. Be it a monochrome black wallpaper or a blackboard, set it up in a dedicated corner of a room or two. In addition, you can include some elements of white such as scribbles or stickers, to make it look super attractive!
Are you looking for a top-notch home designer in Bangalore to transform your living space? Get in touch with HomeChromosome today!