Eclectic Interior design style is a type of interior design that takes ideas from different types of interior design and uses elements from each of them. The definition of the word "eclectic" says that it means "drawing ideas, taste or style from a wide variety of sources." The term "eclectic interior design style" refers to a particular type of interior design that takes parts from many different types of the art decor and other interior design styles. Classic eclectic interior design combines different patterns, textures, sizes, proportions, and colors. Transitional, eclectic interior design refers to the practice of combining elements of traditional interior design with those of modern styles.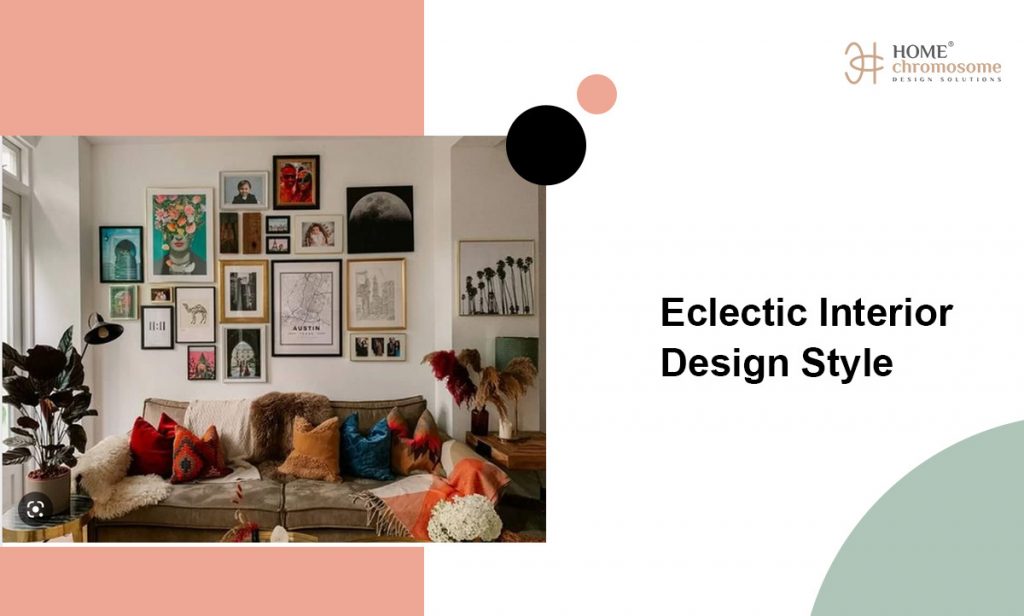 Eclectic Interior design Style
The term "Eclectic Interior design style" refers to a style that combines elements and traits of several different design styles creatively. It has a casual mix of furniture and style that comes from many other places, giving it a laid-back look. Eclectic interior design styles are characterized by the use of bold colors and patterns as well as unexpected details.
Eclectic design often has an overarching theme, like boho eclectic, which uses the same ideas as eclectic room ideas by sticking to a Bohemian style, or glam eclectic style, which uses a more saturated and bright color palette to create a more "glamorous" and colorful feel. The word "eclecticism" comes from the Greek word "eklektikos," which means "chosen" in English. The eclectic interior design style was first used in Europe in the 17th century as a way for architects to make new designs that still had some traditional elements.
Eclectic interior design style ideas
Statement Objects in Eclectic Interior Design Style
No matter what your statement object is or how it makes its point, it needs to be presented in a bold way. Still, you don't want to place too many different things written. One conversation-starting piece, or even two if the room is really big, will be enough to get people talking about your room. Obviously, this depends on how big your room is.
Suppose you have too many provocative discussion starters. In that case, they will eventually compete with each other, and both will end up losing because they will have overwhelmed their viewer and lost the eclectic edge you were going for.
Gallery walls in Eclectic Interior Design Style
The best place to put up a gallery wall is in the living room interior of a home decorated in an eclectic style. You will have a lot of fun making a gallery wall and experimenting with size, colors, and style to create the perfect eclectic bohemian living room interior that is personal to you. Mixing and matching frames is a great way to match the style of the room, and you will have a lot of fun doing it. A gallery looks excellent on plain walls, too, because this is where you can add a lot of personality and interest to the room.
With a gallery wall, you can also make attractive focal points. Having something to look at in a room with many different things makes it easier for the eye to move around, which is great if a room is eclectic and makes you feel heavy. Choose frames with different styles so that the art you will put in them will look its best. A great way to create a cohesive bohemian look on a budget is to buy frames from thrift stores and then paint them in colors that match each other.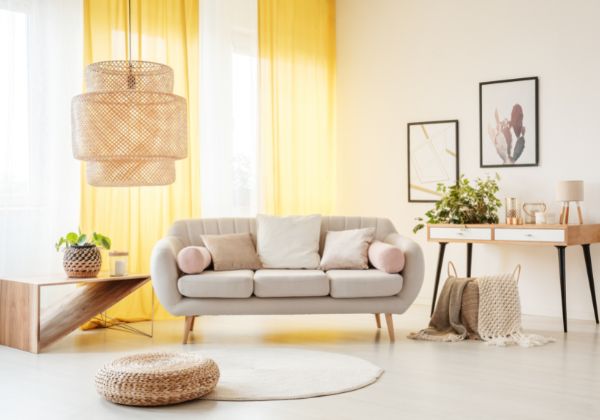 Colors go together in Eclectic Interior Design Style
Modern eclectic interior design is unique because it needs a clear lineage. Its appeal comes from the way different elements are put together. It lets you use different colors in the same space, but you should make a theme manageable by putting together colors that don't go together.
The challenge is to find enough shared interests to bring people together in space. The best way to create a sense of continuity and connection is to choose a few colors from the scheme and use them as accent colors or wall paints. This will make the room feel more like a whole. You can use the color as a unifying element in this room. It's on the carpet, the couches, and even the artwork!
Change between different kinds of patterns in Eclectic Interior Design Style
This way of designing encourages using many different patterns throughout the space, such as chevrons, big flowers, and thin stripes, which can be put on seats, walls, and curtains.
This living room has a lot going on, from the strong patterns on the rug to the print on the ottoman and the patterns on the cushions. Now picture yourself putting up patterned wallpaper or painting the room in bright colors. While choosing the pattern, you need to learn how to get people excited without making them feel overwhelmed with the patterns.
Minimal Eclectic Interior Design Style
The minimalist vintage eclectic interior design, also called minimalist maximalist, combines the "less is more" philosophy of minimalist design with the maximalists' love of pattern, rich material, and bright colors. In the end, you can achieve a lot that can be daring and understated.
This style is perfect for a place with many different techniques because it uses bold designs. Because of this, it uses a smaller number of parts. Even though there aren't many pieces of furniture or decorations that fit this style, each is bold, unique, and serves a purpose, like some pieces of hardware or upholstery. This style cares less about having a particular color palette that makes a statement piece and more about having solid shapes and a luxurious mix of materials.
Because it focuses more on shape and material than a single interior design style, you can mix and match different furniture to show off its eclectic look. This place has things from the industrial, classical, glam, and mid-century eras.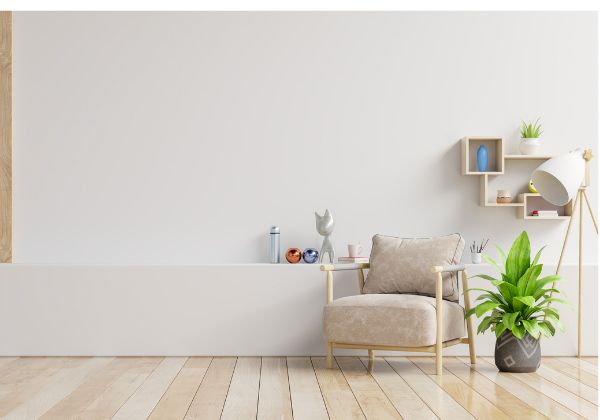 Antiques & Vintage Eclectic Interior Design Style
Vintage or antique furniture, like mirrors, side tables, and vintage-style floor lamps, can give your living and dining rooms a unique feel. This will show off how different the design is. Buy things with worn textures and finishes, like antiques with a Scandinavian or traditional 20th-century Victorian style, to get the impression that your space has a history. 
A worn wood finish on a bookcase, antique-treated rugs, and things made of patinated metal or leather are all great ways to give your home a retro feel.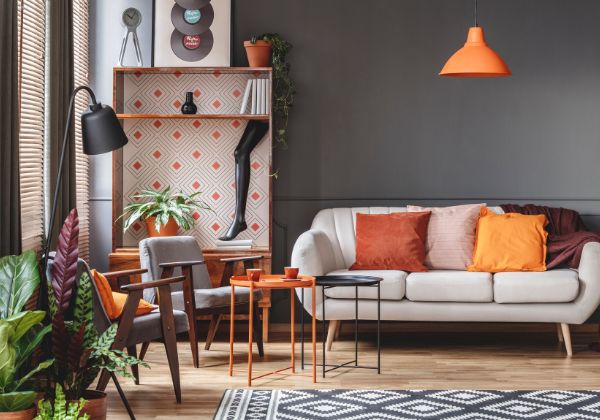 Boho Eclectic Interior Design Style
The bright and easily recognizable tropical boho style tends to lean towards the maximalist end of the eclectic interior design styles spectrum. As you can see, this style has a lot of different kinds of furniture and various materials, colors, and patterns. The Bohemian tropical style depends a lot on bright colors. The design comes to life thanks to earthy tones in rich colors. And we are not just talking about one colorful accent chair; walls, furniture, pillows, and rugs are also good choices. You can have fun with colors. Details like these make this clothing stand out as something special.
Increase the number of plants you have to make the overall effect more sophisticated. Plants of different shapes, sizes, and species are essential to creating a space that feels bohemian. Plants and other natural elements are used as much as possible to bring harmony and balance to some of the more luxurious parts of the design.
Eclectic Interior Design Style by HomeChromosome
You want to start designing your home in an eclectic style, but you need to know where to start. Schedule a consultation with one of our skilled interior designers at HomeChromosome, today to get started on turning your space into something truly extraordinary. HomeChromosome has a team of professionals ready to help you with anything you need to make your house feel like a home. Let our skilled professionals assist you! You can view our portfolio here and follow us on Instagram here. Email us at info@homechromosome.com for a quick response.