Most of you must think that eclectic interior design is all about randomly throwing a bunch of things together that magically work. But if you have tried creating eclectic interior design for your house, you may have noticed that it is not as simple as it looks.
Eclectic interior design is a style that elegantly incorporates aspects from several design styles into a single space. It has a casual combination of furnishings and designs that draws from various influences. If you are looking for a style that is a little bit of everything, eclectic interior design is ideal for your home decor as this style uses vibrant colors and patterns as well as surprising accents.
This blog will help you if you want to incorporate eclectic interior design for your home. But first, let us understand what eclectic interior design is?
What is Eclectic interior design?
Eclectic interior design skillfully combines facets of various styles, eras, and cultures to create an elegant chic space. The name "eclecticism" is derived from the Greek word eklektikos which means "selected." Eclectic Interior design first appeared in Europe in the eighteenth century as a technique for architects to produce distinctive designs while keeping some classic style. As a result this design style is popular in many modern households since it can be curated to fit one's personality and preferences.
Characteristics of Eclectic interior design
Layering colors and textures
Deft use of Juxtaposition
Mixing styles, materials, and patterns
Highly Intentional and curated set-ups instead of random mismatched
Has at least one unifying feature in terms of colors, theme, focal point, etc.
Now, look at the 7 Hot Tips for Creating Beautiful Eclectic Interior Design for your home.
1) Play with patterns for an eclectic interior design
To introduce different design eras into a room, use patterned rugs and scatter cushions. Fleur-de-lis, geometric shapes, and even polka dots, for example, can create visual interest when combined with other patterns. The vibrant visual of seemingly contradictory patterns add fun and surprise to a space while maintaining a light-hearted atmosphere.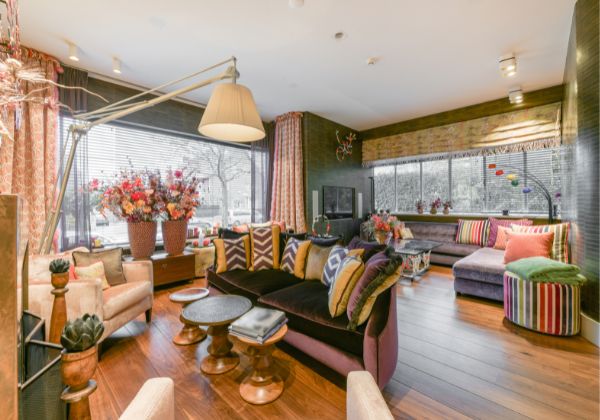 2) Eclectic design loves to have fun with the Textures.
A key element to an eclectic interior design style is contrast; using different textures in your interior can be a quick fix. To create an aesthetic narrative for your eclectic designed home, try to add marbles, smooth leather, wood, or steel against fluffy throws, woven rugs, or coarse stone and bricks. Using varied materials for your eclectic interior designed home will allow you to create a contrast that will grab the viewer's attention. For your living space, for example, you can pair an upholstered sofa with rattan chairs and a mental center table. To create the desired harmonious look, stick to the same color family of beiges, browns, etc., and try to match the undertones.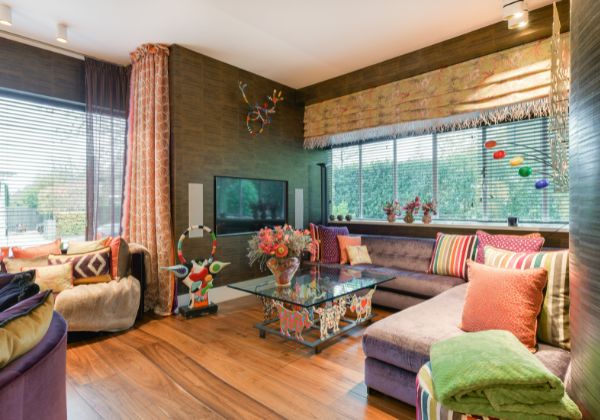 3) Your eclectic designed Gallery wall
If you have wanted a gallery wall, now is the time! Eclectic interior design style provides an excellent opportunity to showcase your collections and artworks. A gallery wall adds personality and character to any room, and you can really play here with your imagination and personality. Movie Posters, postcards, collages, family pictures, and personal artworks can all be a part of this statement gallery wall.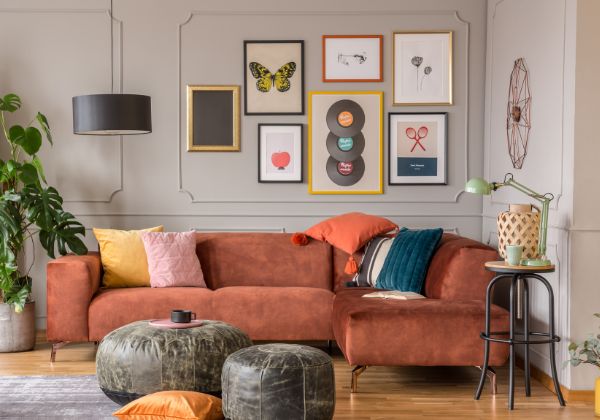 4) Mix up your furniture
The hallmark of eclectic interior design is fixing different types of furniture. This perfect style presents fantastic furniture finds and unique artisanal pieces. Follow your instincts, and you'll be sure to create a creatively curated space. Keep in mind that building your eclectic home will take time. These pieces usually tell the story of a trip somewhere or a tiny little shop you found almost accidentally. Be patient and keep your eyes and mind open for the correct items.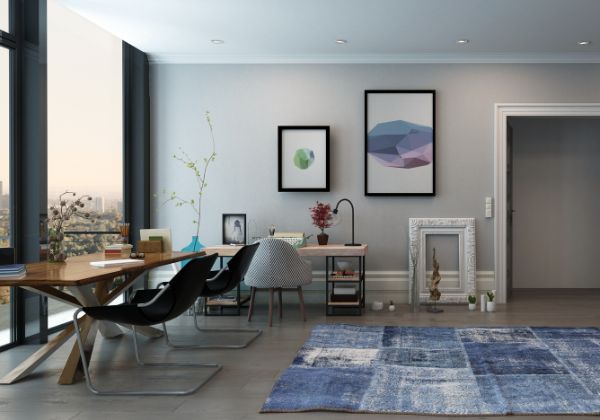 5) Select a color palette
Consider your core color palette before you start with the rest of your interior. Choosing a color palette will guide you in creating a harmonious space instead of a wild and erratic one. Choose a neutral color palette for your eclectic interior design to get you started. You can add to that core color palette as you build your interior inventory. Keep the walls simple, as they will serve as a backdrop for your carefully curated interior. Dark colors heighten interior intrigue, whereas lighter tones create a calm canvas, and unpainted brick or plaster adds to the textural element. Consider the amount of natural light in the space when looking for living room ideas.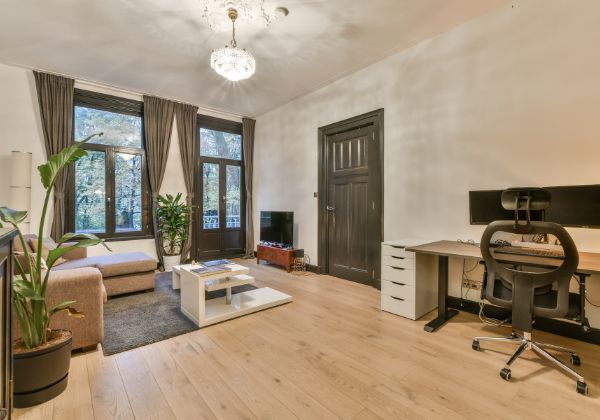 6) Avoid Clutter
Maximalism doesn't mean that you cover all the surfaces and just keep adding. Less is still better when it comes to eclectic interior design. Every piece in the eclectic home decor is purposeful and not just filler. Keep things neat and tidy, and showcase your most treasured possessions. While this is your opportunity to display your favorite accessories and memorabilia, don't let everything fight for attention.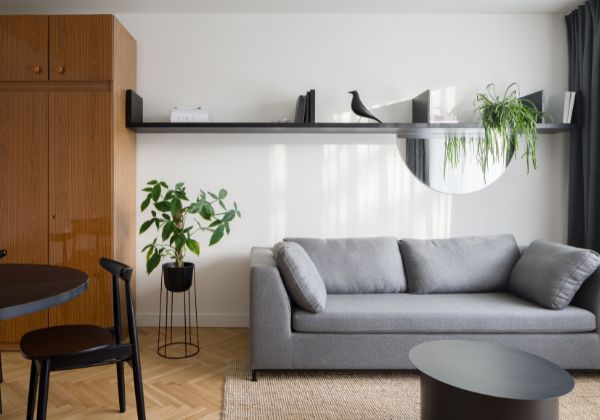 7) Create a statement with your eclectic home decor
Although statement pieces are great conversation starters, you don't want too many fighting for attention. Think of Vases, Chandeliers, table lamps, and floor lamps to add that finishing touch to your eclectic interior design. For the perfect eclectic decor scheme, choose one item and give it a unique place in the room, where it can stand on its own and steal the show. You can also create a collection of your favorite items and display them so that you can admire them every day.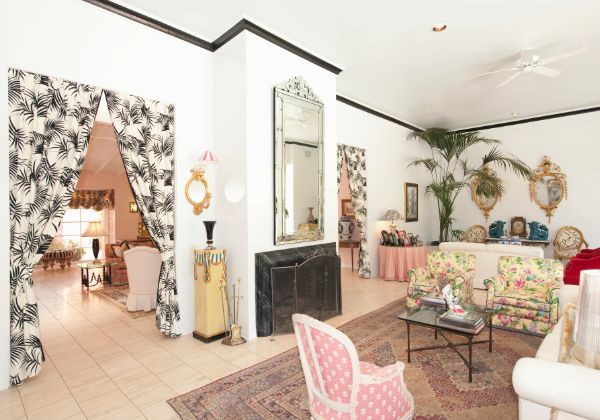 Variations of the eclectic interior design style you can try for your home
Glam eclectic
Biophilic eclectic
Vintage Eclectic
Minimalist Boho
Modern rustic
Modern eclectic interior design
Contemporary Indian
Kitsch eclectic
Pop-art interiors
Industrial eclectic interiors
Conclusion
Eclectic interior design is the most personal design style as no rules apply, and no specific furniture style or era you need to comply with. Mix different textures, furniture, and techniques to create your eclectic home.
How can HomeChromosome help you create a beautiful eclectic interior design for your home?
Homechromosome is one of the best interior design firms in Bangalore, and we provide an extensive selection of products and services to cater to your interior design and decor needs. Whether you want an eclectic industrial interior or vintage eclectic design for your home, our team of experts will create it for you. You can view our portfolio here and follow us on Instagram here. Email us at info@homechromosome.com for a quick response.