Who wouldn't want their home to appear larger than it is? Because, in reality, everyone requires more space to reside in a lighter, fluffier home that is well-organized and decorated. This blog compiled a list of tricks for the best flat interior design to help you make the most of any space.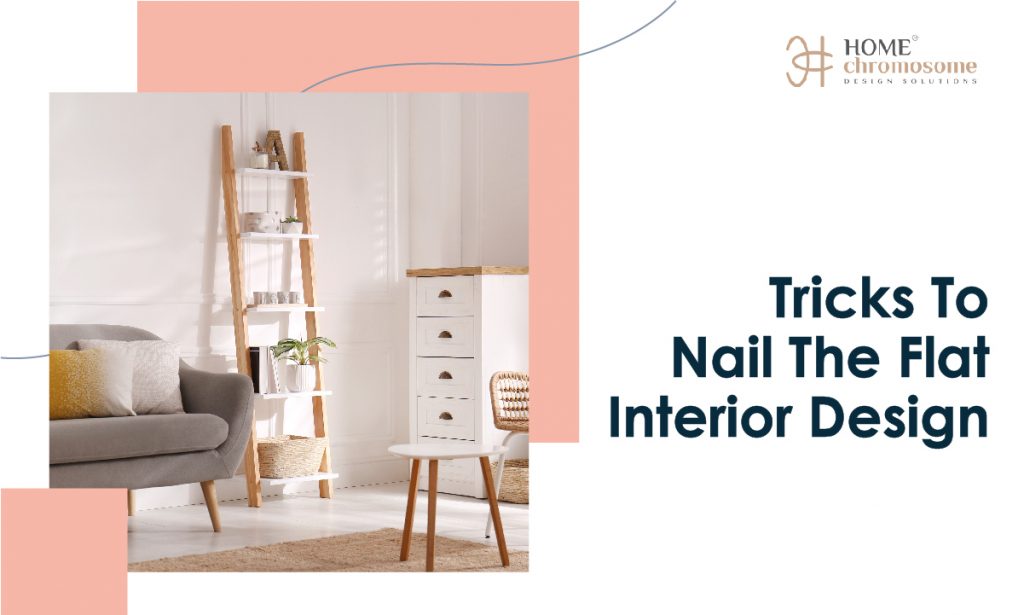 Best flat interior design
A 2 bhk flat interior design is a time-consuming procedure that becomes more difficult when you lack guidance. To begin with, just because it's a 2 bhk flat interior design doesn't mean the furnishings have to be plain and minimalist. The best flat interior design ideas will help you furnish your apartment to the best of your ability.
Tricks to Nail the best Flat Interior Design
Consistent color palette
When it comes to flat interior design ideas, selecting a color scheme is the most crucial and challenging step.
Make a floor plan for your house and an inventory of the furnishings, artwork, and carpets that are in each room.
Make a list after examining the rooms' good and bad points.
Take into account the transition between rooms, the mood you wish to convey, and the materials available for palette creation.
You don't need to be an expert in color theory to get inspiration from a color wheel. We advise against choosing your wall color before everything else. You can see how colors relate to one another and understand the fundamentals of color theory by turning the color wheel. Color wheels make it simple to generate color palettes. People choose the best flat interior design colors and develop color schemes for their flat interior design with the aid of color wheels.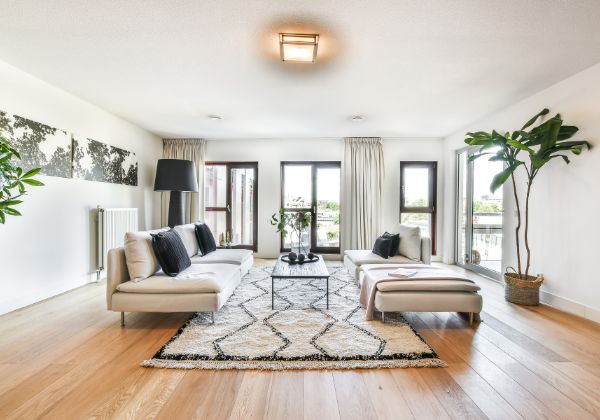 Mirror
The mirror is useful when fitted in a tiny room or a tight hallway for those seeking more area and light. Use enormous wall mirrors or other oversized mirrors to reflect as much light as you can to make the room appear larger. By adding mirrors, you may create a sense of space within by having light and images bounce off them from various angles. A mirror reflects light and space in a way that adds to the room's depth and vibrancy. This gives the impression that a room is larger and more open than it actually is.
A timeless classic is the rectangle mirror glass. But don't be afraid to experiment with various mirror sizes, shapes, and colors. Your home's furnishings are an expression of your distinct style and character. Choose a beveled mirror or a sizable circular unframed mirror if sobriety is your calling. However, if you enjoy overdoing it with your decor, help yourself to expensive and exotic mirrors in the best flat interior design. The key idea is that mirrors don't always serve a useful purpose. Adding unique mirrors to your home or workplace can make the area more visually appealing.
Accent walls
An accent wall serves as the room's main point. It could be a wall with painted texture, wallpaper, or wall paneling. An accent wall allows you to play around with vibrant colors and patterns in a space, emphasizing the rest of your decor. An accent wall is a single wall intentionally painted a different color than the other walls in the space to stand out. When someone enters a room, an accent wall immediately grabs their attention and eventually becomes the room's focal point.
A space might appear more prominent and roomier than it genuinely is by painting the accent wall. If you are worried about square footage, this might be a significant advantage. An accent wall is a terrific place to start if you want to experiment with improving your home's interior design and appearance. Even though it is only one wall, it can drastically alter the look and feel of the entire space, and since you aren't renovating or painting the wall, the commitment isn't as great.
Indoor plants
It is crucial to consider the primary purpose of using plants as decorations before diving into creative plant decorating ideas. The main reason for this is that green, which is frequently used in plant room decor, has a profoundly calming influence on us. Additionally, some of these might be plants that purify the air in your home, giving the room a natural breath of fresh air. It is crucial to understand that not all plants can live indoors now that we've demonstrated that decorating with plants is beneficial for your home. Stay with the plant on our list of plants for lazy people unless you want to do a lot of movement and care. To add a splash of color to the area, use plants with luxuriant foliage or cherry-pink syngoniums to make the best flat interior design.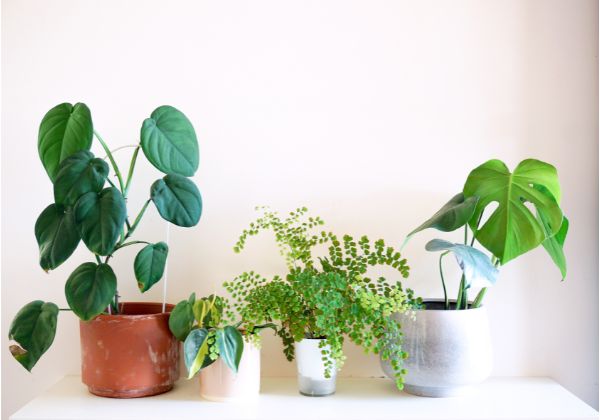 Wall Shelves
The most eccentric approach to the best flat interior design to increase storage while minimizing space is with wall shelves. These shelves assist stack books, making the most of a room's vertical length, and adding style to plain walls. These wall shelves are essential in a modern home. They come in handy for little homes that need clever storage solutions. We will look at some unique wall shelves for bedrooms today, even if wall shelves are helpful in every area.
Our unique, valuable, and extremely functional wall shelf designs for bedrooms have been authorized by designers. You may hang them whenever you like-next on the bed, over the TV, etc. Use wall decor, such as shelves, if you're thinking about using the best flat interior design. You can display artwork, books, plants, or such shelves, which requires a lot of imagination and uniqueness to design. You might notice that your room gets more light if you choose to install shelves on the wall and put closed cabinets on the floor. The shelves in your dining room can keep objects you might often leave in addition to enhancing aesthetic appeal by displaying plants, artifacts, or themed showpieces.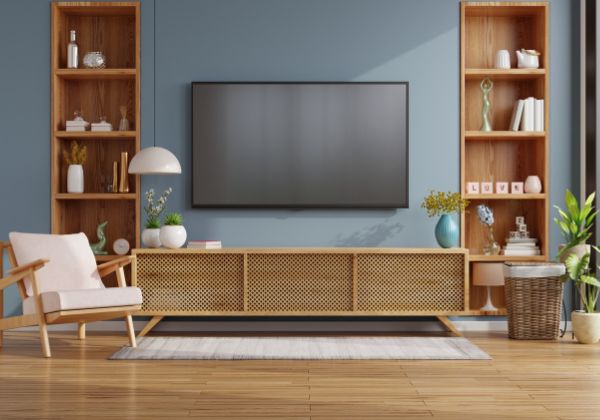 Accessories
To complement the best flat interior design, home accessories are a crucial component. They allow you to express your preference, interests, and even personality. You are able to express your personality through them and add it to your home. They assist you in developing a narrative that you would want to present to visitors, family members, or other interested parties. By allowing you to coordinate your home design aspects, accessories improve your environment. When decorating, you must make sure that the items you buy are both aesthetically pleasing and useful—choosing accessories that can be challenging to make when making a purchase.
Artificial Lights
The design's lighting is just as crucial as its other components. A space is altered and transformed by good lighting. We employ light and shade to create a cost and striking space. Let's say you want to draw attention to a painting on a wall. To do this, you need to downlight the picture while creating a darker area around it. To provide significant depth and intrigue to each space, we expertly combine lamps, pendant lunes feature light, integrated architect lighting, floor lights, wall lights, hidden lights, downlights, and uplights. Artificial lighting is one of the specialties of HomeChromosome.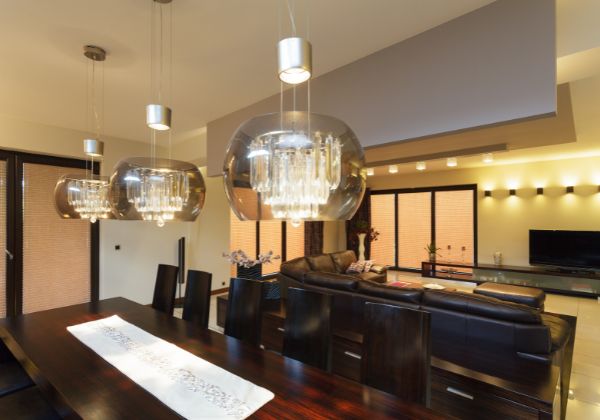 HomeChromosome
HomeChromosome is the best interior design firm that can help you develop your dream home. Visit the Home Chromosome website and start with your dream flat interior design.