Every interior design style is different; each style makes its own statement. The luxury interior design varies based on personal preference. No matter what kind of high-end interior you choose for your home, every interior focuses on curating elements that deliver comfort, quality, detail, and sophistication. What makes Luxe's design so desirable and appealing is its refined appearance.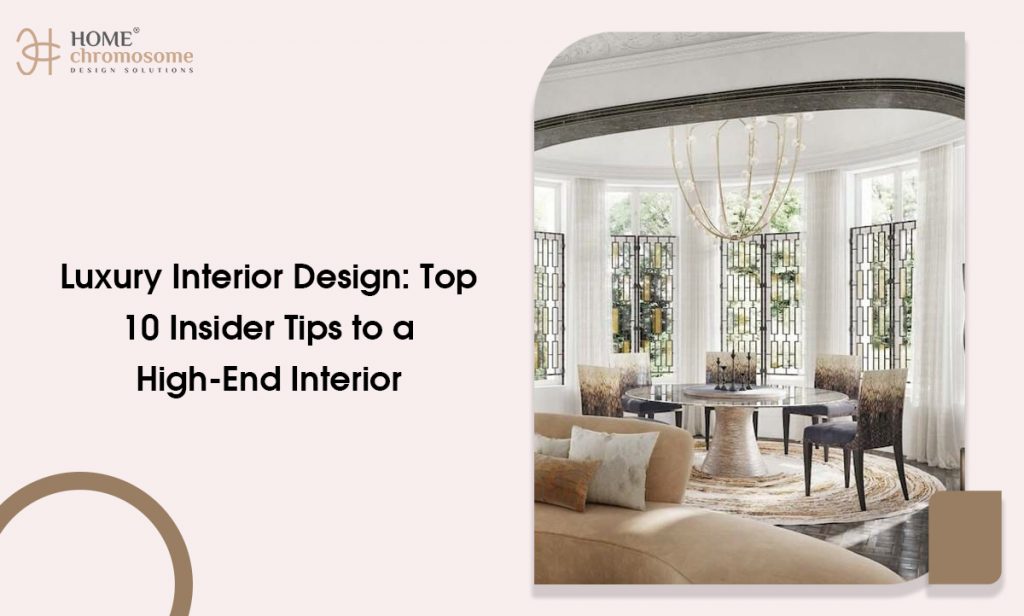 In this blog, we will look at the top 10 tips for a high-end interior design so that you can complete your own luxury interior design.
1) Define your luxury Interior design style
When it comes to Luxury, it is not a matter of property but actually a state of mind, a philosophy of you living the best life possible. In Luxury interior design, the size doesn't matter, but the sense of style does. Even the tiniest studios or a small space of any kind can dazzle with Luxury when a high interior design is executed well. Without starting away from the user's authentic personality and choices, luxury interior design must be well managed and emphasize quality.
2) So what exactly is Luxury Interior design?
There is no universal definition of what constitutes Luxury and what does not. For some, Luxury is defined by aesthetics, while for others, it is determined by overindulgence. A particular setting offers its occupant pleasure, charm, and comfort. Beyond that, there is no predefined set of principles to follow to achieve Luxury in interior design. However, one thing that can be said is that most luxury elements are not absolutely necessary for survival. They create a sense of grandeur, opulence, and spaciousness.
3) Learn from the experts in interior designing
A designer who is an expert in luxury interior designing is a mastermind behind the magnificence of an upscaled space. They hold the experience and education to seamlessly curate a luxury design to any style. Working with a luxury interior designer will guarantee you to transform your space into a high-end interior from start to finish.
4) Find something that will inspire you.
A luxurious home is a source of pleasure, inspiration, and a journey to realize your dream home. It provides exceptional comfort and a better style that complements our personality. Furthermore, high-end interior design is the only way to improve the functionality of your life. However, the best idea that inspires us to recreate our kitchen is a high-end kitchen makeover.
5) Planning your space
Planning is essential in designing and transforming your house into a luxury interior. To make your home functional and athletic, it is crucial to plan every element. You can fill your living space with colorful accessories and choose the right furniture and other finishing accessories to enhance the composition. You can also use chic rugs, silk or velvet pillows, and soft blankets to add elegance and warmth to your bedroom. Mirrors and lamps in front of your bed will add a touch of glam and provide an eye-catching view.
6) Touch of Glam
The luxury interior design style necessitates the use of glitz. Shiny metal accents enhance the room's appeal and complement any style. Gold, silver, brass, and copper go well with soft and full fabrics like velvet and silk. Mirror and shagreen can add a splash of color to a room, but use them sparingly.
Natural marbles and onyx are luxurious by nature, and they will add long-term value to your home. You can also create unique features and stunning focal points by experimenting with lights and textures. One or two such statement pieces can work wonders in minimalist spaces.
7) Luxe textures
Textures in your home add sophistication and warmth. Consider silk, velvet, wool, and faux fur. A sumptuous, smooth, stylish rug, a soft throw, and plush cushions in various fabrics are ideal for introducing a variety of textures. They also help to add coziness and eliminate the risk of having a home that is too cold and dull.
8) Luxurious lighting that will define the mood
A striking chandelier can be used in the entrance hall or over the dining table. Furthermore, well-chosen accent lighting can transform your home into an architectural or art piece. Lighting for all purposes, sizes, and shapes can give your modern luxury interior a new look.
The proper lighting gives your home depth and a luxurious sense of comfort. Multiple layered lighting at various heights and zones significantly impacts the overall atmosphere. Use it to highlight special features and give each statement piece its own spotlight moment. If you enjoy the dance of light and shadows, experiment with different shading and incorporate laser-cut barriers to create a surrealistic effect.
9) Luxury colors for your luxurious space
While neutral color palettes are sophisticated, colors like deep red, royal blue, black, purple, and gold are established throughout history as the colors of Luxury. Purple has traditionally been associated with royalty and nobility, so many people thought it was the ultimate extravagance color. While some traditional wealthy colors are easier to work with, excellent interior design can make any color appear luxurious.
10) Art pieces that will make a statement
Statement art adds a finishing touch to opulent interior design, but be careful not to overdo it. Investing in one great piece is preferable to cluttering all surfaces with mediocre artwork. Consider making a gallery wall of carefully selected works that speak to you and reflect your style.
11) High-end furniture
An intimate furniture arrangement will work well in a luxury interior design style that implies comfort rather than sharp coldness. Beautiful sofas and stylish chairs should be arranged to encourage social interaction. Give preference to high-quality, larger pieces over a slew of small, low-cost items. Distinctive items have a longer lifespan, are more elegant, and fill the space appropriately.
Conclusion
We hope we have covered everything regarding luxury interior design. With these tips, you can surely get an idea of what you want if you consider transforming your house into a luxurious space. To have a luxury interior design for your home, you need an expert to make that happen. Homechromosome can be your ideal choice if you are looking for an experienced and educated interior designer.
Book your consultation with home chromosome today itself. You can view our portfolio here and follow us on Instagram here. Email us at info@homechromosome.com for a quick response.