Are you looking to remodel a small space into a cozy Indian restaurant but don't want to break the bank? A compelling design not only creates a memorable dining experience but also takes into account the functionality and practicality of the space. There are numerous factors to consider when transforming your space into a low budget small restaurant design in Indian style. At Homechromosome, we provide solutions for low-budget makeovers for small restaurant designs in Indian style, which is always a challenge.
In this post, we'll guide you through a list of factors to ensure that your restaurant looks great within your budget.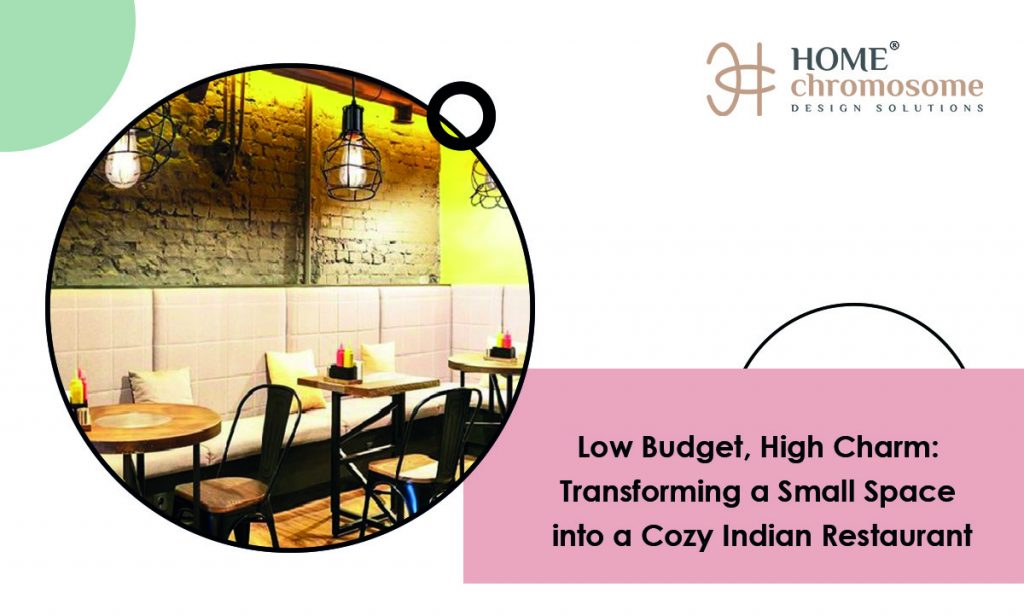 Transforming a Low Budget Small Restaurant Design in Indian–
Creating a fresh ambience
Contrary to popular belief, you do not need a large space to open a restaurant. You can convert a small space on your property into a fast-casual, full-service, or quick-service restaurant. Whether it's a cafe, a bistro, or a diner, the question that arises is whether the taste or the ambiance in a restaurant is more important. While the answer is both, a warm and welcoming environment is what customers keep in mind after visiting the restaurant.
 A restaurant's ambiance is created by everything from the lighting to the furniture, layout, design, interiors, artwork, and even the table settings. A perfect restaurant ambiance can help you gain more loyal customers. While designing your low budget small restaurant design in Indian style, your interior designer should understand the restaurant's concept. Customers should ultimately feel welcomed and want to spend more time in your space.
Hottest interior design elements
Knowing your customers' tastes and preferences is the first move toward creating an ideal restaurant design for a low budget within a small space. Lighting is one of the most important aspects of interior design in low-budget restaurant design because it sets the tone for different dining areas. Natural lighting is just as important as artificial lighting, and it's no secret that lighting can completely change the look of a restaurant.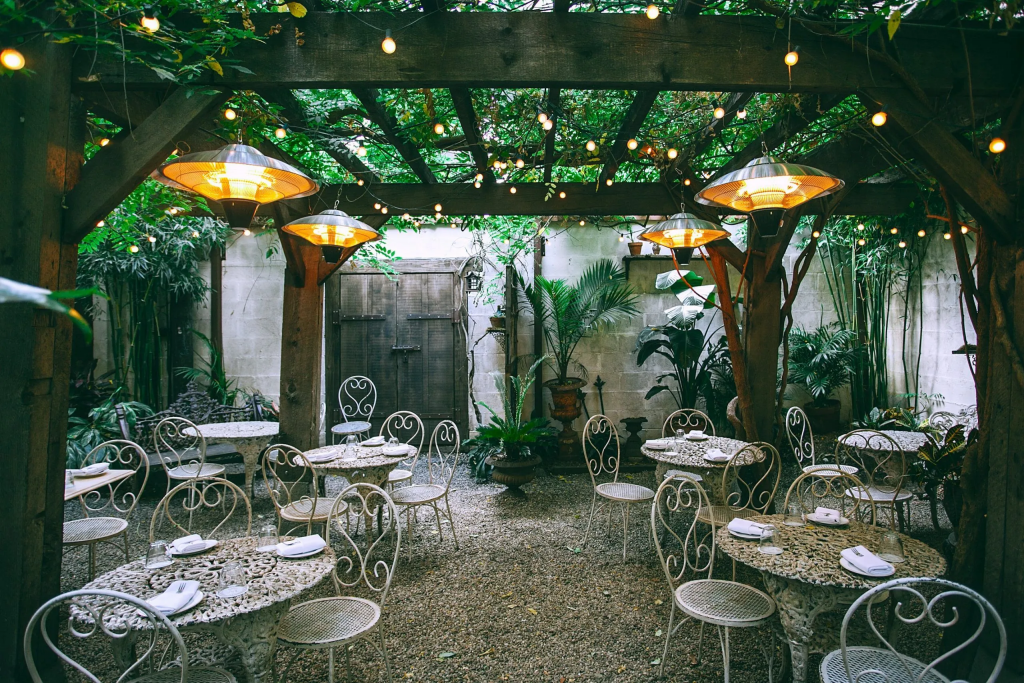 Explore various lighting options for low budget small restaurant design in Indian style, such as ambient, subdued, and bright lighting, that encourage guests to hang in and order more. Sustainable lighting solutions encompassing vintage lampshades with eco-friendly designs are here to stay. It is always best to stick to your restaurant's theme. This is what keeps you unique.
Get Artworks
Minimalist style has always been a trend. But for those who are looking for more when it comes to designing your low budget small restaurant design in Indian style, collaborating with a local artist can enhance the 'wow' factor. It's also a great way to promote your restaurant while also giving back to the community.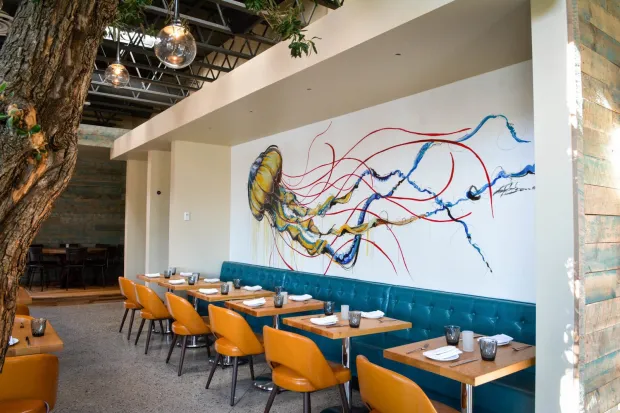 Create a beautiful ambiance for your low budget small restaurant design in Indian style by bringing in more artwork and murals on the walls. You can choose artworks that complement your theme but try to include more art forms than just paintings. To transform your small space into a cosy Indian restaurant, look for artists who enjoy creating wall art and engage with those who may not have a large following. You can take the help of social media to bring the artisans together. Choose artists whose design and style complement your vision and budget. This collaboration is advantageous to both you and the artist.
Bringing the Outdoors Inside
Not to forget the outdoor of the restaurant once you transform your small space interiors into a low budget restaurant in Indian style, infusing nature with your dining area gives that freshness. Living walls and vertical gardens are popular design elements that can be implemented in a small space on a low budget. By using live plants as restaurant decoration, you can make your restaurant interior design projects more eco-friendly while also keeping your budget low because live plants are inexpensive to maintain. Plants are a great way to show your customers that you care.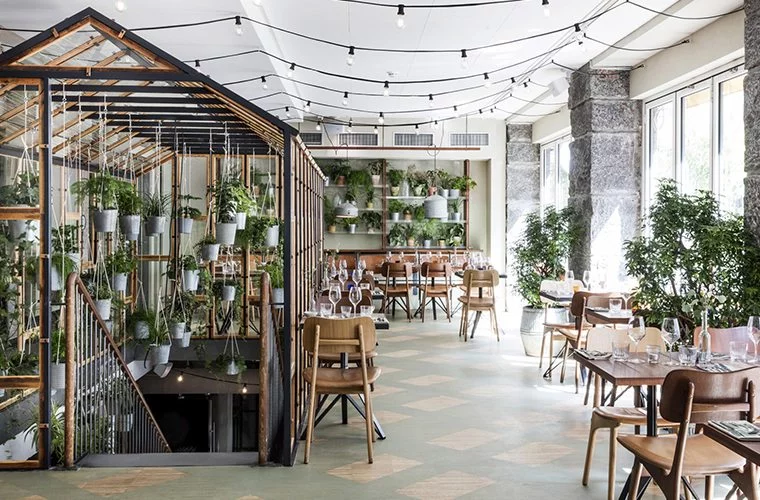 Bring nature indoors into your  low budget small restaurant design in Indian style. Plants and flowers not only beautify indoor spaces, but they also immerse your employees and customers in a colourful environment, fostering positive moods and providing an ideal look for social media posts which is trending these days.
Refreshing Floor Plans
Examine whether the style and functionality of your restaurant design meet your current space and design needs. The interior design of a restaurant has been shown to influence customer ordering decisions. To give your low budget small restaurant design in Indian style  a new look, you can revise your floor plan on paper and rearrange tables and chairs.
Changing your floor plan can breathe new life into your small space at a low cost. A restaurant layout must allow for proper movement of restaurant staff while also providing a cosy space for customers.
Adopting Minimalism
Less is more, and minimalism is a low-cost way to refresh your company's design, particularly in a small space. Applying minimalist concepts to low-budget restaurant design ideas emphasises the design's most important elements while eliminating anything that is irrelevant to your main theme.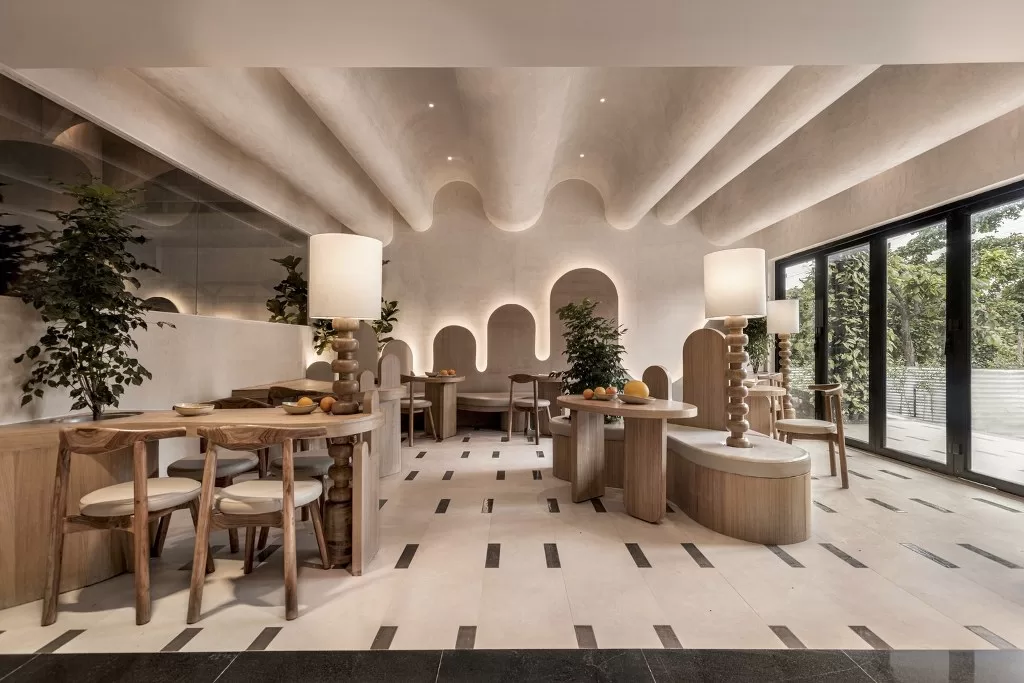 Remove all clutter and neatly arrange everything. When you are designing a small space low budget small restaurant design in Indian style, it is important to keep it clean and visually appealing. Lighter colour palettes are preferred, with white being a popular choice for simple designs. These design elements can have a profound impact.
Key Takeaways
These low-cost small restaurant design ideas will help you in creating the small restaurant space of your dreams. The layout, the colours, the seating, the lighting, and the greenery all contribute to your business. Keeping it cost-effective and low-maintenance makes a significant impact on your customers' experience. It only takes a little imagination, an eye for detail, and the right interior designer to get that magical look.