Good home office wallpaper ideas can help in productivity. Suitable wallpaper could help you get more done if you have a home office. Since the start of the epidemic, many of us have stopped going to the office every day and instead worked from the safety of our homes. You might have had a great idea about how busy you could be if you worked from home. So, of course, we also went through it.  Working in a dedicated setting could spark or reignite your passion for your job.
A strict definition is that a laptop on the dining room table is also a desk. But giving yourself a place to work, whether a whole room or just a tiny corner, can help you be more productive and creative. You already know that changing the wallpaper in your home office is the easiest way to make it feel more like what you want. When it's peel-and-stick, changing the look is easy and fun.  First of all, why should there be wallpaper in an office?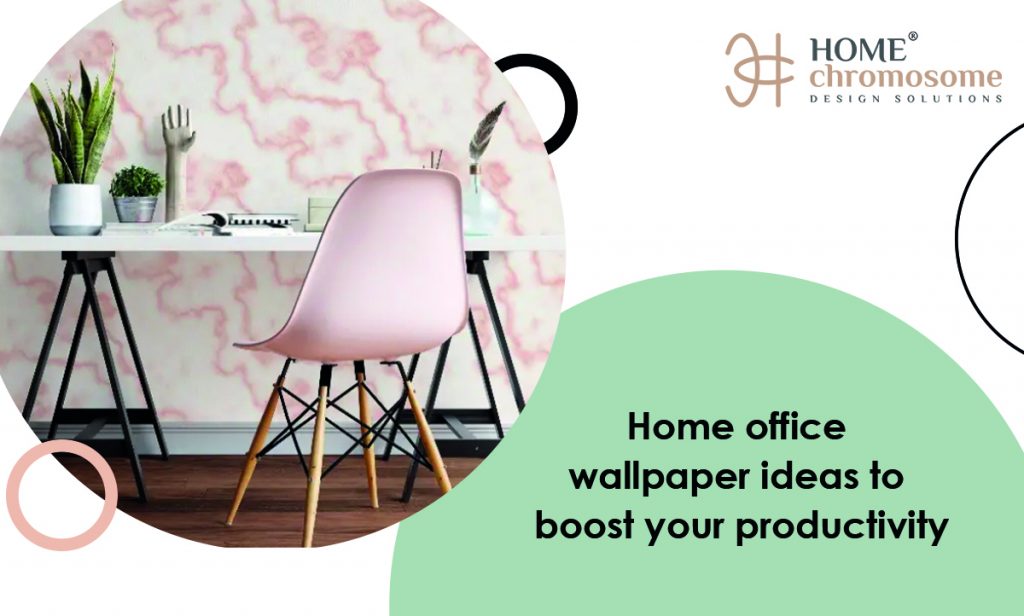 Some terrific Home office wallpaper ideas
Home office wallpaper ideas #1 – Advice: Choose wallpaper that fits the job you'll be doing.
If your job requires originality and imagination, choose a wallpaper that inspires you, shows off your imagination, and keeps your creative juices flowing. If your job requires you to be creative and think outside the box, choose a wallpaper that will get you in the mood. If this is the case, choose wallpaper with bright colors and patterns that catch your eye so you can keep letting your mind run wild.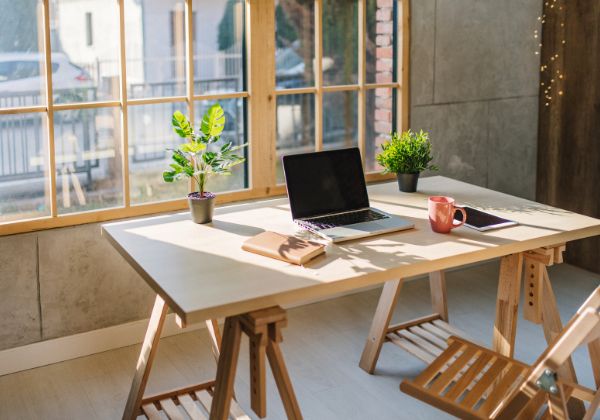 Home office wallpaper ideas #2 – Wallpaper that would fit in with the room's present style
If you work from home, do you plan to shop in a shared area or a separate room? When a room, like your living room, bedroom, or hallway, connects to another part of your home, this is called an "open space." This could mean that there is already a design in place. If so, you must choose a wallpaper that fits the room's style or theme. On the other hand, if you put your home office in a different room, you'll have more freedom in decorating and using colors.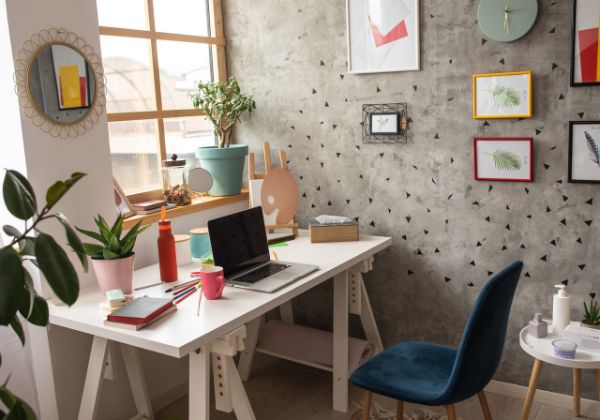 Home office wallpaper ideas #3 – Wallpaper that goes well with the furniture and other items in the room
If your home office room already has a desk and chair, you should choose the wallpaper that matches the style or design of the furniture you already have. If the furniture and objects in the room already have a minimalist feel, you should choose wallpaper with a clean look that will stay in style. If you want your home office to have a consistent style, you should use colors or patterns that are modern and sleek. If, on the other hand, you want a more industrial look, you will get closer to what you want if you choose a wallpaper that looks like a brick wall or aged wood. If you want to make your home office feel lively, you could also use wallpaper with a design from Korean culture.
Home office wallpaper ideas #4 – Add color to your workplace by putting up wallpaper.
A person's mood can be changed by the colors around them. It does this by making you feel good and helping create an environment that will make you more creative. Aside from that, using too many neutral colors can affect your mood, making it hard for you to do all the tasks you have been given.  Because of this, you should choose the wallpaper for your home office that has the patterns you like best to make the room feel better. For example, red is a great color that wakes up the senses. This makes it a good choice for situations where you'll work for a long time. Wallpapers in colors like blue and green are also excellent choices because they make you feel less stressed and make you more productive at the same time.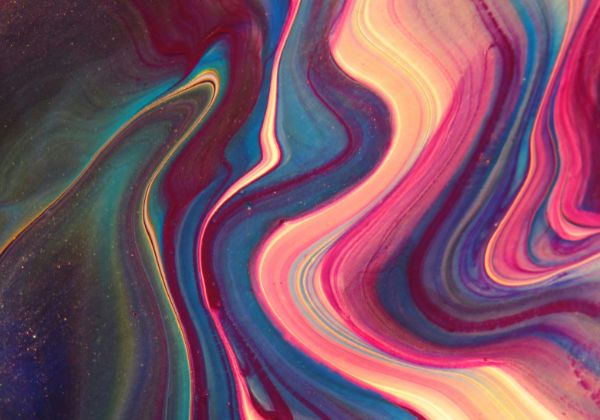 Home office wallpaper ideas #5 – Getting suitable wallpaper for your office could help you find the right mix between work and life.
Having as little stuff as possible in your home office is one way to make the area feel more inviting. But this could also make it look harsh. The answer is to choose a wallpaper with more eye-catching movement, which gives the room character and has a professional and attractive tone.
 In a perfect world, you would want your home office to feel and look different from the rest of your home. To reach this goal as efficiently as possible, choose a modern wall painting or office wallpaper and put it up. It shouldn't make you feel like you're in a different room of your house. Using wallpaper designs that are different from each other can help you make a clear divide between your home and office.
Home office wallpaper ideas #6 – Scandinavian wallpaper
Wallpaper in the style of Scandinavia is an excellent choice for decorating an office because it is both fresh and practical and gives a pleasant feeling of being well-organized quickly.  But a room doesn't have to be all white anymore for wallpaper to be called Scandinavian. With honeycomb-patterned office wallpaper, you can spruce up the place you used to work from home.  The honeycomb pattern on the geometric wallpaper looks great with the clean lines of the Scandinavian furniture, and the gold metallic finish looks great with the birch wood furniture.  Use tropical plants to soften the lines of this office wallpaper painting and get artistic in your wonderful WFH area.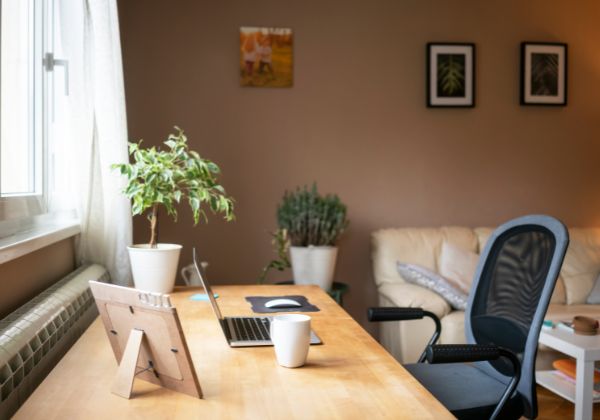 Home office wallpaper ideas benefits
Home office wallpaper ideas benefit #1 – Versatility
Home office decoration wallpaper comes in many different styles, colors, and patterns, so you can make it look like your home office. There is a wallpaper for everyone, whether you want a clean, modern pattern or something more traditional.
Home office wallpaper ideas benefit #2 – Easy to put together
Home office interior wallpaper is easy to put up, and the job can be done in a few hours or less, based on how big the room is. Many wallpapers are made to be easy to put up, and they can come either pre-pasted or with their glue already on them. This makes them perfect for do-it-yourself jobs.
Home office wallpaper ideas benefit #3 – Durability
Wallpaper made today is made from high-quality materials that are made to stand up to wear and tear. This makes it a good choice for the walls of a workplace. It can stand up to regular cleaning, and many wallpapers are immune to fading, peeling, and getting wet, which makes them great for high-traffic areas.
Home office wallpaper ideas benefit #4 – Cost-Effective
Home office interior wallpaper is a quick and cheap way to improve your office's appearance. It costs less than painting or boarding, two other ways to cover walls, and it can last for many years. This makes it a good investment for your home office because it can be used for a long time.
Home office wallpaper ideas benefit #5 – Makes one more productive
How your office is set up could affect how much work gets done. Using Home office interior wallpaper can make a space feel more welcoming and relaxed, which can help people stay on task and get more done. A well-designed workspace can also boost employee morale and job satisfaction, which can be suitable for your home office.
Home office wallpaper ideas benefit #6 – Easy to Get Going
Home office decoration wallpaper is easy to remove when it's time to change things in your office. Most wallpapers are made to be taken down without damaging the walls. This makes them a useful and easy way to change the look of your office.
Home office wallpaper ideas by HomeChromosome
Especially in a home office, wallpaper can turn dull rooms into places that are more interesting, attractive, and good for work. Contact HomeChromosome to get started with a variety of wallpaper to find the right one to match the style of your home office. You can view our portfolio here and follow us on Instagram here. Email us at info@homechromosome.com for a quick response.