Feature wall ideas: Are you looking for new Feature wall ideas to freshen your space? These empty walls hide a lot of promise, and a few simple changes can transform a house into a cozy place to live. Continue reading if you're ready to transform those stark, empty walls into stylish focal points in your home. We have tips that will make your feature walls look better and show off your personality and taste, no matter what style you're going for. Whether you're an art collector, a nature lover, or a book lover, your feature walls can be customized so that you can be surrounded by things you like, whether art, nature, or books. Discover the top five Feature wall ideas to make your home look more stylish.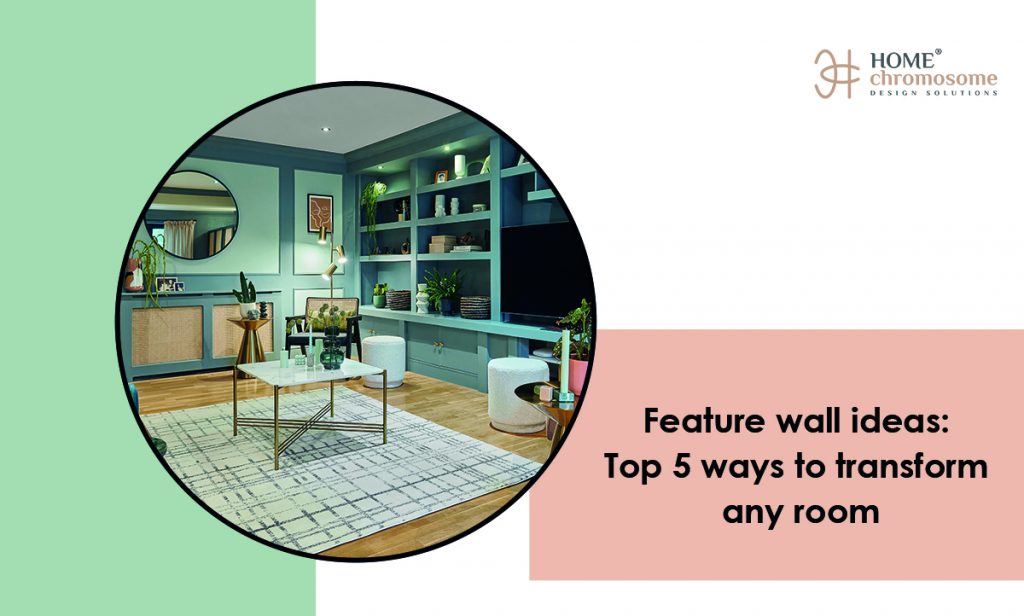 What is a feature wall?
Adding a feature wall is one of the simplest and least expensive ways to transform your home completely. You can make a feature wall fit your home and your budget by picking from a wide range of options, from simple things like paint or wallpaper to more creative things like tiles or wall cladding.
Using feature walls is a great way to draw attention to the most exciting building features in your home, accentuate the height of a room, or make the most of natural light. To add more colors to your palette, you can use intelligent color blocking and a feature wall to make different areas. Using movable shelving to make a feature wall is a great way to add more storage space. You can also divide the space with a feature wall.
If you look around your home for dull spots, awkward corners that you can't decorate with things, or natural features that stand out, like a fireplace or nook, these are all great places to use a feature wall to add color and pattern, surprisingly.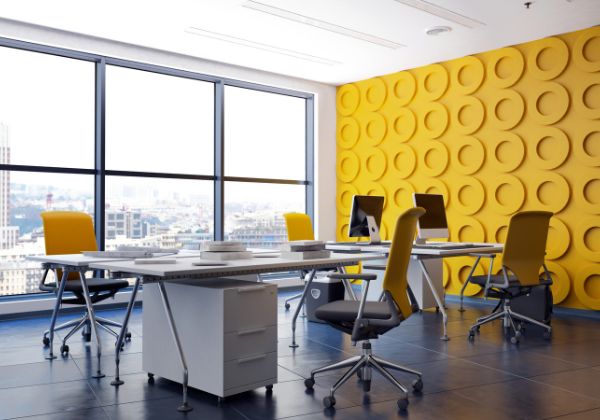 Benefits of Feature wall ideas
Your home's decor can be taken to the next level in several ways, and adding a feature wall is one of them. Here are some of the benefits of a feature wall:
Benefit #1 of Feature wall ideas – Depth
It could give a room depth and dimension, making the space more exciting and lively. It could draw the eye of the viewer and create a focal point that anchors the space.
Benefit #2 of Feature wall ideas – Adding personality
Feature wall is a great way to show off your personality and style. You can make a space feel uniquely yours by using colors, shapes, and materials that mean a lot to you.
Benefit #3 of Feature wall ideas – Makes it feel like there's more space
If a feature wall features a focus point on just one of the walls, it can make a room appear more extensive and open. This works exceptionally well in smaller rooms, where a strong wall can make it look like there is more open space.
Benefit #4 of Feature wall ideas – Offers a certain amount of flexibility
This is a simple and cheap way to change the look and feel of a space. If you get tired of the design, you can change or update the feature wall so you don't have to start from scratch.
Benefit #5 of Feature wall ideas – Enhances decor
It could help tie together the different parts of the room, like the furniture, the artwork, and the decorations. It can be used as a background for these items, making them pop out more and making the space look better.
Feature wall ideas
Feature wall ideas #1 – Gallery wall
Gallery wall is one of the best living room that features wall ideas that can enhance your room. If you can't decide what you think about a single work of art, look at a group of works instead. Make it look like you have art hanging on your feature wall. A design for an asymmetrical display can be better if the frames are all the same size, color, and backing and set up in a grid at equal distances from each other. But you can go against the grain and make an eclectic mix by hanging different-sized photos, drawings, and sketches in frames. Try print media, and remember to bring your calligraphy tools! The artistic writing features several different styles, such as Japanese brush fonts, Chinese typefaces that were inspired by nature, Islamic metal inlays on marble, and more. All of these styles show how you can decorate your feature walls.
Feature wall ideas #2 – Floating shelves
Floating shelves are a great choice to make your empty wall look like a showcase, but it needs to be more significant for a cabinet. The style of these shelves is more relaxed, and they are great for putting together various things, from books to keepsakes. You can even play around with the length, plan, detachable racks, and larger-than-life shelf brackets that act as garnishes to change how it looks. If you don't like how messy shelves look, try this DIY project to make a stylish pegboard for yourself.
Feature wall ideas #3 – Bookshelves
This is one of the best feature wall ideas outdoor. We love having shelves filled with books with great stories that take us to other places. A beautiful bookshelf to fill the space would be a more tasteful addition to the design of a large blank wall. Traditional bookshelves with finely carved wooden frames and open shelves will always stay in style. Also, attach a sliding ladder to a floor-to-ceiling library to make a bookcase that looks like it came from a Thomas Hardy story. Put your bookcase on a diet and get stacking shelves instead of backs. The only thing that should be there is an open and modern feature wall frame in a way that makes the most sense.
Feature wall ideas #4 – Vivid Tiles
Choose one or more names from the many available to add color and pattern to your feature wall. Terrazzo, a once-ignored material, has recently had a renaissance, leading some design fans to call it the "sustainable trendsetter" in the field of interior design. Handmade cement tiles are a beautiful choice that can add a soft, heirloom-like look to your home's decor. You can add more of your style by playing around with how your feature walls are set up. Brick lay is a reliable and neat pattern, but you could also try herringbone, crosshatch, or mosaic if you want to try something different. All of these are examples of trends that don't follow the rules. When tiling your feature wall, you should remember how important it is to try different grouts.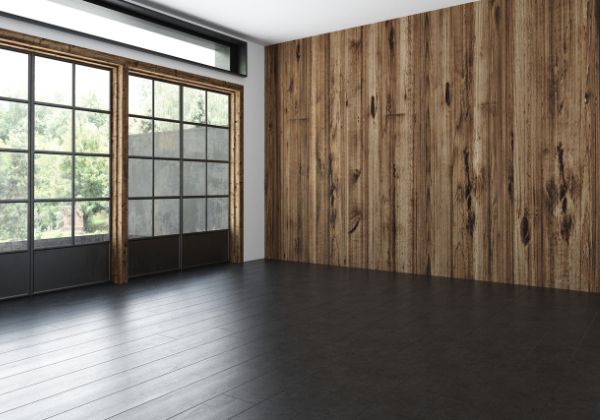 Feature wall ideas #5 – Moldings
Using moldings and trimmings in these master bedroom feature wall ideas, you can add a lot of personality and intricate features to otherwise plain walls. Moldings, from the flat profiles of baseboards to picture-frame wall molding, all have a simple, traditional design that doesn't need any extras. Fluted walls are the style of the season. They make dreamy, rippling patterns that catch light in the most exciting ways. Both classic and modern buildings have walls with curves.
To conclude…
There are many different kinds of feature walls that you can use to help you transform your space. Whether you want a bold feature wall or a more subtle two-tone look, there is a way to do it that will work with your design style. It's essential to consider not only the size and design of your hallway when choosing a feature wall but also the other parts of your decor. With these five creative Feature wall ideas, you can give your hall a modern and warm look, which will leave a lasting impression on your guests.