Is it time to give your white walls a fashionable makeover? Do you want to add a sense of richness to your living space? So look no further! In this piece, we'll explore the world of high-end fabrics and how they may transform your white-walled rooms.
Consider high-end fabric curtains' sheer elegance, sumptuous texture, and transformational potential. We'll walk you through the best curtains for white walls options for effortlessly elevating your room. So, let's get started and look into "High-End Fabrics: Luxurious Curtain Options for White-Walled Rooms."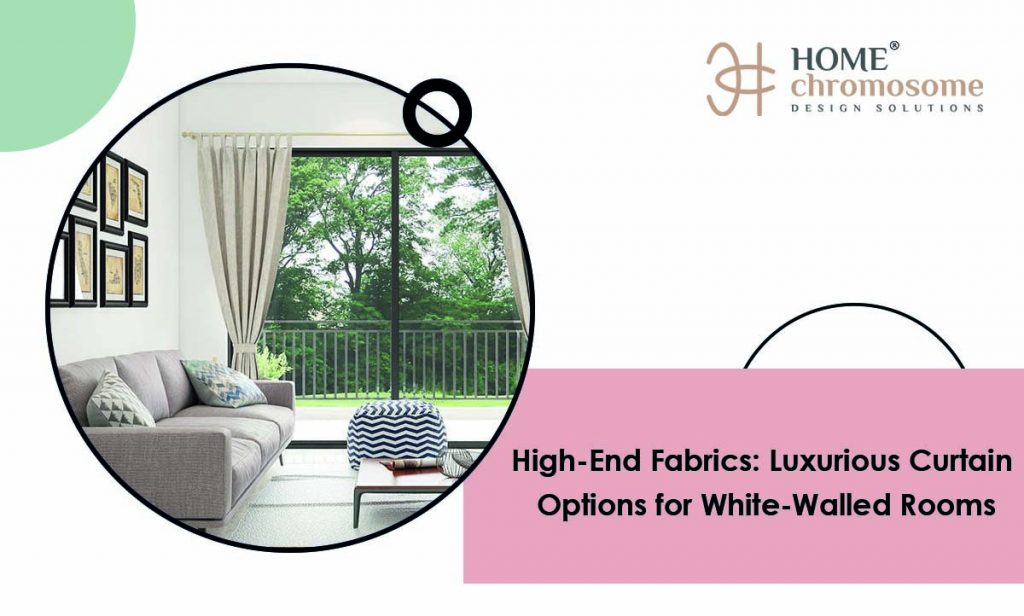 The Allure of High-End Fabrics: A Sneak Peek
Let's take a moment to admire the sheer wonder of high-end materials before we get into the intricacies. These materials are like great wine in the world of interior design: they improve with age! Here's why they're the best option for white-walled rooms:
Timeless Elegance: High-end materials give a sense of refinement and grandeur that endures.
Texture and Depth: They provide a variety of textures, ranging from sumptuous velvets to delicate silks, to add depth and character to any home.
Unmatched Customization: Many high-end fabrics are available in a wide selection of curtain colors for white walls & curtain designs for white walls, making it simple to find the ideal curtains to compliment your white walls. 
Durability that Lasts: While they may be slightly more expensive, high-end materials are known for their durability, ensuring your curtains remain beautiful for years.
Now that we've laid the groundwork let's look at some of the sumptuous curtain alternatives that can make your white-walled room stand out!
Luxurious Curtain Fabrics: A Treasure Trove of Options!
Velvet: Plush and Posh
When it comes to inventing an elegant atmosphere, velvet reigns supreme. Velvet curtains for white walls can lend an enticing touch of drama and grandeur to your white-walled home. Here are some of the reasons why they are a fantastic choice:
Luxurious Feel: The velvety, rich feel of velvet radiates an unparalleled sense of luxury!
Temperature Control: Aside from its aesthetic value, velvet curtains for white walls provide insulation, keeping your cool in the summer & room warm in the winter.
Pro Tip: Deep jewel tones like emerald, sapphire, or amethyst offer a magnificent contrast against white walls for a jaw-dropping effect.
Sheer Elegance: Light and Airy
Sheer curtains are your most fabulous friends if you want to create a light, airy environment in your white-walled room. These delicate fabrics let in just the proper amount of natural light while giving privacy. Here are some of the reasons why sheer curtains are popular:
Soft Glow: Sheer curtains have the enchantment of diffusing sunlight, producing a delicate, ethereal glow across your room.
Space Illusion: They may make a room appear larger and more open, ideal for tiny areas.
Endless Styles: Sheer curtains are available in various styles, from traditional white to subtle patterns, offering plenty of options for curtain designs for white walls.
Pro Tip: Consider layering thin curtains for white walls with heavier drapes for a dynamic, multi-dimensional effect.
Silk: Timeless Beauty
Silk, synonymous with elegance and refinement, is a traditional material for high-end curtains. Silk curtains drop with unrivaled grace, bringing a classic touch of elegance to any white-walled space. Here's why silk is so popular:
Elegance Personified: Silk's natural sheen and graceful drape add an unrivaled beauty to any area.
Thermal Control: Silk curtains are well-known for their insulating qualities, which aid in maintaining a pleasant room temperature.
A Kaleidoscope of Patterns: Silk has many curtain designs for white walls possibilities, from pure colors to elaborate patterns.
Pro Tip: Choose neutral silk curtains to complement your white walls, or go big with a vibrant color for a stunning contrast.
Choosing the Perfect High-End Fabric
Now that you have these magnificent curtain options let's get into the nitty-gritty of choosing the appropriate high-end fabric for your white-walled room. Here are some important considerations to think about:
Room's Purpose: Function Meets Style
First and foremost, consider the room's purpose. Is it a comfortable bedroom, a formal living room, or a bustling dining area? Different curtain textiles may benefit different areas.
Bedroom Bliss: Soft, cozy textiles like velvet or silk create a warm and inviting ambiance.
Living Room Luxury: Consider sheer curtains for white walls during the day to let in the beauty of natural light and thicker drapes for an evening of grandeur.
Dining Delight: A touch of grandeur can be added to your dining experience using velvet or silk.
Harmonizing Colors: Aesthetic Harmony
While high-end fabrics come in a wide range of curtain colors for white walls, keeping your white walls in harmony is critical. Here's how it's done:
Monochromatic Magic: Use drapes in tones comparable to your wall color for a smooth, classy aesthetic.
Color Contrast: Dare to be daring by using curtains in vibrant, contrasting colors that make a stunning visual impression.
Budget and Maintenance: The Practical Side
High-end fabrics can range in price significantly, so set a budget and be prepared to commit. Consider the expense and work required for maintenance as well.
Maintenance Matters: Some textiles may necessitate particular treatment, such as dry cleaning. When making your decision, consider the expense and effort of maintenance.
Length and Style: Tailoring to Taste
Consider the length of your curtains. Floor-length curtains can add a sense of grandeur, whereas shorter curtains can provide a more informal, relaxed atmosphere. Select rods and finials that complement your curtain fabric and room decor.
By carefully examining those features, you'll be well on your way to finding the ideal high-end fabric to transform your white-walled space into a luxurious refuge.
Conclusion: Unveil the Luxury of High-End Fabrics
Curtains are more than just coverings in home design; they are statements, mood-setters, and manifestations of your style. High-end materials may completely transform your space, making it rich and fascinating.
There are limitless alternatives, whether you favor velvet plushness, the ethereal charm of sheer curtains for white walls, or the timeless elegance of silk. Consider your room's function, color scheme, budget, and style to choose the appropriate fabric confidently.
Investigate high-end materials to add luxury to your homes. Enhance your environment, express your personality, and enjoy the luxury of high-end curtains for white walls. Your home deserves the best, and these alternatives can help you achieve it!