India's real estate sector is currently experiencing tremendous growth, with more and more people choosing to invest in their own homes. For many, 1 BHK is a popular choice due to its accessibility, affordability, and convenience. Young professionals, in particular, value reducing their travel time to work and see 1 BHK as a smart investment option.
However, decor ideas for 1 BHK to maximise space and style can be challenging. It's important to hire a clever interior designer who can help you with 1 BHK decor ideas. To help you get started, Homechromosome has put together some of the best 1 BHK interior design ideas that can create a cosy and fulfilling living experience.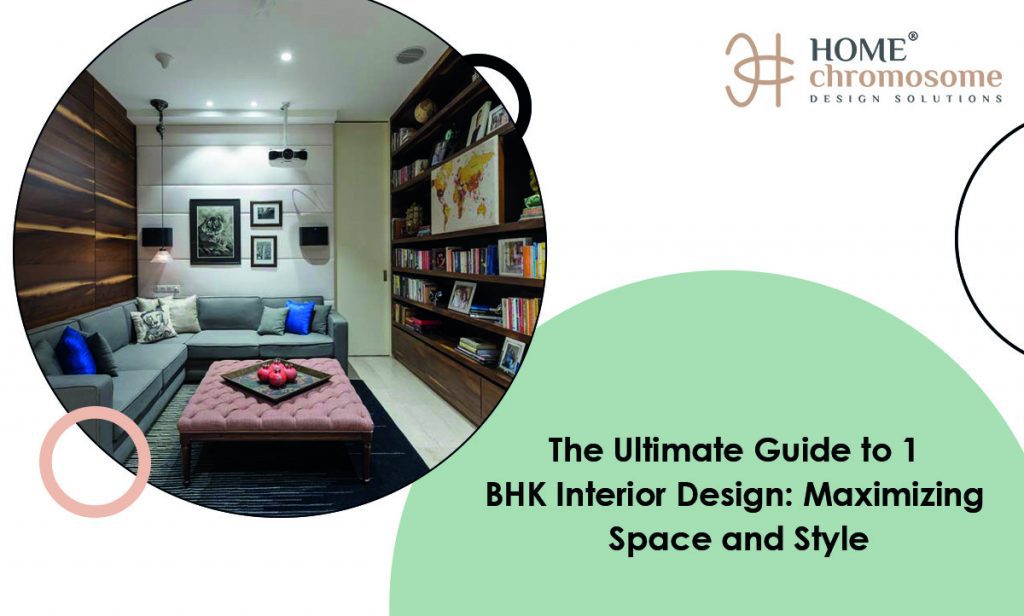 Living room for 1 BHK decor ideas
It's true that a small space can appear bigger with larger pieces of furniture. One way to make your living area more inviting in a 1 BHK flat  is to display your prized collectibles. Additionally, using stunning textiles on the walls and floor is  a great 1 BHK decor idea. Moreover, murals and artwork in the background can really enhance the overall aesthetic and vibe of a space.
Bedroom decor idea for 1 BHK
If you're struggling with limited space due to bulky furniture like cots, there are a few clever furnishings you can consider for 1 BHK flat design. One of the ideas in 1 BHK decor is a solid platform or sitting area with a retractable bed underneath it. Another option in a BHK decor idea is an elevated bed that can be lifted up when not in use. You can also create extra storage space underneath the bed. And depending on the layout of your house, it's possible to convert loft spaces into bedrooms.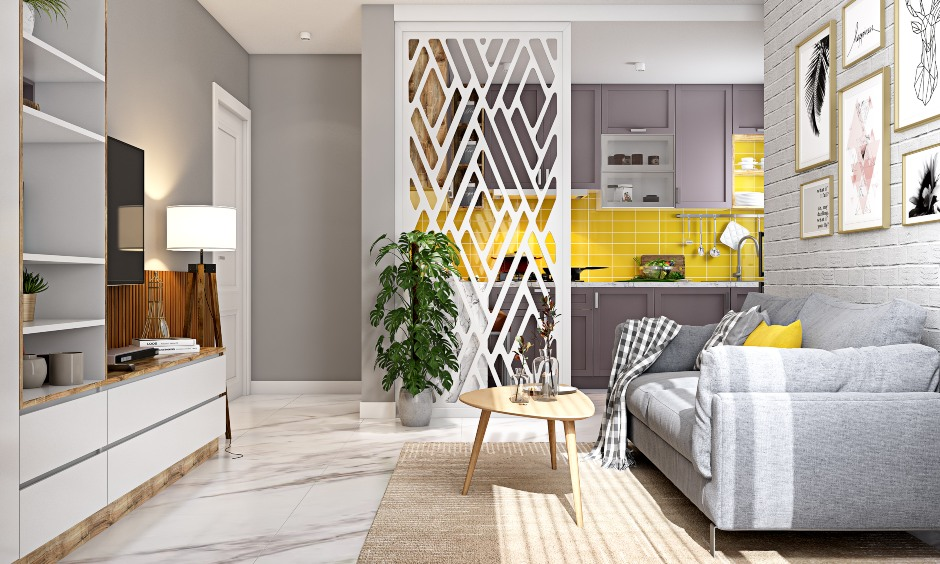 Bathroom decor idea for 1 BHK
Floating shelves above the toilet and corner shelves for the empty corners can be great additions to optimise the bathroom space. A 1 BHK decor idea is to optimise the storage space in your bathroom  by adding dividers to your vanity drawers. You can buy organising trays to keep your items neat and tidy, making it easier to find what you need quickly. This small investment can go a long way in ensuring that you're using your space efficiently.  It's important not to ignore this part of the house and make the most out of it. 
Open/dedicated spaces
An open layout is a perfect idea for 1 BHK decor idea as it seamlessly combines the living room, kitchen, and dining area. However, when the space is limited, creating dedicated spaces can be a challenge. One solution is to divide the living room into a dining space using room dividers like a folding screen or glass partition. You can create a small cloakroom at the entrance with hooks, a mirror, a shoe rack, and an umbrella holder. Smart divisions or sliding doors can also be used to create dedicated spaces in a small space. Additionally, using curtains instead of doors can save that extra space.
Spice up your window nooks
A relaxation space as part of 1 BHK decor idea may seem unthinkable, but you can do it cleverly by utilising your window nooks. You can use a comfortable sofa, cushions, light fixtures, and plants to enhance the looks.  This space can be perfect for reading or just unwinding after a long day. With space at a premium in 1 BHK, making the most of every square foot is essential.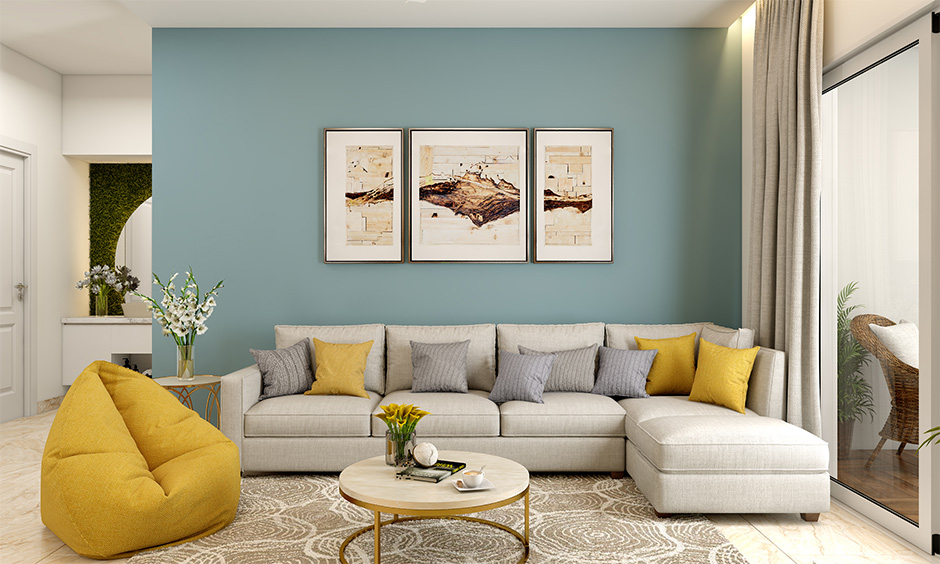 Workspace at home
Work-from-home has become increasingly common these days, and having a dedicated workspace is essential. One great solution for a 1 BHK decor idea  is a foldable desk that can be customised to meet your needs. To add some charm and personality to your home office, consider setting up a corner library adjacent to your desk – it's a great way to liven up the space!
Use neutral colours
It is a no-brainer that using dark colours in a small space can make it look even smaller. If you want to create the illusion of a bigger room in a 1 BHK flat interior, using nude shades or earthy colours is the best option. Another trick for a 1 BHK decor idea is to use a floor partition like rugs or different floor tiles to make the space look like it has rooms. However, if you want to experiment with dark shades, you can do so in a corner to make the space feel cosy and warm.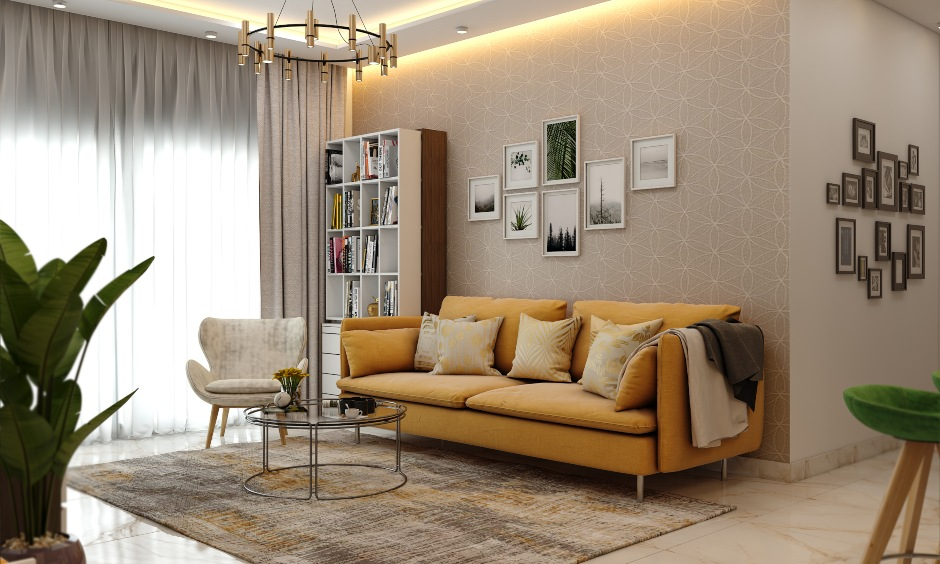 Wallpapers, curtains, and mirrors
Mirrors are a great addition while decorating 1  BHK  as they can reflect light and create the illusion of a larger space. In addition to mirrors, you can use cleverly designed wallpapers to hide bulky objects or to enhance the look of a room. Likewise, hanging curtains well above the window frame can impart height and make the room appear bigger.
Optimise storage
A room looks more beautiful and less cramped when there are fewer items and less clutter. Minimalism is the key to it. Keeping it simple does not mean the house should be boring.  It is always a good idea while decorating your 1 BHK to store things away from the floor and use more storage spaces on the wall. There are many ways to create storage space in a room – you can have a set of drawers below the bed, a standalone bedside unit, closed overhead cabinets, and an open shelf above the floating study table.
Another great idea is to install a bench with storage in the hallway and use sofas that double up as covered bins. Lastly, convertible furniture is also a great way to maximise space and keep things organised in a 1 BHK flat.
Conclusion
The 1 BHK decor ideas that we discussed above can be implemented with the help of professionals and expert advice. At Homechromosome, we have an expert team to guide you throughout the phases in an affordable budget.