Art deco style interior design is one of the most trendy styles right now, and one of the reasons to love them is that they look aesthetically pleasing with geometric patterns. If you find yourself drooling over Instagram photos of Paris or like the way European buildings look, you will love decorating your home in the modern art deco interior design. If you like art, you will find that the art deco interior design is perfect for your home/ The movement started in France, but it became known as one of the most important cultural changes in the West in the early 1900s. Art deco has affected many other things people use daily, such as the arts, fashion, jewelry, architecture, interior design, home furnishings, transportation, appliances, and many more. 
Art Deco style interior design
Art Deco style interior design #1 – Tiles
You may have seen black and white checkered tiles in the design of many Indian living rooms. Did you know these tiles are essential to art deco style interior design? Checkerboard-patterned tiles not only make the area look more prominent but also add a new element to the style of the room as a whole. Checkered tiles are a common feature of art deco style interior design, and they come in a wide range of colors and patterns. The checkered pattern on these tiles gives your home a more country feel, making them an excellent choice for a rustic living room's decor.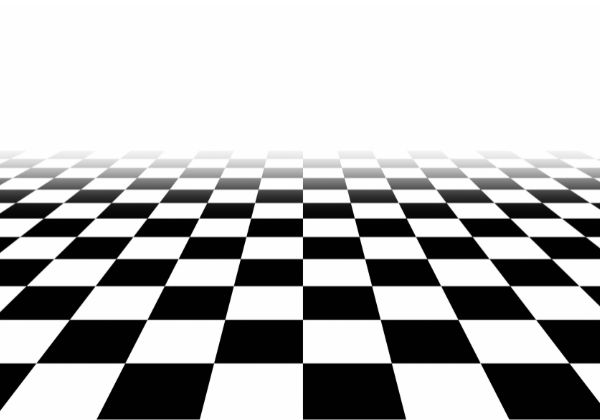 Art Deco style interior design #2 – Living Room
With accent walls, the Art Deco walls in your living room can be taken to a new and ring true to the Art Deco interior design style. You can see symmetry, the art of geometry, wooden elements from the earth, and metal-legged chairs. It can be too much or not enough, but enough details add a layer of visual decadence. You can try colors like magenta pink or even rough brown. Not to mention, displaying authentic art pieces on the wall of your living room goes a long way!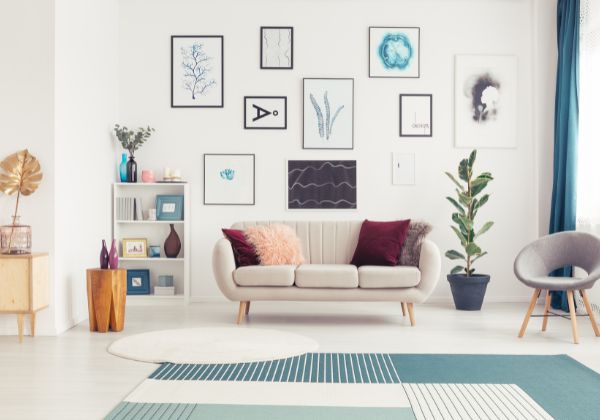 Art Deco style interior design #3 – Bathrooms
Depending on how you want to approach the styles, your Art Deco style interior design-inspired bathroom can have a high level of style or a more straightforward version; even though Art Deco is just a form of decorative art, it can sometimes look very expensive. However, the style can be changed to fit your tastes and budget. Consider adding geometric-pattern titles, a console sink topped with marble, oval mirrors, and marble flooring to your bathroom to make it fit better with an Art deco style interior design.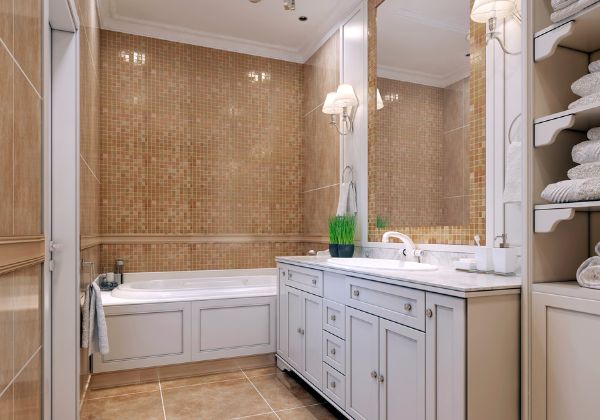 Art Deco style interior design #4 – Headboards and Bedroom
Art Deco is different from other styles because it has beautiful details like walls made of mirrors, brass, and lacquered wood paneling. Texture can be added to a room by putting a brass or velvet headboard with different kinds of lighting, like sculpture globe bedside lamps or matte gold ceiling lights. The bedroom is one of the best places to try out and bring out the best of the Art Deco style interior design. In the context of an Art Deco look in a bedroom, the most important thing is to have either a carved or inlaid headboard with geometric design or a wall covered in wallpaper with dramatic geometric shapes. As an add-on, you can also choose to keep classic wooden furniture that gives your bedroom a rich look.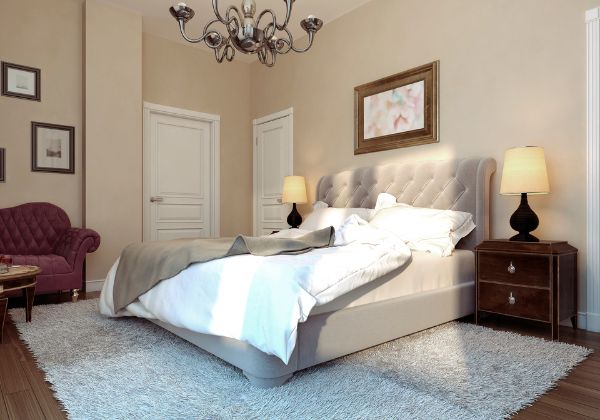 Art Deco style interior design #5 – Entrance Foyer
As soon as you walk in, art deco interior design characteristics can be shown, starting from the foyer. You can check out the best foyer design inspirations here. Modern art deco interior design rooms have smooth curves, vertical lines, and sharp angles, and the patterns and shapes used in art deco style interior design also should be strong and bold. Art deco apartment interior design can be made more interesting with patterns like zigzags, chevrons, and stepped designs. These patterns can be put on floor coverings, wall coverings, fabrics, and furniture. 
Art Deco style interior design #6 – Glitz
Make sure to add several levels of glitz and glamor to your scene so that it shines brightly and gets everyone's attention. You can do this by adding inlay work or buying a lamp with a base made of chrome. You can also give the room a bit of glitz and glamor by using bright velvet. 
Art Deco style interior design #7 – Mirror
If you hang a mirror and pay attention to how the frame is made, you can give any room an art deco feel. Find a big mirror with a gold frame with geometric patterns carved into it, and you should be ready to go. The mirror can serve a practical purpose by making the room look more prominent and adding to the room's style. 
Art Deco style interior design #8 – Upholstery
You can't go wrong with traditional art deco furniture like geometric pillows, rugs, and sofas. It would be best if you took advantage of the fact that upholstery is essential to remodel your home's interior. If you want something more daring and out of the ordinary, choose a geometric animal design like a zebra, tiger, or leopard. This will give your room an art deco feel. Upholstery, especially in a modern art deco interior design, can help bring the space up to date and make it look more stylish.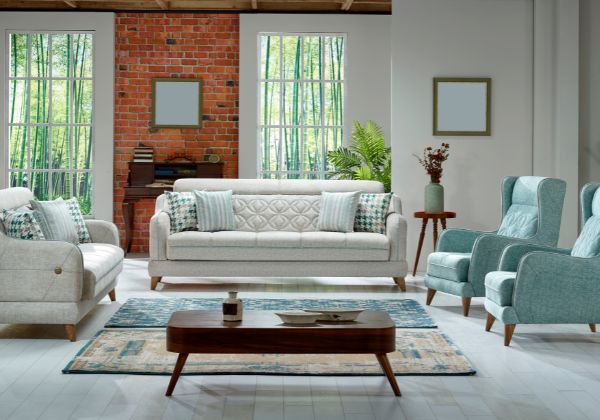 Art Deco style interior design #9 – Lights
It would be best if you don't have to worry that buying art deco style interior design characteristics, statement lighting, or a chandelier for the room will cost a lot of money. This is the easiest and quickest way to bring the 20s back into your home. If you decorate the lighting in your living room or dining room in an exciting way, it will look more fun and have a colorful aesthetic.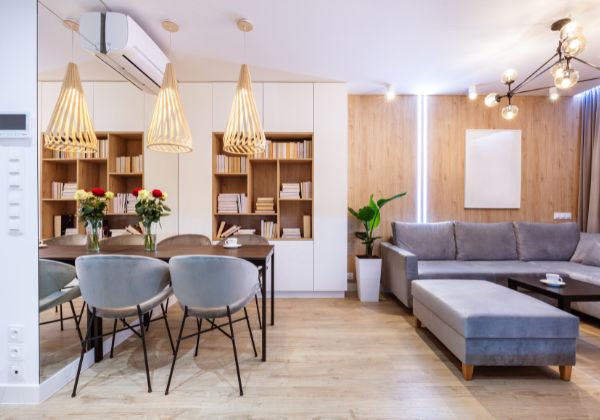 Art Deco style interior design #10 – Opulent and Geometric
Art deco style interior design living rooms are simple. They look nice and give off an air of simplicity and minimalism simultaneously. Art Deco living rooms are great for people who are proud that they decorate their living rooms. You can decorate with big oval mirrors, round chandeliers, carpets with animal patterns, or many unique pillows. Even if you add your style to an Art Deco Living room, the way it looks has a mysterious charm that goes back to the beginning of time.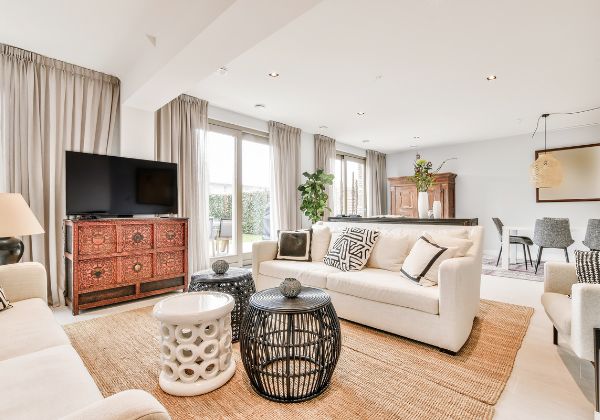 Art Deco style interior design #11 – Paintings
Living well was the norm in the period that gave rise to the art deco style interior design. One way to bring back the time is to hang art deco style wall paintings in your room. Art deco interior design came about a long time ago. You could improve the look of your dining room by hanging a painting of the Great Gatsby fountain on one of the walls. After buying it for yourself, you can hang large centerpieces on the wall of your living room. The trick is to focus on art from the time period that inspires you the most. You can do this by putting on your walls the work of well-known artists or interior designers from the time.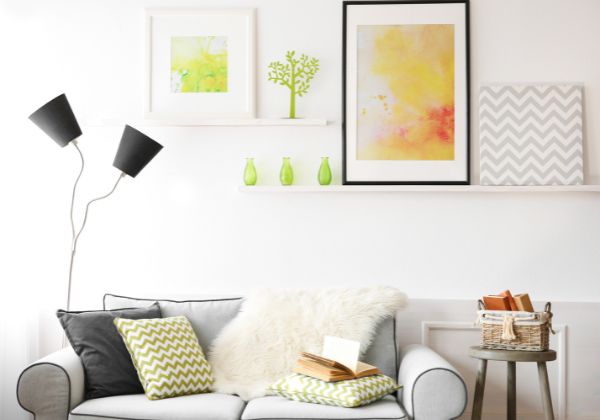 art deco style interior design by HomeChromosome
If you want to bring back the roar of the 1920s with Art Deco style interior design, you have come to the right place. You can reach out to our best interior design in Bangalore, HomeChromosome, to give your home a makeover. You can view our portfolio here and follow us on Instagram here. Email us at info@homechromosome.com for a quick response.